All products featured are independently chosen by us. However, SoundGuys may receive a commission on orders placed through its retail links. See our ethics statement.
The bottom line
Because of the design and overall output, I found the E500X-EQ to be perfect for someone like me who has a small apartment and wants a better TV/music experience all wrapped into one speaker. But if you want a true home theater audio experience, there are better, more affordable options out there.
E500X-EQ
Because of the design and overall output, I found the E500X-EQ to be perfect for someone like me who has a small apartment and wants a better TV/music experience all wrapped into one speaker. But if you want a true home theater audio experience, there are better, more affordable options out there.
What we like
Sleek design<br>
Gets loud<br>
Battery powered for mobility<br>
Charges via USB Type-C
What we don't like
Price<br>
Lacking high-quality Bluetooth codecs<br>
Sliders don't feel sturdy<br>
Sound quality is just okay<br>
Rating Metric
Sound Quality
7.7
Bass
7.5
Midrange
7.0
Highs
8.5
Durability / Build Quality
8.0
Value
5.0
Design
9.5
Portability
5.0
Battery Life
7.0
The Studio19 London Solo E500X-EQ speaker looks great in any part of the room.
Usually portable audio and home audio don't mix. Something that does well in your living room probably needs to be plugged in all the time and won't do too well over the years. But Studio19 London is beginning to blur that line with products like the Studio19 London Solo E500X-EQ speaker. At first glance, it looks like any other home speaker, but it has a few features that make it a more versatile than the competition and helps it stand out from the pack.
Who should buy this?
People who live in apartments. It gets loud enough that you can enjoy your favorite movies while only mildly annoying your neighbors, and it sounds good enough for small places. Though it doesn't sound bad, it doesn't have the quality you'd want for a home theater room or even a large living room. But in my 500-square-foot apartment, this is more than enough.
Anyone looking for better sound in the master bedroom. If you've already bought into a wireless speaker setup like Sonos, then you might be better off getting a Sonos One. Otherwise, this is worth looking into if you want a more fulfilling sounds experience while binging Netflix in bed.
People who have backyard barbecues. Keep in mind this isn't a waterproof speaker, so take this with a grain of salt, but because this speaker has a built-in battery, you can just pick it up and move it to the yard without needing to find an outlet. Just don't forget it out there or you might need to get a new one.
The Studio19 London Solo E500X-EQ is built for the living room
If you want a speaker that can make your music, TV, or gaming experience even louder the Studio19 London Solo E500X-EQ is a solid option
Depending how much of a stickler you are for build quality, you may or may not like the build of the Studio19 London Solo E500X-EQ speaker. It toes that line of great and just okay. Its sleek design and aluminum construction make it a great minimalist piece that blends nicely into the background of any setup. But upon closer inspection, you'll notice that it isn't quite as premium as it seems. The EQ sliders up top feel like they're made of plastic instead of aluminum, and they wobble slightly too much for my taste. The buttons are also plastic and sound like it every time you press them. But overall, the build seems solid. I don't doubt that it'll last a while as long as you don't drop it on your way to the yard.
As far as size goes, the Studio19 London Solo E500X-EQ isn't massive and I like that about it. It stands right around knee-height and weighs only 4kg. Trying to find a good place for it wasn't challenging at all, but the best part of the build and design has to be that it appears to constantly be floating an inch of the floor. It's not actually floating, but it definitely looks like it. This is exaggerated by the floating light underneath it. You can turn it off to extend battery life, but in my opinion, it looks so cool that it's worth losing a few minutes of playtime for. We're looking at the gold color option here, but if you want something a little less flashy, it also comes in silver.
The Studio19 London Solo E500X-EQ drivers behind the grill allow for 360-degree audio.
Whichever color you choose, you'll notice that all of the sounds are coming from the black grill up top. It also provides you with 360-degrees of sound—thanks to a front and rear speaker. Up top are three EQ sliders that let you control the lows, mids, and highs as well as a fourth slider that controls volume. Controlling them is smooth enough but like I said earlier, I wouldn't complain if they made these just a little sturdier. On the back of the speaker are the inputs and outputs, and it's worth mentioning again that—because these are exposed to the elements—it's a bad idea to forget this in the yard. You're one summer shower away from a bad day.
Connectivity
The Studio19 London E500X-EQ comes with EQ sliders up top so you can tweak the lows, mids, or highs.
Despite this being a Bluetooth speaker, that isn't the only way you can connect to it. You can put in an audio cable if you want to, but it's the HDMI input that makes this such a good option for the home. Just pressing the second button from the top lets you switch between inputs, so you can easily play music and then switch inputs to watch a movie and bring that full sound experience with you. The top-most button lets you choose between three different presets depending on what it is that you're doing: gaming, watching movies, or listening to music. But you can always override the presets by moving any of the EQ sliders to your preferences.
The Studio19 London Solo E500X-blends into the background of any setting because it's battery powered.
Connection strength is impressive. I don't have the biggest apartment, but wherever I was in it, I didn't experience any connection issues at all—with or without walls in the way. As good as that is, it is a little disappointing to see that it isn't compatible with any higher quality codecs. If you have a device that can take advantage of aptX, aptX HD, LDAC, or even AAC, you're out of luck.
Battery life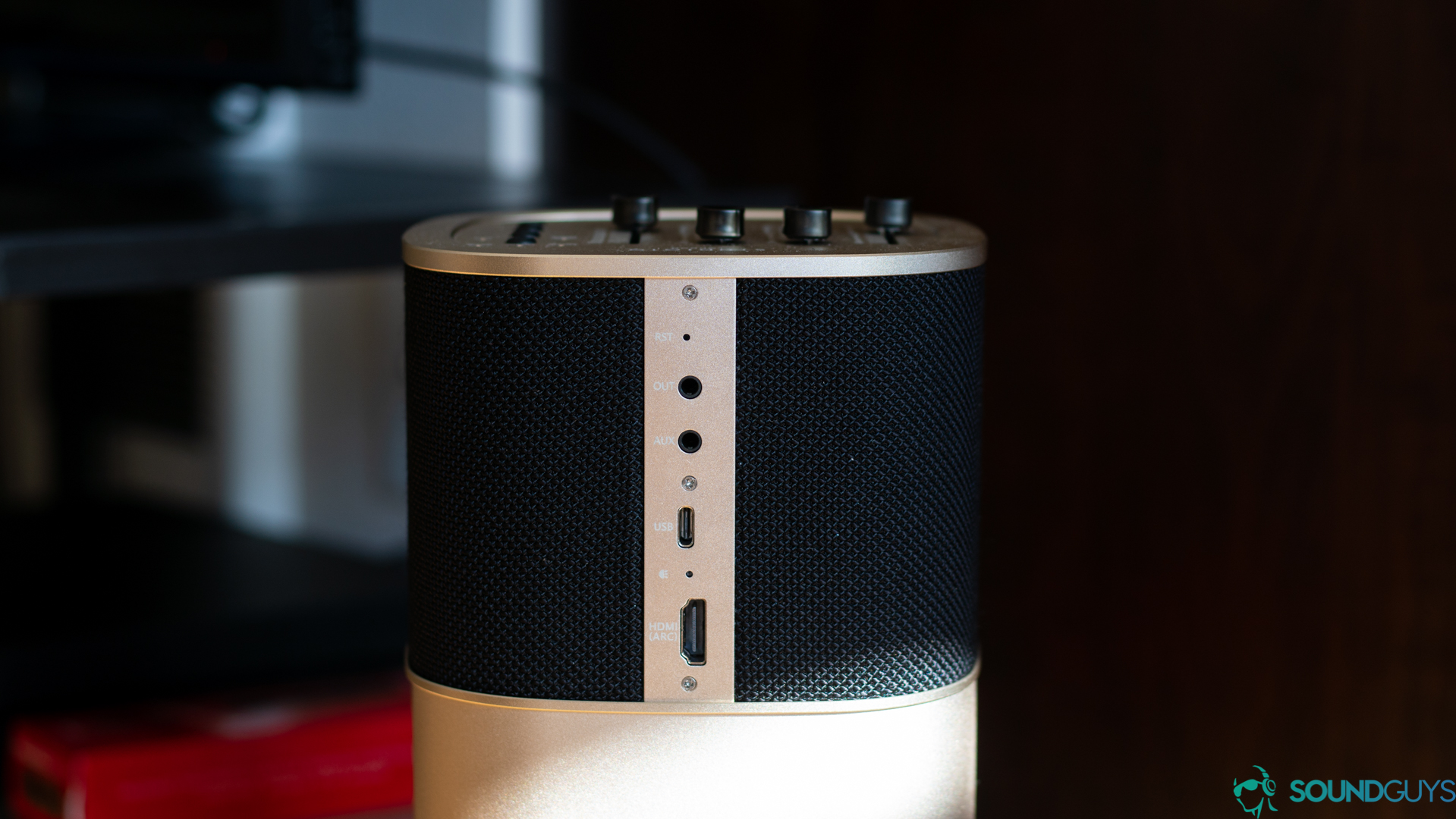 You'll get inputs for a 3.5mm audio cable, HDMI, and USB-Type C along the back. Along with a 3.5mm output for daisy chaining.
Interesting, the Studio19 London Solo E500X-EQ charges via USB Type-C, which is good because it means you won't need to carry around a giant brick to charge it. You can just use the cable that comes with most new smartphones, save for the iPhone which comes with a Lightning cable. The speaker comes with its own USB-A to USB-C cable, but it doesn't come with a charging brick, so you're going to have to get one for yourself. You can also just plug it right into an external battery pack, but it has to have a minimum output of 2.1A. Battery life is claimed to last roughly four hours on max volume, but I usually kept it at around 30 percent (which was more than enough to fill my apartment), and it easily lasted about seven hours.
Sound quality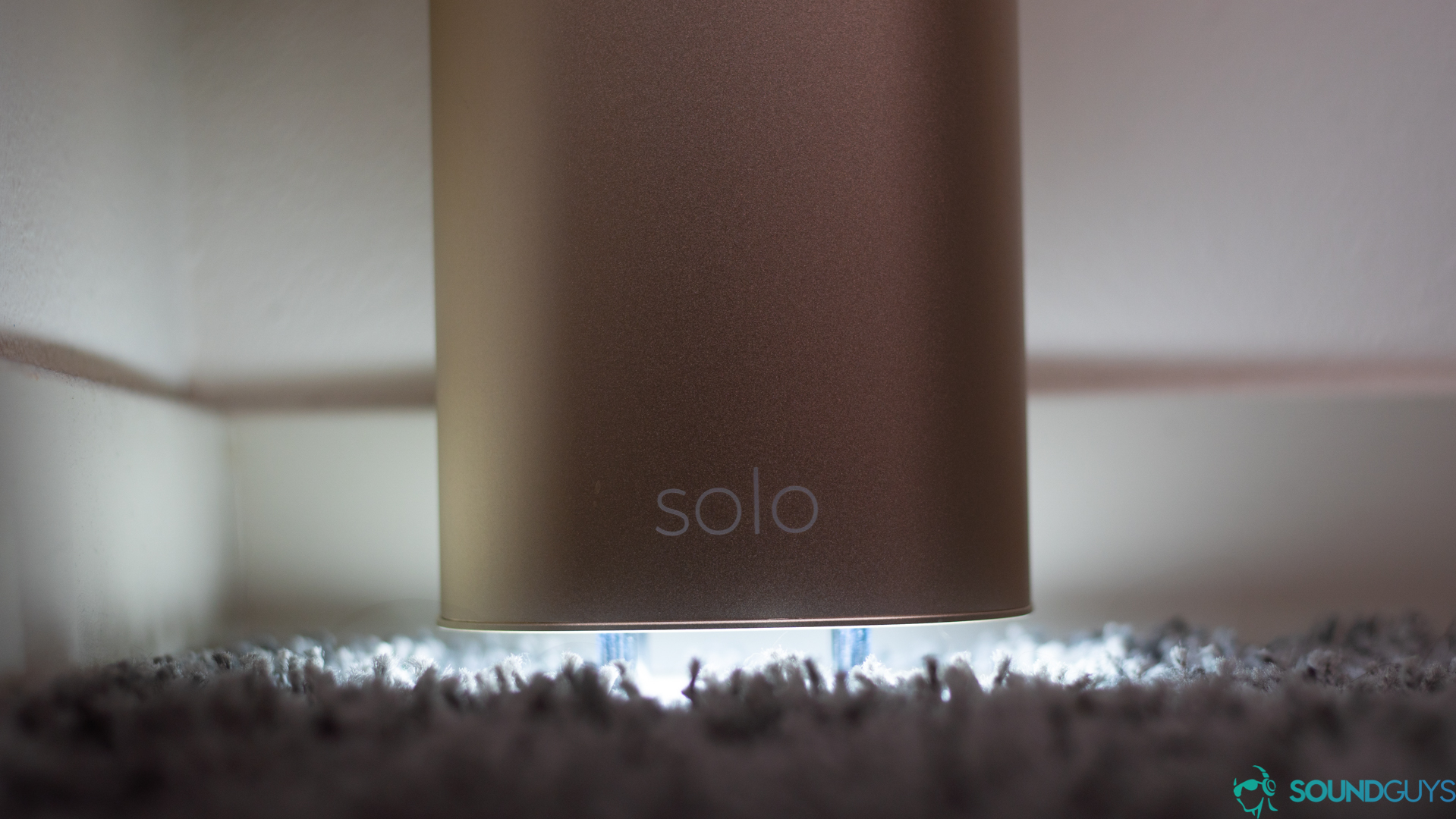 Because of the design and the light that glows underneath, the Studio19 London Solo E500X-EQ appears to be floating above the floor.
For testing purposes, I kept the speaker on the music preset, which is the default when you turn it on. On this mode, I found the bass to be too strong for my liking, but considering you can always tone it down if you want, it's a good problem to have.
The hard bass hits in the song Blind Man by Xavier Omar overwhelms the backing piano, making it hard to hear for most of the song. Lowering the bass slider seems to fix this problem, but again, testing was done on the default setting. This was also a new issue in the song Hurt You by The Weekend. When the bass comes in 30 seconds into the song, the vocals drop in clarity as the low end overpowers everything. Thankfully, the highs steer clear of the bass and hi-hats throughout the song You Know I'm No Good by Amy Winehouse maintain the level of crispy detail that I'm used to.
But one thing worth mentioning that has been pretty annoying with this speaker is that quality will randomly drop mid-song, only to return to normal a few seconds later. It's almost like when a YouTube video drops from 1080p to 720p when the connection is weak. I'm not entirely sure why this happens and all of the settings on my source device seem to be fine. I thought it was worth bringing up even though instances are few and far between.
Conclusion
Despite the flaws of the Studio19 London Solo E500X-EQ speaker, I do like what it has to offer, especially for someone like me who lives in a relatively small one-bedroom apartment and could benefit from something that both plays music and can enhance any movie-watching experience. It's basically a vertical soundbar that I can stream my music from, which is all that I really want.
The problem is that it costs £399 (roughly $540) which isn't cheap. For that price, you can get two Sonos One speakers that will get the job done just fine. If it's important to you that you be able to move the speaker to the yard every now and then, then the Studio19 London Solo E500X-EQ speaker won't let you down. I would just wait until you can find it on sale.