All products featured are independently chosen by us. However, SoundGuys may receive a commission on orders placed through its retail links. See our ethics statement.
The bottom line
If you're thinking about getting cheap truly wireless earbuds, more power to you. Unless you absolutely need the smallest package on the market, though, you're better off investing in the Monoprice True Wireless or JLab JBuds Air — both of which are IPX4-rated and are available for the same price.
Soul Emotion
If you're thinking about getting cheap truly wireless earbuds, more power to you. Unless you absolutely need the smallest package on the market, though, you're better off investing in the Monoprice True Wireless or JLab JBuds Air — both of which are IPX4-rated and are available for the same price.
Dimensions
24 x 16 x 24 mm (earbud)
60 x 28 x 35 mm (case)
What we like
Price<br>
Compact build<br>
What we don't like
Battery life<br>
Connectivity drops<br>
Poor fit<br>
Sound quality<br>
No water-resistance<br>
Rating Metric
Sound Quality
7.1
Bass
7.2
Midrange
7.1
Highs
6.9
Isolation / Attenuation
4.0
Durability / Build Quality
7.0
Value
7.3
Design
7.5
Microphone
7.0
Portability
9.5
Battery Life
3.1
Sometimes it's OK to pinch a penny here and there, and other times you get what you pay for. With the arrival of more affordable true wireless earbuds, the Soul Emotion is in good company. Does it, however, prove to be a good investment or do these cheap earbuds yield cheap results?  
Who is the Soul Emotion for?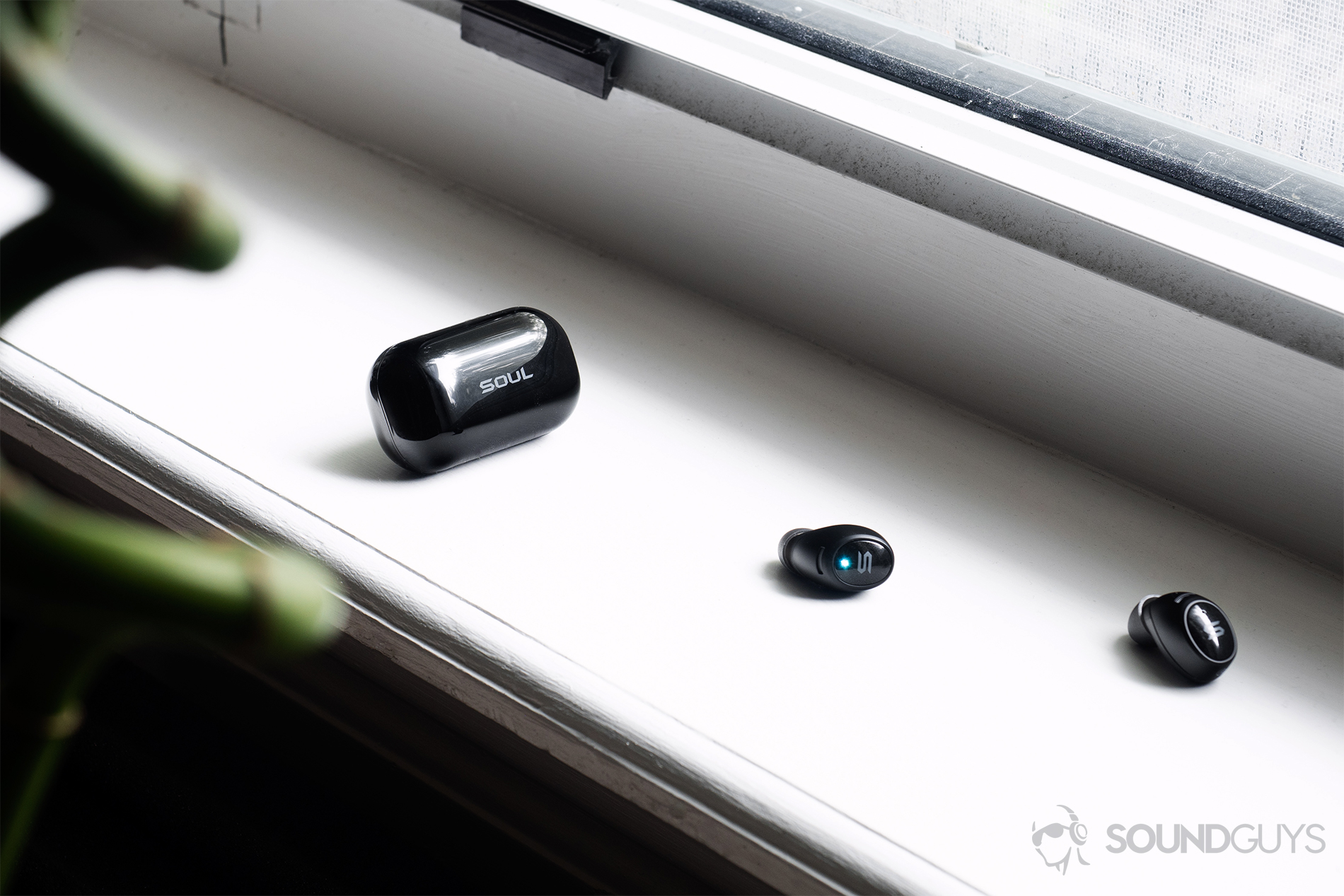 The Soul Emotion true wireless earbuds standout feature is its minuscule form.
Budget listeners.

If you're looking to save a quick buck but yearn for true wireless earbuds, the Soul Emotion afford that to you. That said, there are a few drawbacks.

General consumers. If you're sick of your phone's earbuds, maybe you want to try your ears at something new. This may be an appropriate pick, given its price.
What's inside
The Soul Emotion includes a 300mAh charging case, three pairs of silicone ear tips, a micro-USB charging cable, and the true wireless earbuds.
How is the Soul Emotion built?
The earbuds autoconnect quickly, but connectivity hiccups area frequent occurrence.
From the charging case to the earbuds, the Soul Emotion is virtually all plastic except for the charging pins. Unlike the Monoprice True Wireless earbuds, these look and feel cheap. The polished plastic makes for an unwieldy design, and the earbuds often slipped from my fingers when unholstering them from the case.
Brandished with the Soul Electronics logo, the earbud panels are multifunction buttons and allow for playback and call controls. Below each "S" sits a camouflaged LED indicator, denoting connectivity status; the left 'bud LED alternates green and blue when in pairing mode.
The earbuds' slippery build and poor fit make them unwieldy, despite their small build.
Like the equally affordable Monoprice True Wireless earbuds, the Emotion strain for a proper fit. The housings don't provide much — if any — friction, and I accidentally expelled the 'buds from my ear canals when all I wanted was to pause my music.
Plan on working out? Don't use these earbuds
One, the Soul Emotion lack any sort of water-resistant treatment and, again, the unstable fit makes exercising unbearable, and exercising is already unbearable for some as is. Additionally, these are the first earbuds to completely die on me mid-workout. A slight miscalculation of remaining battery life left me to exercise in silence for 30 minutes, forcing me to self-reflect and inducing accidental existentialism.
Dust is to a lint roller as the background noise is to this mic
Although the box doesn't specify, it's safe to assume that the Soul Emotion earbuds' integrated microphone is one of the omnidirectional variety. Background noise is hardly attenuated and my voice sounds muffled and distant according to all conversation partners. It's fine for quick hi-bye conversations, but you're best off using your phone's mic for extended calls.
Battery life is bad
Subjecting the Soul Emotion earbuds to a consistent 75dB(SPL) output yields just 2.07 hours of playback — pretty bad, even for truly wireless. While you'll likely creep closer to 2.5 hours of playback at lower volumes, you'll be happier with the JLab JBuds Air, which provides just over three hours of playback under identical conditions.
Although standalone battery life is poor, the300mAh charging case provides an extra two charge cycles. Topping the earbuds up via the case takes about an hour. And, yes, micro-USB charging looks to be going the way of the headphone jack in favor of USB-C charging, but it keeps costs down.
Connectivity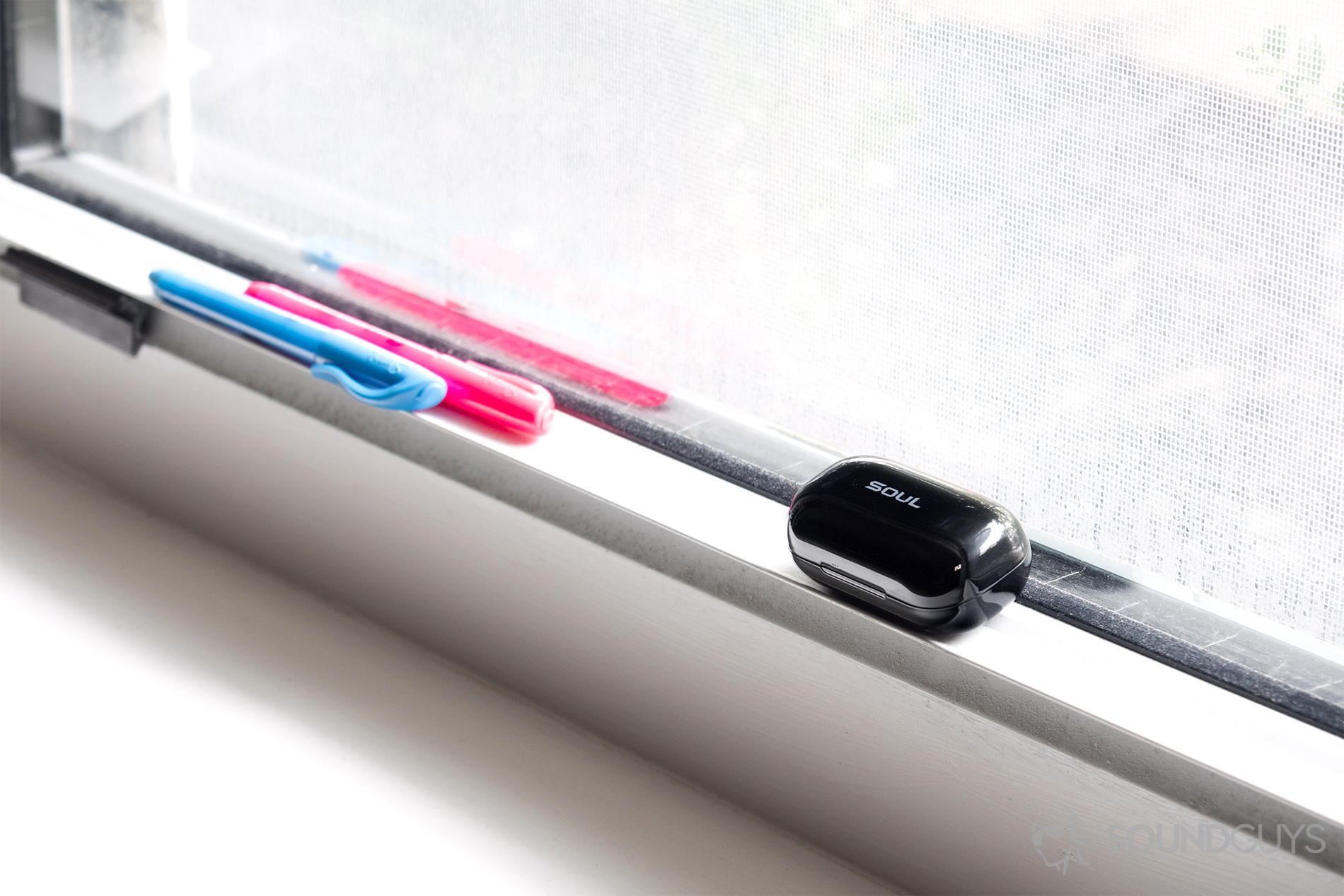 The 300mAh charging case provides an additional two charging cycles.
The Soul Emotion earbuds operate via Bluetooth 4.2 and struggle to deliver within the stated three-meter range. After reviewing the Monoprice True Wireless and JLab JBuds Air, this seems to be a trend among cheap true wireless earbuds. Regardless of using my PC, laptop, cell phone, or company iPhone, connectivity stutters are unavoidable.
At times, connectivity stutters occurred multiple times a minute.
To compensate for the substandard connectivity performance, the autoconnect functionality is consistent and has yet to fail. As with other wireless earbuds that lack aptX or AAC support, audio-visual lag proves to be a persistent issue. If you don't plan to watch videos, fine, but you'll still experience some lag when making playback controls.
How do the earbuds sound?
They sound OK, but that's to be expected for sub-$50 wireless earbuds. Listeners favoring bass emphasis will enjoy the general bass-heavy reproduction, but it's at the expense of clarity. What's more, even the exaggerated low-end suffers from the poor seal made by the earbuds. If you want to improve this, make sure to get some third-party ear tips.
Bass is emphasized with the Soul Emotion earbuds, and the sound lacks clarity overall.
Roots by Alice Merton opens with a bass riff which, even when it's an isolated solo, lacks clarity. Once Merton begins to sing at 0:13, her voice is audible above the bass picking, but this is attributed more to her Florence Welch-like vocal power, rather than the Soul Emotion earbuds' ability to parse apart bass and vocal frequencies.

Later in the song, 1:29, a tongue-clicking noise breaks in but it's hard to tell if this sound is the result to clapping two coconut halves together or an actual tongue click; the lack of clarity and masking is impossible to ignore.
Maroon 5's rock ballad If I Never See Your Face Again opens with a funky bass riff accompanied by a cowbell. When it's just these two instruments, and even when the synth enters at 0:05, registering the cowbell is an effortless task. However, once the chorus kicks in at 0:55, it's nearly impossible to differentiate the instruments. Sure, some could argue that Maroon 5's music is just din anyway, but this lack of instrumental separation alone calls for a price drop in the Emotion.
That said, during the verses when fewer instruments bombard the song, it's much easier to distinguish the bass from the synth, and to parse those from the drum and cymbal hits.
Should you buy the Soul Emotion?
If you're tied to the Soul Electronics brand, perhaps, but if you don't have a horse in the true wireless race, invest in the Monorpice True Wireless or JLab JBuds Air instead. Both alternatives are cheap, IPX4 true wireless earbuds with better battery life and sound quality than the Soul Emotion earbuds.
While the Soul Emotion makes true wireless earbuds affordable, it doesn't mean it's the best cheap option out there.
However, if what you value most is a small, inconspicuous design, the Soul Emotion may be a bit more tempting. In most cases, though, better battery life, sound quality, and durability will take precedence over a slim form factor.
Next up: Best true wireless earbuds