All products featured are independently chosen by us. However, SoundGuys may receive a commission on orders placed through its retail links. See our ethics statement.
7.4
Monoprice True Wireless
The bottom line
If you want affordable true wireless earbuds, these are a solid option especially for those who prioritize compactness above all else. However, if earbud size doesn't matter too much to you, the cheaper JLab JBuds Air may be a better fit for your ears and your wallet.
Monoprice True Wireless
If you want affordable true wireless earbuds, these are a solid option especially for those who prioritize compactness above all else. However, if earbud size doesn't matter too much to you, the cheaper JLab JBuds Air may be a better fit for your ears and your wallet.
Dimensions
20 x 16 x 15 mm (earbud)
73 x 32 x 32 mm (case)
What we like
Price<br>
IPX4<br>
Compact and sleek<br>
What we don't like
Connectivity drops<br>
Unstable fit<br>
Battery life<br>
Audio quality<br>
Rating Metric
Sound Quality
7.4
Bass
7.0
Midrange
7.4
Highs
7.5
Durability / Build Quality
8.0
Value
8.6
Design
8.0
Microphone
7.7
Portability
9.1
Battery Life
3.5
With the advent of the Monoprice True Wireless earbuds and the JLab JBuds Air, we're stepping into an era of cheap true wireless earbuds that perform well. Monoprice's take on truly wireless tech includes chic packaging and design to boot. Are looks alone enough to laud Monoprice's efforts? Or will the tradeoffs made to keep these earbuds under $50 cost you in the long run?
Who is the Monoprice True Wireless for?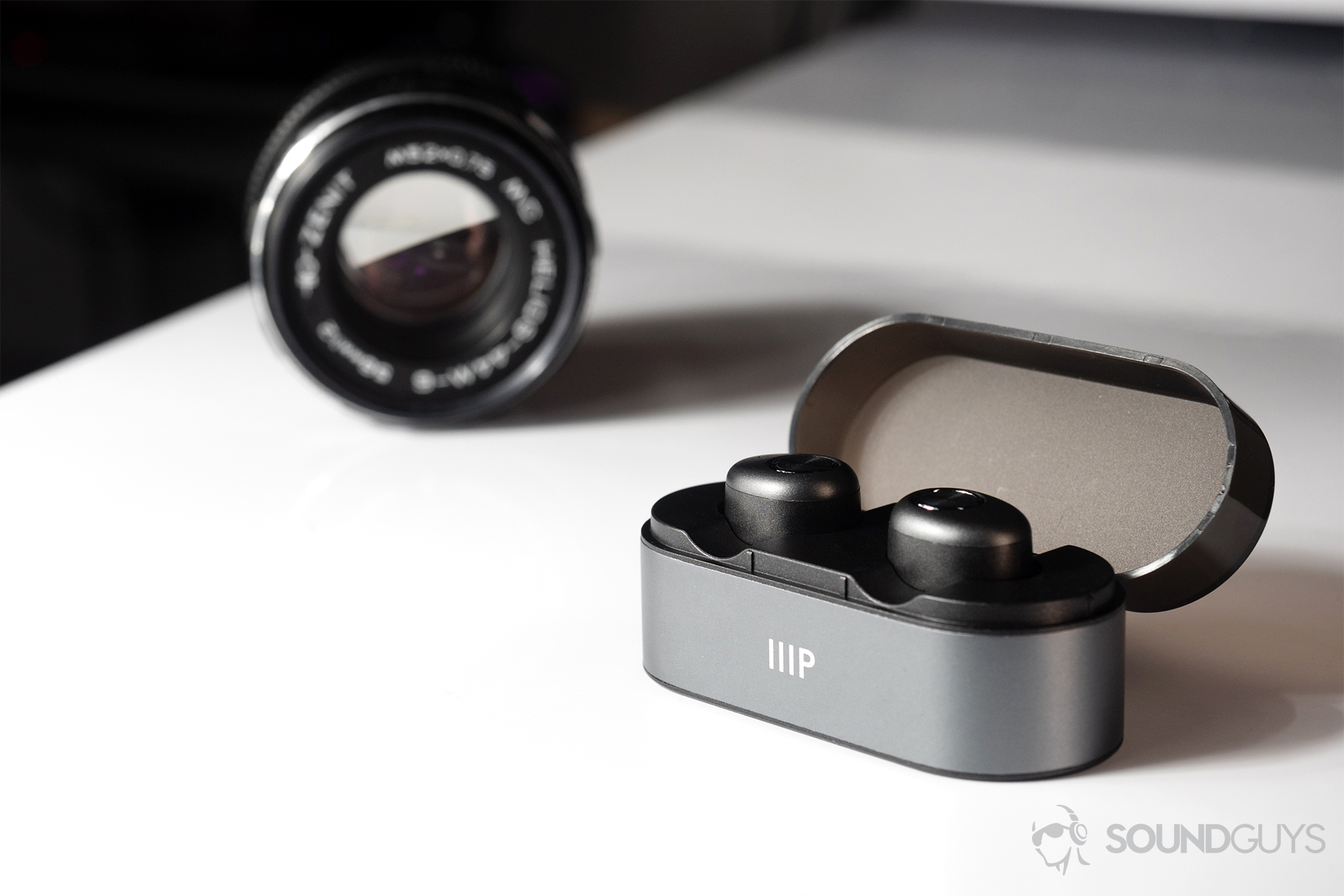 The earbuds fit snugly into the charging case, but often fail to automatically power off when inserted.
Budget listeners.

With the price oscillating somewhere in the $50-range, this serves as a fine option for cheap truly wireless earbuds. You're not going to get many, if any, bells and whistles but all we really need is for the earbuds to work, and work they do.

General consumers.

The Monoprice True Wireless is a smart option for general-purpose listeners
What's inside
Included in the nondescript packaging is the charging case, three pairs of ear tips, and the true wireless earbuds; it's pretty bare-bones, but what do you expect from bargain 'buds?
How is the Monoprice True Wireless built?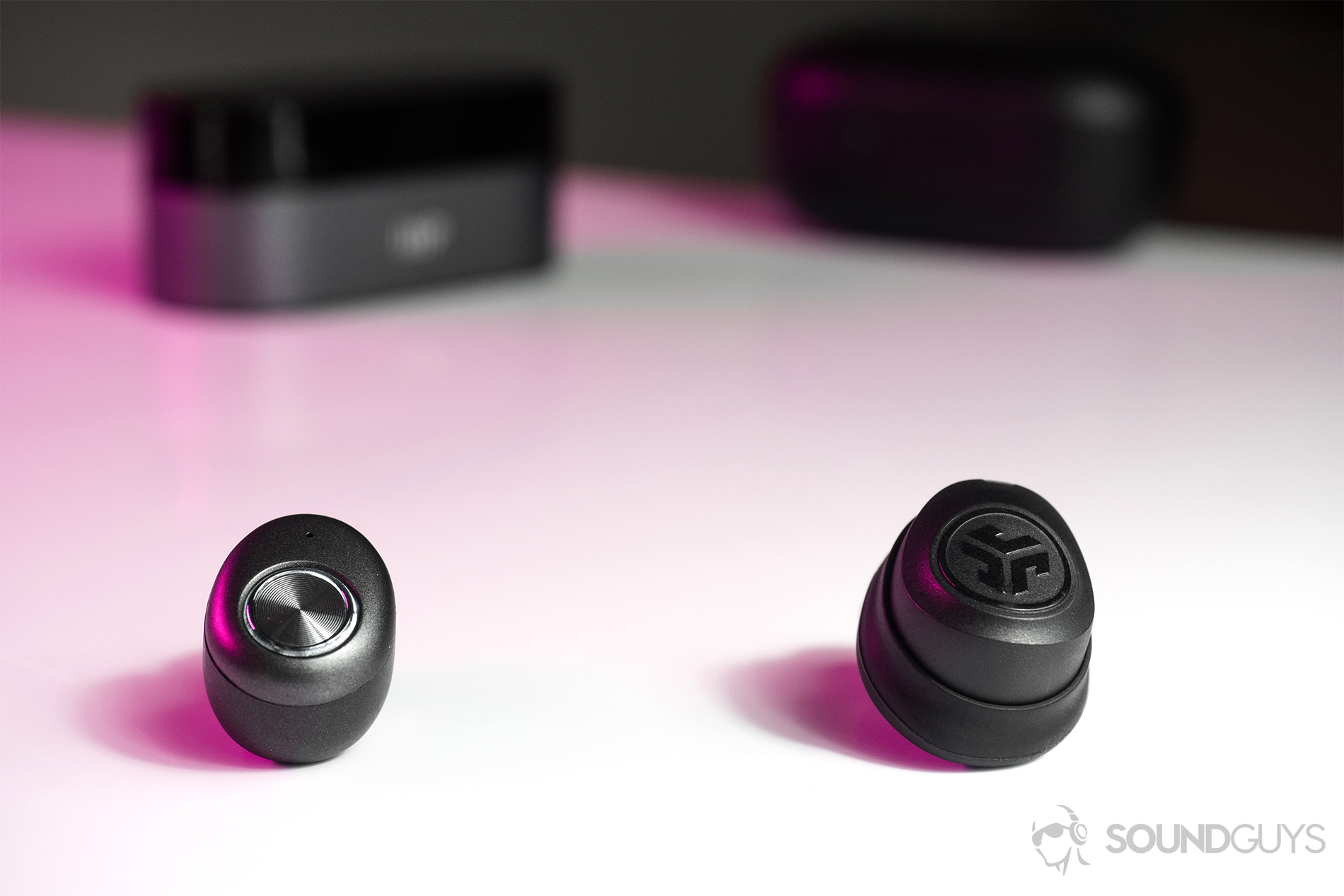 The JLab JBuds Air 'buds are larger than the comparably priced Monoprice True Wireless, but they provide features that the latter don't such as IP55 dust-and water-resistance.
Save for the charging pins, the Monoprice True Wireless earbuds and case are completely plastic—but the designers still managed to make each piece look more sophisticated than the Monoprice True Wireless price suggests. Sporting a clean, minimalist design, the charging case acts as an appropriate decorative piece for any modern desk space.
The IPX4 earbuds are small and painted with the same matte grey as the case. Inlaid on the panel of each earbud is a multifunction button with an LED indicator encircling it. Pressing the buttons don't require much force and the earbuds are small enough that most of us should feel comfortable when listening with them.
The small earbuds are convenient but fall out easily when brushing hair from the ear.
This petite design isn't all tulips and roses, though, because the earbuds don't feel secure. Even when sitting, I feel that the angled nozzles may slip from my ear canals and cause the earbuds to crash to the ground. This concerning feeling isn't helped by the fact that there aren't any wing tips provided to improve fit stability. If you prioritize a small, sleek design above a secure fit, this likely won't be an issue.
The microphone is better than expected
The integrated microphone functions effectively and relays the speaker's voice clearly for casual phone calls.
Without overstating it, the integrated mic sounds leagues better than that found in the comparably priced JLab JBuds Air true wireless earbuds. Background noise is attenuated some, but my voice was always relayed clearly whether I was self-recording or taking a call. Bear in mind, though that when taking a call, audio is relayed through the left earbud only.
Battery life
When we tested the Monoprice True Wireless earbuds by subjecting them to a constant output of 75dB(SPL), we recorded a standalone battery life of 2.43 hours. While you'll be able to get closer to three hours of playback by listening at lower volumes, the battery life still isn't anything to write home about, since products like the Bose SoundSport Free and Jabra Elite 65t exist.
Short standalone battery life aside, the 500mAh charging case provides up to an extra 15 hours of battery life to the earbuds, and takes two hours to charge via the included micro-USB cable. Sure, micro-USB charging is looking increasingly more archaic, but for now it still works. And at this price, that's all that matters.
Connectivity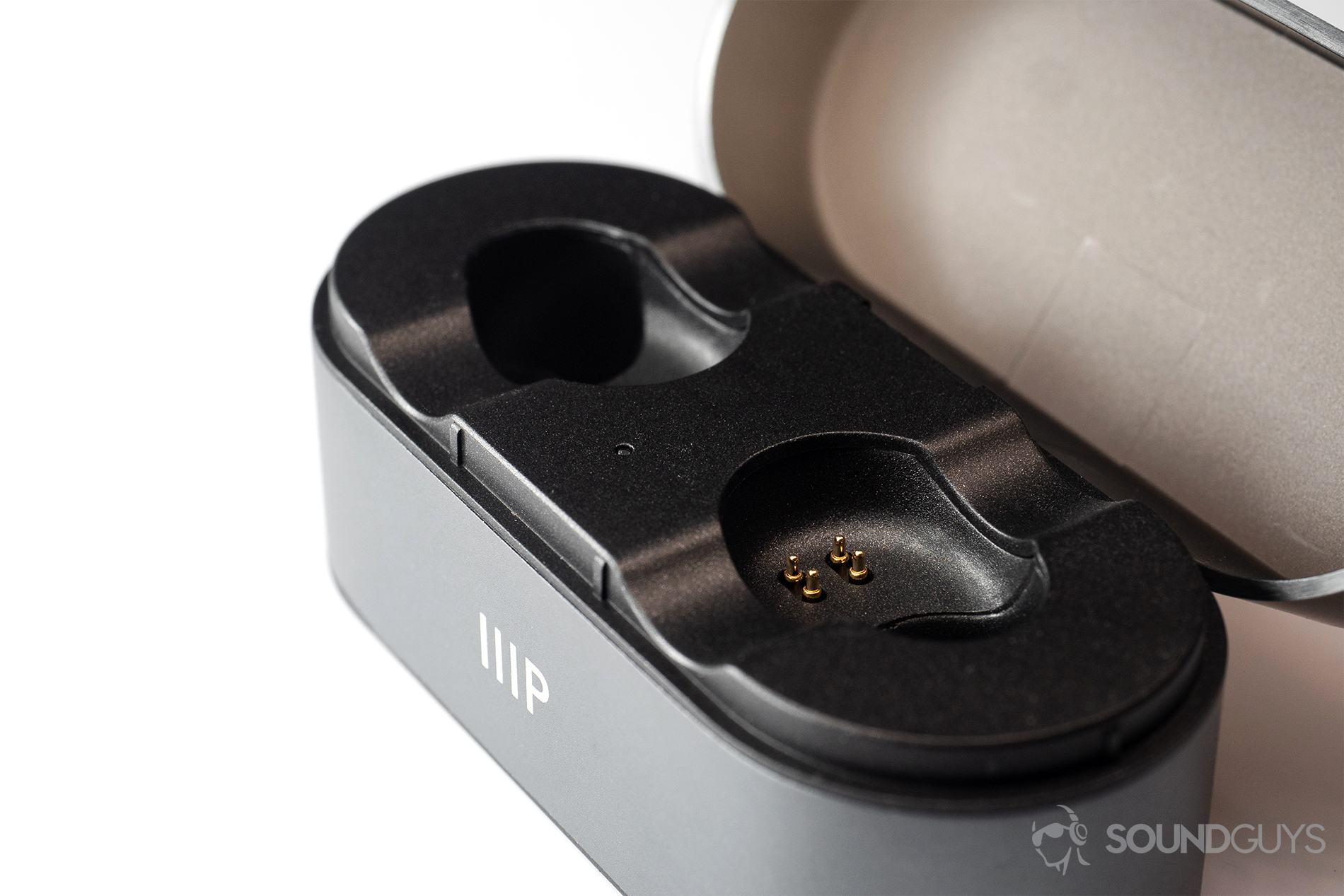 The earbuds are magnetized and snap into place when inserted into the 500mAh charging case, which charges via micro USB.
As with many wireless earbuds, these operate via Bluetooth 4.2 and you're granted a three-meter wireless range. Unfortunately, though, connectivity struggles in much tighter quarters. No matter the source, the right earbud struggles to seamlessly relay audio, resulting in a disorienting listening experience.
On a positive note, however, the auto connect functionality is reliable. There has yet to be a time when I remove the earbuds from the case and they fail to connect to my phone. Latency proves to be a persistent issue, though. These earbuds don't support AAC or aptX, which is painfully apparent from the nearly two-second audio-visual lag.
How do the earbuds sound?
Bass response is surprisingly under emphasized and can be improved by using third-party foam ear tips.
They sound all right and as you would expect for the price. Surprisingly, the low-end is attenuated, leaving a lot to be desired especially to the consumer ear. However, for those who like vocal-heavy, acoustic music, the frequency response of the Monoprice True Wireless earbuds plays well to that.
In Rivers and Roads by The Head and the Heart, the folksy ballad waits until 1:14 before allowing the drums to enter. Prior to that moment, the song relies on a guitar accompanying Josiah Johnson and Charity Thielens' vocals. Upon anticipating the drums, I expected their vocals to become masked; instead, the drums were under emphasized severely.
Monoprice's IPX4 water-resistant earbuds each house a 50mAh battery, providing 2.43 hours of playback.
Once the piano kicks in at 1:45, the kick drum is almost inaudible. This frequency goes against the grain of most consumer earbuds, seeing as many tend to exaggerate the low-end. That said, the Monoprice True Wireless may benefit from toning down the midrange frequency reproduction.
The tambourine hits in Oh Wonder's song Drive, are reproduced clearly through the earbuds, particularly during the verses when the harmonies are lightly backed by synth noises. Once the chorus begins at 2:33, the violin makes it difficult to register the tambourine hits in the background. They can still be heard, but it takes a deliberate ear to recognize them.
Should you buy the Monoprice True Wireless?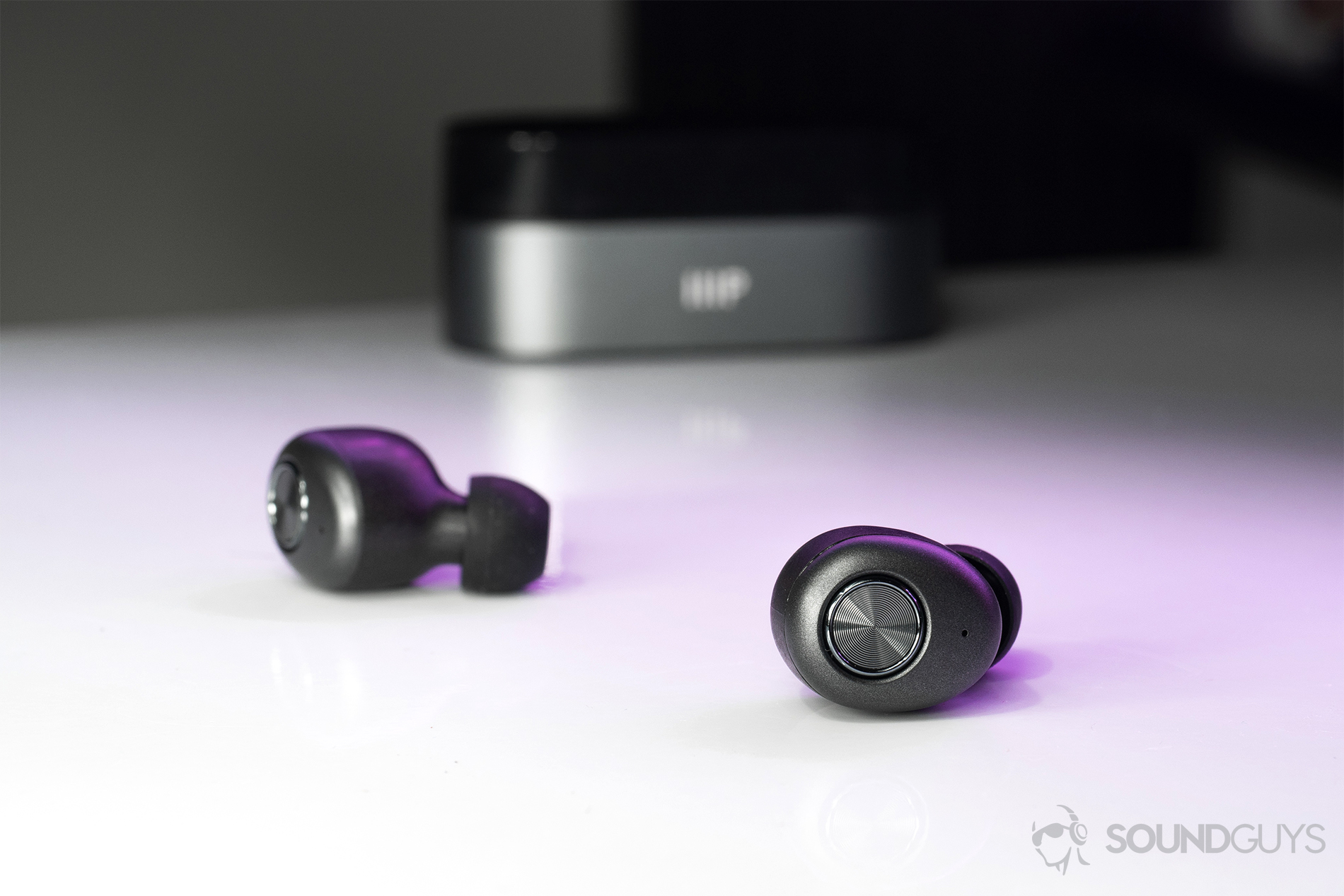 When in pairing mode, the earbud LED rings will alternate flashing between blue and white.
Yes, but only if you're severely opposed to the bulkier build of the JLab JBuds Air. Both products are currently $49.99, but the JLab version includes IP55 earbuds, which are more durable than Monoprice's IPX4 earbuds. Additionally, the JBuds Air don't suffer from the same connectivity issues as the Monoprice True Wireless.
That said, if you can't stand the look of the JBuds and prefer an under exaggerated low-end you'll ultimately be happier with Monoprice's' take on truly wireless earbuds, which are a surprisingly handsome pair of cheap earbuds.
Still looking? Read up on our list of the Best true wireless earbuds under $100