All products featured are independently chosen by us. However, SoundGuys may receive a commission on orders placed through its retail links. See our ethics statement.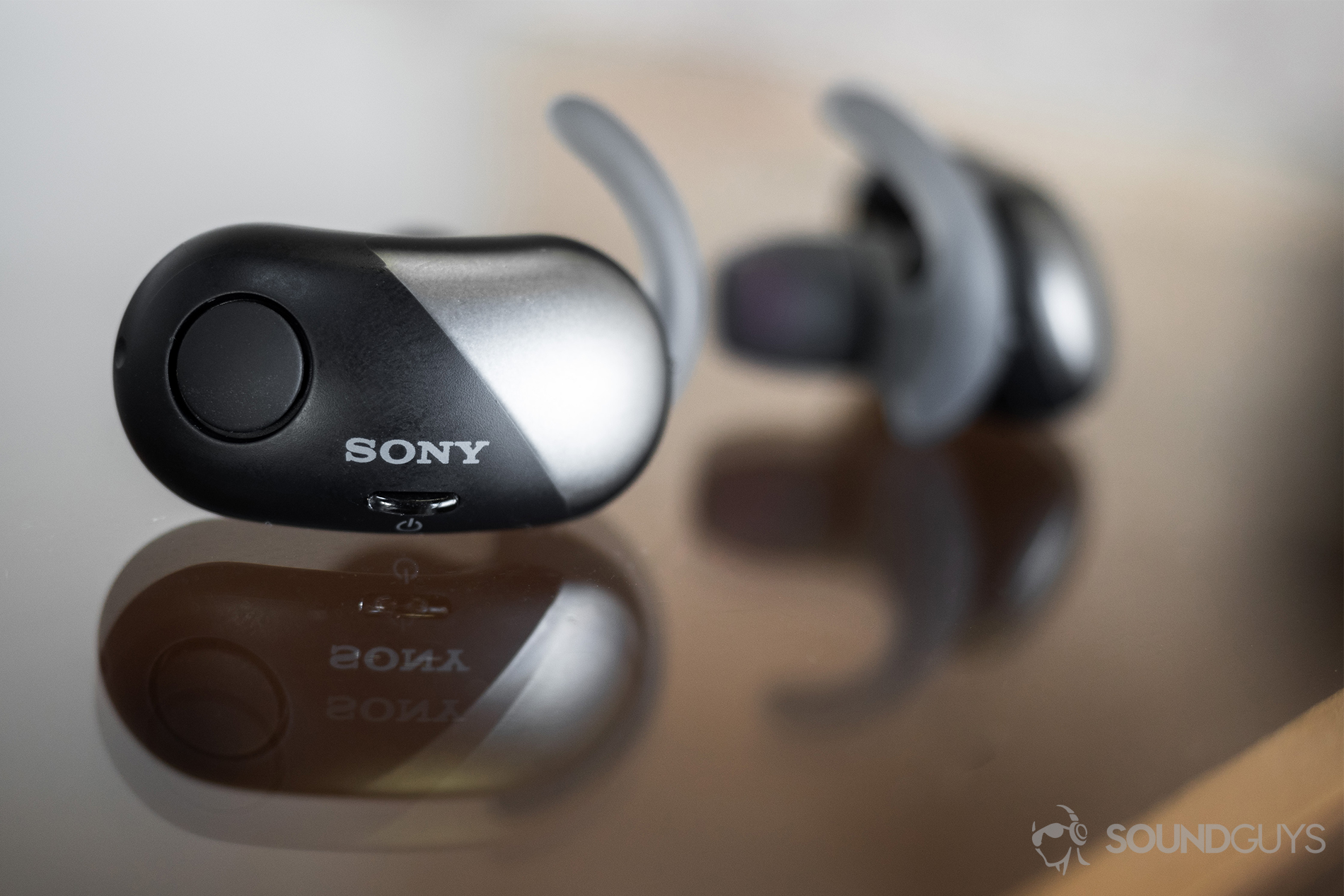 The bottom line
These are a great option for athletes and commuters alike. They're unobtrusive, portable, well-designed, and isolate you from the world when you want it.
Sony WF-SP700N
These are a great option for athletes and commuters alike. They're unobtrusive, portable, well-designed, and isolate you from the world when you want it.
What we like
Digital noise-cancelling<br>
IPX4<br>
AAC support
Great fit<br>
Customization through app<br>
What we don't like
Mic quality<br>
Battery life<br>
Audio-visual lag (unless using iPhone)<br>
No aptX<br>
Difficult to fit earbuds into case<br>
Rating Metric
Sound Quality
8.0
Bass
7.9
Midrange
7.8
Highs
7.5
Isolation / Attenuation
4.9
Durability / Build Quality
8.3
Value
7.7
Design
8.3
Microphone
7.3
Portability
9.0
Battery Life
3.7
Just a few short years ago, true wireless technology felt about as real as the Delorean in Back To The Future. But here we are, in 2018, and we already have access to noise-canceling true wireless earbuds. Technology: it grows up so fast. As far as the Sony WF-SP700N go, are they worth $150-plus for the ability to hush your neighbors or should you stick to something that's a better bang for your buck?
This article updated October 21 to reflect AAC performance in smartphones.
Related: Best Sony headphones
Who are the Sony WF-SP700N for?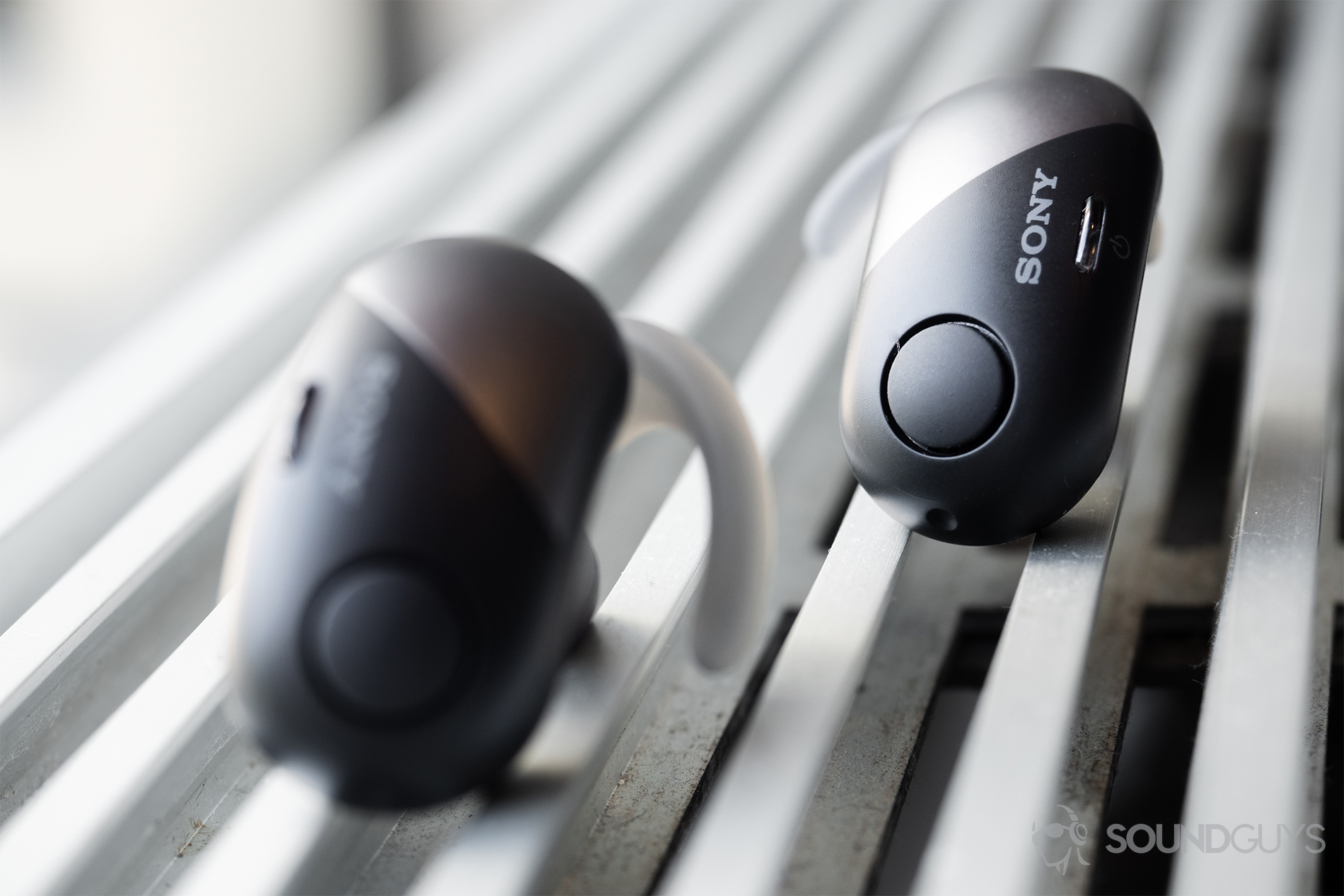 The earbuds are IPX4-rated, which means that they can withstand fairly strong jets of water.
Athletes.These are IPX4-rated, which means they can take a few jets of water but can't be submerged for any period of time. If you need something to stay in during a run or while lifting weights, these are perfect. The body of each earbud isn't as weighted or bulky as the Bose SoundSport Free, and you can toggle between a few modes: ambient sound, noise cancellation, or none depending on your environment.
Commuters. Due to the ambient sound mode, these are great for commuters who take the train, walk, or bike to work. You can hear your music one second, but if you're at a busy intersection, you can immediately become aware of your surroundings by a few clicks of the left earbud.
What's inside?
The Sony WF-SP700N true wireless earbuds include a micro-USB cable (50cm), four pairs of silicone rubber ear tips, two pairs of arc supporters, and the earbuds. The case is nice and compact, but you have to be precise about how you place the earbuds. There were times when I thought the connectors were touching only to later realize that the 'buds hadn't charged a bit.
How are they built?
The nozzles on the earbuds are long and slender. Though the included ear tips are comfortable, you may feel pressure from the nozzle after an hour or so.
Much like other true wireless earbuds, these are made from plastic.Though that's not to say that they lack panache. Sony offers four colorways: black, pink, yellow, and white, so you can sweat in style when working out in these. That's right, these are IPX4-certified. Unless you're up to your ears in sweat, the WF-SP700N will continue working without issue. And you don't have to worry about the earbuds' stability, because the included arc supporters, more commonly referred to as wing tips, do a remarkable job at keeping everything in place.
The included silicone rubber ear tips are sturdy but pliable and do a great job at passively isolating noise. This in turn only improves the effectiveness of their noise-canceling capabilities. As far as controls, that round thing at the front of the earbud is not a button. Rather, the indicator ring flashes blue or red depending on what information is being relayed. It also houses the mic, which catches a lot of wind. If you find yourself in a quiet environment, it sounds better than a phone, but taking a call in a coffee shop or outside will leave the person on the other end frustrated.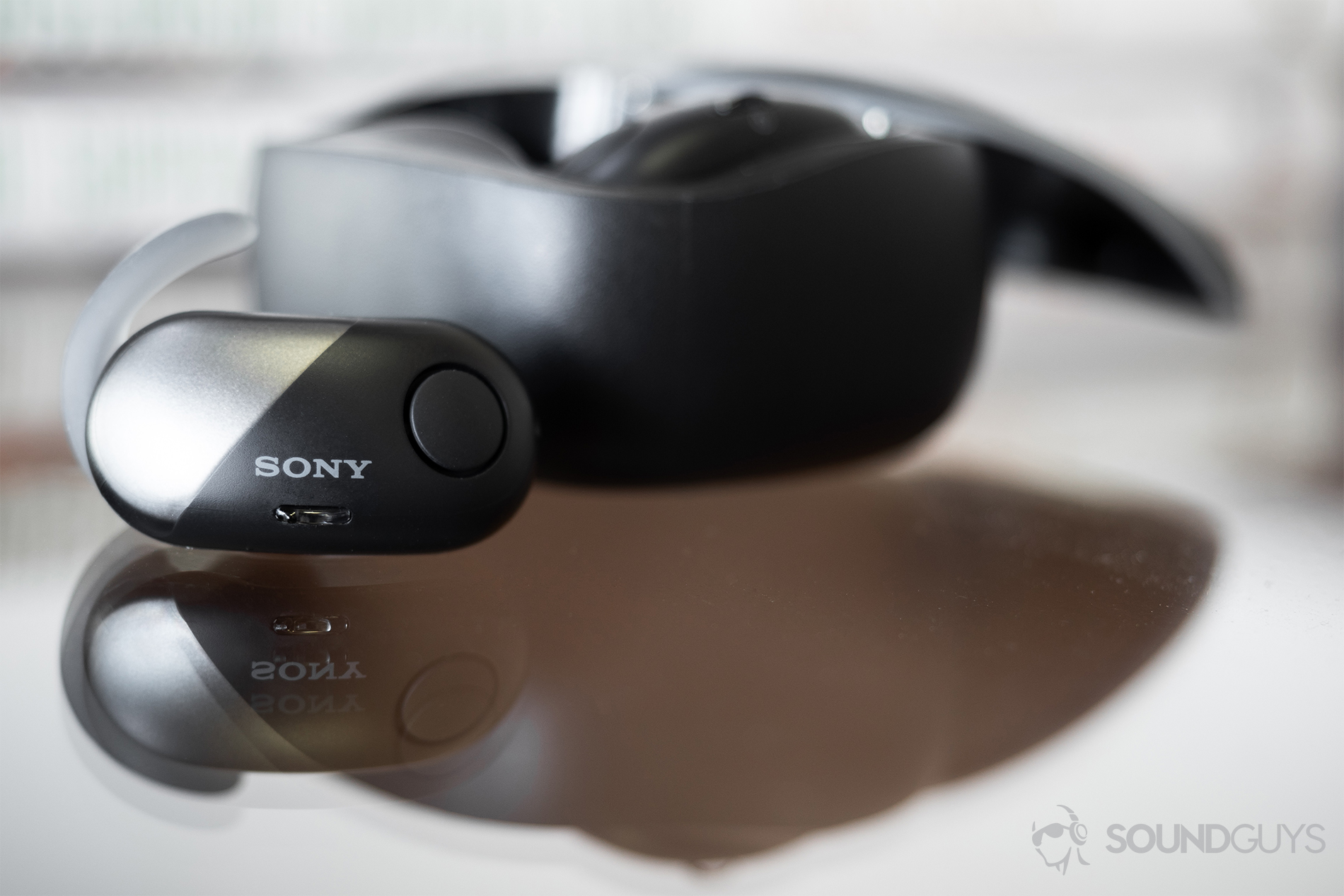 The included charging case is compact, but you have to be deliberate about positioning the earbuds in order for them to charge.
There is, however, an oblong button beneath the Sony branding, which allows for the typical playback controls. What's perplexing is toggling between sound modes. The manual suggests pressing the left power button repeatedly but doesn't give a specified number of times. That said, four quick presses of the button enters the quick sound settings. After that you have about a second to press the button once to turn sound settings off, twice to turn noise-canceling on, and three times to enter ambient noise mode. To make it easier on yourself, adjust this via the Sony | Headphones Connect app instead.
How to pair them to your phone
This actually took me a couple of times, because you have to pair the left earbud to your phone and then the secondary earbud pairs to the primary one. It's actually similar to the Earin M-2 except it doesn't benefit from the same NFMI low-latency technology as the Earin true wireless earbuds.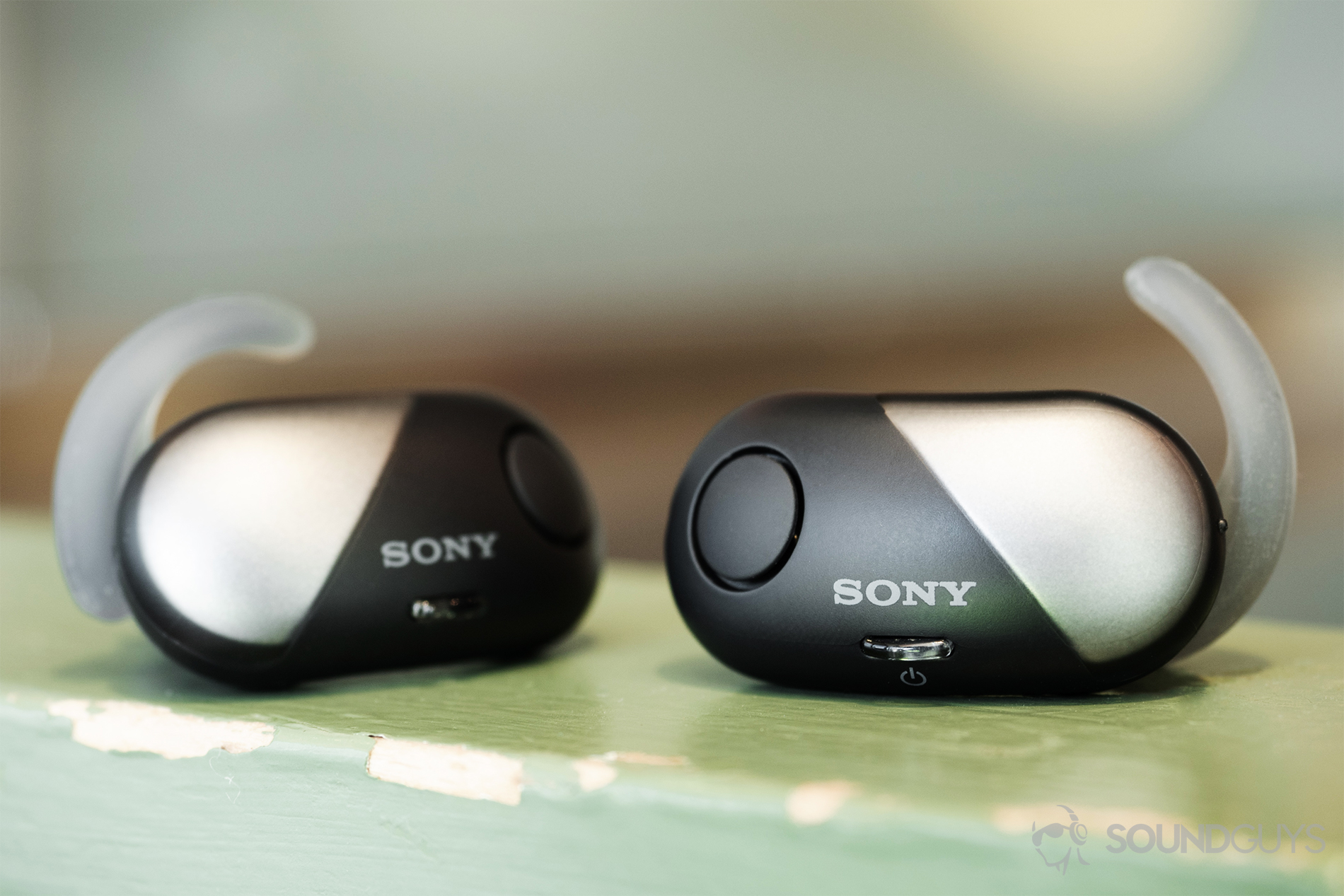 Pairing the Sony WF-SP700N requires you to pair the left, or primary earbud, and then remove the secondary one.
Remove the left earbud from the case; this will automatically turn it on.
Press and hold the left 'bud's button for seven seconds; LED indicator will flash blue and red.
Open the Bluetooth settings on your phone and select "WF-SP700N." If a passkey is required, type "0000."
Remove the right earbud. This will cause the two earbuds to connect automatically.
Should you download the Sony Headphones Connect app?
Yes. The frustration of manually switching between sound modes is reason enough to download the app. After all, it's free, so if you don't like it just uninstall it. That said, it is actually quite functional . Aside from swapping between sound modes with a single tap, you can choose between eight EQ modes. Well, technically nine if you include "off" as a mode. Unfortunately, you can't create a custom EQ but there are plenty of options to please most listeners. Podcast listeners may be excited to see "speech" as an EQ option, but it makes everything sound unnervingly echo-y.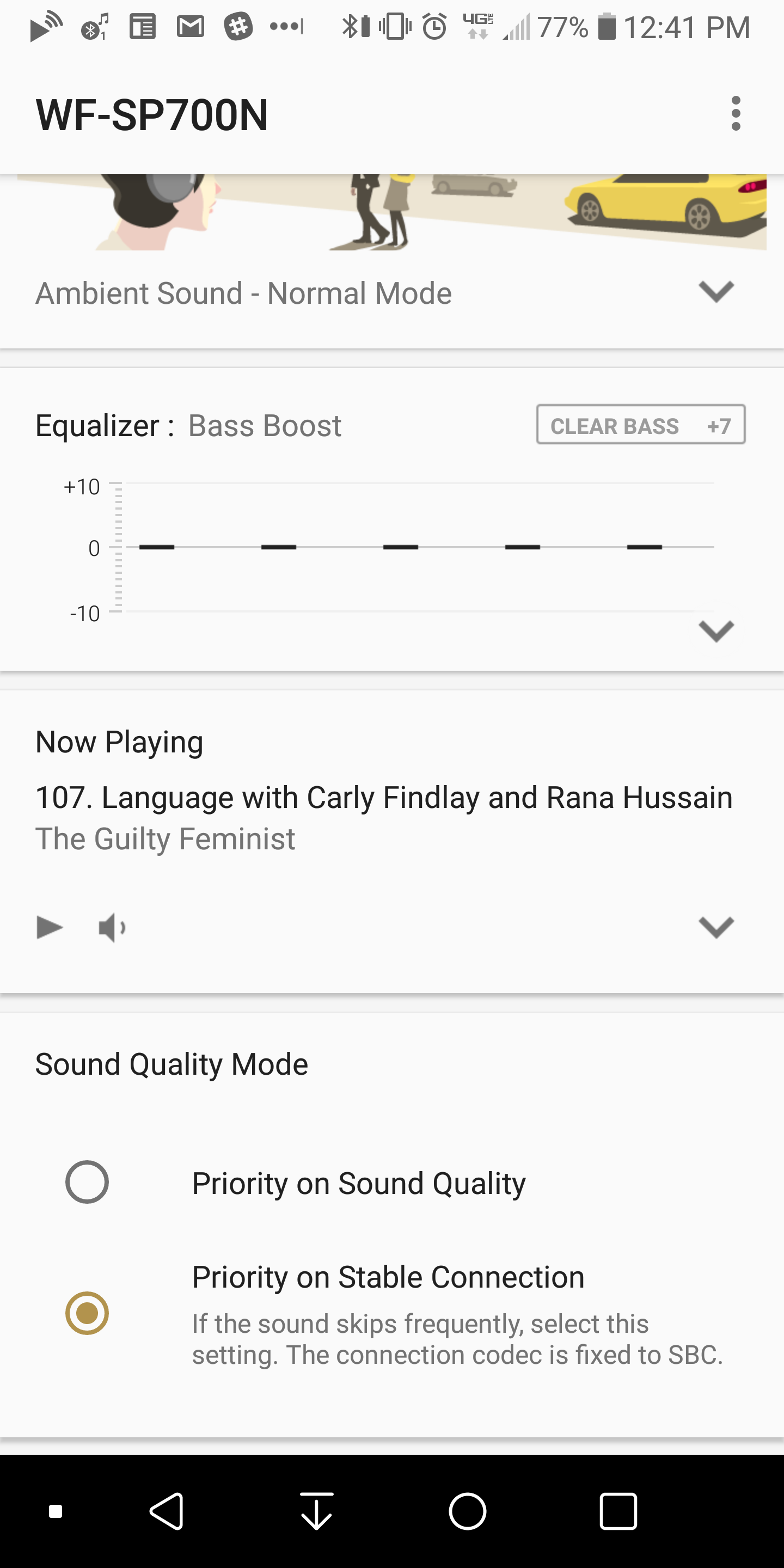 A great, self-aware feature of these true wireless 'buds is the ability to choose between prioritizing sound quality or connectivity.
You can also adjust playback controls and volume directly from the app and choose whether you want to prioritize connection stability or sound quality when listening. Though you could argue that we shouldn't have to choose, especially at this price point, it's nice that Sony gives the option. I'll cut the company some slack, too, because connectivity is something that all true wireless earbuds struggle with, even the best. Side note: prioritizing sound quality does improve audio quality.
Battery life
During our objective testing, we found battery life to be pretty abysmal at 2.58 hours of playback at 75dB (SPL). Though this falls short of Sony's listed 3-hour playback time, you'll likely get much closer to three hours by simply listening at lower volumes. Even though the earbuds' standalone battery life isn't the best, the case adds another two charge cycles to extend your listening time before needing to top up.
Connectivity
These do a great job of maintaining a reliable connection, especially when you set the headphones to prioritize connectivity via the app. Even so, using sound quality mode, doesn't degrade connection quality until walls come between the WF-SP700N and your phone. What's more, these support AAC and SBC Bluetooth codecs, which is nice for iPhone users. We suggest using SBC if you're on Android (and care about audio quality), however, as a recent investigation found that AAC performance is wildly inconsistent from device to device.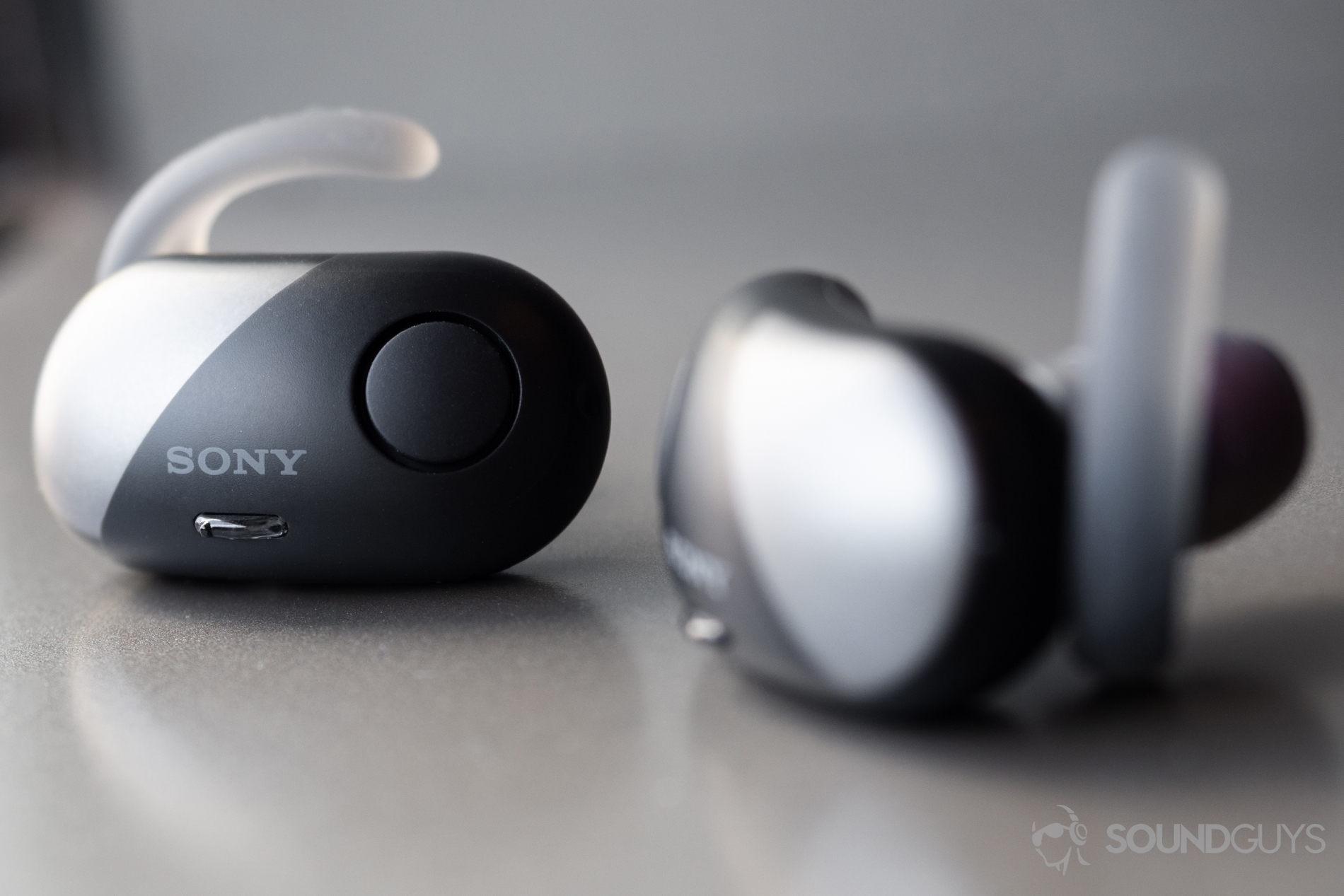 Even when in sound priority mode, the Sony WF-SP700N earbuds are able to maintain a solid connection within the 10-meter range.
Unfortunately, on SBC: when watching a video on my phone, the audio was a full two seconds behind anything happening on-screen. Not only is this unnerving, but it's extremely annoying. If you want true wireless earbuds that won't lag, you may like the Samsung Gear IconX or Earin M-2. Additionally, if you have noise-canceling activated but your media paused, a low, constant hiss is relayed.
How do Sony WF-SP700N sound?
The Sony WF-SP700N do a great job of attenuating low-end noise up to around the 1kHz-mark.
Overall, they sound good, but won't knock your socks off—especially when it comes to clarity. On the flip side, they do a great job at isolating noise. You won't hear the refrigerator humming or the air conditioner running. Worth noting, I don't have access to an AAC supported device. Instead, I'll be referencing the sound quality of the SBC codec with noise-canceling on, priority set to sound quality, and EQ to bass boost, since that's what Sony touts about these earbuds.
Bass boost makes a big difference; it's also the earbuds' default setting, not "off." In This Is America by Childish Gambino, known as Donald Glover, the bass beat is a prevalent part of the song. At 0:49, the sub-bass kicks in and it feels like the song is coming from the stereo system that the folks at Pimp My Ride would install in guests' cars. It seems that the frequency response mirrors the Equal-loudness contours from the ISO 226:2003 revision.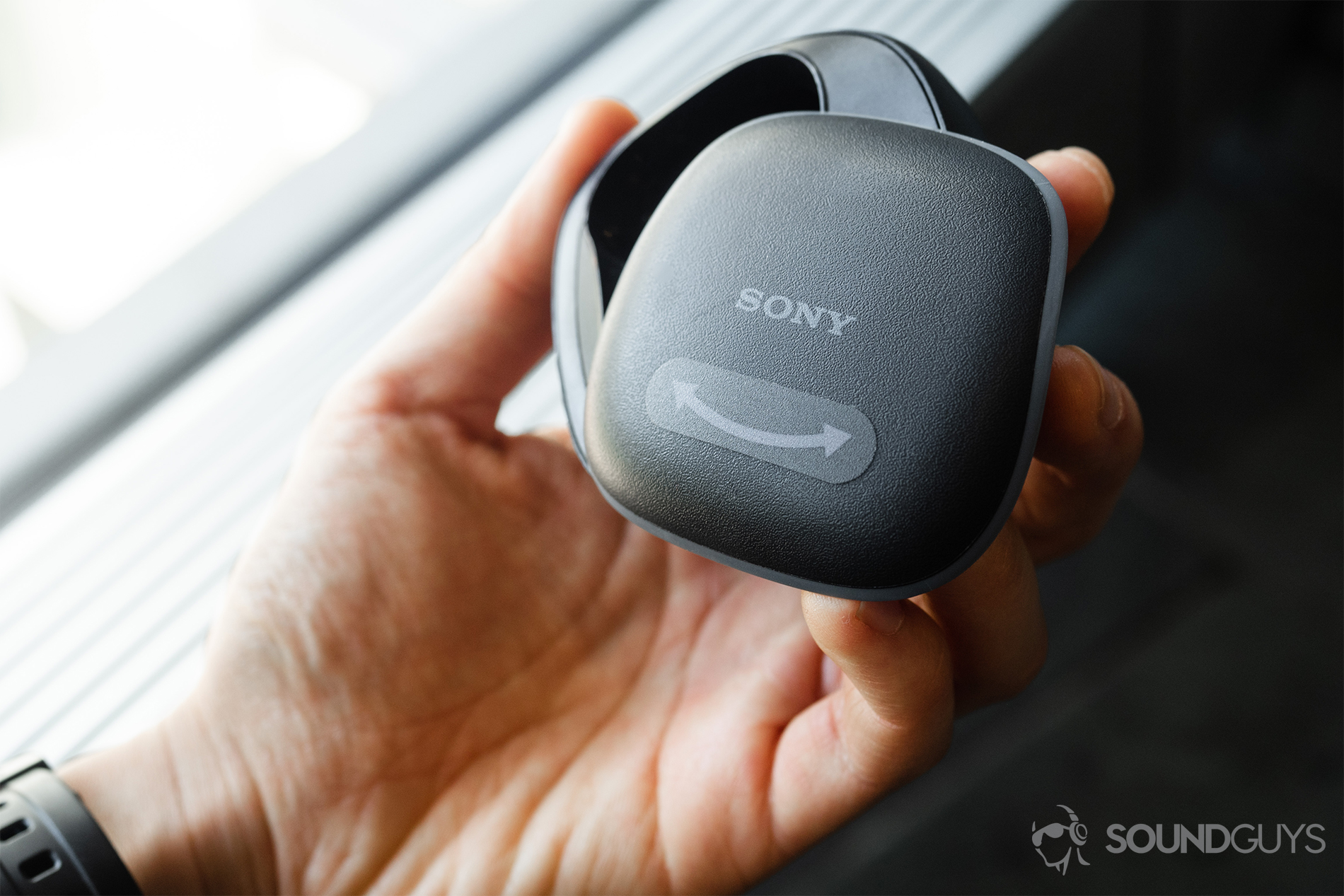 A swiveling charging case is neat but not the most secure option.
Of course, with great bass comes great masking and that's the case with the Sony WF-SP700N. Glover's voice is difficult to hear above the fratty bass reproduction. You can hear what's being said, throughout the verses, but an extreme example of the masking taking effect is from 2:00 – 2:10.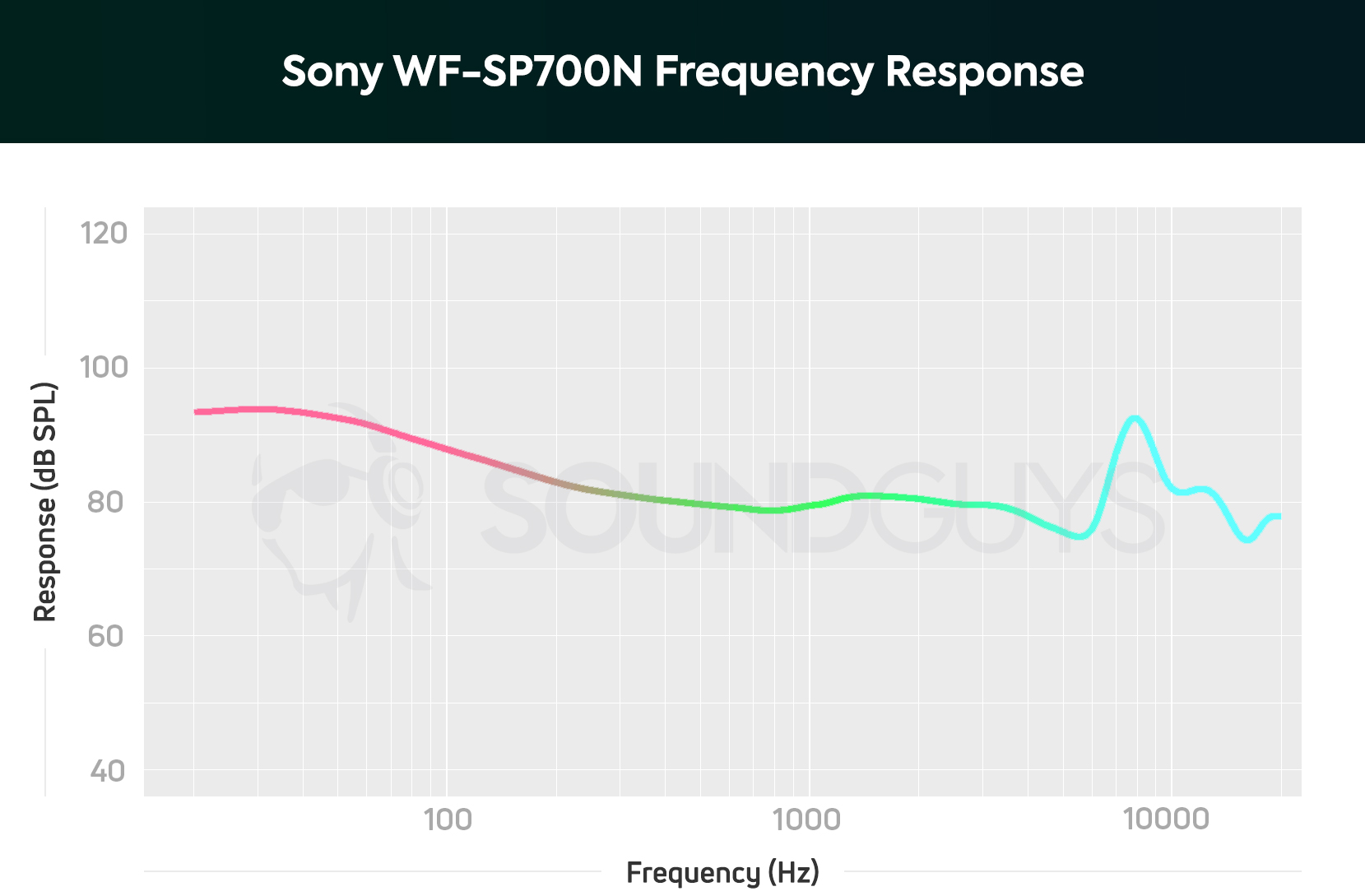 Sony seems to try very hard to emulate an equal loudness contour with its default tuning.
As Glover repeats the line, "don't catch you slippin' up," it seems like we're hearing the full timbre of his voice. But then when the bass and vocal ad-libbing abruptly stops and Glover says, "Look what I'm whippin' up." His volume doesn't increase, but his voice is much clearer. You can hear the rasp in his voice with the word "whippin'" which couldn't be heard with the WF-SP700N even a few seconds prior.
Down in the Valley by The Head and the Heart is a pensive piece and opens with guitar picking. Later in the song, percussive elements enter, resulting in a livelier sound. That said, the tambourine shakes (500Hz-15kHz) are difficult to hear above the steady drum beat, guitars, and piano. At 3:20, the band kicks it up a notch. Here, the piano is clear and loud, but the tambourine is difficult to identify. True, it's not the star of the song, but it shouldn't take complete concentration in an empty room to hear it.
Should you buy them?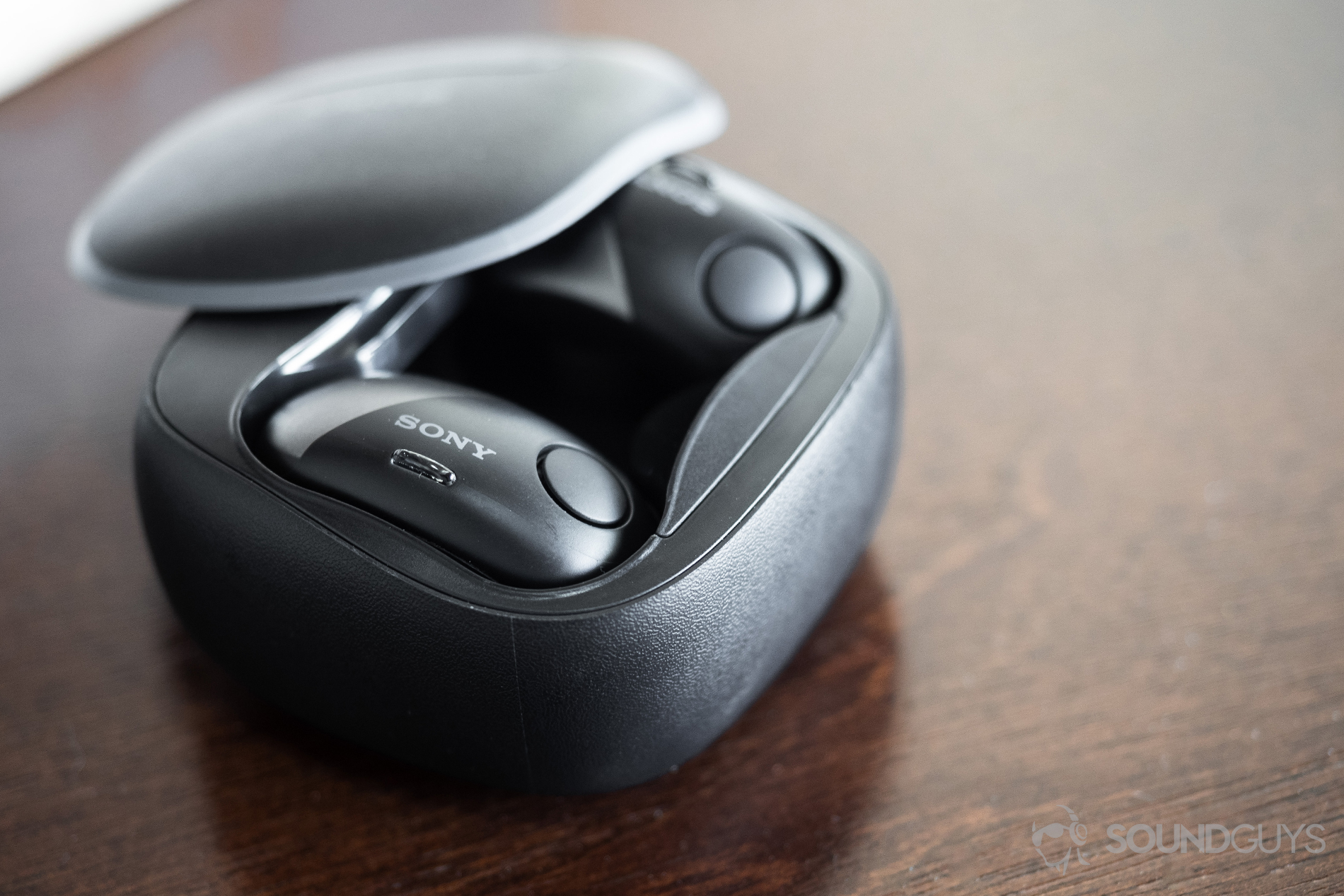 These true wireless earbuds are no slouch, and the noise-cancellation is stellar. That said, they aren't the best value on the market.
If you want the best and really the only sub-$200 noise-canceling true wireless earbuds available, then you should get the Sony WF-SP700N. The small form factor is convenient and understated, well, as far as true wireless 'buds go. Plus, they're IPX4-certified, successfully attenuate outside noise (even do a decent job with human voices), and fit well. That isn't to say that these are without fault, the battery life is disappointing and sound quality is OK, but for some, the flaws are forgivable. If you find the drawbacks easy to overlook, then you'll be pleased to have these in your ears whether you're on the train or in the gym.
Still looking? Check out the best true wireless earbuds
FAQ
The earbuds do not have touch controls, but you can control playback via the button on the right earbud. To pause/play music, press the button once. To skip tracks, double-tap the button. To go back a track, triple-tap the button. To fast-forward, press once and then press and hold. To reverse through a track, press twice and then press and hold.
Yes, as they support SBC and AAC Bluetooth codecs!
Yes, the headset is compatible with PCs. However, users have experienced issues connecting for which Sony has an official troubleshooting page. Check that volume levels are turned up on your source device and place the earbuds within one meter of your PC. Your computer must support the A2DP Bluetooth profile, which should automatically be supported by all modern computing devices. You may need to update your computer's Bluetooth drivers. To do so, enter your PC's device manager and open the Bluetooth tab, select the Bluetooth system, and then update the drivers. Windows will automatically search for the most up-to-date Bluetooth drivers and install them if your system is out of date.