All products featured are independently chosen by us. However, SoundGuys may receive a commission on orders placed through its retail links. See our ethics statement.
Sony SRS-X3 Review
The Sony SRS-X3 isn't as feature-packed as other speakers in the SRS line, but it's small size and lower price makes it quite the contender.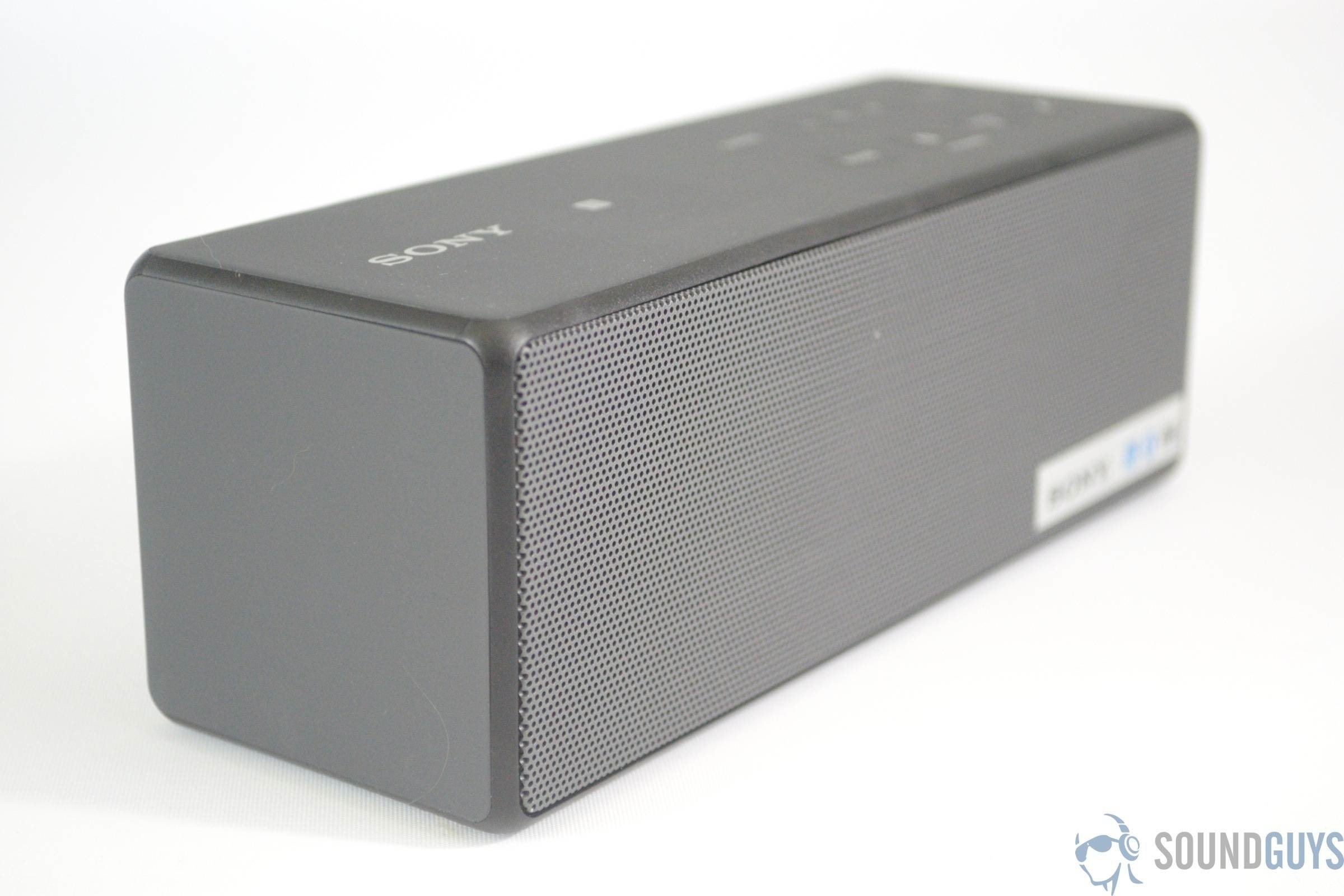 I have to admit that I was disappointed after I reviewed the Sony SRS-X7. I wasn't disappointed in the speaker — I actually liked it quite I bit. I was disappointed that it didn't seem to be getting the recognition I thought it deserved, especially since it had a few neat features that aren't common in Bluetooth speakers.
While it doesn't boast the same impressive feature set as its big brother, the Sony SRS-X3 nevertheless caught my eye. I wanted to know if I'd like it as much as I did the SRS-X7, especially since its lower price point might give it a better chance with consumers.
What's In The Box?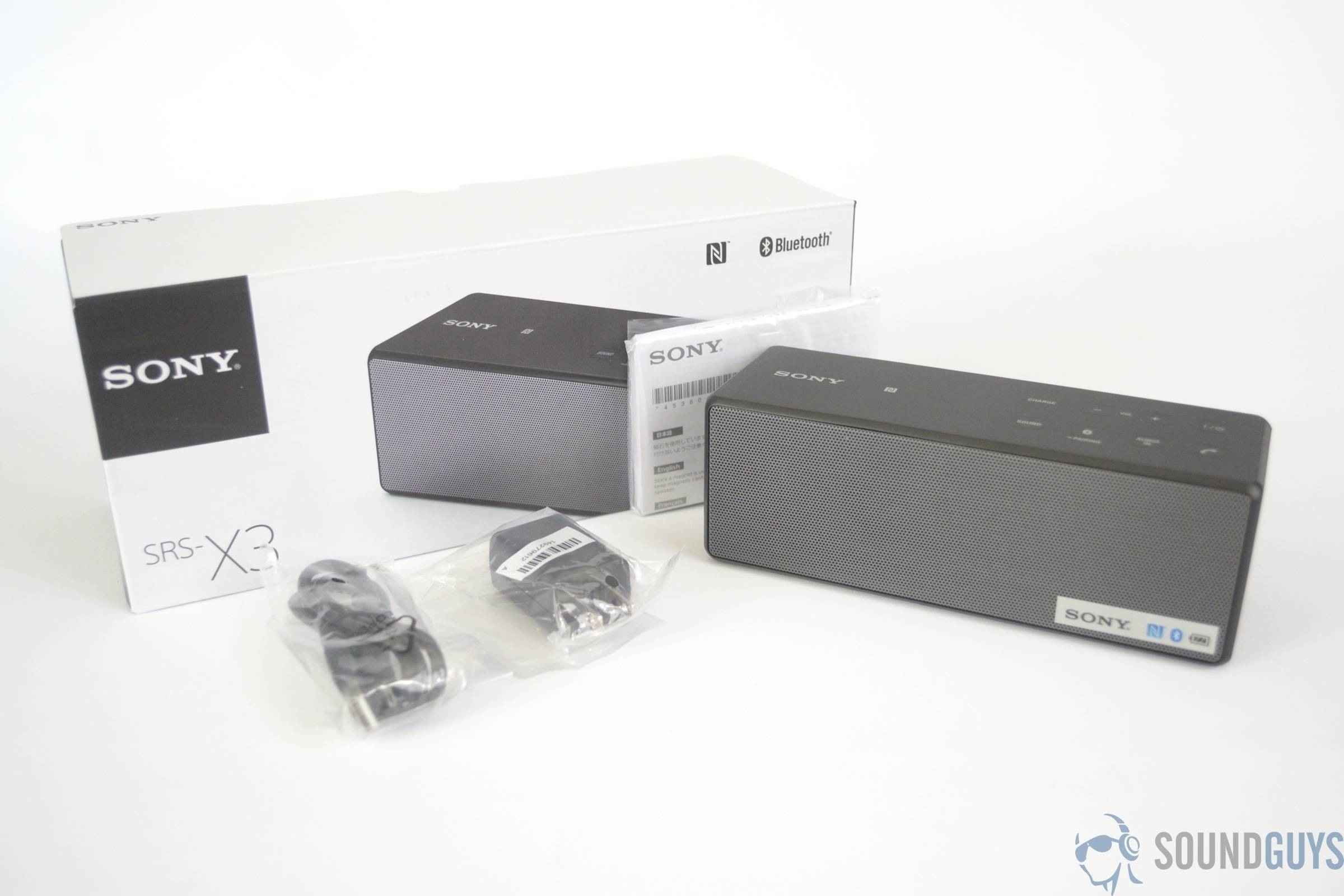 Like its bigger brother, which will probably be mentioned fairly often in this review, the Sony SRS-X3 doesn't come with a whole lot in the box. You'll find the speaker itself, a USB AC adapter, and a USB cable. Aside from the manual, that's all there is.
Build & Design
The entire SRS line shares a similar sensibility when it comes to looks, and it's a sensibility you'll either like or won't — it's not going to vary by speaker. The Sony SRS-X3 is available in a few colors; we're looking at it in black, but it's also available in red and white.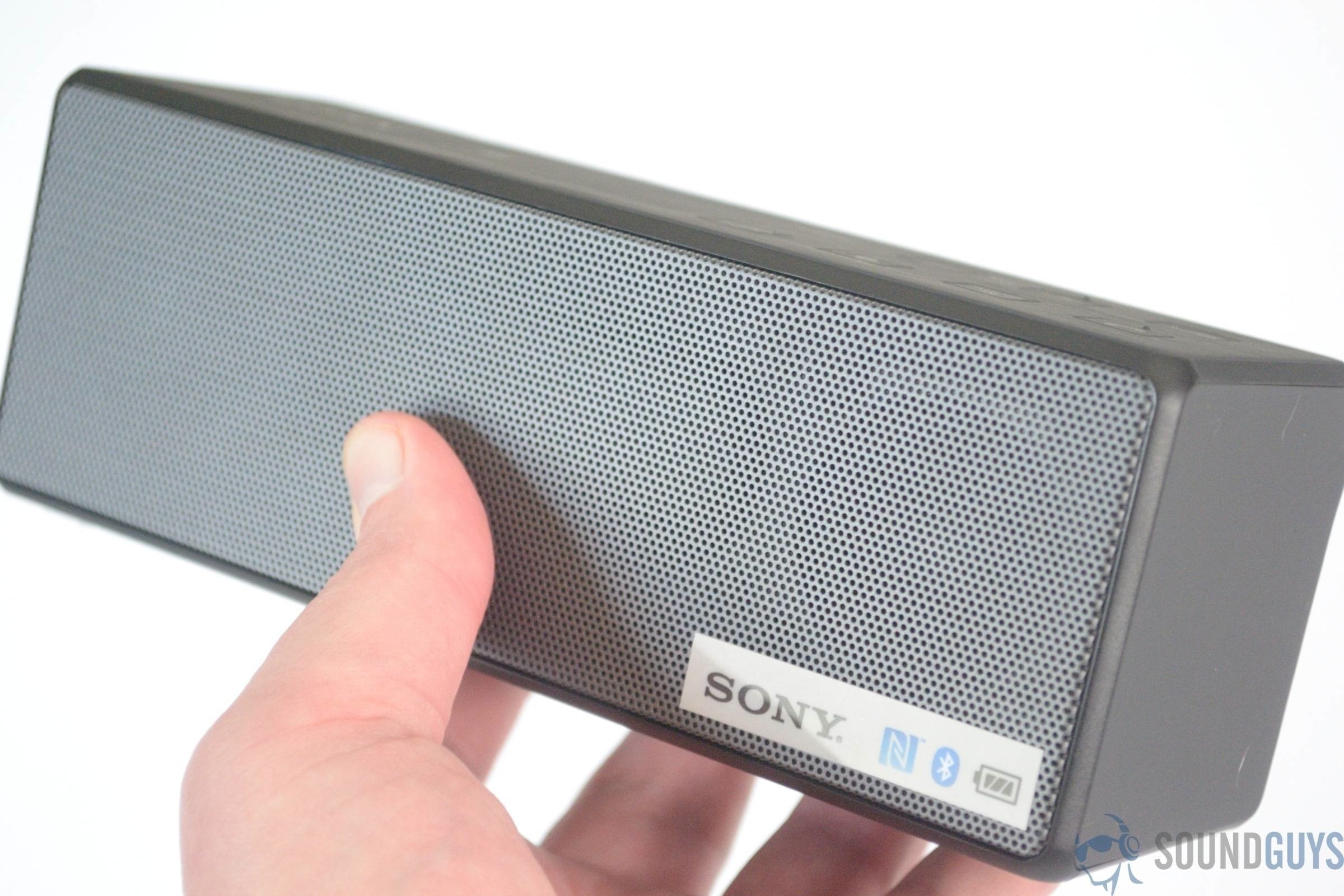 In terms of size, the SRS-X3 is obviously smaller than the X7, with less buttons, but that's a comparative term. There are still plenty of buttons here, but we'll touch on that later. The speaker has the same sleek, minimalist look that characterizes the entire line. Unlike some of the brightly colored monstrosities currently crowding the Bluetooth speaker market, this wouldn't look out of place on an executive's desk.
Considering the size — 7.4 x 2.5 x 2.5 inches — you might expect this to be light, but at 2.1 pounds, that isn't the case. The weight gives the speaker a solid feeling that I like, but at the same time, that extra weight might not be welcome if you're throwing the SRS-X3 in a backpack on the way to the park.
Connectivity
Pairing the Sony SRS-X3 is a simple, easy process. Even if for some reason the speaker doesn't immediately start pairing when you turn it on, a quick tap of the Bluetooth button will take care of that. Then just pair from your device and you're good to go. NFC pairing is also an option: just tap your device to the NFC icon on top and that's it. If you don't want to use Bluetooth or you're using a non-Bluetooth device, just plug into the jack on the back (you'll need to use your own cable) and tap the 'audio in' button.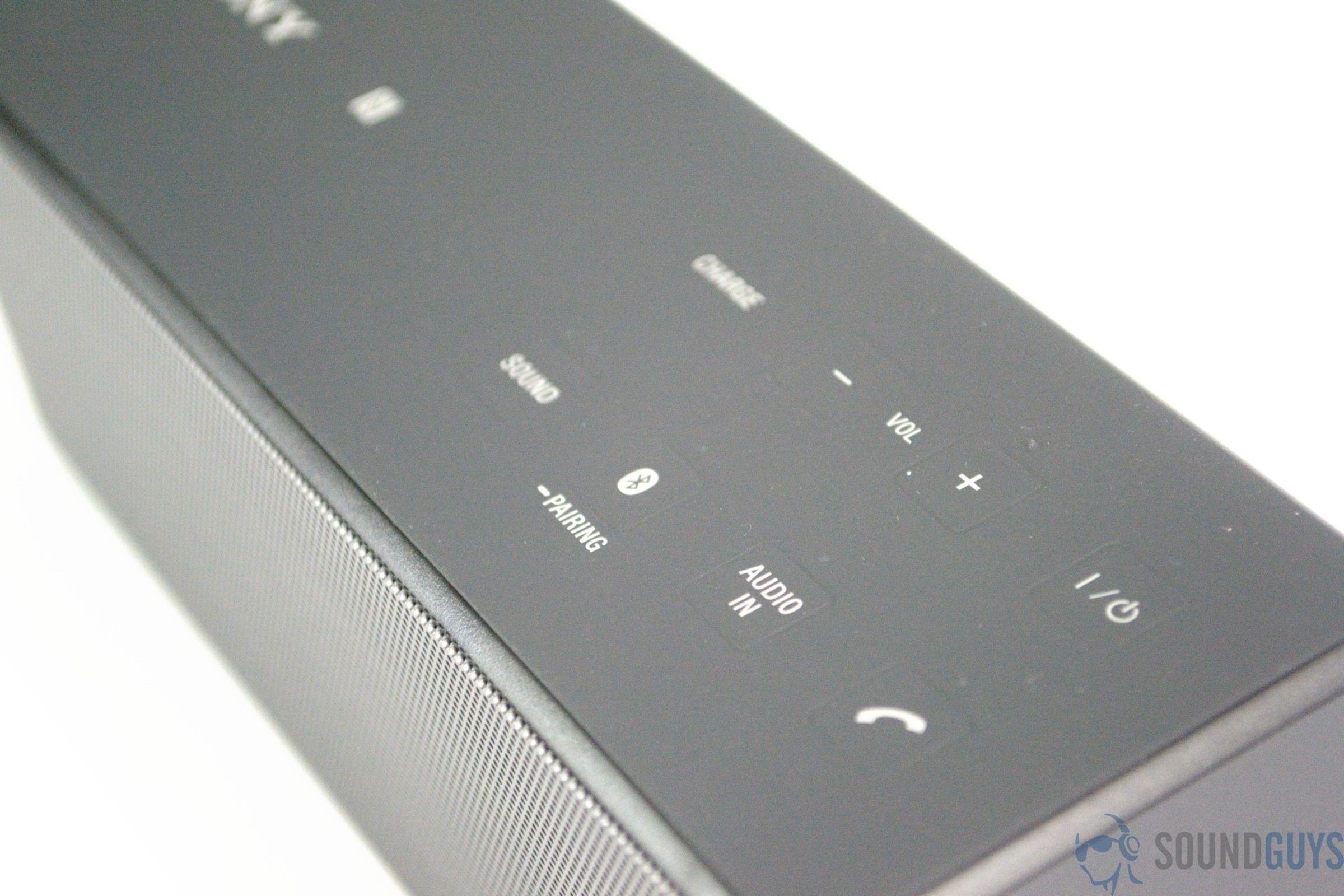 Range is stated as the Bluetooth-standard 33 ft, though moving around my house while testing I put slightly more distance between my phone and the speaker, and it continued to work without issue, even with a few walls in the way. Obviously this can't be guaranteed to happen for everyone, but it certainly performed well during testing.
In addition to the aforementioned power, Bluetooth and input select buttons, the Sony SRS-X3 also has dedicated volume buttons, a call button, and a button to switch the built in surround sound emulation on and off. Unfortunately, there aren't any playback buttons. Calls using the built-in mic sounded good on my end, and my voice came through loud and clear.
Battery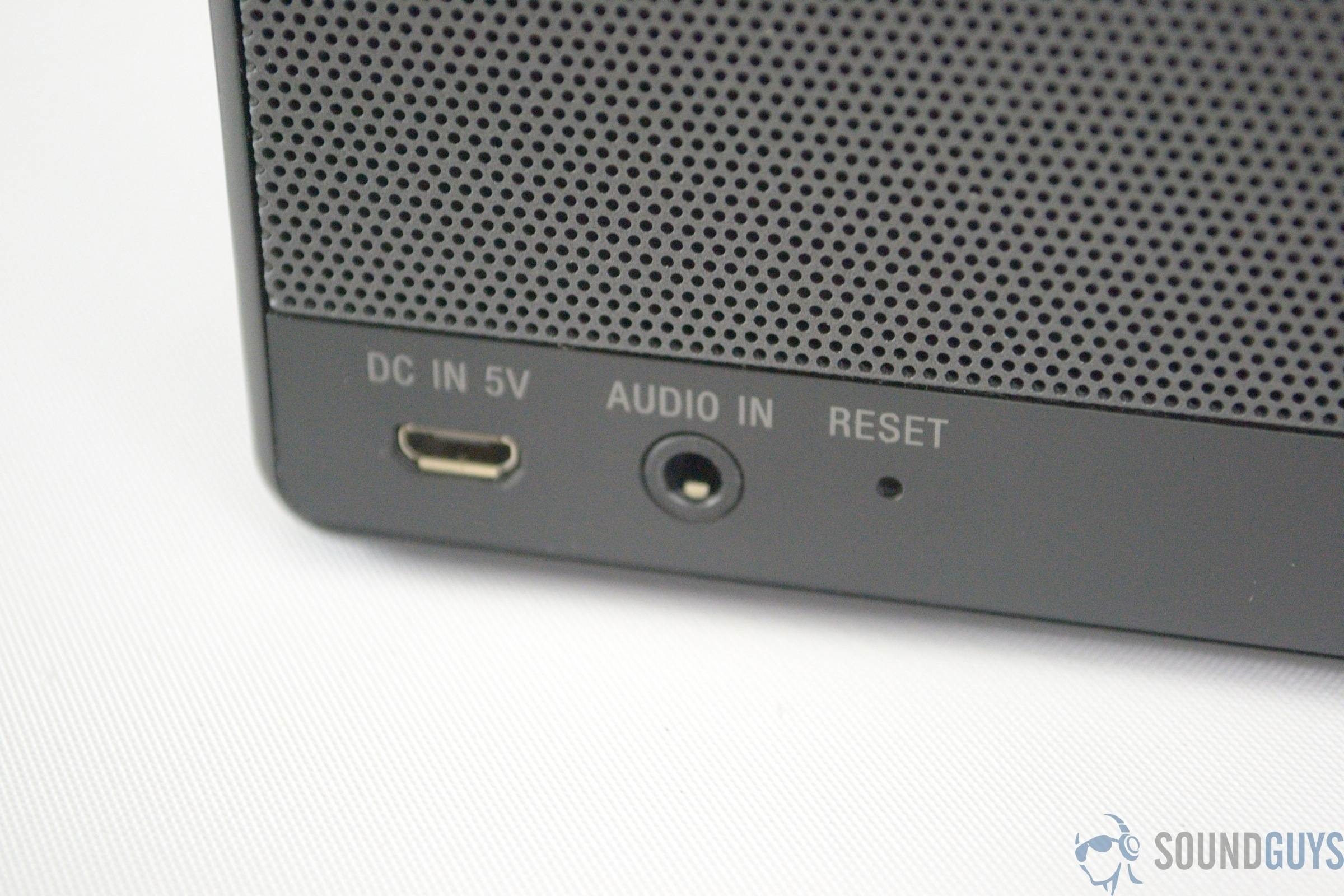 Sony claims a battery life of up to 7 hours for the SRS-X3. Maybe it's that aside from testing for distortion I kept the volume at moderate levels, but I found I got slightly more – closer to 7.5. Charge time seemed to be around 1.5 – 2 hours using the included AC charger. One difference from the SRS-X7 I was happy to see is that this speaker can be charged via USB. This is great when you run out of power and you don't have the adapter with you.
Sound Quality
Manufacturers aren't always happy to share the actual wattages for their portable speakers; likely because a lot of them are 8W or similar, which is fine but doesn't look impressive on paper. Probably for the same reason, Sony is happy to share their figures. The SRS-X3 is 20W, which is impressive for such a small speaker.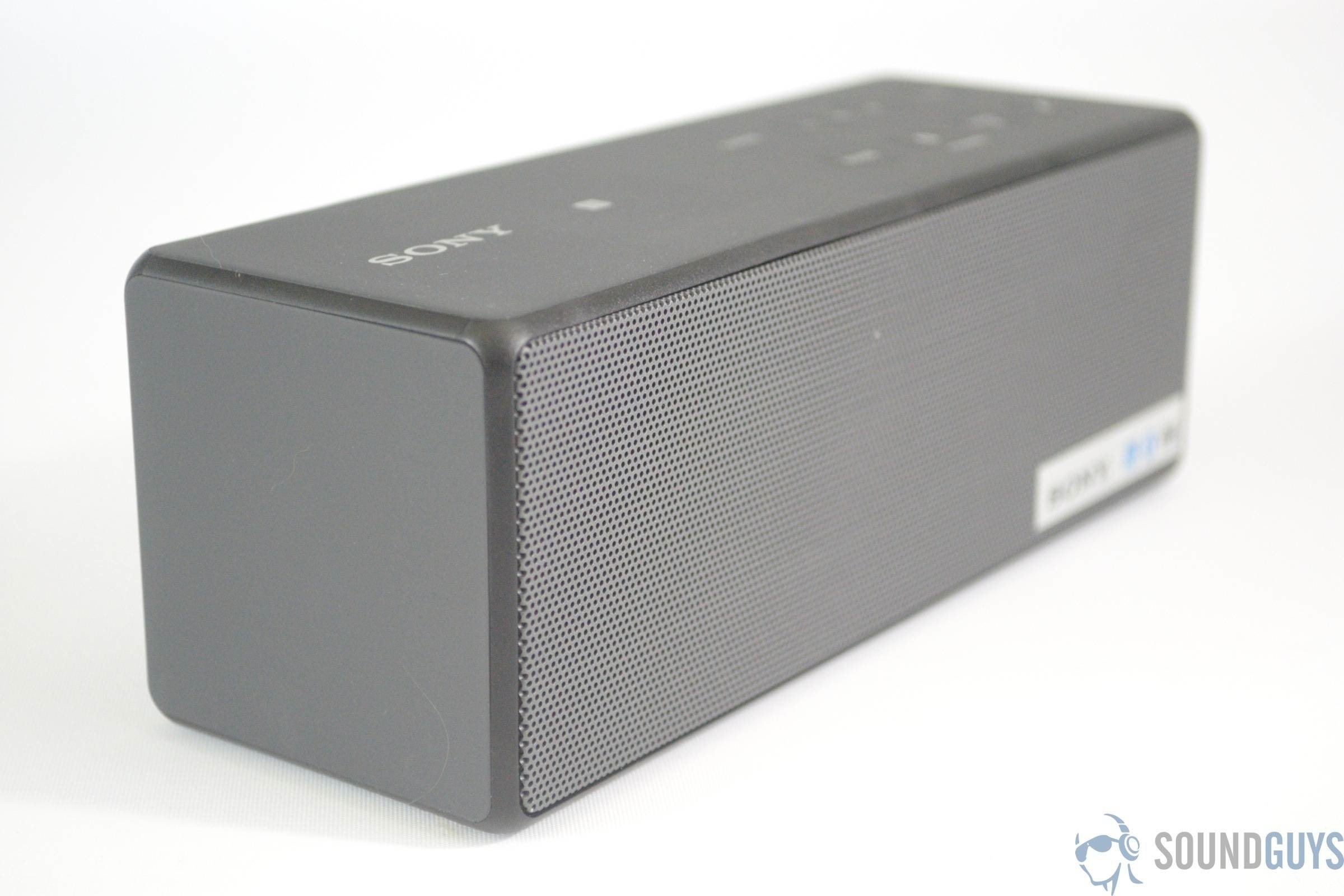 Even after testing the SRS-X7, I was surprised by how much bass was produced by the little SRS-X3. Of course, the surface matters, but sitting on a wooden counter top, the little guy pumped out respectable bass. It wasn't a boomy mess either, there was a nice amount of definition to the low end.
The mids sound somewhat scooped, probably to accentuate the low end and avoid the boxiness so common in speakers of this size. That said, there was still a nice depth to the low mids.
The highs offer a nice amount of detail. I noticed even subtle details stood out on cymbals and similar instruments.
Though this is ostensibly a two channel speaker, with any speaker this small, stereo isn't going to be very noticeable at any distance. Sony has included a surround sound mode to help combat this, but I didn't notice much of a difference either way.
Conclusion
It was pretty obvious from the beginning that this speaker wasn't going to top the SRS-X7, but that's because it wasn't meant to. It doesn't have the same wealth of features, but the SRS-X3 does have the features that count, plus it's smaller and more portable to boot. It can't do everything, but what the Sony SRS-X3 does do, it does very well.
This speaker may not have the boosted bass or brand recognition of the Bose Soundlink Mini, but it's certainly comparable, and considering the lower price, it may indeed be the better choice for some.