All products featured are independently chosen by us. However, SoundGuys may receive a commission on orders placed through its retail links. See our ethics statement.
Sony SRS-X7 Review
The Sony SRS-X7 sounds great and packs a ton of features, but its steep price and short battery life may have you looking elsewhere.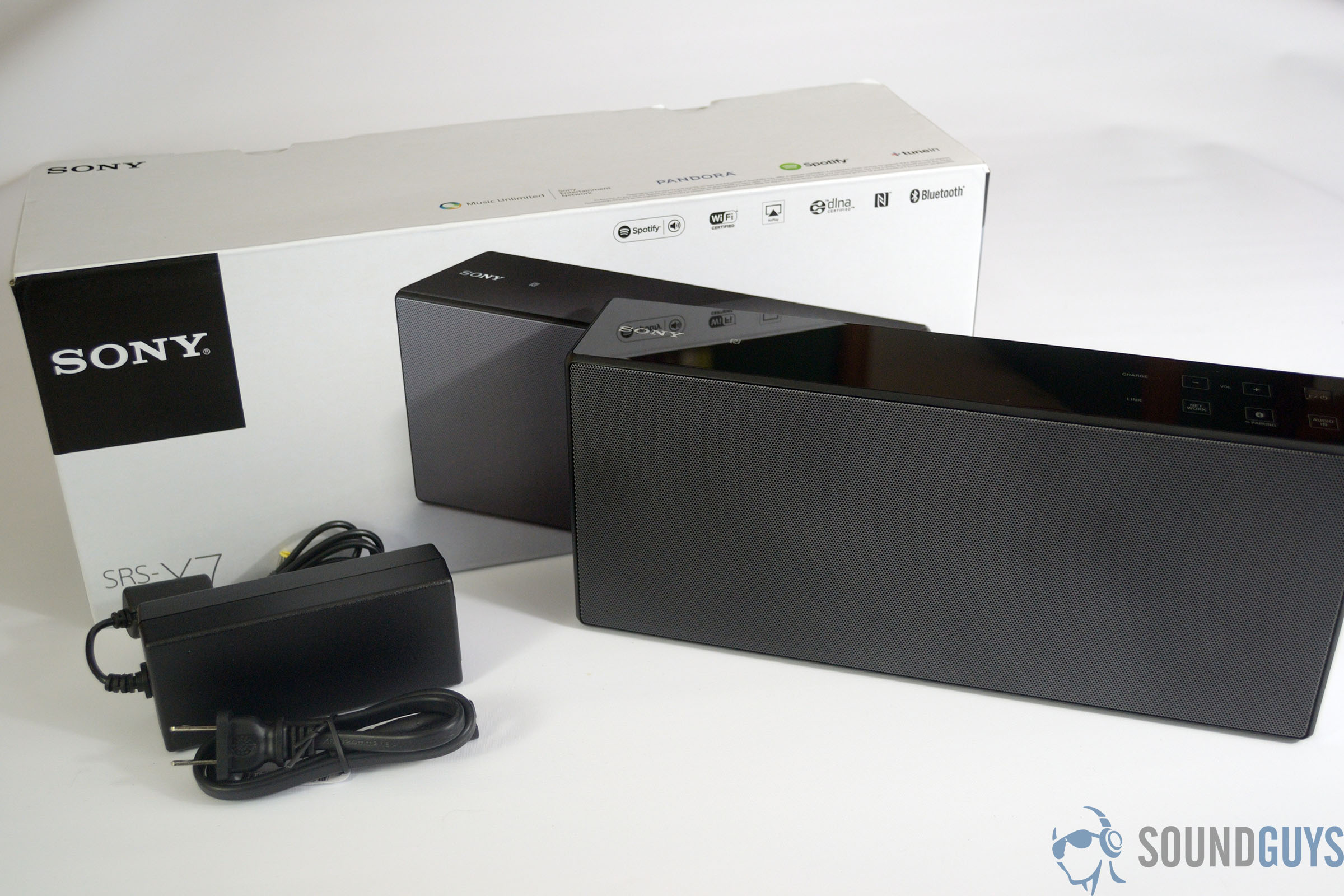 Buy now from Amazon.com ($298.00)
Sony does a little bit of everything when it comes to electronics, but they aren't exactly the first name that comes to mind when somebody mentions Bluetooth speakers. Especially when we're talking higher-end, feature-packed speakers like those in the recent lineup of the SRS-X5, SRS-X7 and SRS-X9.
Though it's an easy assumption to make that these speakers are three models in the same line ranging from worst to best, that isn't exactly the case. Each model has its strengths, weaknesses and unique features. Obviously, in this review, we're focusing squarely on the middle of the line.
Similar in price to the recently released Bose SoundLink 3, the SRS-X7 has its work cut out for it. How does it hold up?
Features
32 Watt output
NFC for easy Bluetooth pairing
Airplay
SongPal app for added control
What's In The Box?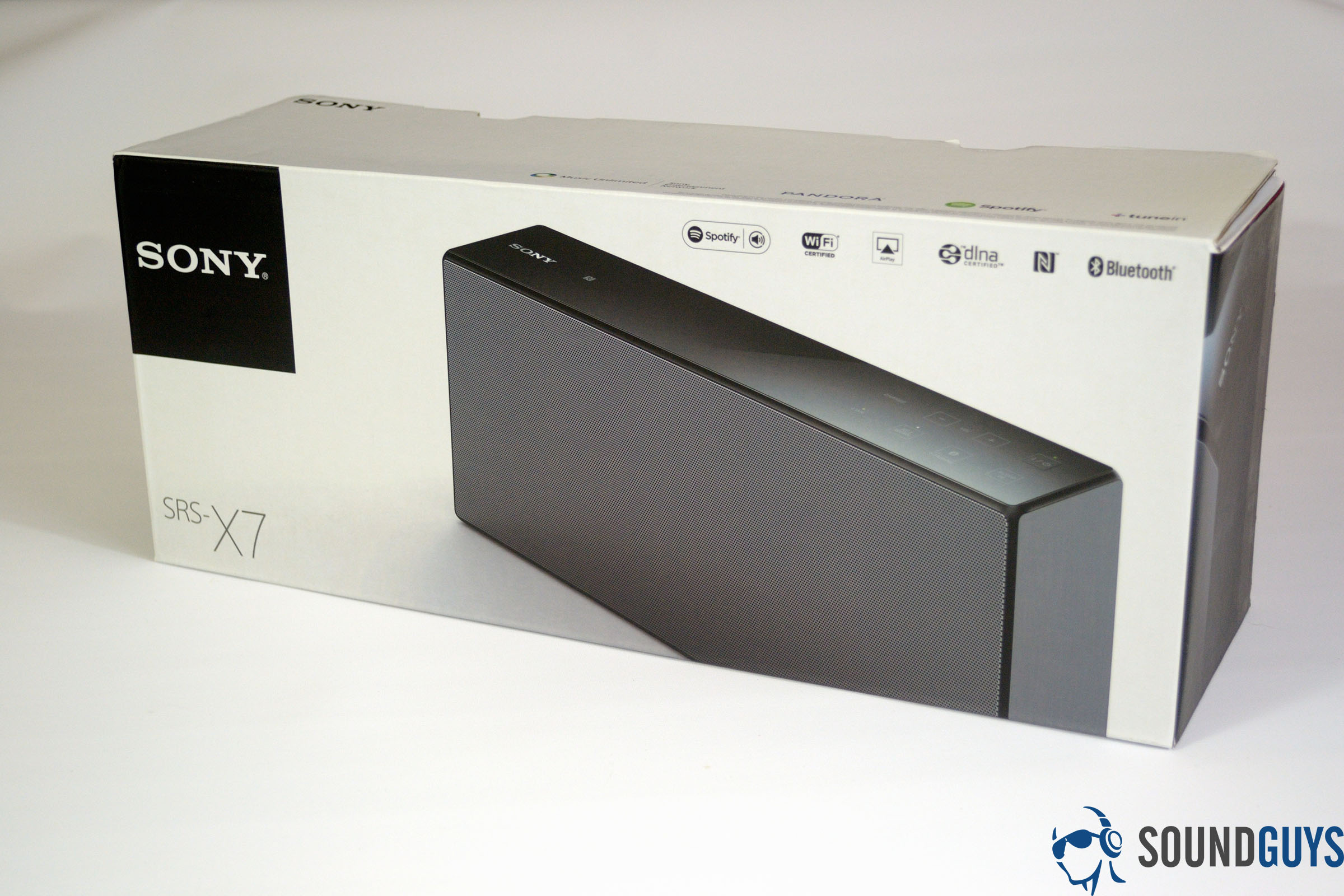 Like a lot of speakers, there isn't really much to speak of when you open up the box. Of course you'll find the speaker itself, but aside from the AC adapter and a few manuals and similar pieces of paper, that's it.
Build & Design
The Sony SRS-X7 might very well be the most stylish looking Bluetooth speaker I've ever seen. From a distance, it's a sleek, monolithic slab of black plastic with a speaker grille on the front of it. Up close, well, it's pretty much the same.
This motif continues even on the top of the speaker where the buttons are located. With the exception of the power button, which is clickable, the rest of the buttons don't even provide tactile feedback. A blinking light is as much as you'll get. While this can be slightly frustrating if you aren't sure why the volume isn't going up, it does look very nice.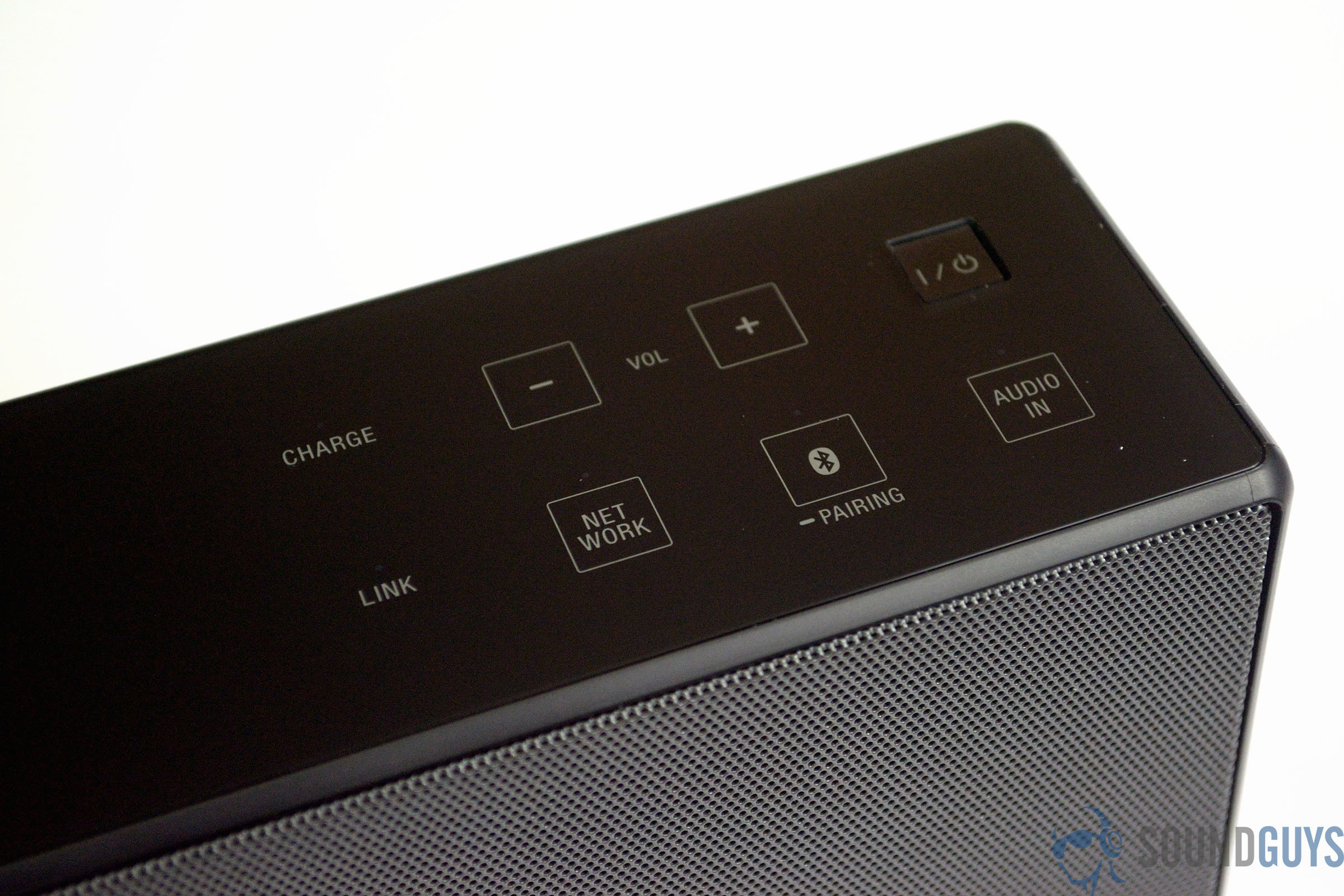 On the back, you'll find the various and sundry less attractive bits that Sony didn't want cluttering up the front, sides and top of the SRS-X7. The power jack, audio in, network switch, and WiFi antenna are all located back here. Despite this being the place where everything that could possibly be considered unsightly is tucked, it still manages to look quite sleek.
If the SRS-X7 looks like it means business, that's because it does. Lifting it up, you'll be able to tell right away. It's not going to break the table you place it on, but at 4.3 pounds, the speaker is not exactly light.
Connectivity
I have to admit, I've been doing the Sony SRS-X7 a bit of a disservice for most of this review. This isn't just your average, run of the mill Bluetooth speaker. It also supports Airplay and playing music from a DLNA server (ie., your PC), though it does still need a smartphone around to do that last one.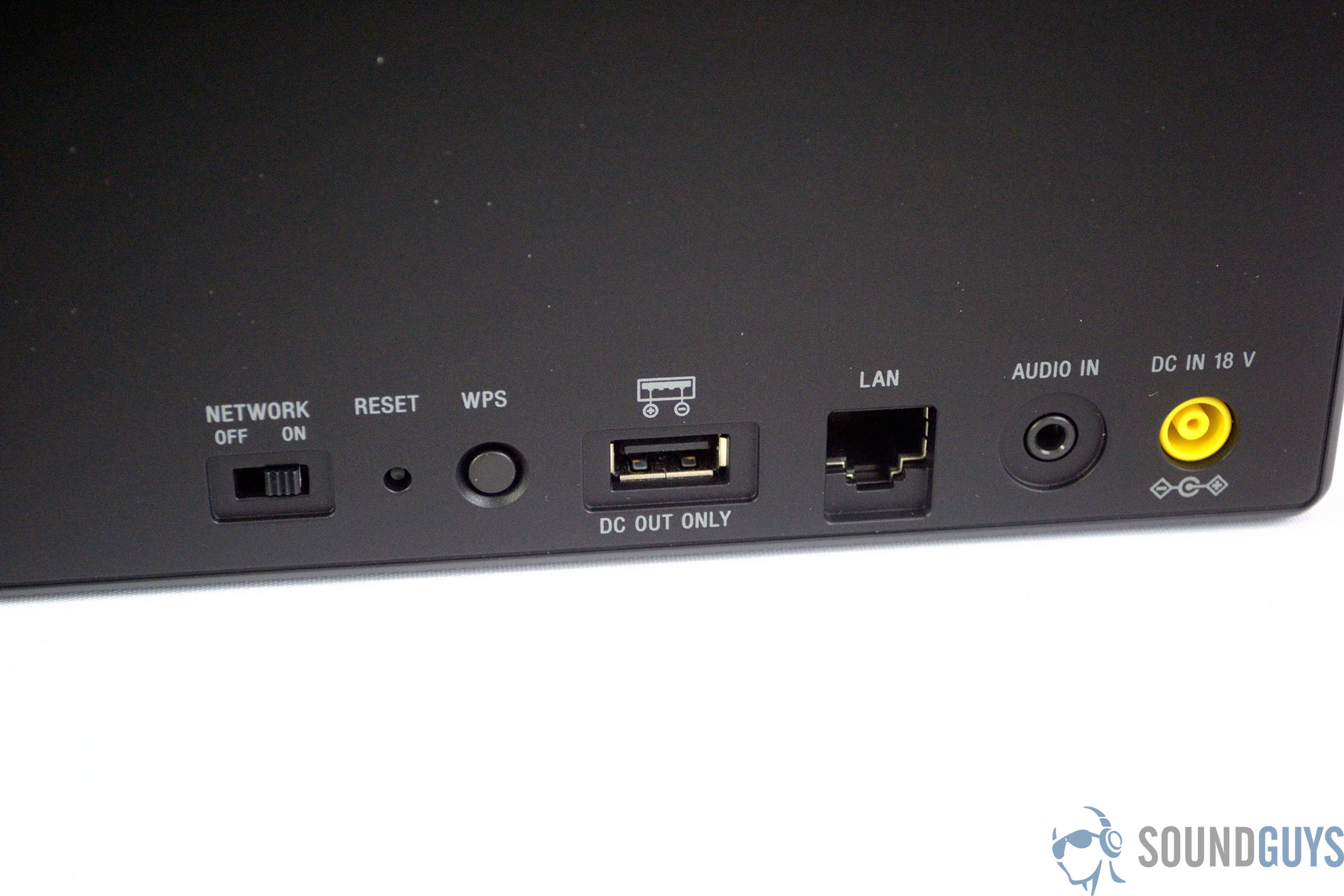 Bluetooth pairing is simple as can be. Turn the speaker on, hold down the Bluetooth button until it flashes, then pair the device of your choice. Range works up to 30 feet easily. Further than this and your risking skips and dropouts. If you'd rather plug in, or you need to use a device that doesn't support Bluetooth, just tap the Aux button on top and that's it.
Sony offers an app, SongPal, which is available for both iOS and Android platforms. This isn't necessary at all, but it does offer a few handy features. It allows using your phone as a remote for the speaker (more than you already can) for one, but it also fascilitates easy NFC connections. It's very handy to just tap your phone against the NFC icon to auto-connect to the speaker.
Battery
According to Sony, the SRS-X7 has a battery life of around 6 hours, assuming the network switch is turned off. Apparently, WiFi drains the battery quite a bit more, as expected battery life drops to 3 hours with the network switch turned on. I tested the former, and easily got over 5.5 hours before I plugged in for the day.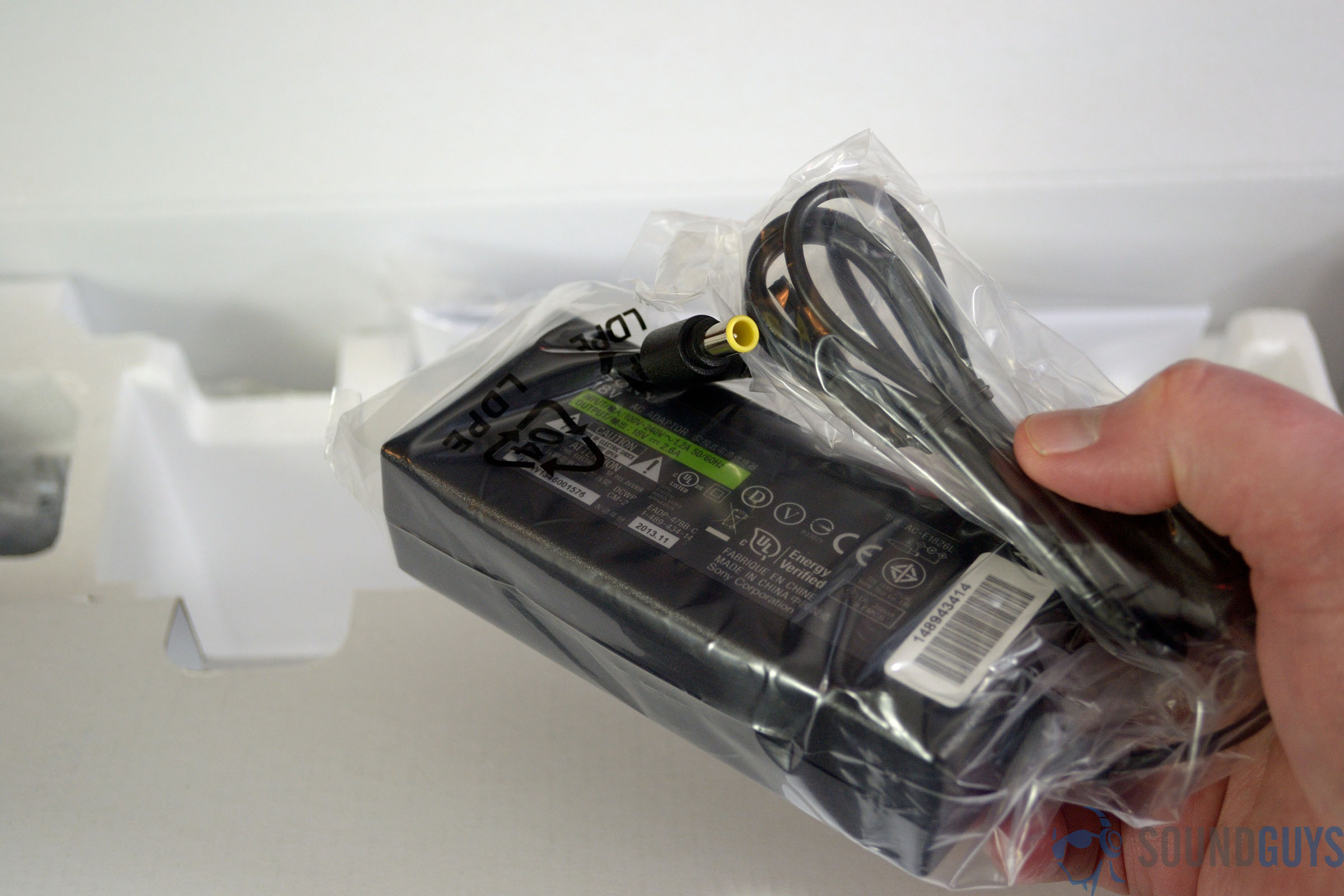 Likely due to the relatively hefty wattage and the battery required to power said watts, the SRS-X7 can only be charged with the included AC adapter. There aren't any USB charging options, as handy as they would be, but this isn't the first time we've seen this, so it isn't a surprise.
Sound Quality
In testing the Sony SRS-X7, we used two methods of audio playback. The first was to play music straight from a computer through a Focusrite Saffire Pro 40 audio interface into the 3.5mm audio jack, to ensure the best signal path and test pure audio fidelity. Secondly, and more importantly, we connected phones and computers via Bluetooth, since this is how most people will be using this speaker.
The low end is solid and accurate, if not overly hyped. When compared to similarly-sized speakers from Bose, the bass from the Sony SRS-X7 isn't quite as booming. However, the low end is slightly more defined, and doesn't seem artificially boosted, as it does in some other speakers.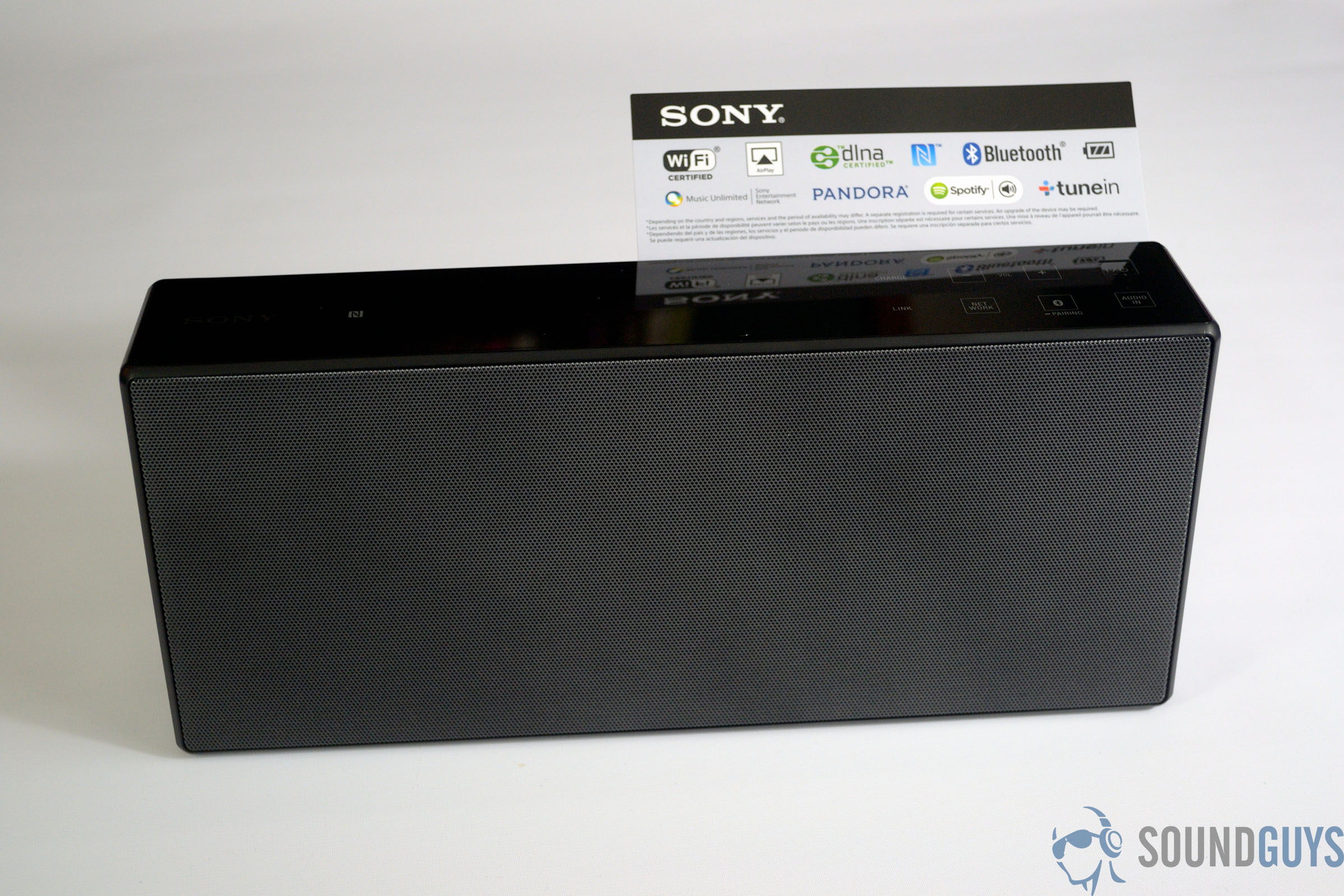 In all the music I played during testing, the midrange was clear and powerful. Vocals were clear, guitars were well defined, and there wasn't a hint of boxiness in the lower mids or harsh overtones in the upper midrange.
As with the lows and mids, the best way to describe the high end in the SRS-X7 is accurate. Cymbals and other instruments that rely strictly on high end were clear, but there wasn't any sense of these frequencies being out of balance with the others.
Unlike a lot of speakers I've tested, the Sony SRS-X7 seems to have at least some semblance of stereo seperation. It isn't much – it couldn't be in a speaker this size – but it is there.
Conclusion
In a world where the Sony SRS-X7 didn't face any competition it would be a very easy pick, but with the recently released Bose SoundLink 3 on the market it isn't quite that simple. While the SRS-X7 has slightly more accurate sound, it isn't as bassy, but that isn't the real issue here. At 6 hours, its battery life isn't close to the 14 hours offered by the SoundLink 3.
That said, if battery life isn't much of a concern and you would rather have more accurate balanced sound and slightly better stereo imaging, or if the other features like DLNA and Airplay are important, the Sony SRS-X7 is an excellent sounding speaker and a worthy choice.
Buy now from Amazon.com ($298.00)