All products featured are independently chosen by us. However, SoundGuys may receive a commission on orders placed through its retail links. See our ethics statement.
Sonos announces first new product since 2013: the Playbase
A speaker for your TV
If you've ever been in the market for home audio or have taken a stroll through the home theater section at your local electronics store, you've likely heard of Sonos before. The company has a number of speakers coming in a few sizes and prices, and now they're adding one more. The new Playbase is a speaker for your living room that goes right underneath your TV.
Because it's Sonos the new speaker fits seamlessly into the Sonos ecosystem. You can add two Play:1 speakers and a Sub for 5.1 surround sound. The Playbase can stream music wirelessly as well as provide a fuller sound to your TV. Though it may look small at about 2.2 x 28.3 x 14.1-inches , it's a solid block of hardware that can support a TV up to 77 pounds. You won't have cable management issues either as the Playbase only needs two to work: one for power and one optical cable connecting it to your TV.
The Playbase has a sleek modern design on the outside, but what you can't see ais all the work that went into the speaker on the inside. It has a total of 10 amplified drivers. Six of which take care of the mids, three tweeters for the highs, and a woofer to handle the lows. There are a few downsides to this speaker. Unfortunately, you won't find DTS decoding or HDMI ARC so if you want the highest quality surround sound or use a single remote to control your entire setup, this might make things a little more complicated.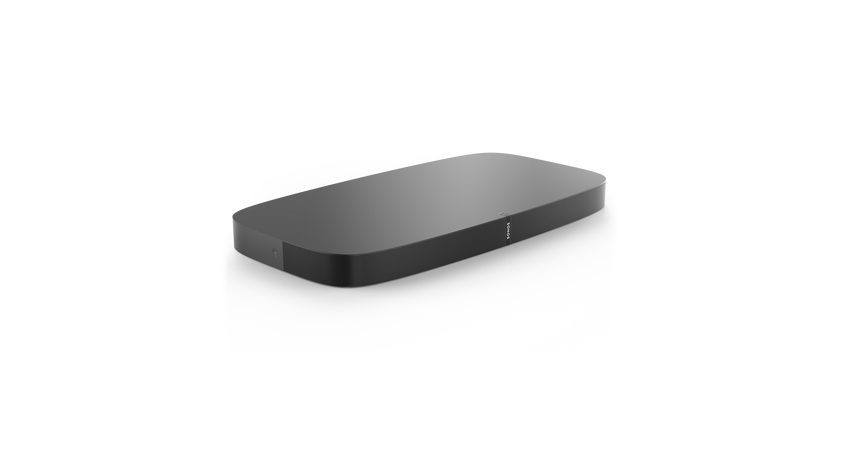 Now you're not going crazy, Sonos already has a product that fills this particular niche called the Playbar. The new Playbase even costs exactly the same amount of money as the Playbar at $700. It seems the Playbase is an alternative to the Playbar rather than a replacement, so if you already have one there's no need to go running to the store to pick up this new speaker. In speaking with the Verge, Giles Martin (Sound Experience Lead at Sonos) even said himself that if someone already had a Playbar it wasn't necessary to upgrade to the base.
That statement might seem a little weird at first, but it makes sense if you start thinking about the strategy Sonos has been using in order to get new customers. It seems that they aren't really worried about constantly putting new products out because if you're already bought into the Sonos ecosystem, chances are you're not going to redo your entire home audio setup to switch over to another company.
Even in a world where speakers with virtual assistants are everywhere, Sonos has made it clear that their goal is to make sure their speakers work with all of them rather than jump into the fray and make their own. In other words: software updates to their existing products. This keeps existing customers happy with their purchase, but it doesn't really draw in any new customers. To their credit they're really good at updating their products with cool new features which keeps them in the news cycle, but at the same time it's hard to get new customers excited when you're not releasing any new hardware.
Which brings us back to the Playbase. If this seems like the speaker you've been waiting for the Playbase will cost $700 and should be available beginning on April 4th of this year.