All products featured are independently chosen by us. However, SoundGuys may receive a commission on orders placed through its retail links. See our ethics statement.
Skybuds are wireless earbuds that are actually wireless
If you're tired of wireless earbuds coming with wires, check out this new Kickstarter by Alpha Audiotronics for the new Skybuds.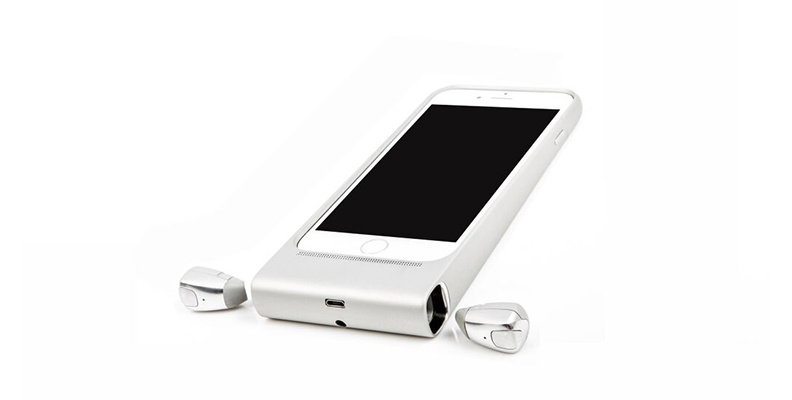 Wireless earbuds available today typically have one major flaw to them: they're still wired. Sure you don't have to plug them into the headphone jack of your source device the way that you would with a normal pair of headphones, but the earbuds themselves still need to be connected to each other in some way. Some, like the Jaybirds, do this by means of a single wire while others like the LG Tone series accomplish this by connecting both 'buds to a neckpiece.
Both styles have their pros and their cons and have been extremely successful, but they haven't been truly without wires. Other smaller companies have taken on this challenge and produced products like the Bragi Dash and Earins, but now there's another company looking to join in on the fun. A new Kickstarter by Alpha Audiotronics ("Alpha") hopes to bring the Skybuds and the dedicated phone case to market by summer of 2016.
Before getting into the specifications of the phone case, let's look at the earbuds themselves. The 'buds are tiny and have a single control button, microphone, and LED light all stuffed into the nano-plated sweat-proof casing. Alpha threw in Bluetooth 4.0 and even managed to squeeze in the necessary technology for aptX so you can listen to higher quality files if you have them on your source device. The batteries built into the earbuds are only 50mAh which equates to a slightly lackluster battery life at only 3 hours of constant playback and 4 hours of talk time, but that's where the case comes into play.
How do you enhance the battery life of a product like this that's meant to be portable? The team at Alpha decided to attack this problem by also making a patented case that has a built-in 1000 mAh and thin design to minimize bulk. It works similarly to a Mophie case save for one big difference: the ability to plug in the earbuds into dedicated Skybud storage slots at the bottom of the case. Plug them in and the case automatically begins to charge them back up. Via the dedicated app you can choose whether you want the case to charge your phone (back up to about 50%), the Skybuds (another 25 hours), or some combination of both.
Throwing in a case with the earbuds is a very unique solution to the problem and there are also some added benefits to this method. The case is built so that you can remove the 'buds by pushing them in slightly, like a pen click. When you do this it automatically turns them on and when you push them back in they're automatically turned off and begin to recharge. This also allows you to answer a phone call simply by taking out an earbud, and consequently returning it to the case ends the call. Plugging in the case to charge (via micro USB) at the end of the day will charge the earbuds as well, so there's no need for a separate charging system.
Of course, nothing is perfect. As of right now Skybuds themselves can be used with any Bluetooth device regardless of OS, but the case is only compatible with the iPhone 6 or 6s. Depending on the success of the initial product Alpha plans to expand compatibility to Android and Windows phones in the future, but as of right now if you're not rocking an iPhone 6 or 6s you're out of luck. If you are, then make sure to back the campaign before it ends 34 days from the time of this post. They're expected to retail for $299 but if you're an early backer you can get yours for as low as $224.