All products featured are independently chosen by us. However, SoundGuys may receive a commission on orders placed through its retail links. See our ethics statement.
The bottom line
If you want premium sound without the price tag, the HD 598SE headphones are a great way to get your feet wet.
HD 598SE
If you want premium sound without the price tag, the HD 598SE headphones are a great way to get your feet wet.
What we like
Great sound
Soundstage
Comfortable
Price
What we don't like
Not portable
Rating Metric
Sound Quality
9.0
Bass
8.5
Midrange
9.0
Highs
9.5
Durability / Build Quality
7.5
Value
9.0
Design
8.0
Portability
6.0
Sennheiser has been around for decades, and in that time they've gained the trust of audiophiles around the world. Their products range from the $55,000 Orpheus headphones to the Momentum in-ears that you'll find at your local electronics store. But regardless of the price, Sennheiser usually knows how to make all of their products top competitors. That still holds true for the open-back HD 598 Special Edition headphones (HD 598SE) because spoiler alert: they sound really, really good.
What's Inside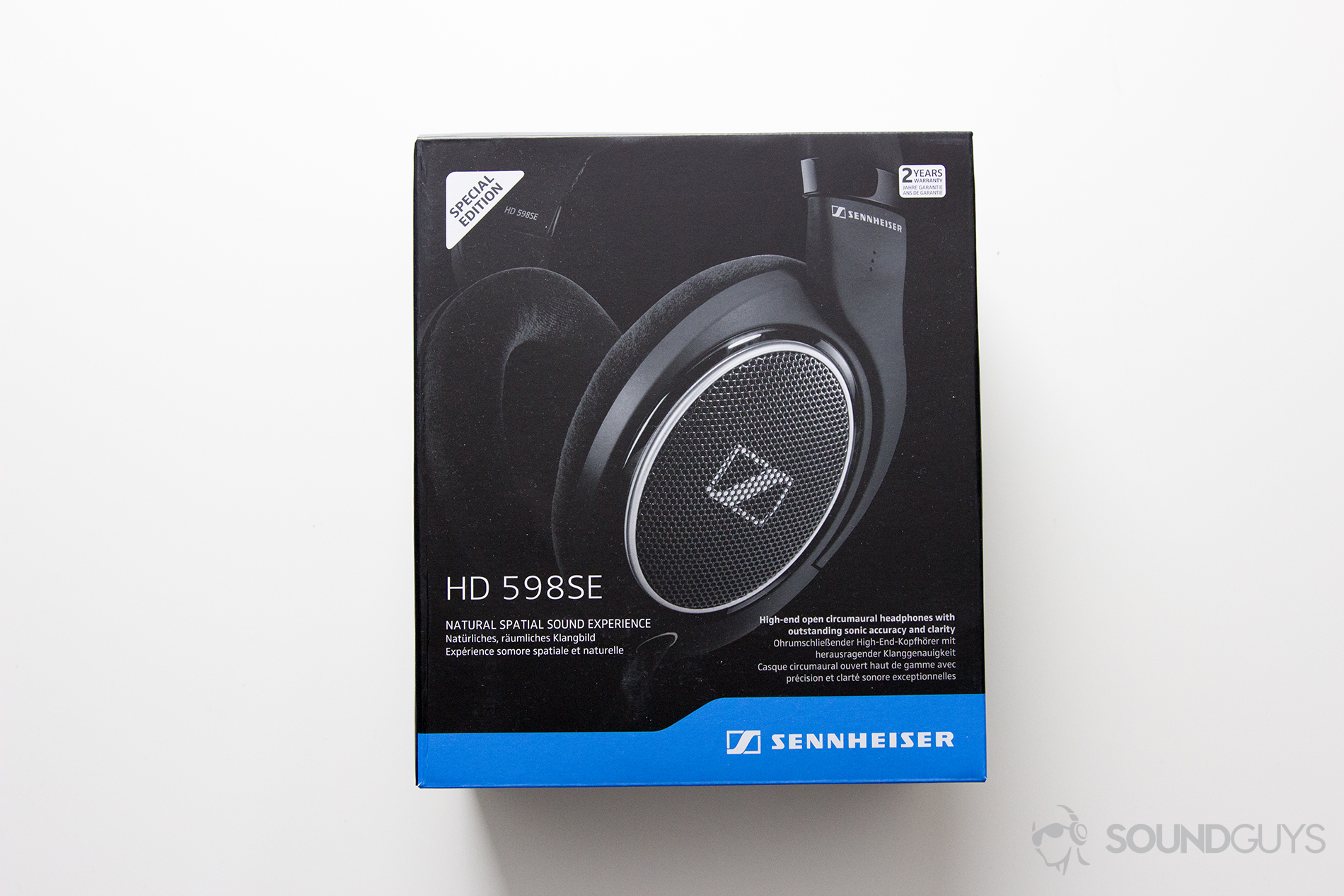 In the box you'll get the headphones along with two cables. A 2.5mm to ¼" plug and a 2.5mm to 3.5mm 1m cable. Besides that you'll get a ¼" to 3.5mm adapter and that's all.
Build & Design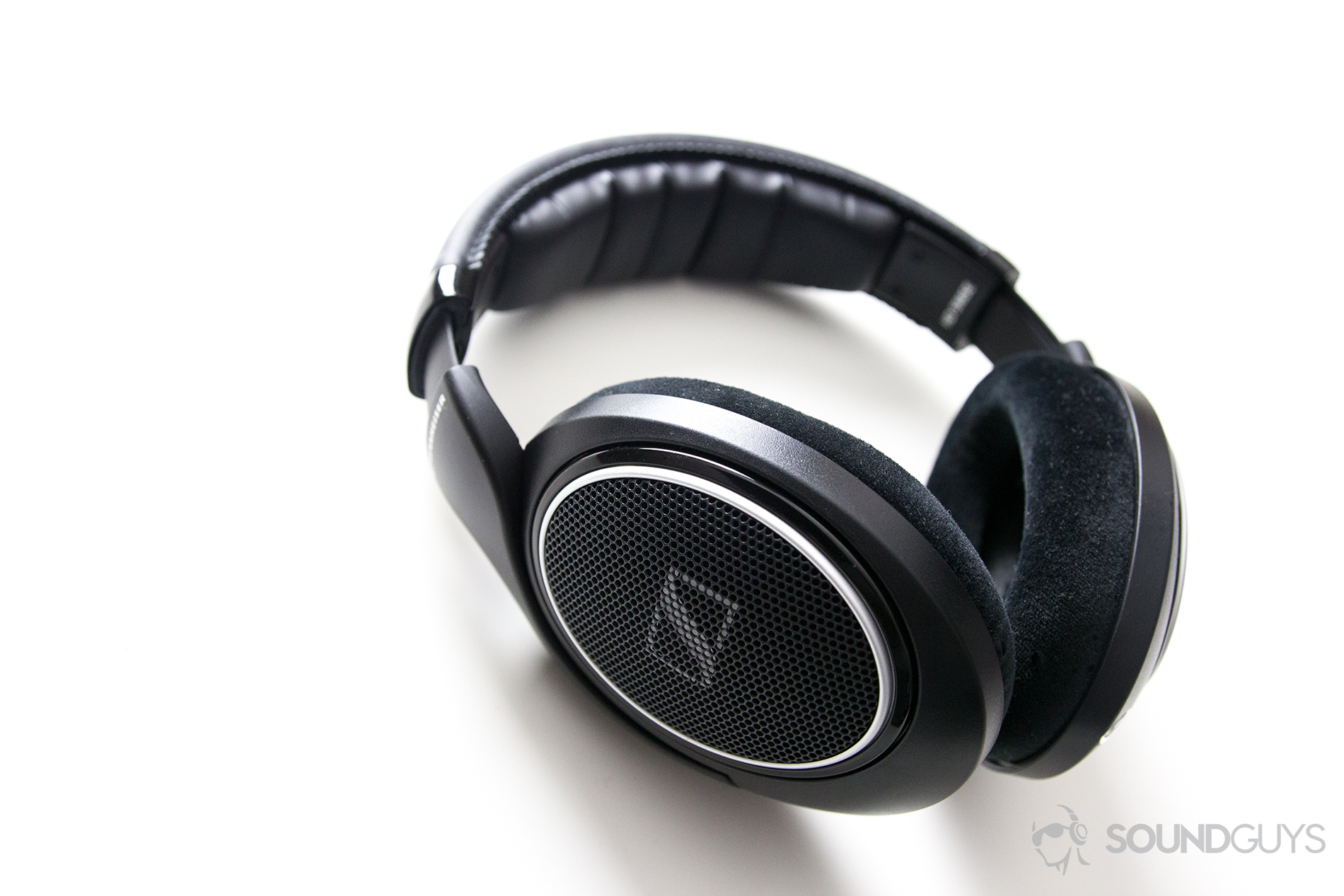 Plenty of classic Sennheiser headphones have a fairly distinctive design where the headband seems to wrap behind oval-shaped earcups, and that's also the case here. Each ear cup is adorned with the Sennheiser logo underneath the grille as well as the word "Sennheiser" pasted on the side by the headband. You'll also find the name imprinted along the top of the headband, just in case you forget who makes the headphones. I'm not a big fan of branding but at least it keeps with overall minimal design here and doesn't jump out at you. The headphones are made almost entirely of a hard plastic which means they're not the most durable, but they are extremely light which is great for long listening sessions.
Still, the most important thing you'll need to know about these headphones is both a part of the build and sound quality section but it feels important to mention it here. These are open-back headphones, which means that the drivers are only protected by the grille on the ear cups. You'll be able to hear pretty much everything that goes on around you but it also means sound leakage is a big concern. Needless to say these won't be the best for commuting even though they're compatible with most mobile devices. Folding them down is also not an option as there are no hinges in the headband, and the ear cup don't rotate at all. They do swivel a bit but that's mainly to help the headphones conform to the shape of your head when wearing them, not for portability purposes. These are made to be enjoyed at home or at a desk, not on the subway.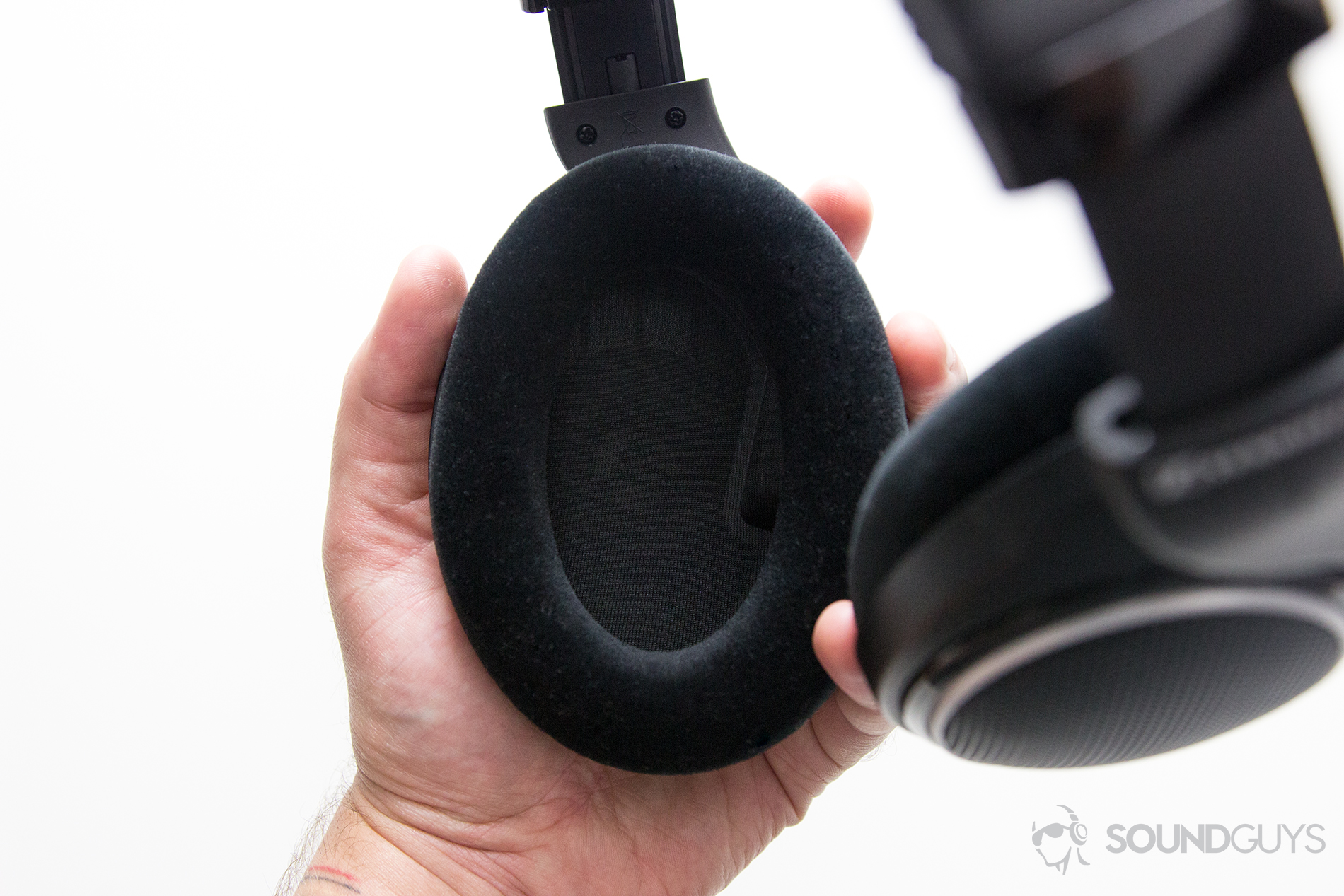 Where your head meets the headband you'll find padding that makes these extremely comfortable to wear for long periods of time without any pain. Add on the velour padding on each ear cup and I have no problem saying you'll be able to use these for hours with little to no fatigue. They clasp on the ears just tight enough to prevent them from slipping off without sacrificing comfort. The cable is thick and doesn't feel cheap at all, so unless you're unnaturally hard on your audio cables these should last you no problem. You're going to have a hard time breaking them and even if you do, it's completely detachable so you can just get another 2.5mm cable, plug it into the left ear cup and you're good to go.
Connection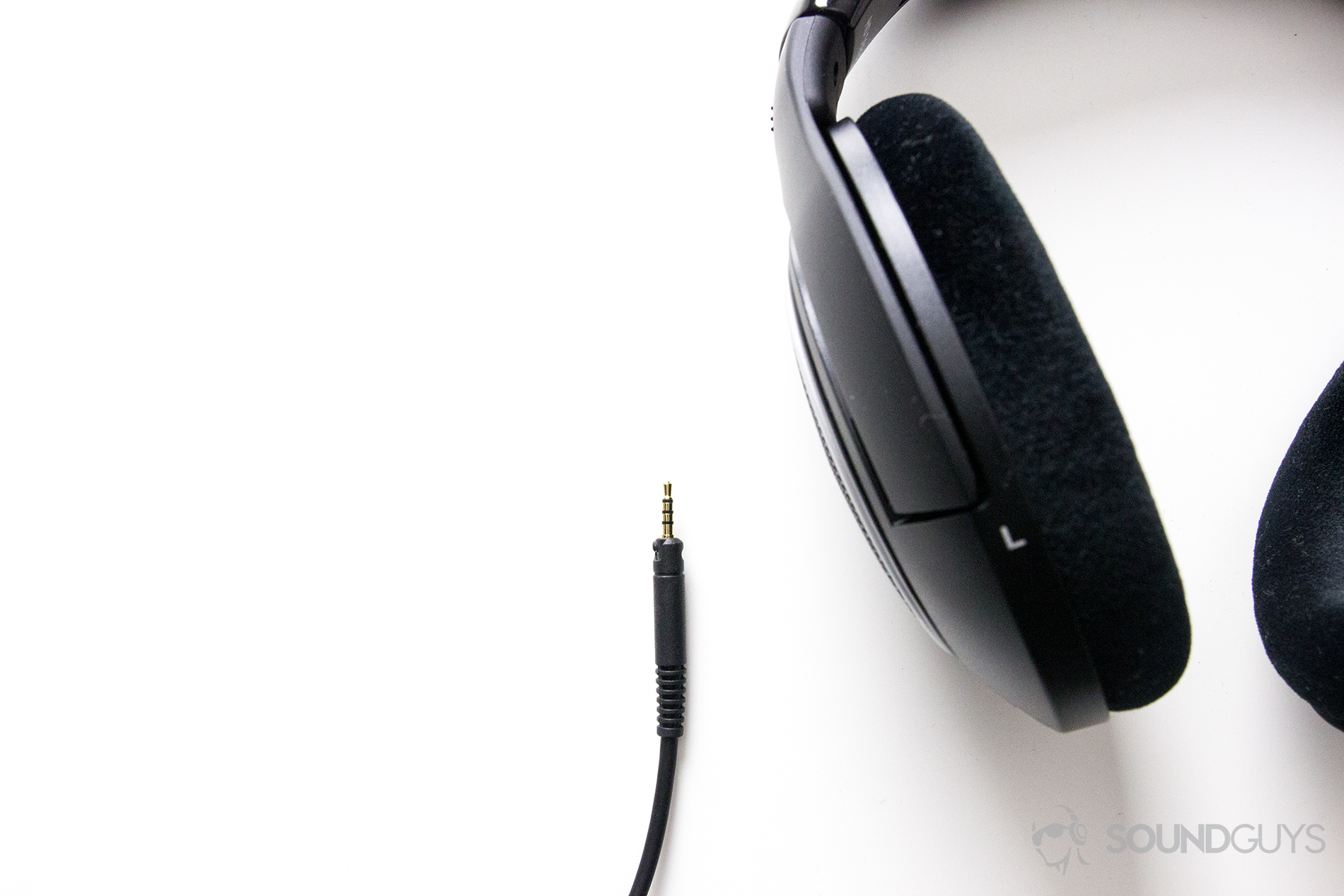 On the bottom of the left ear cup is a 2.5mm input which is where you plug the cable into. It's easy enough to connect to a source device and it stays put as well. I accidentally snagged it a few times while moving around at my desk but the cable never came flying out. It comes with a ¼" jack for plugging into something like an audio interface, but it also comes with a cable that ends in a 3.5mm jack so however you choose to listen to your music you can.
Sound Quality
One thing to be aware of is how much power your source device can supply to these headphones. With an impedance of 50 Ω, plugging these into your smartphone shouldn't be too much of a problem depending on your device. I have a Google Pixel and I was able to reach adequate levels if I maxed out the volume on my phone as it has a notoriously terrible amp inside, so the HD598SE's do benefit nicely from a decent headphone amp. Sidenote: if you want to dig deeper into whether or not you need an amp we have a whole article on just the subject.
Bassheads be warned: these aren't going to satisfy your cravings. The low end isn't deep at all and the hard hitting bass of "Consideration" by Rihanna just doesn't have the same "umpf" you'll find on some other headphones. That said, it isn't a bad thing. It's just a different sound signature than most are used to. I wouldn't say it's a flat or neutral bass, just more recessed than your average pair of headphones.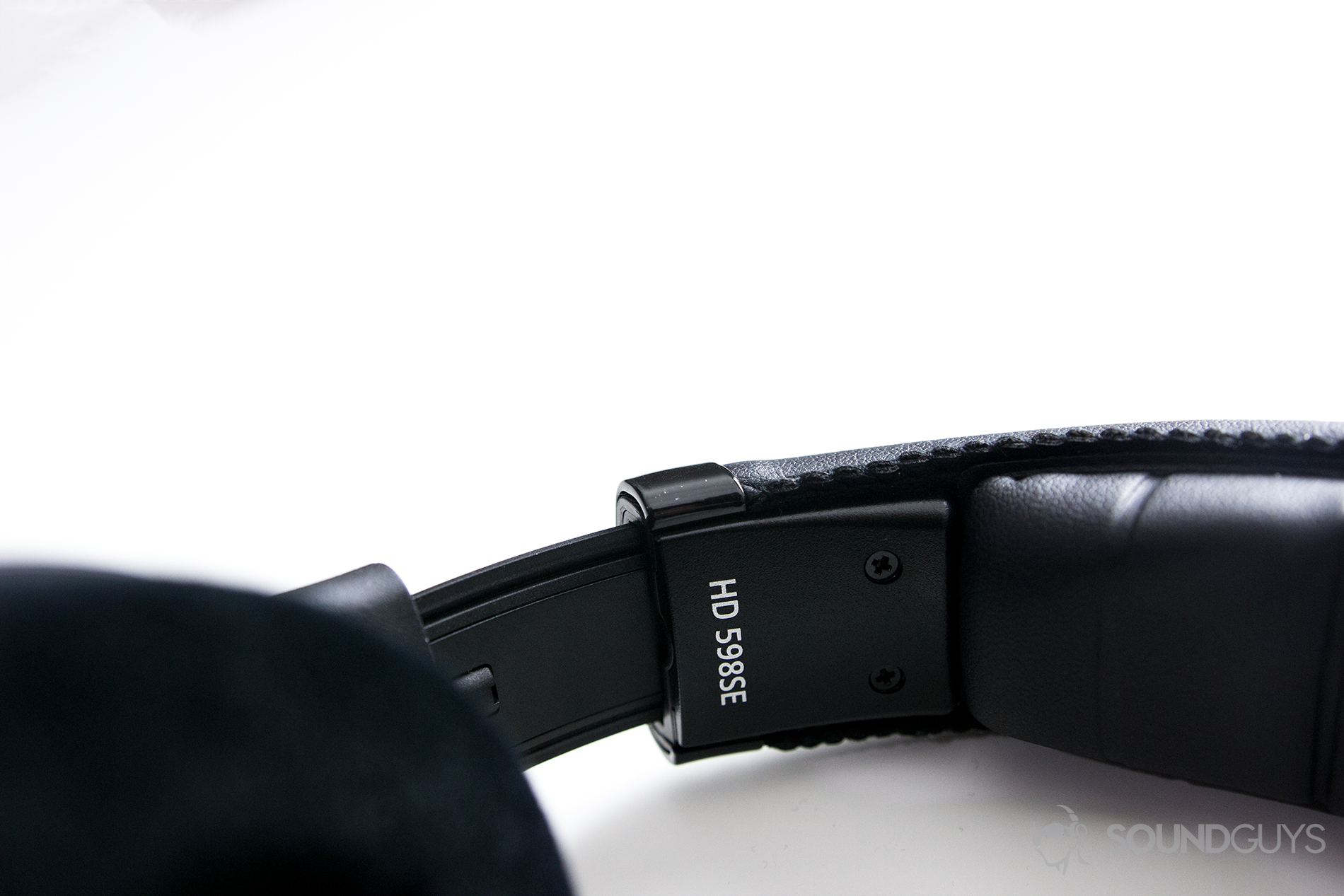 These were made for mids and highs, which means that vocals sound crystal clear. The song "Hannah" by Freelance Whales is a great example of this with all of the different elements in the chorus carving out a nice space for themselves without getting in the way of the main vocal melody. Being open-back you also get a really nice soundstage, especially when listening to instrumental piece. Which actually brings me to the highs.
When listening to "Partita No. 2 in D Minor, BWV 1004: V. Chaconne" a Bach piece played by Hilary Hahn, the violin weaved up and down throughout the mids and highs seamlessly. The highs were never too loud or harsh and the full weight of the emotion coming from the performer could really be felt through these headphones. Like I said, these were made for mids and highs and this is a great piece to feel them out.
Conclusion
Overall, there isn't much to the Sennheiser HD 598SE headphones. Build quality isn't the most premium as it's made mostly of plastic, but that means it's super lightweight. The velour ear pads are also insanely comfortable and the replaceable cable is a quality one, but again there's nothing extraordinary about any of that. It just means that Sennheiser knew exactly where these are meant to be used.
They did sacrifice the portability and durability of these headphones in favor of what's more important: sound. And these sound great. The bass is definitely lacking for the average person, but it's there. And if you enjoy the intricacies of the mids and highs in the music you listen to then you'll be really happy with these. They're a little pricey at around $250, but you won't be upset that you invested in them. Sennheiser didn't miss a beat with the 598SE, as they are indeed special.