All products featured are independently chosen by us. However, SoundGuys may receive a commission on orders placed through its retail links. See our ethics statement.
The bottom line
It's got plenty of competition, but the BoomBottle+ is definitely worth a look for outdoor enthusiasts.
It's got plenty of competition, but the BoomBottle+ is definitely worth a look for outdoor enthusiasts.
What we like
IP67 rated weather resistant
Waterbottle-sized fit is handy
Charges USB devices
What we don't like
Some distortion at higher volumes
Rating Metric
Sound Quality
7.8
Bass
7.6
Midrange
7.6
Highs
7.9
Durability / Build Quality
8.7
Value
8.5
Design
8.7
Portability
8.5
Battery Life
8.0
While Bluetooth speakers are seemingly everywhere lately, there are a few key categories where most companies seem to be concentrating the bulk of their efforts. There is the super-large home stereo replacement, the tiny pocket speaker, and the boom box replacement.
Increasingly common is another key type: the cylindrical portable. While most companies don't say much about exactly why a given product needs to be a cylinder, Scosche comes right out and says it: their BoomBottle speakers are meant to fit anywhere a water bottle can, from your car to your mountain bike. Given the IP67 rating of the Scosche BoomBottle+, we figure the company is concentrating mainly on that second one.
What's In The Box?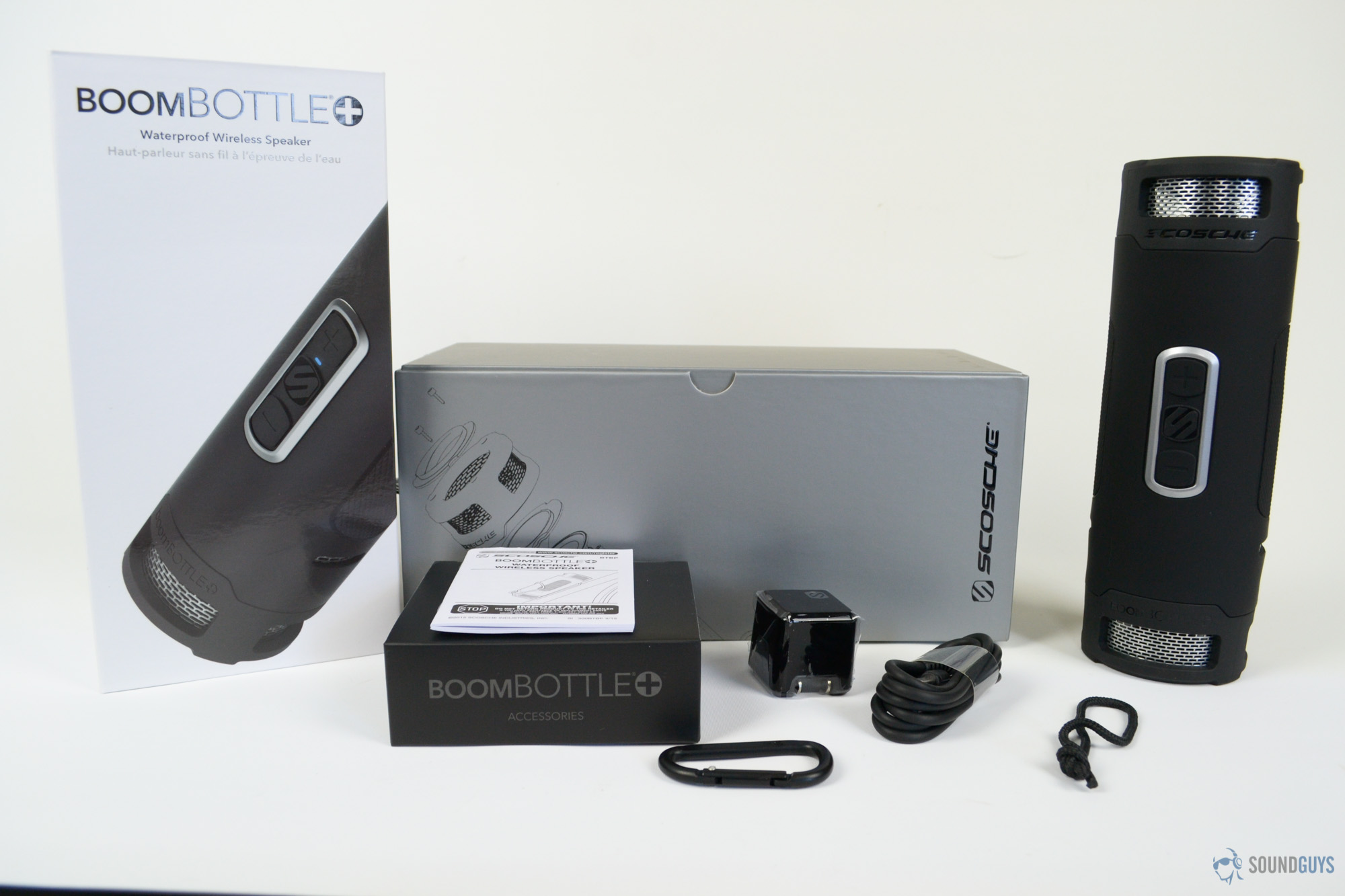 Open up the box and the first thing you'll see is the speaker, with an accessories box right on top. Inside you'll find the manual, a carabiner, the wall charger, a USB, and a simple lanyard.
Build & Design
The BoomBottle+ is available in three color combinations. We're looking at the Black / Space Gray model, but it's also available in Black / Gold and Sport Blue. The most notable aspect of the BoomBottle's design is its shape, which isn't as unique as it used to be.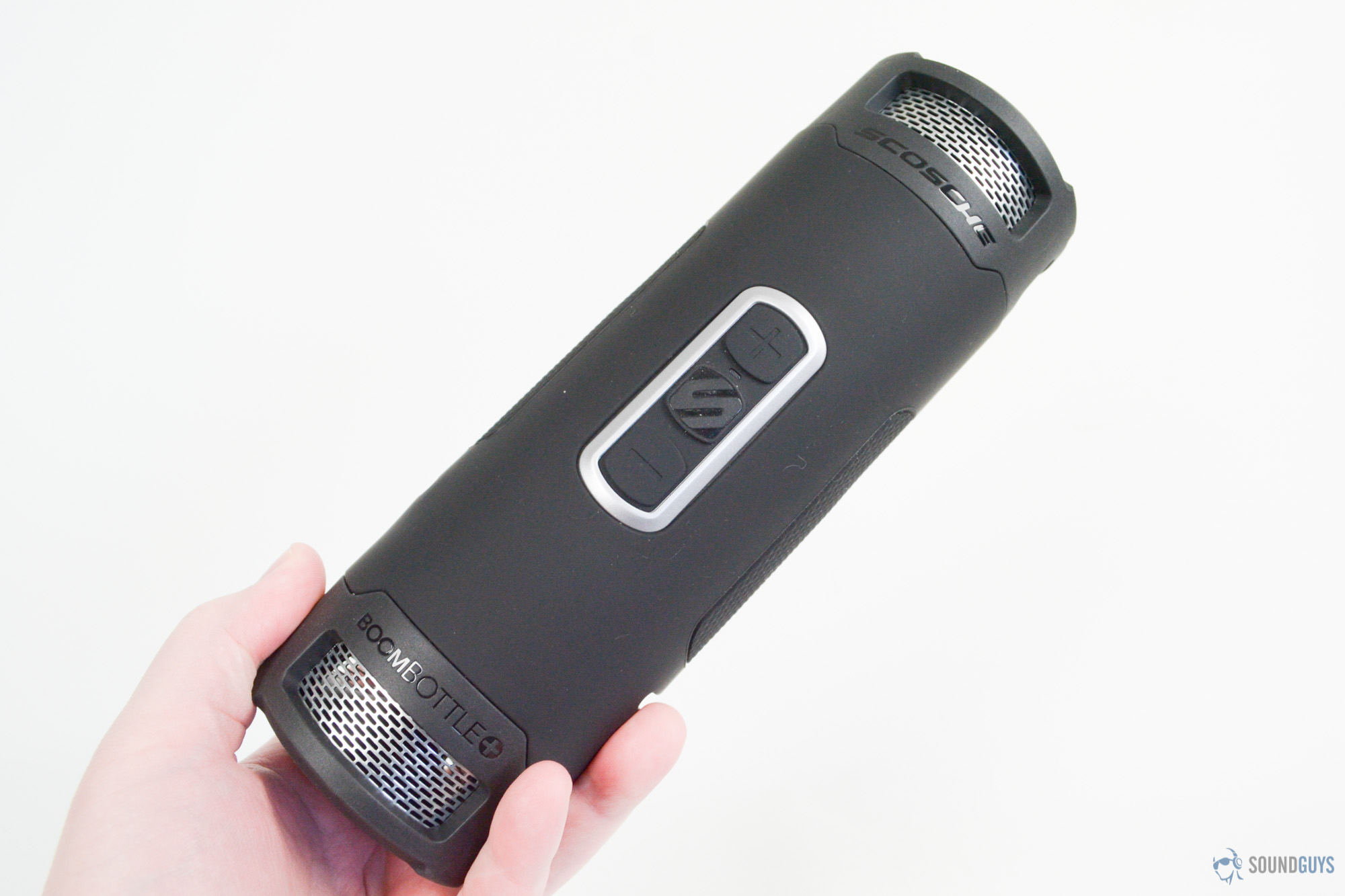 By adapting to the shape of a water bottle, suddenly a lot of other products out there from backpacks to cup holders become unofficial accessories, and there's certainly something to be said for that. Scosche is clearly going after outdoor enthusiasts given the shape and IP67, and the BoomBottle+ feels appropriately solid.
Like some other speakers we've looked at recently, the BoomBottle+ can float, which is as handy for a pool party as it is a canoeing trip. If you really want to make sure that the speaker can be heard everywhere, the BoomBottle includes a handy mount on the bottom allowing it to be mounted to a tripod or stand.
Connectivity
The Scosche BoomBottle+ features Bluetooth 4.0, and like every other speaker using the same connectivity, has a range of up to 33 ft. During our testing we had no problem using the speaker at the upper limits of this range. In a similar touch to some other speakers available in this shape, two BoomBottles can be paired together for stereo sound.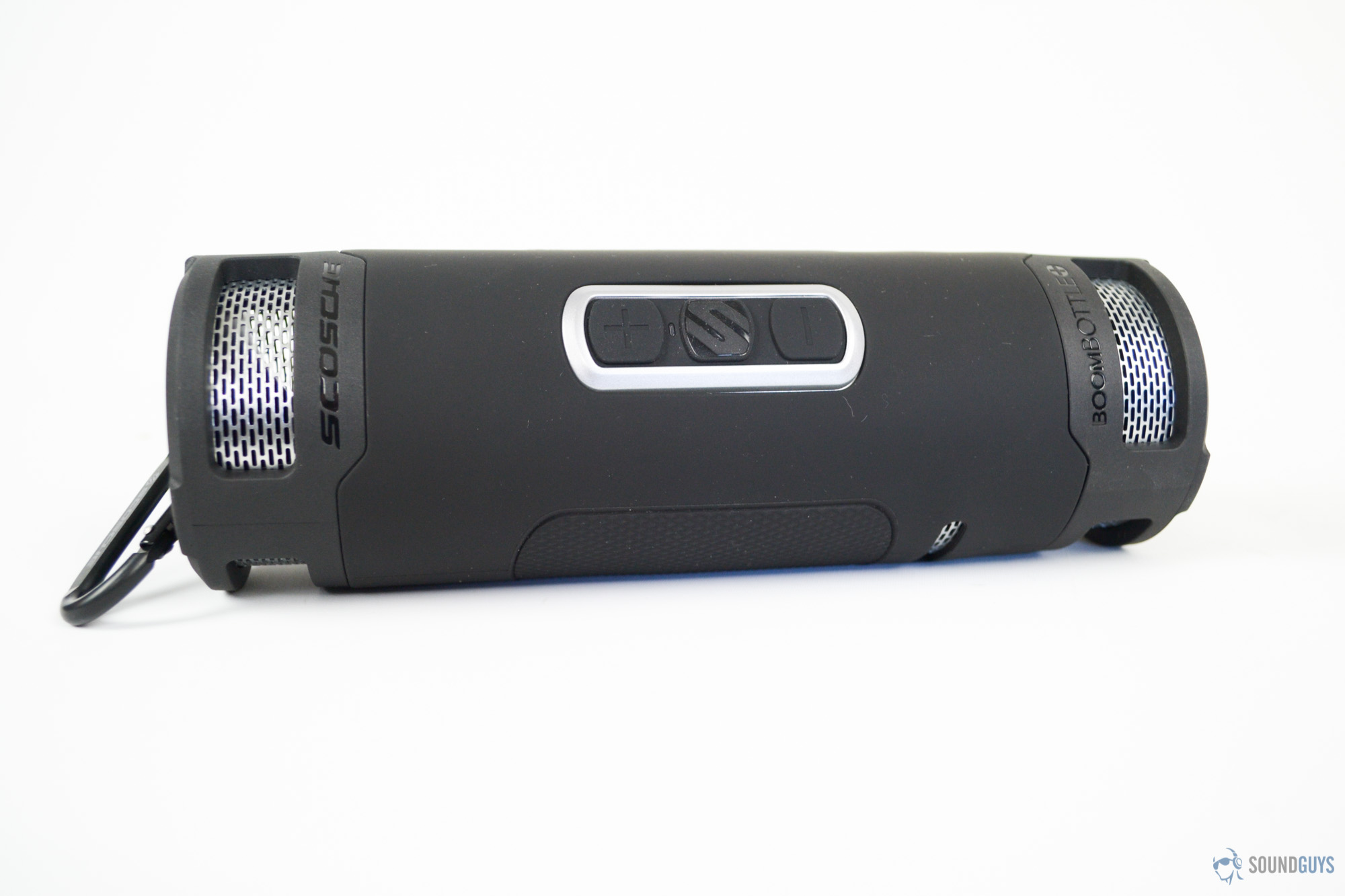 Looking at the main controls, you have the stand setup with a multifunction button and two volume buttons. A few more controls are hidden under the waterproof flap: an indoor /outdoor switch, and another switch that allows you to set the BoomBottle+ as the left, right, or only speaker.
If you're looking for a speaker to make calls, you'll have to look elsewhere, as no speakerphone functionality is included.
Battery Life
Scosche claims a battery life of anywhere from 12 to 15 hours for the BoomBottle+, depending on where you look. In our testing, we consistently found we got around 13 hours. Looking at pure capacity, the BoomBottle+ packs a 6000 mAh battery. Charge time from completely drained to full was around three hours.
You might have guessed from the battery size, but the Scosche BoomBottle+ features a 2.1A USB port for charging your mobile devices on the go. Especially given the focus of this speaker, we're glad to see this included.
Sound Quality
Like most cylindrical speakers, the Scosche BoomBottle+ is capable of 360-degree sound. Inside are a pair of 50mm speakers and a passive subwoofer, capable of pumping out frequencies from 150 Hz to 20 kHz. We've seen similarly sized speakers with a wider range of frequencies, but this is still nothing to sneeze at.
The bass is okay, but due to the seal needed to keep the speaker waterproof, you're not going to get the same powerful lows you would in a less rugged speaker. You won't notice bass notes or kick drums missing, but instruments that live mainly in the low end won't sound very full.
Despite what we just mentioned above, boxiness isn't an issue with this speaker, though that is generally less of a problem than it used to be. Still, the strangled-sounding high mids found in many rugged speakers is also present here.
There isn't quite as much detail in the high end as we'd like, but the "blanket over the speaker" sound found in some rugged speakers isn't a problem. Harshness isn't much of a problem, though some cymbals sounded a little overly splashy.
Like the Fugoo Sport XL we reviewed a while back, the BoomBottle+ features an indoor / outdoor switch. While it wasn't easy to discern what exactly the switch did on the Fugoo, it's very clear here: the highs and high mids are boosted to the point where it sounds very harsh indoors. If you're using the speaker outdoors — especially on a bike or in a loud environment — this could be handy.
When it comes to volume, the BoomBottle+ gets fairly loud, but not without consequences — as you push the volume toward higher levels, there can be some distortion, especially in the lows.
Conclusion
This is absolutely a quality product, but the main problem Scosche is facing here is that there is some fierce competition in this area. Take away the cylindrical shape, and the amount of competition the company is facing is huge — there are a lot of rugged speakers in and around this size and price range.
That said, if you're an outdoors-y type — specifically, if you spend a lot of time on a bike — this is worth taking a look at. The few unique touches that Scosche has added to the BoomBottle+ does give it an edge in this area.