All products featured are independently chosen by us. However, SoundGuys may receive a commission on orders placed through its retail links. See our ethics statement.
Samsung Level Over Review
The Samsung Level Over are a very nice pair of headphones, especially if you use other Samsung devices, but the price is steep for what they offer.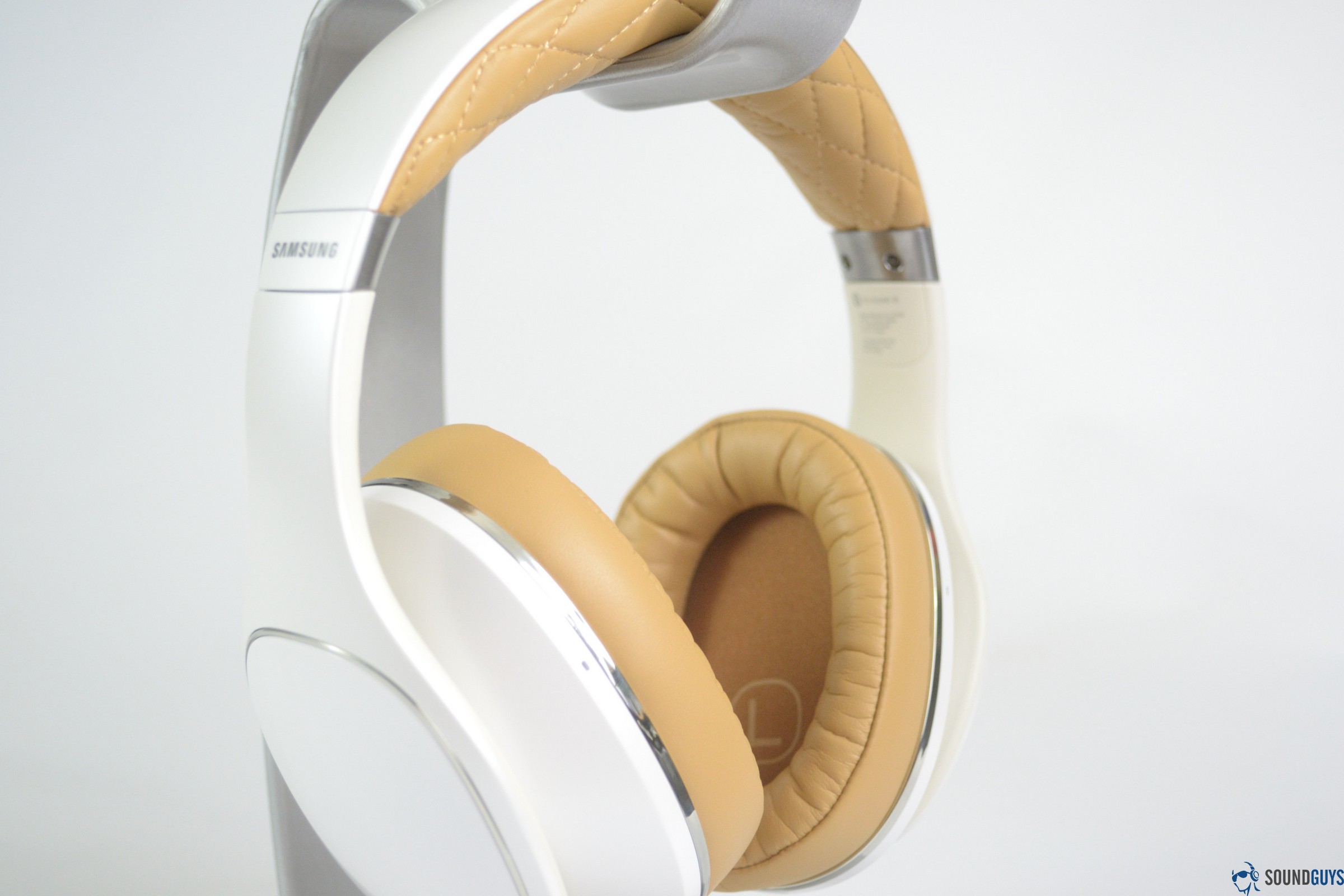 Buy now from Amazon ($349.99)
UPDATE (January 2022): Samsung has discontinued its Level line of headphones and we've focused almost entirely on its Galaxy line of earbuds. You won't find Samsung on our list of the best wireless headphones, but you will find Galaxy Buds all over our best true wireless earbuds, best noise canceling earbuds, and best true wireless earbuds under $100 picks.
Name a consumer electronic product with a screen, and chances are fairly good that Samsung makes one. Actually, chances are even better that Samsung makes several. Keeping this in mind, it's somewhat surprising that, outside of the earbuds they pack in with their phones and tablets, the company hasn't taken a stab at the audio market until now. Now that they have, the company seems to mean business: the new Level line includes earbuds, on-ear headphones, over-ear headphones, and a Bluetooth speaker.
The top of the line of these products, at least when it comes to headphones, are the Samsung Level Over. They're big, wireless, and styled in a way that should be instantly recognizable to anyone who has ever used a Samsung phone. They also happen to cost $349. With such a heavy price tag, do these headphones have what it takes to justify the cost?
What's In The Box?
The review units we were provided didn't come in retail packaging, so we can't be sure that the headphones will be packed the same way, but the Samsung Level Over headphones we looked at came already packed inside the included hard-shell carrying case. Opening this up you'll find the headphones, and in the middle there is a small, soft zippered pouch that contains a USB cable, 3.5 mm audio cable, and adapter for airplane use.
Build & Design
The Samsung Level Over headphones are available in two colors. For this review we're looking at the white model with faux-leather accenting for the headband and ear cups, though the headphones are also available in black. Though the color choice for the white model is strange, it does seem to work. That said, it likely won't be everyone's cup of tea.
No matter which color you choice, the Level Overs have a distinctively Samsung look to them. Right down to the inlaid band that surrounds the back of each side of the headphones, if you use a Samsung phone or tablet, these headphones will look right at home sitting next to it. Of course, if you don't, that's not to say that you won't still like the look, but it's a matter of opinion.
Finding a fit with the Samsung Level Overs should be fairly easy. This isn't the most flexible pair of headphones we've seen but between the adjustable headband and slight swivel to the earcups, they should fit most people fairly well. Once you're wearing them, the headphones are light and comfortable. Keeping these on for a few hours at a time was no problem at all.
Connectivity
Pairing is a simple process in most Bluetooth headphones these days, and the Samsung Level Overs are no different. Assuming you have an NFC-enabled device, NFC is the easiest way to pair – just tap your device on the left ear cup. This is only marked by a sticker that is meant to be removed to keep the purity of the look intact, but since you generally only need to pair once, this isn't a big deal. The headphones immediately enter pairing mode when you turn them on, so even without NFC, pairing is easy. You can also use the included 3.5 mm cable for a wired connection, but the headphones will still need to be powered on.
One of the most interesting features of the Samsung Level Over headphones is the unique, gesture-based system for controls. Instead of buttons, the entire right ear cup acts as a control surface. Sliding your finger vertically raises and lowers the volume, while sliding horizontally skips forward and backward. Holding your finger down for 2 seconds acts as the play / pause button. A built-in mic not only allows for hands-free calling, but also S-Voice functionality if you use a compatible Samsung phone.
Whether you have a Samsung phone or not, you can also use Samsung's Level app if you have an Android phone. This allows for changing EQ settings as well as controlling other features of the headphones, like the active noise cancellation.
Battery Life
Samsung claims an average battery life of around 15 hours for the Level Over headphones, or 10 with ANC (active noise cancellation) on or 20 with ANC off. In my testing I found I got about 12 hours. Most of this time, ANC was on, and I was pairing with various devices, so this figure makes sense. The headphones charge via USB, and depending on the charger used, charge in around 2 hours.
Sound Quality
In testing headphones or speakers, we always do most of our testing the way the majority of people will be using them most often, so while we did plug the 3.5 mm cable into a computer via a Focusrite Saffire Pro 40, most listening was done connected via Bluetooth.
Lows
The low end is clean sounding and distortion free, and bass frequencies are well represented. While the Samsung Level Overs do produce a good amount of bass, these aren't skull-rumblers, so bassheads might want to look elsewhere.
Mids
The mids are interesting. While the mids are obviously here and fairly well represented, there is a certain hollowness or lack of depth here. For pop and similar music styles, this could be desirable, but for rock or acoustic music, it's less so.
Highs
Somewhat like the mids, the highs are crisp and detail is very good, but they seem to lack the sparkle or sheen that some headphones have. While this also seems to make harshness less of a problem, the highs seem to lack a certain special something.
Soundstage is decent, but considering this is a closed back pair of headphones, you trade some soundstage for enhanced bass response. Sound leakage isn't much of an issue because of this as well – you'll have to crank these pretty loud for any passers by to hear what you're listening to. As for hearing them, while these headphones do feature active noise cancellation, it seems to work better at blocking out ambient noise than it does conversation or other noise.
Conclusion
Looking at the Samsung Level Over headphones in a bubble where pricing wasn't an issue, they would be an easy recommendation. They sound very nice, are reasonably stylish (especially if you're a fan of the look of other Samsung products) and the gesture-based controls are both a cool gimmick and incredibly intuitive. If these headphones cost around $250, they'd be an instant Editor's Pick. At $349, that's not going to happen.
The Samsung Level Over are indeed a good pair of headphones, and if you have other Samsung devices or don't mind paying extra, they're still a fine choice. For the rest of us, there are plenty of better, cheaper options out there. s
We'll be reviewing the entire line of Samsung audio products, so stay tuned for more.
Buy now from Amazon ($349.99)