All products featured are independently chosen by us. However, SoundGuys may receive a commission on orders placed through its retail links. See our ethics statement.
RHA T10 Review
They don't offer much in the way of features, but the RHA T10 in-ear headphones sound fantastic.
Buy now from Amazon
UPDATE [January 2022]: Still available in small quantities on Amazon, but this earphone is no longer in production. Invest in a modern pair of true wireless earbuds or in-ear headphones instead.
You'd be forgiven for saying that you've never heard of RHA, but the name is becoming increasingly well known in audio circles. Specifically, the RHA T10 series of earbuds has gathered glowing reviews from quite a few publications.
Available in two models, the T10 (no mic or remote) and T10i (iOS-friendly mic and remote) have some calling them "new classics." With that kind of help, we just had to take a look at them ourselves.
What's In The Box?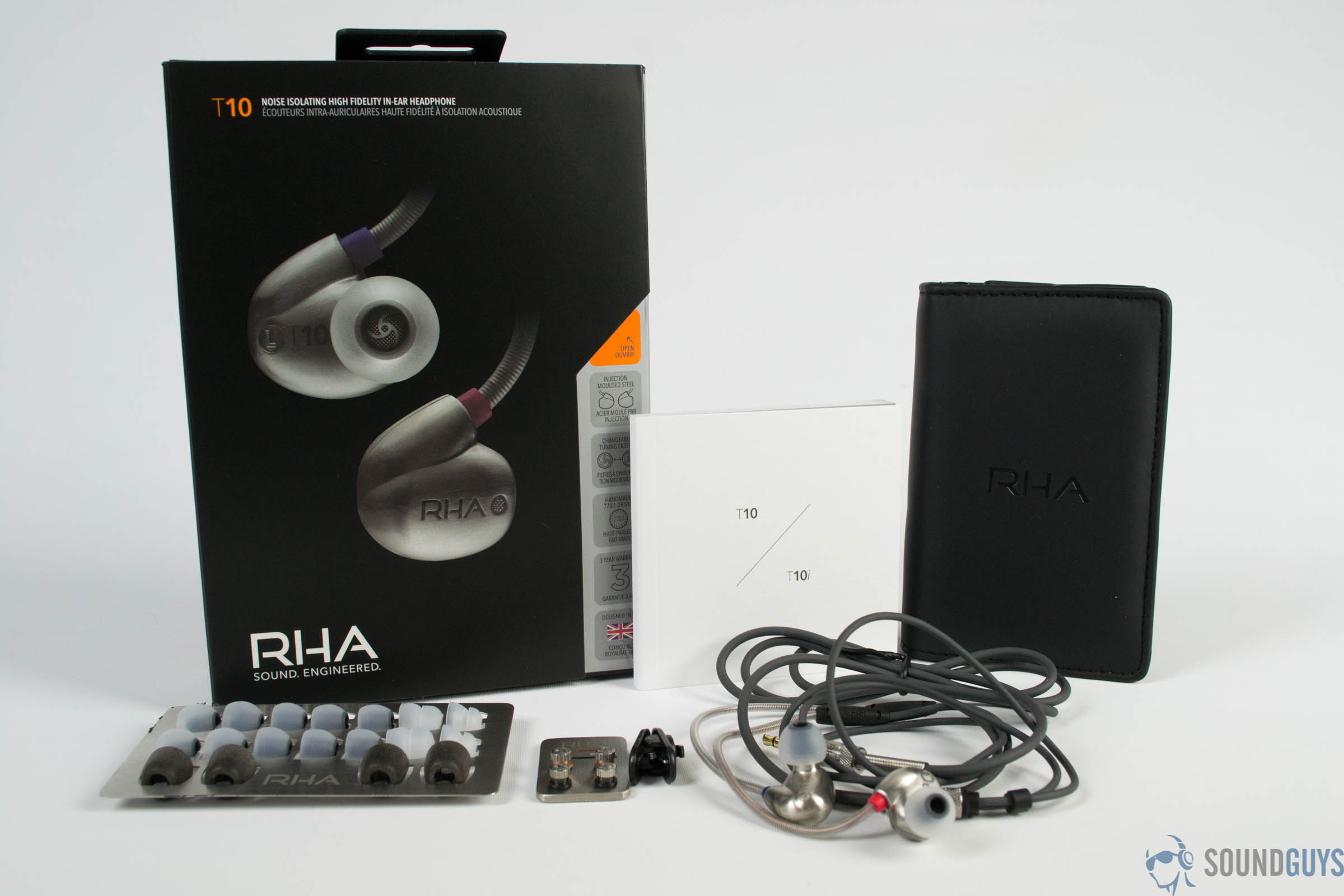 The box carrying the RHA T10s gives you a good look at nearly everything inside, not just the headphones. Opening it up you'll find the headphones, a metal plate holding a surprisingly large amount of different size tips, two pairs of filters to adjust the tone (more on these later), a clothing clip, carrying case and finally, the manual.
Build & Design
The RHA T10s only come in one color option, the slightly industrial-looking metal build that you see in the photos. Luckily, this is a very nice look, with a simple elegance that is hard to ignore. These T10s are advertised as being handmade, and it's clear that a lot of care has been put into their design and construction.
The T10s are slightly on the heavy side. This didn't bother me during testing, though it might be an issue for others. The cable can be routed around the top of your ear, which is how I wore them, and this kept them from falling out or moving around while I was in motion. I found them very comfortable, free of the strain that can be an issue with other in-ears.
The included carrying case is a semi-hardshell design, with plenty of room for the headphones and even extra tips and filters, should you want to carry them with you.
Connectivity
As we're looking at the T10 model in this review, the only connectivity option is a plain cable. No mic or remote are included. If you use an iOS device or are an Android user who is happy with single button functionality, the T10i model adds a microphone and standard 3-button remote.
Sound Quality
While we did some testing using both an iPhone and Android phone to ensure that the RHA T10s could be properly driven by a mobile device, the vast majority of our testing was done via a computer and a Focusrite Saffire Pro 40 audio interface.
One of the most unique aspects of the RHA T10s are the filters that allow you to tune the audio to your preference simply by screwing them into each ear bud, replacing the section that the tips slide on to. We'll get to these in a moment, but here are our impressions of the T10s using the standard "reference" filter.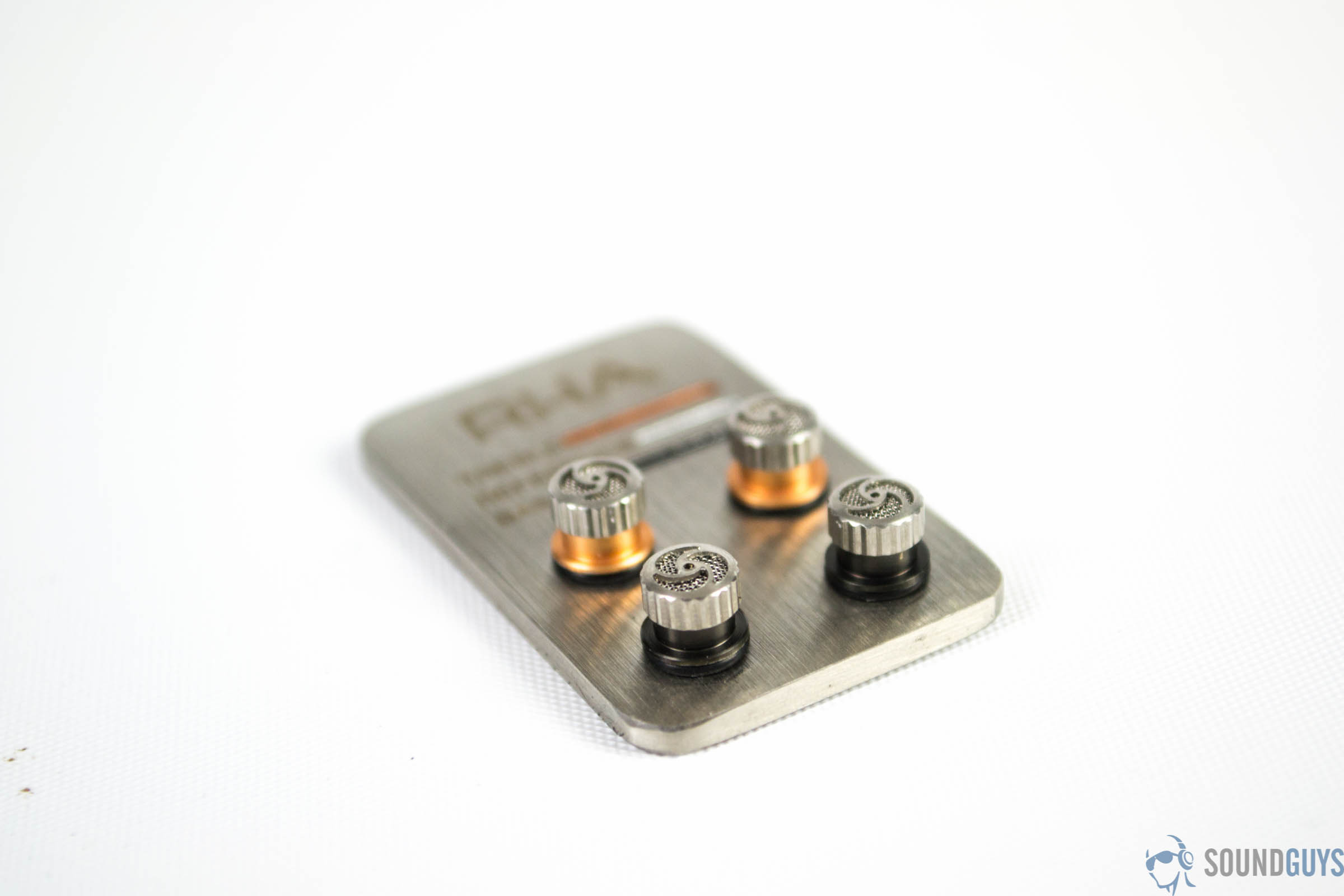 Bass is solid, representing the lows without adding any mud. This is somewhat expected due to the size, but as frequencies dipped under 80 Hz, they seemed to roll off slightly, though the frequency curve on the box doesn't show this.
Mids are excellent: guitars sound great and vocals, both male and female, spoken and sung, have plenty of depth and presence.
Highs provided plenty of detail on cymbals and hi hats, without ever getting harsh, even on recordings that sound harsh on other headphones.
To be honest, I wasn't expecting much out of the filters, but I was surprised at how well they worked. They are subtle, but they are definitely effective. The "Bass" filter added some "oomph" to the lows, correcting the perceived dip I mentioned earlier, but to my surprise they didn't sacrifice any high end detail.
The "Treble" filter doesn't pull the legs out from the bass by any means, but I found that for modern music it seemed to be slight overkill, making highs sound harsher. For older recordings, particular jazz, it did a great job of adding sheen to dull sounding mixes.
Conclusion
If the most important factor in headphones is the sound quality, or if you use an Android device, the T10 should definitely be on your short list for sub-$200 in-ears. As we mention, the T10i adds an iOS-compatible mic and remote that should be a no-brainer for any iPhone or iPad users. Either way, these are some of our favorite new earbuds, and we suspect this won't be the first time we find ourselves recommending them.
Buy now from Amazon ($189.95)