All products featured are independently chosen by us. However, SoundGuys may receive a commission on orders placed through its retail links. See our ethics statement.
Polk Striker Pro P1 Review
If you want to buy just one pair of headphones to do everything, including gaming, these are a good choice. Hardcore gamers might want to look elsewhere.
If you take gaming seriously, chances are you either already own or are considering purchasing a dedicated gaming headset. We've already reviewed a few, but the one thing they all have in common is that they're explicitly aimed at gaming, and only gaming. But what if you're looking for a more general-purpose headset?
The Polk Striker Pro P1 is just that. Referred to as an "audiophile-grade" headset by Polk, this is a gaming headset that makes a few changes allowing it to also be used for music, movies, and anything else. Compatible with the PlayStation 4, Wii U, PC, Mac, and mobile devices (a separate version is available for the Xbox One), the Striker Pro P1 promises a lot, but does it deliver?
What's In The Box?
Open up the box and the first thing you'll find is the headphones, and right next to them is the manual. Underneath you'll find an accessories box holding an inline volume control for use with the PlayStation 4, the detachable mic, and a bundle of cables. We'll get to that in a little bit.
Build & Design
The Striker Pro is basically only available in one color, but the highlights depend on what version you get. The Pro P1 features red highlights, while the Xbox One-compatible Striker Pro Zx (naturally) comes with green highlights.
The headset is certainly weighty, but doesn't feel quite as tough as other headsets we've tested. We're not expecting this to fall apart from normal use, but if you've got a temper and are in the habit of throwing your headset when you lose a match in CS:GO, don't expect these to survive the abuse.
Despite the weight, I found the Striker Pro P1 to be comfortable. Even after wearing them for a few hours, I didn't feel the need to remove them the way I have with some other headsets. While I've seen some complaints about the Striker Pro Zx being too tight, I didn't find that to be an issue at all.
In a smart touch, the mic can be removed whenever you're not using it. This is nice if you want to wear the Strikers to listen to music and don't want to look like you work in a call center.
Connectivity
Since the Striker Pro P1 can be used with so many different systems and devices, three separate cables are included in the box. You've got a mobile cable with mic and remote, a PC cable. and a console cable. With this last cable, you'll also want to use to inline volume control.
As we've mentioned already, the mic is removable, and it also has a mute button built in. This is on the right side of the headphones so you'll need to take your hand off the mouse or controller for a second, but realistically this shouldn't pose much of a problem.
If you're planning to use the Striker Pro P1 with your phone, iPod, or MacBook, you'll want to use the mobile cable. This works just as you'd expect, and the single-button clicker-style remote will work fine with both iOS and Android devices.
The PC cable plugs into both the headphone and mic jacks on your computer, and can be used for Skype calls in addition to gaming. Finally, the console cable can be used with the PlayStation 4 and presumably the Wii U, though we only tested the Strikers with the former.
Sound Quality
Since the Polk Striker Pro P1 is meant for both gaming and music, we tested the headset for both applications. We'll get to music in a moment, but since this is a gaming headset, that gets top priority.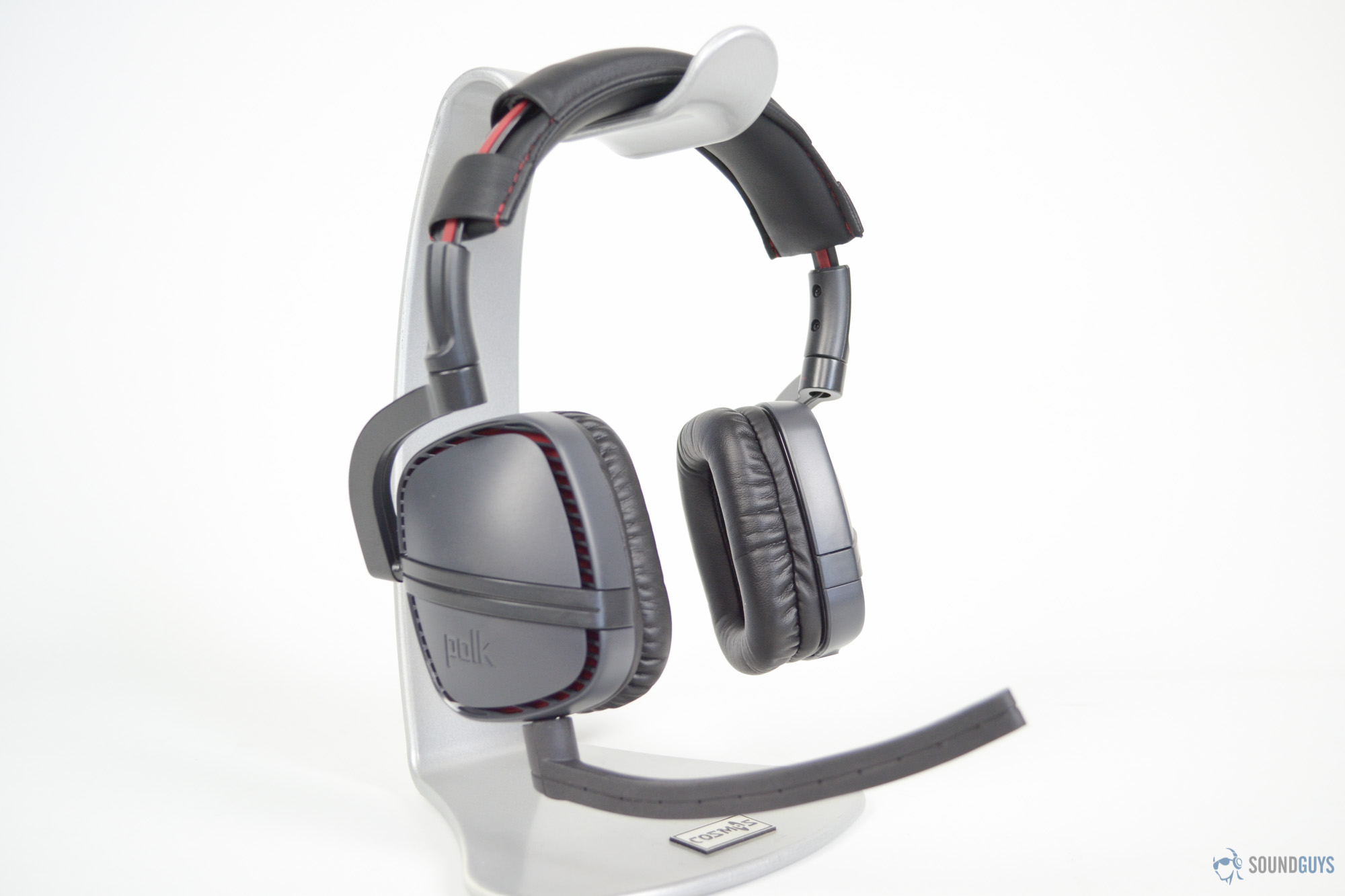 First we fired up Batman: Arkham Knight on a PlayStation 4, plugged in the headset, and routed all audio to it. Initially we'd been concerned that the controller's built-in amp might not be enough to power the headset, but volume wasn't an issue. After setting the in-game audio mode to "Pro Headphones," we jumped into the game.
Exploring Gotham City, the chatter from the various groups of thugs occupying the streets gave away their positions easily. The hand-to-hand combat sounded appropriately chunky, and hopping into the Batmobile and blowing up the tanks around the city resulted in explosions that showed off the Strikers' impressive low end.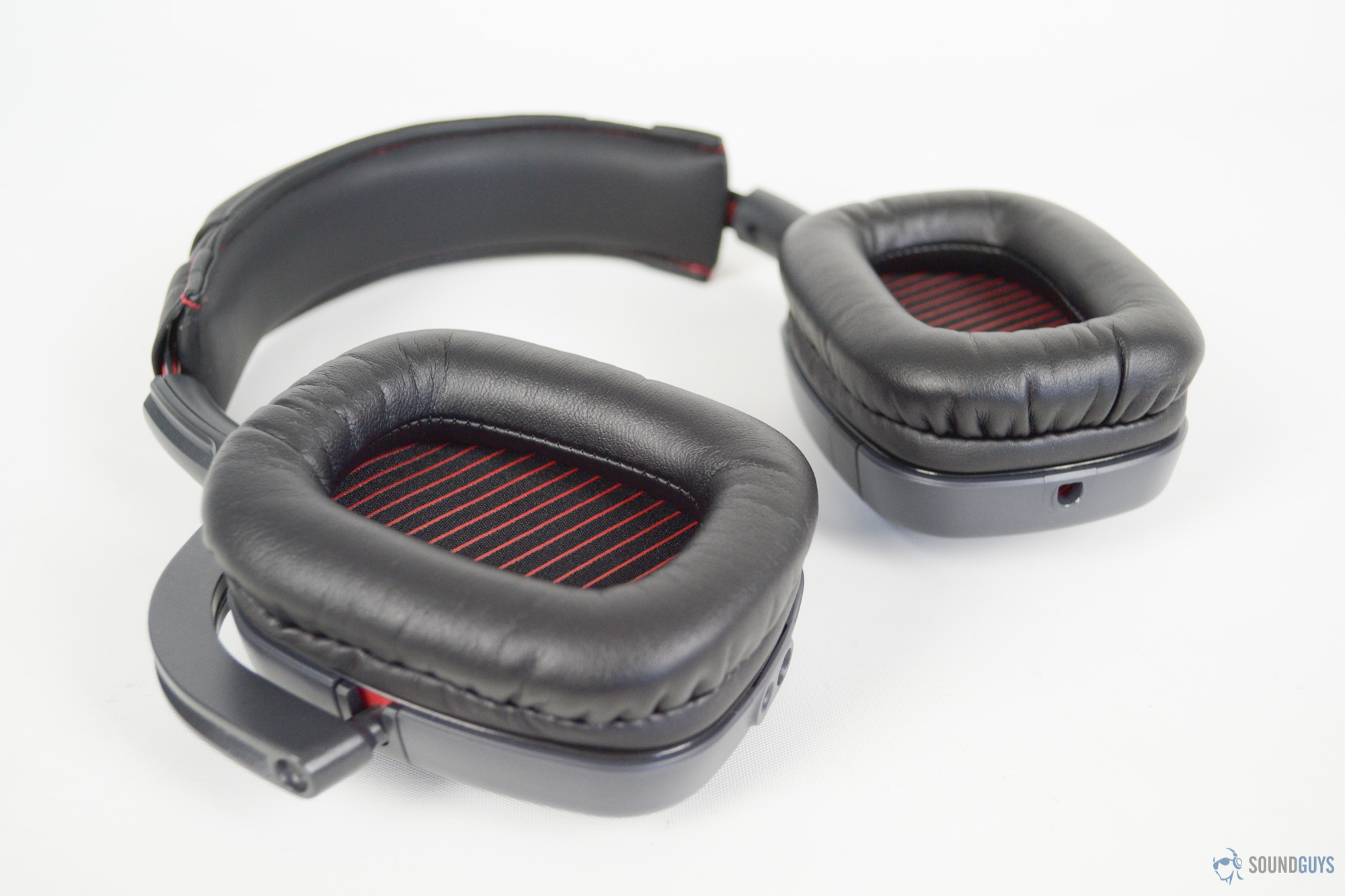 Turning to Destiny: The Taken King, teammates' voices came through loud and clear. Plugging in the mic, my own voice sounded fine as well.
Moving on to music, the powerful lows are in full effect here as well, and while the high mids are backed off somewhat, there is plenty of low mid depth. Despite the tight low end, there is a nice wide-open quality to music on the Strikers, with nice soundstage and spatial cues. These are absolutely up to the task of music — something you can't say about many gaming headsets we've seen.
Conclusion
If you fancy yourself a budding eSports star and need every advantage you can get to pull off a headshot a few milliseconds faster, you'll probably want to go for a more dedicate gaming headset and all the additional features that come with it. On the other hand, if you want something that can do double-duty, blasting your tunes one moment and keeping you in touch during a Destiny raid the next, the Polk Striker Pro P1 is definitely worth a look.
While it doesn't offer the best in-game performance we've seen, the Striker Pro P1 excels at other tasks in a way we have yet to see from another gaming-focused headset. At $129, that's impressive enough to make these a worthwhile purchase.
Buy now from Amazon ($129)