All products featured are independently chosen by us. However, SoundGuys may receive a commission on orders placed through its retail links. See our ethics statement.
The bottom line
The Hammo TV headphones provide exceptional clarity without lag. They perform well as Bluetooth headphones and may help to prevent petty, domestic disagreements.
Hammo TV
The Hammo TV headphones provide exceptional clarity without lag. They perform well as Bluetooth headphones and may help to prevent petty, domestic disagreements.
What we like
50-hour battery life<br>
Comfort<br>
aptX<br>
Sound quality<br>
What we don't like
Charges through auxiliary input<br>
Poor isolation<br>
Creaky plastic<br>
Interruption of RF frequencies<br>
Rating Metric
Sound Quality
9.0
Bass
8.6
Midrange
9.1
Highs
8.8
Durability / Build Quality
7.7
Value
7.5
Design
7.6
Microphone
8.5
Portability
7.7
Battery Life
9.3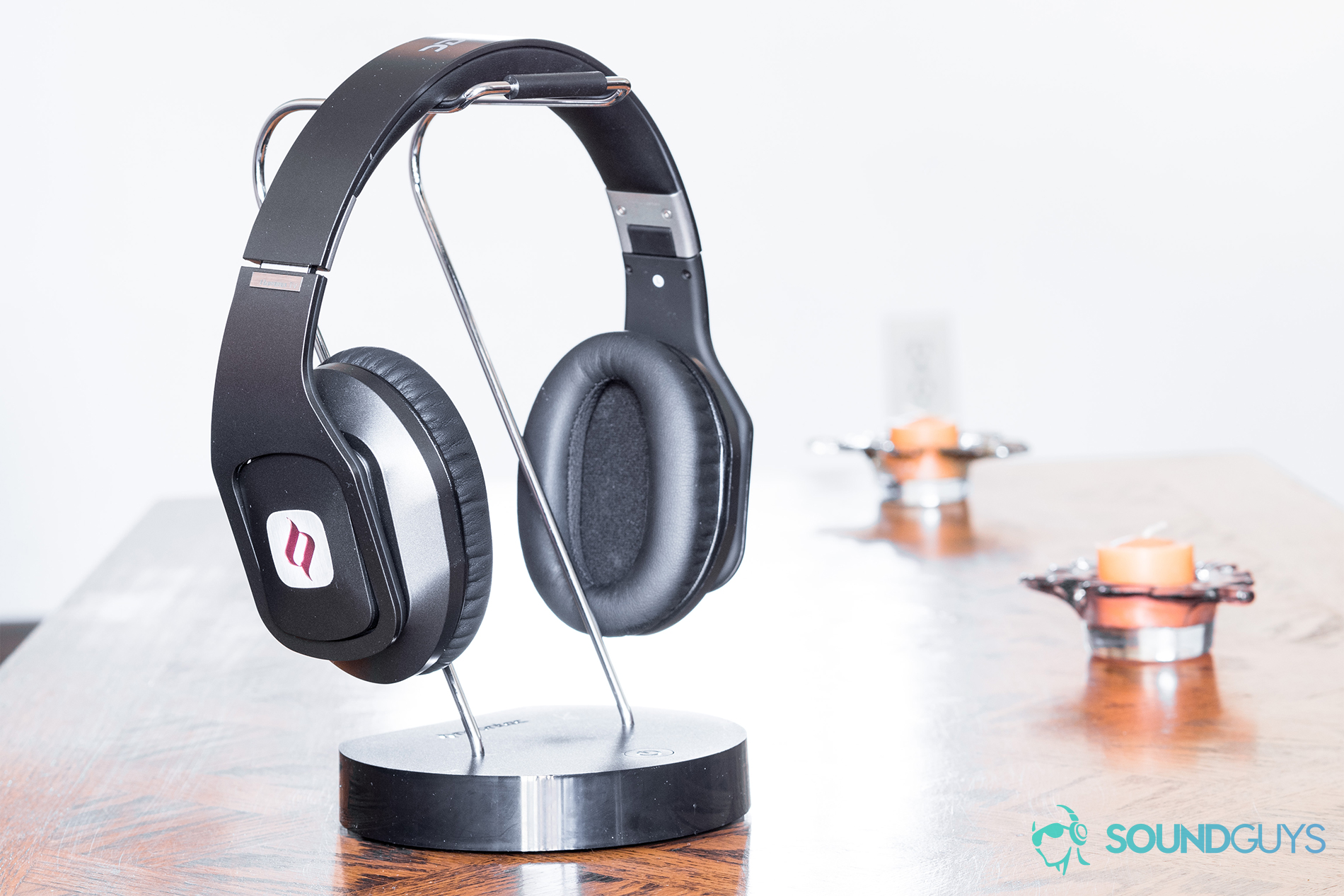 The multifunctional docking station will sit discreetly in almost any living room.
"Ben. Ben!" a wife yells, eliciting a grunt from her husband, resting in a La-Z-Boy, an extension of himself.
"For the umteenth time, Ben," Lisa says, her controlled rage reminiscent of an audibly fuming tea kettle.  "Turn. It. Down."
At first glance, TV headphones offer a solution to a problem that none of us know we have. Reflecting more critically reveals that isolating sound reception is hugely beneficial. With the avalanche of products living on Amazon's repository, separating the wheat from the chaff proves difficult. So where do the Hammo TV headphones fall?
What's Inside
Large and in charge, the Hammo TV packaging is a physical burden to bear. Humdrum, but informative, there's no reason a consumer should preserve the structured cardboard. Immediately displayed upon opening is the Noontec-branded wireless docking station, a hodgepodge of cables (two 3.5 mm stereo, one micro USB, one micro USB to 3.5 mm stereo jack, and an RCA audio cable), a cloth carrying pouch and the Hammo TV headphones. Also included are illustrated instructions for proper setup.
Build & Design
Creaky plastic is an inescapable feature of the Hammo line.
Plastic composition rarely invokes confidence in a product, but Noontec alleviates concern by reinforcing the headband, sliders, and hinges with stainless steel. Collapsing the headphones, rewards the user with resistance followed by a satisfying click. Spacious but not cavernous, the handmade cotton ear cups allow for a full day of listening . In a similar vein, the headband provides a supportive framework with the appropriate amount of tension, simultaneously preventing literal slip-ups and temple-crushing pain.
The wireless dock is well-designed and you can also deconstruct it for storage. There are many setup options available from a traditional RCA hook-up, to a standard 3.5 mm output and direct Bluetooth connection with a compatible TV. Connecting via Bluetooth rids the need for the wireless station, cutting out the technological mediator. As with most things plastic, the dock looks better than it feels. Similar to the toggles found on the headphones' left ear cup, the power button on the stand is dubiously mushy.
Connectivity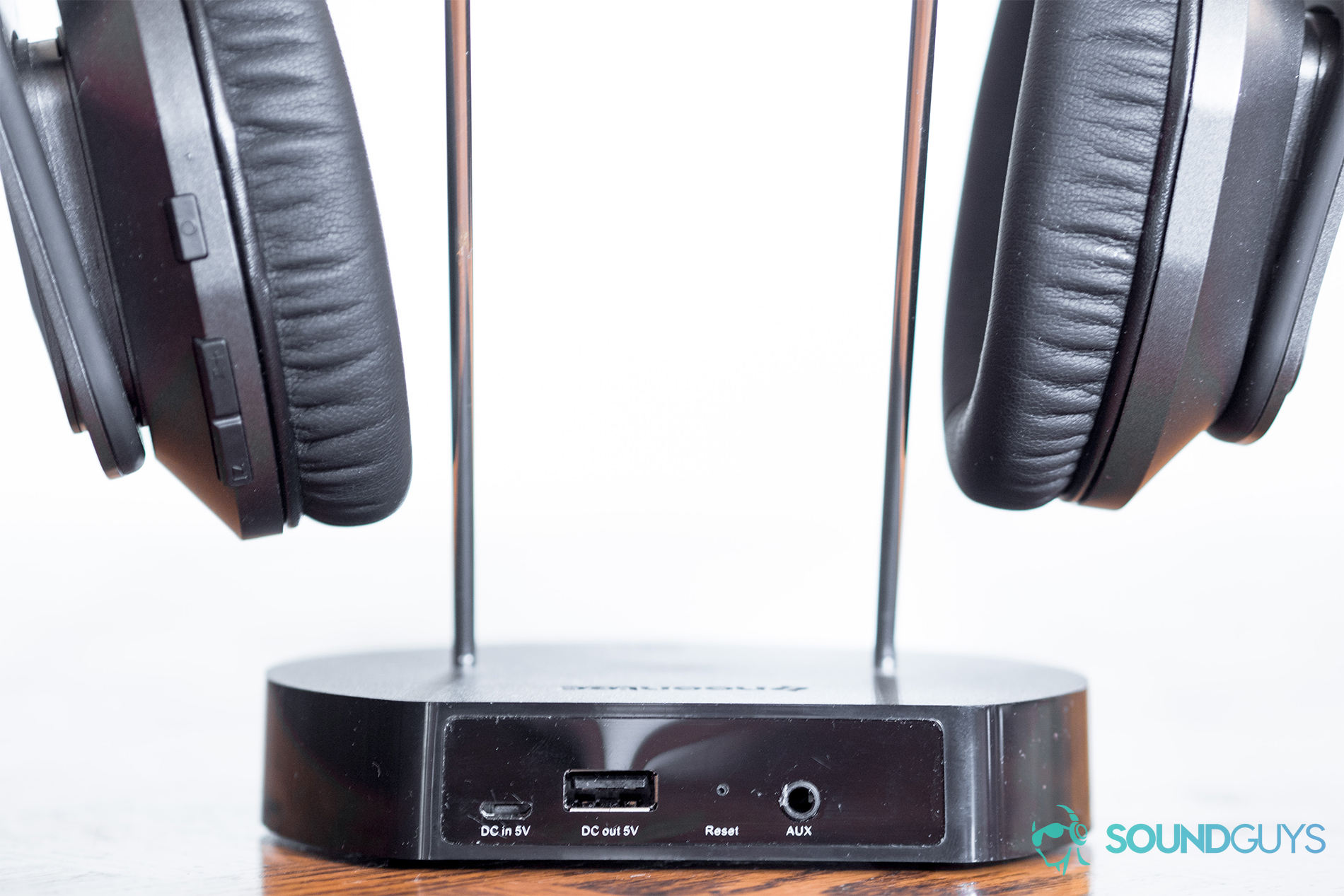 The docking station offers plenty of ports and charges the headphones.
Antithetical to the Hammo Wireless, the Hammo TV headphones are plagued with connection issues. More accurately, transmission from the wireless docking station interrupts radio receivers. When the station is plugged in within 30 feet of an analog radio, it renders the radio unable to receive anything on AM or FM channels. Instead, the radio emits an unpleasant static screech, rivaling the sound of nails on a chalkboard. At least, this was the case in my home. After reaching out to Noontec about the issue, they were unable to provide an explanation. The did share that this issue hadn't come up before though.
Now that I've settled into a new apartment and left the radio behind, the transmission works seamlessly. Thanks to Hammo Smart Connect, the headphones register the transmitter or third-party device without interference. What's more, the wireless docking station uses aptX to provide low latency playback. No more blundering lag while streaming the third season of Sherlock. Connection distance reaches an impressive 10 meters. This is excellent news for those inclined to make snacks while watching TV.
Battery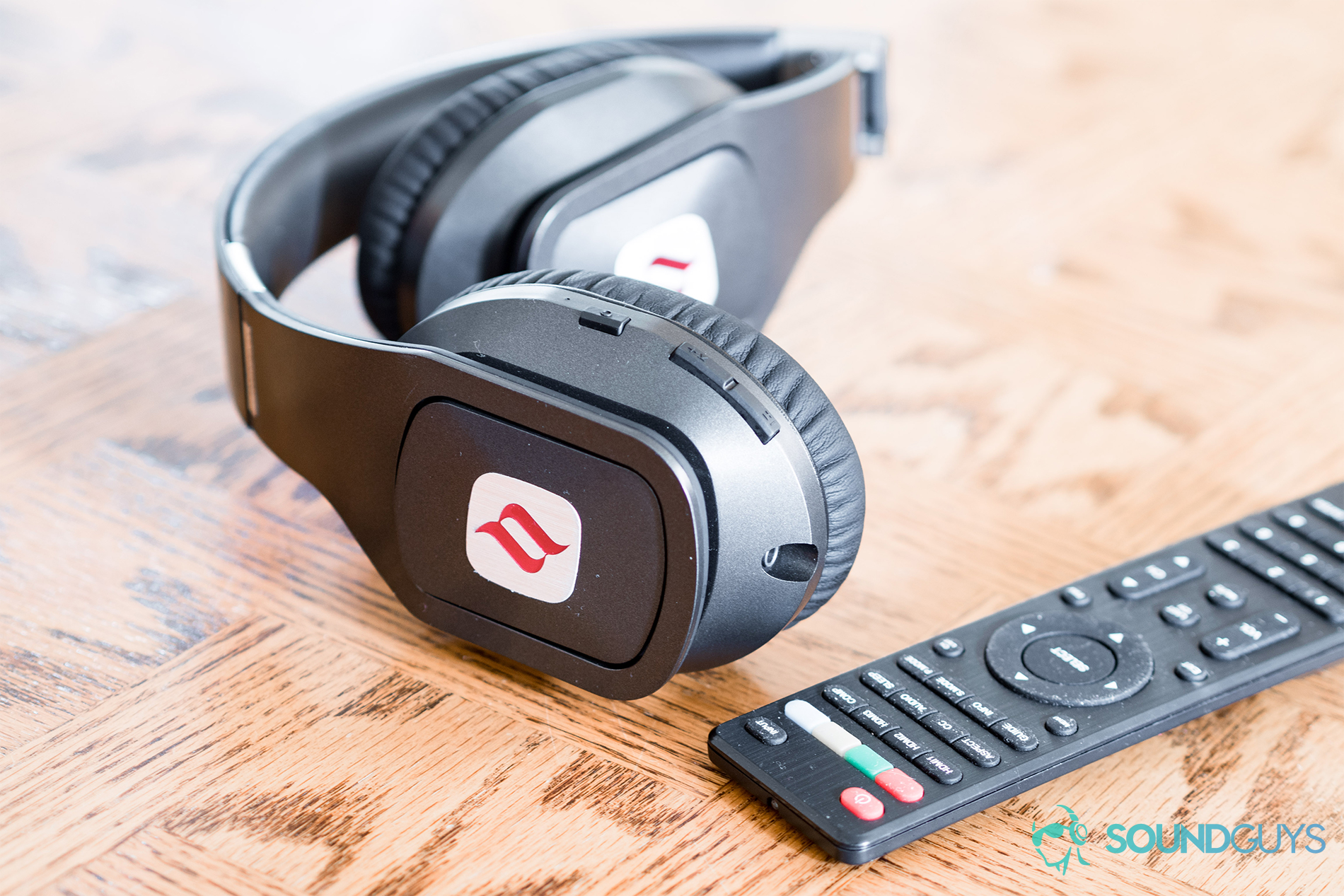 It's unlikely that the Hammo TV headphones require charging more than once a week, if that.
Don on your Snuggie and pop that corn, because the Hammo TV headphones allow for 50 hours of playback time. Charging via the auxiliary input feels strange and inefficient. Though, an overnight charge is easy enough. With 50 hours of battery life, charging won't be a pressing issue.
Sound Quality
A 3.5 mm aux input enables wired listening.
The aforementioned Hammo Wireless are manufactured with the same internals. Votrik HD500 speakers and Noontec's superior closed cavity body (SCCB) acoustic techniques result in an outstanding audio experience. According to Noontec, the tuning is the same in each of the headphones. A more in-depth, music-oriented review of the sound quality is available here. Unfortunately, ambient chatter and general noise permeates the Hammo TV's bubble at low volumes, 30 percent and under.
Explosions explode. When watching the street explosion scene from Swordfish, the detonation sounds as powerful as it looks. Concurrent glass shatters and human screams are appropriately piercing without inducing fatigue.
As wonderful as that reproduction is, most television and movies are dialogue driven. Transparently reproduced in his narration of Life, David Attenborough's tone remains pacifying. As birds chirp, underscoring Attenborough's voice, they are easy to separate from the script. With eyes shut and energies focused on sound analysis, the episode "Mammals" feels like the listener is exploring an Arctic tundra or torrid desert. Attention and engagement is easy to maintain with such a pellucid sound.
Conclusion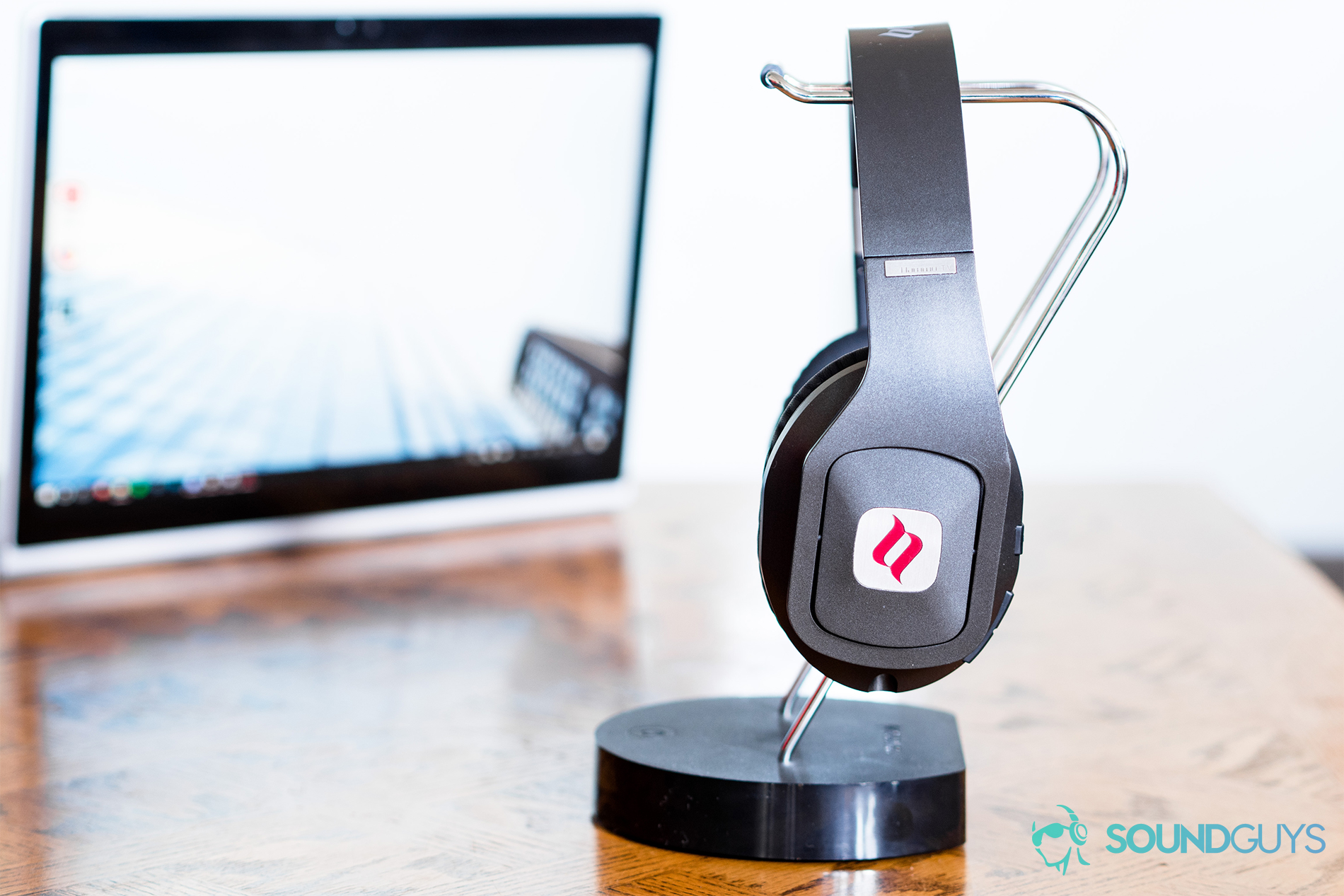 For $120, the Hammo TV are a nice bundle and will serve as a gift to you and your housemates.
The Hammo TV earns a cautious recommendation. With my roommates finishing their penultimate semesters of undergrad, their abilities to focus are imperative for effective studying. While testing the Hammo TV, we have all been left satisfied. They study in the apartment without disturbances, and I don't feel obligated to watch Blue Planet II on a laptop. Nevertheless, it's concerning that the screeching radio remains an unsolved mystery. (Perhaps an episode idea for the producers of Sherlock.) For listeners who enjoy the snap, crackle and pop of a physical radio, the Sennheiser RS120 for half the price may be a better bet. However, if $120 is no object, Noontec's Hammo TV headphones provide superior comfort and clear sound quality.