All products featured are independently chosen by us. However, SoundGuys may receive a commission on orders placed through its retail links. See our ethics statement.
The bottom line
If you can get past the creaking and latent hum, the Noontec Hammo Wireless provide high quality sound at a reasonable price.
Hammo Wireless
If you can get past the creaking and latent hum, the Noontec Hammo Wireless provide high quality sound at a reasonable price.
What we like
Comfort<br>
aptX<br>
Sound quality<br>
Collapsible<br>
Battery life<br>
What we don't like
Charges through auxiliary input<br>
Poor isolation<br>
Creaking<br>
Rating Metric
Sound Quality
9.0
Bass
8.6
Midrange
9.1
Highs
8.8
Durability / Build Quality
7.7
Value
8.4
Design
8.0
Microphone
8.5
Portability
8.8
Battery Life
9.3
The leather ear pads and headband are supremely comfortable and soft.
Noontec's Hammo Wireless is the quiet kid in class. Unassuming, keeps to herself and is, unfortunately, a mouth breather. Upon getting to know her though, you realize that she's an absolute delight. Conversations are engaging. She shares trivial information through well-timed witticisms. Sure, she's flawed. Who isn't? As the year continues, she goes from the girl you'd nudge for help during physics lab to your clever friend, reliable and talented.
What's Inside
Leaning on the bulkier side of things, the hard shell case is sturdy but cumbersome.
Unsheathe the plain black box and fold back the cover to reveal a hard shell carrying case affixed with a black carabiner. Inside rests two 3.5mm stereo cables, one ¼ inch adapter, a charging cable and the Hammo Wireless headphones. Additionally, the interior contains an elastic pocket for accessory storage.
Build & Design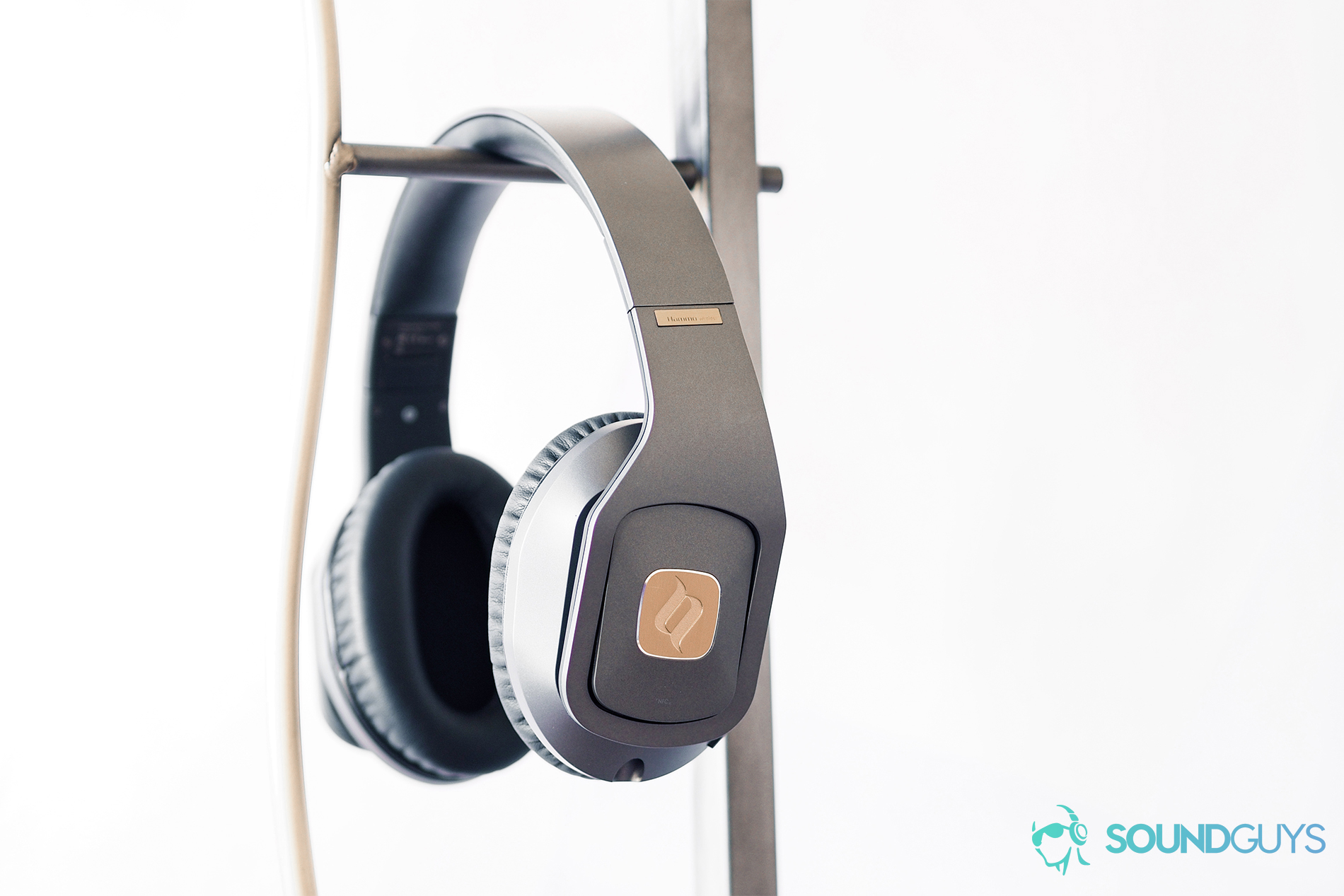 Walking while listening is interrupted by intrusive creaking, but the lightweight build makes up for it.
The headphones are constructed primarily from plastic. Though, stainless steel sliders reveal themselves as the headband is adjusted. Easy to store, the Hammo Wireless collapse for placement within the carbon fiber-inspired case. Granted, the headphones are substantial enough to render the case unnecessary. Aesthetically reminiscent of Beats' headphone architecture, the Noontec logo brandishes bulky ear cups while metal accents decorate the hinges. Banal. Yet, Hammo's slightly angular design feels more modern than its once maverick predecessor.
Noontec's standalone matte gray, gold-accented colorway exhibits class. Additionally, the plush leather ear cups and headband make for a painless listening experience. Glasses? They're a non issue due to supple padding. Worth noting, rickety creaking noises permeate the neutral sound signature, undermining it. Still, the ear cups provide a compensatory roomy fit. Added bonus: They effectively function as earmuffs during 30℉ (-1.1℃ for metric folk) Chicago Novembers.
Ear temperatures may be properly regulated, but isolation leaves a lot to be desired. While schlepping through the daily train commute, each passenger squabble and every squeal from the locomotive is heard. True, sounds are muffled, but a whole conversation can be had without removing the headset. Also, poorly mapped out controls prove to be the greatest design flaw. Skipping a track requires depressing the volume down button. Logically–rather, illogically–playing the previous song calls for pressing the volume up button. What's more, the jiggly toggles feel cheap. If Burnett's vodka could be a plastic, they'd be the Hammo Wireless switches.
Connectivity
Connectivity is insanely reliable with the Hammo Wireless.
Bluetooth 4.1 streamlines the connection process, and NFC pairing is an option for compatible devices. Once the headphones are recognized, reconnecting is just a matter of powering on the headphones and source device. Should Bluetooth fail, the rugged 3.5mm cables are always available. Reinforced stress relievers placed at both termination ends increase durability. An appreciated touch. Oddly enough, when Bluetooth is enabled without audio playing, an almost inaudible, high pitched hum is emitted intermittently. Aside from that, Noontec's creation of a reliable, stable connection are lauded. Over the course of a month, not a single connection drop occurred. Positively unbelievable.
Battery
The battery lasts up to 50 hours; listeners don't need to fret about finding an outlet.
Now. Charging the Hammo Wireless is a vastly different story.
Rather than using a standard micro-USB setup, Noontec opts to charge the headphones through the headphone jack. A misstep in the age of quick charging. That said, the battery does last 50 hours. That's more than enough to get through a week of commuting and general-purpose listening.
Sound Quality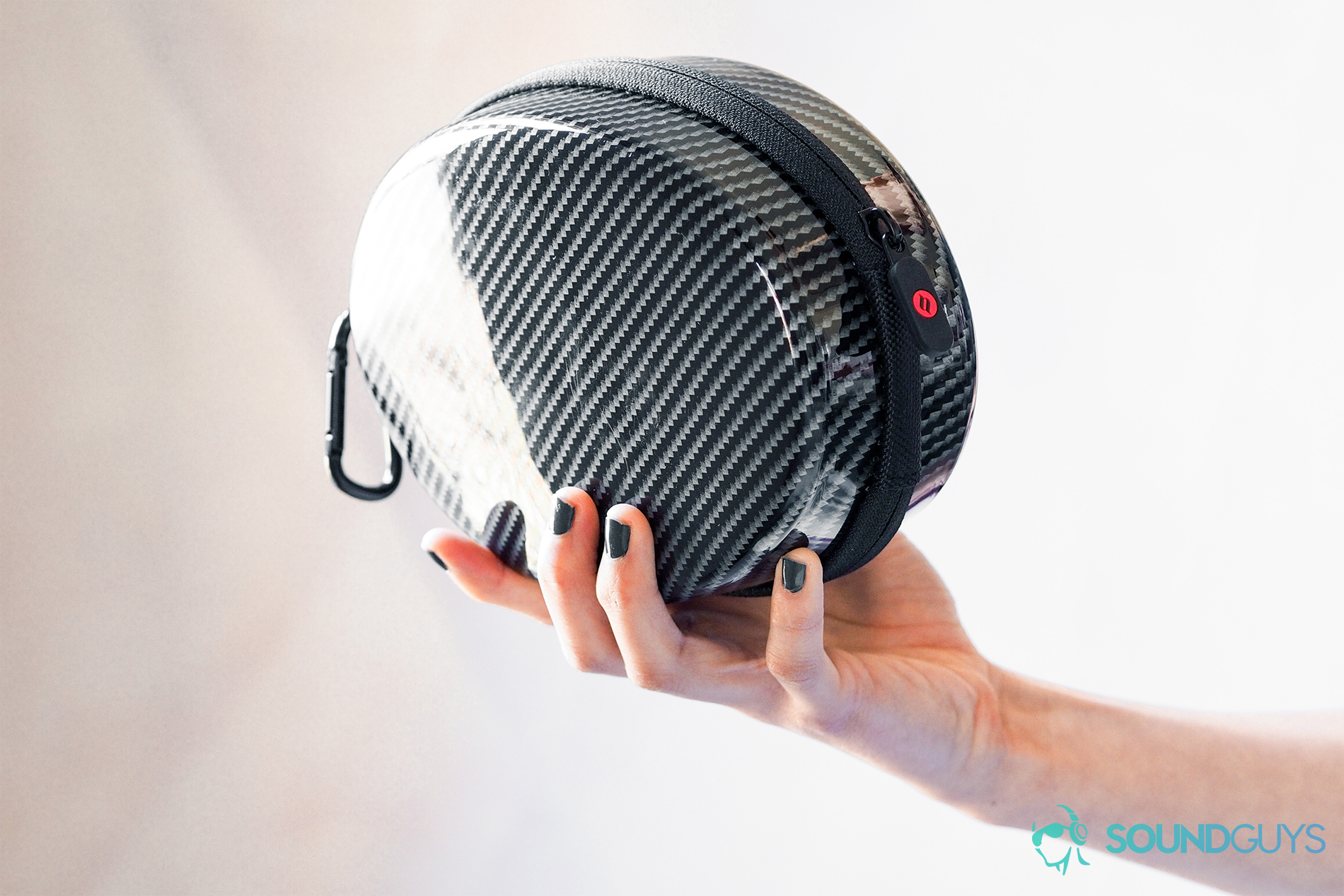 Three years of development have gone into the Hammo Wireless, and it pays off handsomely. With the ear cups leveraging a closed cavity body (SCCB™), the Hammo Wireless achieve a flat frequency response. Votrik HD500 50mm drivers in tandem with aptX codec support prove to be a recipe for hi-fi sound. Need a cherry on top? Instrument isolation results from a surprisingly open soundstage.
Oftentimes, companies exaggerate the low end to recoup overlooked audio factors. "Diddy Bop" by Noname (feat. Raury & Cam O'bi) highlights what the sub-bass is capable of. Relaxed yet controlled, the palatable, melodic sequence repeats throughout the song. Light-handed and perfectly kneaded, the lows allow for easy, fun listening. 
Bold guitar riffs complement Steven Tyler's flagrant choral command in Aerosmith's "Walk This Way." Tyler's rebellious tone is felt, thanks to the detail and depth presented by the mids. Astonishingly, the Hammo Wireless brilliantly navigate through the guitars, cowbells and drums. Rather than mistakenly producing instrumental bedlam, the headphones handle mids with adroit acuity.
"I-94 W (832 Mi)" by Car Seat Headrest forces the Hammo Wireless to flex their high frequency muscles. The vocal-less, one minute, 26 second song is reproduced beautifully. V-shaped sound signatures tend to struggle with the song due to overly produced highs, creating a piercing noise. Incredibly, the headphones softened the highs, providing liveliness and blunting potential sibilance when appropriate. The audio engineering reinforces the song's ability to elicit feelings of nomadic wandering and longing.
Conclusion
My ears hear beyond the creaky plastic and have fallen helix over lobe for the Noontec Hammo Wireless.
What the Hammo Wireless lack in construction quality, they make up for in sound quality. For stationary use in the home or office, listeners of all types will be engaged and pleased by the accuracy and clarity of the Hammo Wireless. For a little known brand, Noontec truly crafts a product rather than simply produces one.