All products featured are independently chosen by us. However, SoundGuys may receive a commission on orders placed through its retail links. See our ethics statement.
Motorola takes aim at the Airpods with all-white VerveOnes Music Edition
Airpods aren't the cheapest on the block anymore.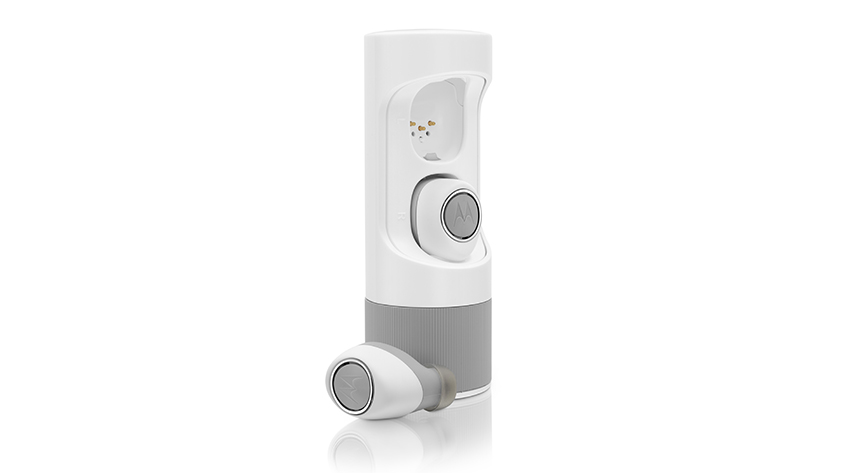 Motorola might have beaten Apple to market with their truly wireless VerveOnes earbuds, but Apple beat them to a lower price point. Now the company has a new pair of truly wireless earbuds dubbed the VerveOnes Music Edition (ME) that undercut the Airpods by $10. At $149, these are now the cheapest truly wireless 'buds in the Motorola line-up.
To get the price lower Motorola did have to drop a few features, but it's not as bad as it sounds. The most important corner cut comes in the shape of battery life. The original VerveOnes were spec'd at having a 12 hour battery (including the charging case), which gave about 3 hours of constant playback in between charges. The new ME 'buds only provide about 8 hours. This means that you'll probably get less playback time in between charges as well.  Motorola hasn't provided any exact estimates yet but it's safe to assume that it's less than 3 hours.
This might not be ideal for anyone who listens to music all day, but if the only time you find yourself using earbuds is during a commute or short flight this shouldn't be too big of an issue. Especially when you consider that in between uses (for example after you get to work), they're going to be sitting in the charging case anyway. Unfortunately, the Music Edition's are also lacking the IP57-rating found on the VerveOnes+, instead opting for a lesser IP54. They're still protected against water, just to a lesser extent which is something to keep in mind if you plan on using these for fitness.
On the bright side, Motorola beefed up the range on these when compared to the originals. You can now expect a range of 100 feet which is really good news considering the original VerveOnes maxed out at about 33 feet.
Though these probably won't outsell the Apple Airpods, they're priced low enough that Motorola might be able to convince a few customers to try these instead. Is it a coincidence that the Music Edition VerveOnes come in a new all-white white color option? You decide.