All products featured are independently chosen by us. However, SoundGuys may receive a commission on orders placed through its retail links. See our ethics statement.
The bottom line
If you want a taste of the future the VerveOnes are as close as it gets. That said, most people will probably pass on these because of the spotty connection.
If you want a taste of the future the VerveOnes are as close as it gets. That said, most people will probably pass on these because of the spotty connection.
What we like
No wires
Stay in your ear
Surprisingly decent sound
What we don't like
Connection
Short battery life
Rating Metric
Sound Quality
7.5
Bass
7.8
Midrange
7.5
Highs
7.1
Durability / Build Quality
8.0
Value
6.0
Design
7.7
Microphone
7.0
Portability
9.0
Battery Life
6.7
UPDATE [February 2022]: The Motorola VerveOnes are frequently out-of-stock. If you're specifically after Motorola earbuds, have a look at the Moto Buds-S ANC. If you don't have to have ANC, pick one of the best Bluetooth earbuds currently available.
It seems like all Bluetooth earbuds are more or less the same nowadays. Throw two 'buds on a wire or neckband and you have yourself a pair of headphones. But they're not actually wireless, there just isn't a wire connecting to your source device. We've seen new companies like Bragi and Earin take a stab at completely wireless earbuds, and now Motorola is jumping in the mix. Well, really a company named Binatone made them but licensed the name and some tech. Whatever the case, we now have a pair of truly wireless earbuds: the VerveOnes.
What's inside
In the box you'll get the charging case with the VerveOnes inside, 5 extra pairs of ear tips in different sizes, a small micro USB charging cable, and the instruction booklet and warranty information.
Build & Design
If you remember the Moto Hint, these are very similar. They basically have the same design with an added earbud at the tip. On the back of each earbud is a control button and on the bottom are small sensors. This is how you they recharge when clicked into the charging case, and also how they can tell when they're in your ear or not. The charging case is super easy to throw into your pocket, being a pretty small cylinder. It rotates like lipstick to reveal two indents for storing each earbud.
When you look at the VerveOnes you'll notice a two tone color scheme. That's actually because there are two different build materials used. The outside of the earbuds are made of smooth plastic, while the inside is made of soft rubber. The rubber portion helps to keep them in your ears. Speaking of which, I wasn't sure how these would fit but Motorola did a great job getting them to stay put.
You have to insert them vertically into your ear and then rotate them 90 degrees so they can wedge themselves in your ear. It sounds difficult and uncomfortable, but it really isn't either of those at first. They do get uncomfortable after about an hour or two, but not enough to be a deal breaker. I found putting them on and taking them off to be pretty easy. The single button on the outside of each earbud is also nice and responsive and has a satisfying click when you press it, though the suction that occurs in your ear does feel a little weird.
Connection
As is the case with a lot of things that try to push into the future, the connection strength on these aren't great. But lets start with the positives. Taking the VerveOnes out of the case automatically enters them into pairing mode, which I kind of like. Holding buttons and waiting for flashing lights can get annoying. There are also nice voice prompts to help you along every step of the pairing process and it even lets you know how much battery life you have left when you put them on. The sensors can tell when they're in your ear as well, so they automatically pause music when removed. It's a small feature, but it helps to conserve battery life and is also just cool to do.
Playback controls worked perfectly and there's a surprising amount of functionality considering that there's only one button. Okay, so there are technically two buttons (one on each earbud) but they do the same thing. One click pauses and plays music, two clicks skips to the next song, and three clicks returns to a previous song. Holding the button down while listening to music will let you cycle through EQ settings and holding it down with nothing playing will access Siri or Google Now. Seriously, they can do a lot and everything works perfectly. The one thing missing that I would've liked to see are volume controls. Unfortunately, you'll still have to reach for your phone to adjust volume. There's also a nifty app that lets you change settings and even locate your earbuds if you lose them.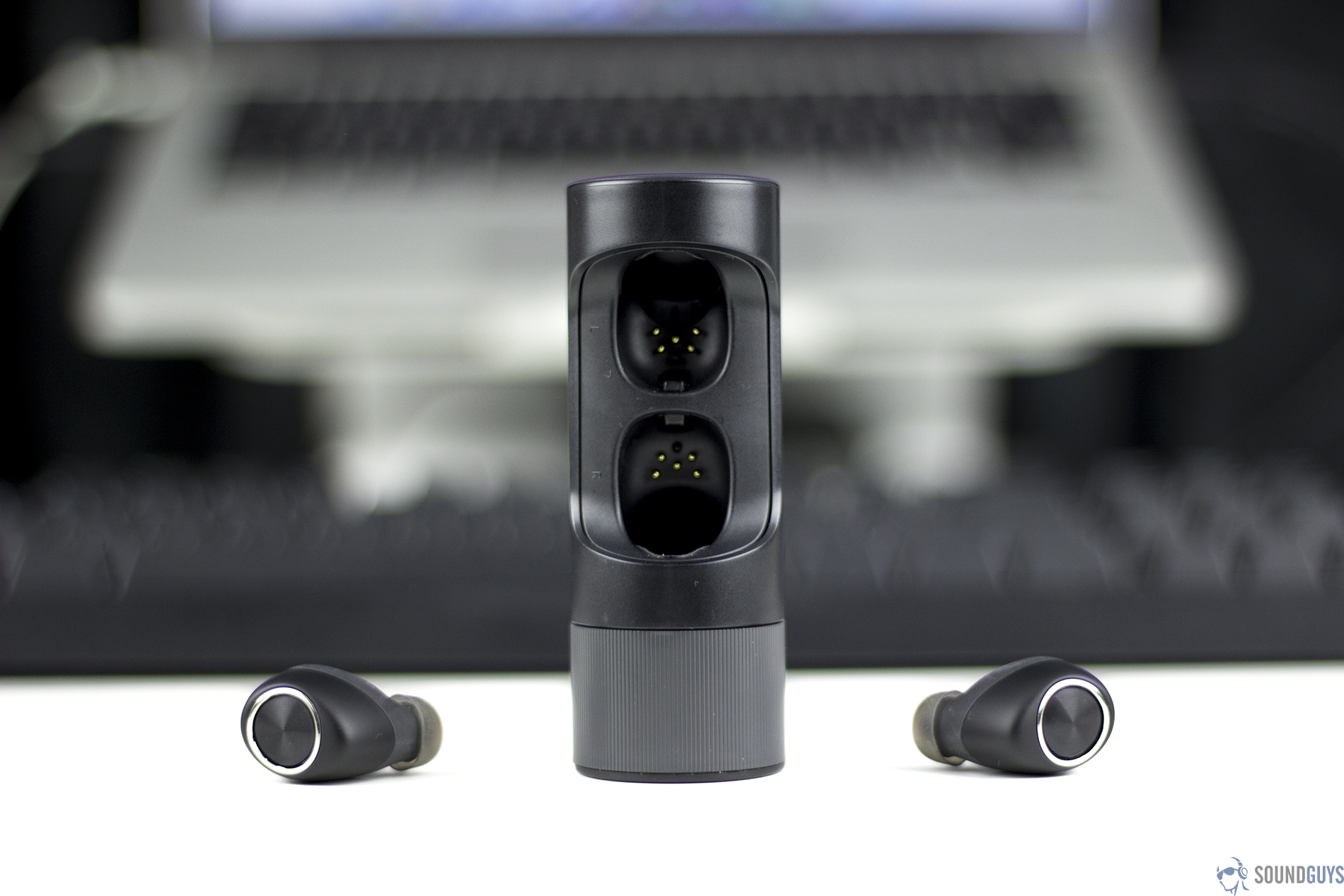 Now for the bad stuff. In ten minutes of music I had the connection dropped seven times (I counted). Music didn't stop completely, but the right earbud would go dark for half a second before the audio would return. The left earbud connection only dropped out once in ten minutes, which is significantly better. But that's probably because of how the VerveOnes actually work. The signal goes from the phone to the left earbud, and then from the left earbud to the right one. I'm sure getting this connection perfect is no easy task and the VerveOnes put up a good fight, but in the end the signal just dropped way more than I would've liked.
Battery Life
Battery life is spec'd at about 12 hours — but that's with the charging case. The VerveOnes lasted me about 3 hours and 15 minutes in between charges. Considering how small the batteries inside of them must be, this isn't too bad. It's long enough to easily last a two hour commute, just make sure to put them back in the case for the ride back.
Sound Quality
As I touched on before, it is possible to change the EQ settings to find one you enjoy. You can choose from brilliant, balanced, rhythm, wide, bass, and Moto sound. Out of the box they were in Moto sound so we did all of our testing in this mode without changing anything.
The lows were surprisingly present for such a small pair of 'buds, but they were still fairly shallow. In relatively minimal songs like "Sutphin Boulevard" by Blood Orange it was easy to follow and steered clear of the lower mids, but in songs with a lot going on (usually rock songs) it definitely became muddy.
The mids aren't super clear, which is surprising considering that you can also use these for phone calls. They sound a little muffled at times but not anymore than the pair of headphones that probably came with your phone.
The highs are pulled back a bit towards the middle to avoid harshness, which most earbuds are considering they sit directly in your ears. That said, I feel like they were pulled back a little too much. When you pair that with the bass it definitely makes these sound pretty mid-heavy.
Conclusion
To be completely honest, it feels great to finally be completely wireless. The VerveOnes definitely have their faults but being able to listen to music more or less consistently via two small earbuds makes you feel like you're living in the future in a way that few things can.
Is it worth dealing with the connection issues? That's hard to say. Considering that they cost $200 ($250 for the waterproof VerveOnes+) they should work perfectly, not just good enough. The sound quality was better than expected, but still average. Battery life is good enough for most use cases, but if you need more juice and forget the charging case at home you're pretty much screwed. And they fit well enough on me but that's always a big variable since everyones ears are different.
Basically you're probably going to love these if you consider yourself an early adopter of new tech (or if you're given these as a gift). They work well enough that you can use them everyday if you're willing to deal with the previously mentioned issues. But if you're looking to make an investment in a new pair of Bluetooth 'buds or want amazing sound quality, you should look elsewhere. Truly wireless earbuds aren't ready for you — yet.