All products featured are independently chosen by us. However, SoundGuys may receive a commission on orders placed through its retail links. See our ethics statement.
The bottom line
Not bad for everyday usage, but if you're looking for your next workout headphones these probably aren't them.
Not bad for everyday usage, but if you're looking for your next workout headphones these probably aren't them.
What we like
Comfortable
Good sound
Great connectivity
What we don't like
Hard to keep in ears
Cheap feeling build quality
Rating Metric
Sound Quality
8.1
Bass
8.0
Midrange
8.5
Highs
7.8
Durability / Build Quality
7.7
Value
7.1
Design
7.7
Microphone
8.0
Portability
7.0
Battery Life
8.0
Motorola recently released two new pairs of headphones. We already took a look at their on-ear model the Motorola Pulse, so now it's time to check out their wireless earbuds dubbed the Motorola Surround. The Surround comes in a format that we're all fairly familiar with, which is two earbuds attached to a neck piece that has everything built into it. With a good amount of earbuds on the market that utilize this design, how does the Moto Surround compare?
What's in the box?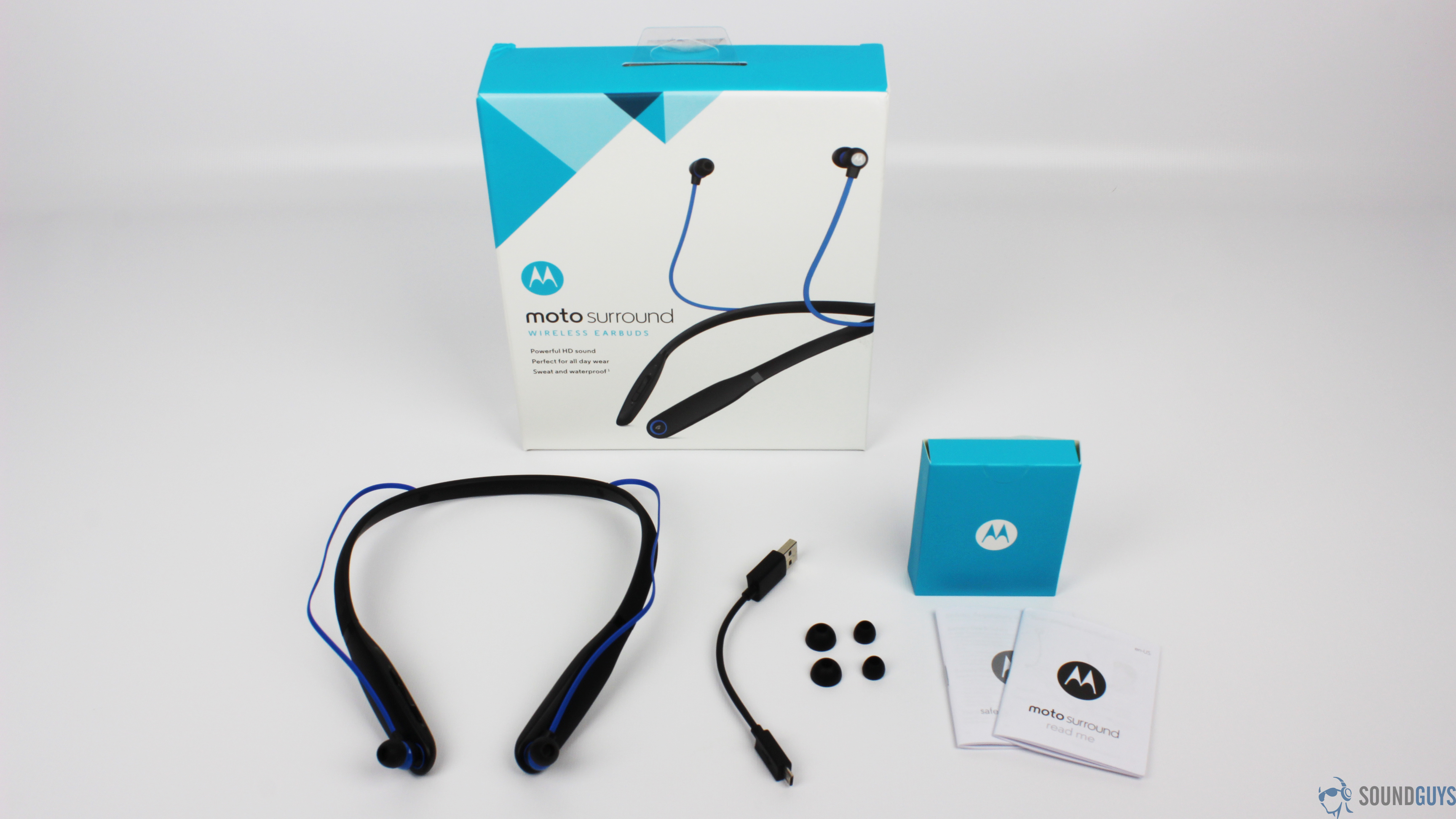 When you open the box you'll get the headphones front and center. Next come the few accessories that they come with which include a conveniently short micro USB charging cable, two extra pairs of ear tips, and a small cardboard box that has the warranty information and instruction booklets inside.
Build & Design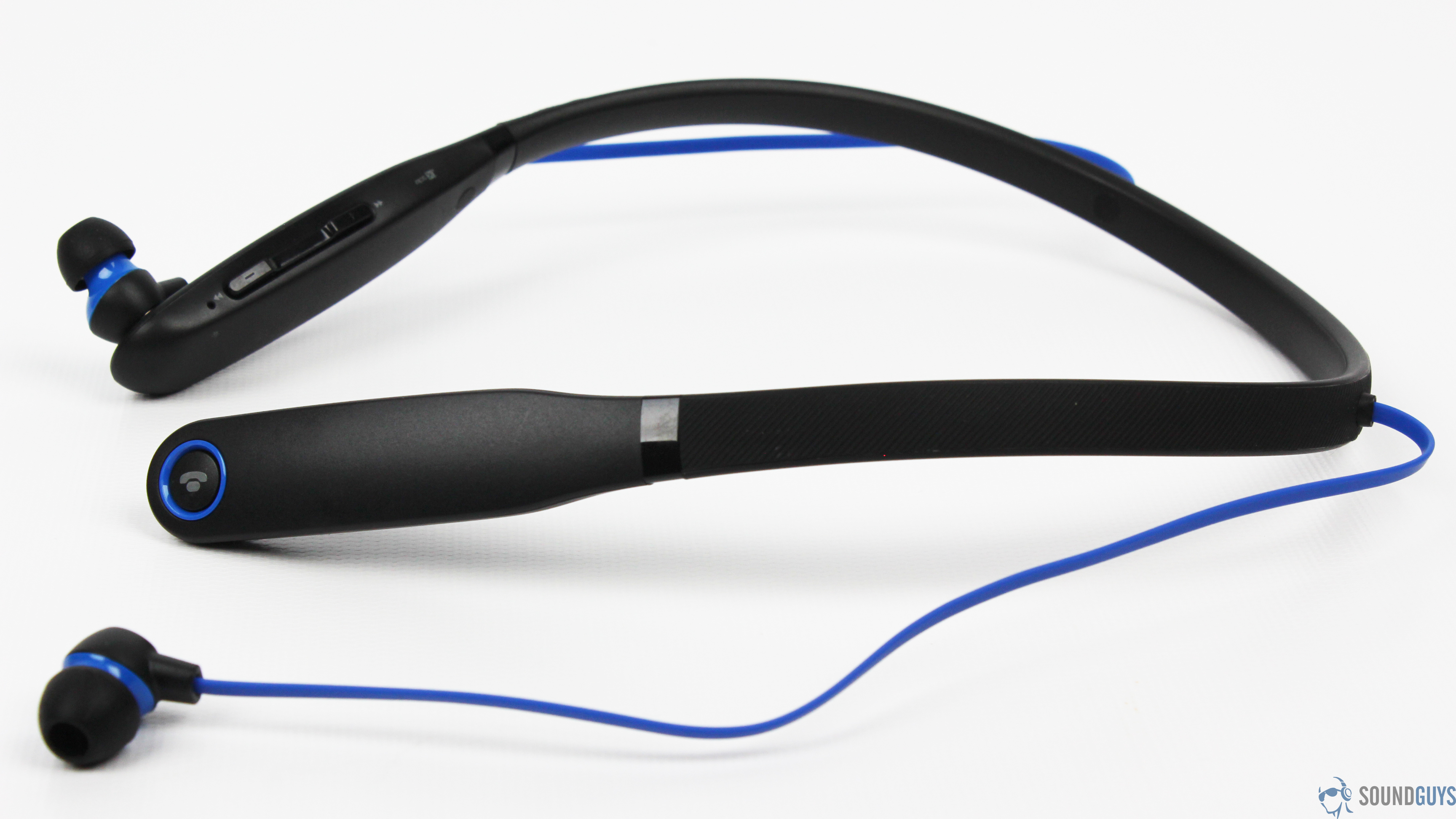 I'm not a big fan of the build or design in this case, but I have to admit that they are durable. The hard plastic of the neck piece feels brittle but is actually quite flexible. It has a rubberized grip on the back so you can get a better hold on it and magnets on both ends allow you to attach the earbuds to them when not in use. Although it does work for the most part I found that the magnets were a little too weak and the earbuds fell off more often than I would have liked. Thankfully they're attached to the neck piece with flat, rubberized cables. If you haven't noticed, Motorola uses a lot of rubber and plastic here which is a good thing since the Moto Surround are completely sweat proof and have an IP57 rating. Still, it does have its drawbacks.
While running I found that initially the headphones worked great, but soon after I had a problem keeping the earbuds in my ear. It turns out the more you sweat the more slippery the plastic earbuds get, who would've thought? Sure it's great that they won't get water damaged at all but I ended up just letting them dangle around my neck because they stubbornly refused to stay in. So if you're looking to use these while running, make sure to wear a headband. Besides that the neckband does a very good job at gripping to your neck and because of that these are good if you just want some comfortable 'buds to wear at your desk or while commuting.
On the right side of the neckband you'll find all of the controls including the playback controls, volume controls, and power button. The only button on the left side of the neckband is the talk button which lets you answer phone calls but you can also hold it down to activate the voice control which works with Siri, Google Now, and even Cortana.
Connectivity
Connectivity was by far my favorite part of the headphones. Normally with Bluetooth I always have this blindspot of connectivity where the headphones just don't get signal. Normally it happens when my source device is in one of my back pockets, but sometimes it could even happen when I strap my phone to my arm which as you can imagine is very annoying while running.
That said I experienced none of those issues with the Moto Surround. Motorola claims a range of 150 feet and in our testing we found that claim to be completely accurate. I placed my phone on the other side of the house and still had a perfect connection. In fact I had to take several steps outside before it began to skip at all.
I'm not sure why you'd want such a crazy range if you're using these for running since the source device will most likely be on your person, but if you plan to use these for everyday use then that's a feature I'd want in all of my headphones. As an added bonus Motorola adds a helpful voice that lets you know what the battery level is when you turn it on.
Battery Life
Motorola claims that the Surround have enough juice in them to last you 10 hours of constant music playback, 15 hours of talk time, and 30 days of stand-by time. I didn't think it was necessary to postpone this review for a month just to test the stand-by time, but I can say that the 10 hours of constant music playback is definitely true. 10 hours isn't the best battery life we've ever seen, but it's still good enough to get most people through a full day or a couple of workouts.
Sound Quality
The Moto Surround lets you choose between three different EQ profiles by simultaneously pressing both volume buttons. The helpful little voice says "EQ changed" but unfortunately she doesn't tell you which EQ setting you're in so you'll have rely on your ears to let you know whether you're in Bass, Brilliant, or Moto signature sound mode. I kept the setting on Moto signature sound mode for most of the testing since Bass and Brilliant mode seemed to be  slightly too extreme in the lows and highs for a fair review.
The lows in the Surround weren't exactly clean, but for the most part they weren't sloppy. In songs with a lot of low end like 'Hotline Bling' by Drake, the bass isn't really easy to follow but it doesn't get in the way of anything else at all. It has a solid presence and doesn't try to be anything more than what it is.
Just like the Moto Pulse, the Moto Surround definitely puts an emphasis on the mids which is a good thing if you listen to melodic songs or plan on taking a lot of phone calls with these since that's where the vocals are. A good example of this are the vocals in 'What You Know' by Two Door Cinema Club where there are tons of things going on in terms of instrumentation, but the vocals of Alex Trimble come across perfectly with nothing in the way.
Motorola was also equally aggressive with the highs as there are very few songs that I found to be uncomfortable. They pulled back on the higher end quite a bit which is both a blessing and a curse, but I suppose if you're going to be using these mainly for running you probably don't want too many piercing sounds anyway.
Conclusion
In the end, Motorola made a solid sounding pair of earbuds for anyone looking to go wireless. Sure they're not perfect, but is anything? At the price of only $70 they do sound fairly good and have some great features but if you're planning to use these for intense running as they are intended, then you might want to check our list for the best headphones for running first. A short workout won't cause any problems but anything that involves a lot of sweat is going to most likely give you a hard time.