All products featured are independently chosen by us. However, SoundGuys may receive a commission on orders placed through its retail links. See our ethics statement.
Logitech z50 Review
The Logitech z50 isn't the most impressive speaker we've seen by a long shot, but for a list price of $19.99, it's a bargain.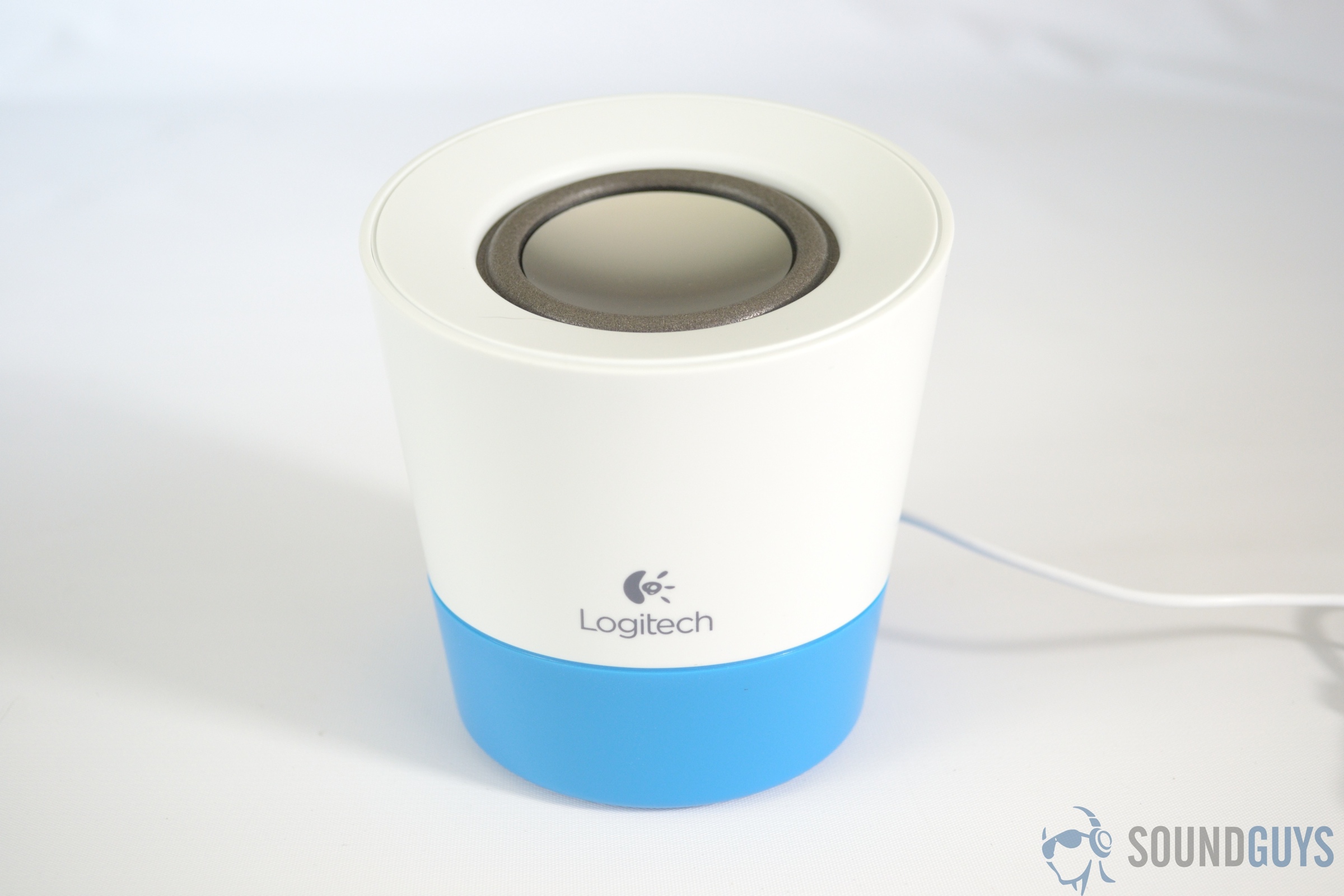 [button type="link" link="https://georiot.co/3SIC" size="btn-lg" variation="btn-primary" block="btn-block"]Buy now from Amazon.com ($19.99)[/button]
We spend a lot of time talking about the bigger, more expensive portable speakers out there, and there's a good reason for that — if you're going to drop $300 on a Bluetooth speaker, you want to be very sure that it's worth the money. That said, it's also our duty to bring attention to products that don't get as much hype. One of these products is the Logitech z50.
On paper, the z50 doesn't look very impressive because, well, it isn't. This is a simple, barebones "multimedia speaker" that does exactly one thing: it makes the audio from whatever you plug into it louder. So why is it worth talking about? Well, for starters, you can pick one up for less than 20 bucks.
What's In The Box?
Looking at the box that contains the Logitech z50, you might find yourself thinking that there couldn't possibly be much in there, and you'd be right. Open it up and you'll find the speaker and manual, while the AC adapter is located underneath. That's it.
Build & Design
Like the Logitech x100 we recently checked out, the Logitech z50 is available in a few colors, all of which fall toward the pastel side of things. Our review unit came in blue, though gray and pink are also available.
The z50 is just slightly larger than a coffee mug. The small footprint is a major advantage for the space-challenged, but this speaker is also fairly light, so be careful that you don't knock it off your desk. Speaking of knocking this off your desk, you'll definitely need to be a little careful. The z50's speaker is located on top and is completely exposed, so this is a little more fragile than your average speaker this size.
As light and small as it is, the Logitech z50 isn't exactly super portable. This speaker doesn't use a battery; if you want to use it, it needs to be plugged into the wall. This isn't a problem if you just want to boost the volume on your laptop, but unless you've got a really long extension cord, you won't be bringing this to the park with you.
Connectivity
You won't find buttons, Bluetooth connectivity, or even a volume control on the Logitech z50. Plug the AC adapter into the wall, plug the built-in cable from the speaker into the device of your choice, and you're done. Any volume control will have to be done from your playback device. While this might seem like a startling lack of functionality to some people, others might enjoy the simplicity.
Sound Quality
With a speaker this size, you need to keep your expectations in check, and we went into this review with that in mind. Keep in mind that our standards aren't as high for a speaker of this size and price as they would be for a $300 speaker, and take our comments on the sound quality accordingly.
Even with the above said, we were actually somewhat impressed by the z50's bass response. You're not going to shake your walls with this speaker, but the low end is more present here than it was with the x100 (to be expected, as this is bigger) and the music you listen to won't sound like someone chopped the bottom end off.
The mids on the Logitech z50 are fairly full sounding with a surprising lack of boxiness. Vocals seemed boosted, which implies a boost somewhere around 1 kHz, but the "honk" sometimes associated with a boost in that area wasn't audible.
There is a bit of sizzle in the high end, but overall the highs were fairly crisp and clear, without much harshness.
Things start to break up a little as you push volume levels toward the limit, but this is going to vary greatly depending on what you're playing back and what your playback device is. If you're concerned about this speaker being too quiet, don't worry.
Conclusion
We're cutting the Logitech z50 a lot of slack because of its price, but that's the point. This speaker isn't going to go head to head with high-end offerings from other companies or Logitech itself, but it's not meant to. For the list price of $19.99 (and you can find it for less on Amazon) this speaker is a bargain.
[button type="link" link="https://georiot.co/3SIC" size="btn-lg" variation="btn-primary" block="btn-block"]Buy now from Amazon.com ($19.99)[/button]