All products featured are independently chosen by us. However, SoundGuys may receive a commission on orders placed through its retail links. See our ethics statement.
The bottom line
The Life n Soul BM211 bluetooth speaker felt short of glory due to a few technical reasons. It's built solidly and battery life is decent too. However, using bluetooth 2.0 when 4.0 is readily available was a poor choice.
The Life n Soul BM211 bluetooth speaker felt short of glory due to a few technical reasons. It's built solidly and battery life is decent too. However, using bluetooth 2.0 when 4.0 is readily available was a poor choice.
What we like
Solid Build
Compatible with most devices
Wide Sound
Crisp Sound
Good battery life
What we don't like
Bluetooth 2.0 Audio
Fingerprint magnet
Bass response is lacking
Looks like a stapler
Rating Metric
Sound Quality
7.0
Bass
6.5
Midrange
7.0
Highs
8.0
Durability / Build Quality
8.3
Design
8.0
Portability
7.5
Buy now from Amazon ($79.99)
Back in July, we took a look at the Life n Soul BE501 Headphones. They were a solid, good sounding pair of Bluetooth headphones, and we liked them enough that we wanted to see more from the company's line up.
The Life n Soul BM211 is a Bluetooth speaker with a design  that we haven't seen before, but is there more to the speaker than a novel build? Read on for our thoughts.
What's in the box?
The Life n Soul BM211 Bluetooth Speaker is the only thing packed into this tiny box. No extra cables, or any sort of Life n Soul "swag".
Build & Design
The Life n Soul speaker is in a plastic housing. The color scheme is an attractive but yet forgettable glossy black and matte gray. The multifunction button is located towards the back of the speaker. There is also a chrome ring that circles the multifunction button. As ports go, we have a standard sized 5 volt usb, and also the smaller usb micro on the side of the speaker. A aux jack to allow for direct plug ins, and also a power rocker.
One of the selling features of this portable speaker is that it has a slit that lets you slide your device into it. The size is should work for most devices. The older iPhones are a bit small compared to the slits, and it may not fit perfectly.  But any modern phone that's larger than 4.5' shouldn't have any issues fitting within the slit. I am able to fit a S5, M8, and OnePlus One even with cases installed. To add additional protection this cut out has a soft rubber overlay to protect your device from getting scratch.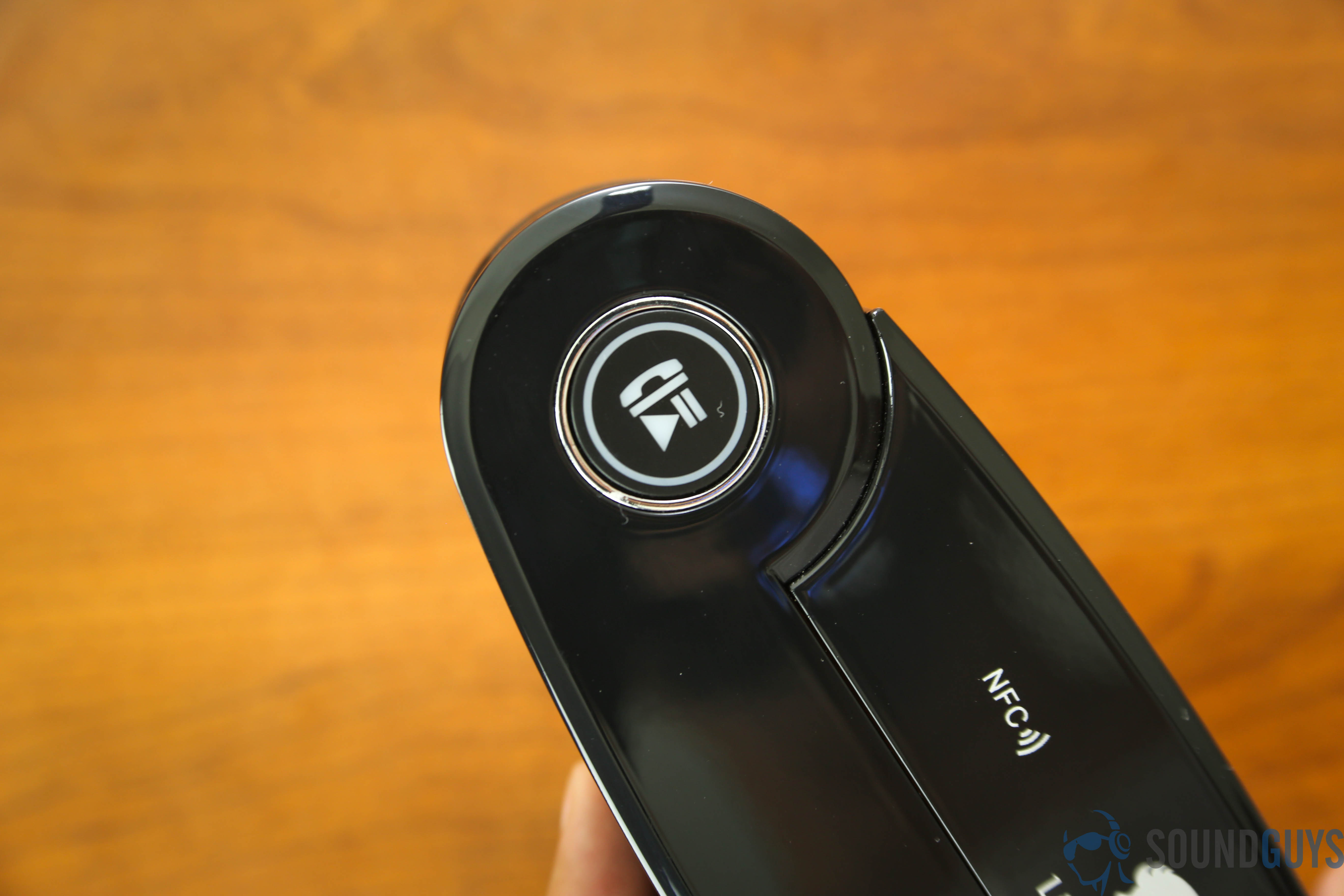 For larger devices, or even if you want a wider sound you can extend this speaker out into a "V" shape. The sliding mechanism is tight, and it has a smooth motion when pulling it apart. It's build very solid, with minimal amounts of moving parts, it on the surface it seems like it will hold for a while.
Connectivity
The Life n Soul uses NFC for connecting to your smartphone, which makes connecting to a new device a cinch. I'm really glad to see companies embrace this new technology. You can also use a 3.5mm cable, or just connect via the standard bluetooth way. I wish they would of embraced the new technology of bluetooth 4.0. Shockingly enough it are using the aged and outdated bluetooth 2.1 with Enhanced Data Rate (EDR). With that being said, using that technology during a video the voice can become out of sync. This is a huge problem on an otherwise nice product.
Battery
Battery life is pretty good. This speaker packs fourteen hours of playback. In a real world situation you can expect two days of heavy use. This speaker uses a auto timeout feature, that is pretty aggressive, but it makes the best use of its battery life. The included USB port on the back is used to charge other devices. This obviously cuts down on battery life significantly, use at your own risk.
Sound Quality
When turning on the Life n Soul I was initially impressed with the clarity. The sound was clean, crisp, and had a sense of depth to it. But after listening to it a bit more critically, you can hear a few audio blemishes. Soundstage on this speaker set up is excellent, due to the fact the two speakers are facing the opposite way. The sound is wide and emulates a great sound.
High
On the high end of things, you can expect a great sound. It's clean, loud, and powerful.
Mids
The mids are a bit murky, and at times tinny. The low end falls flat on its face as well.
Lows
As with the mids, the lows are flat. The lows become distorted at high volume as well, which ruins the sound.
Conclusion
The Life n Soul BM211 bluetooth speaker packs a unique design.It's a useful tool that had the potential to make media consumption on a mobile device a bit more pleasurable. But just like its sound, it ends up a bit flat in the long run.
Buy now from Amazon ($79.99)