All products featured are independently chosen by us. However, SoundGuys may receive a commission on orders placed through its retail links. See our ethics statement.
Libratone announces the ONE Click and TOO
Libratone announces not ONE, but TOO Bluetooth speakers.
Libratone isn't exactly a mainstream name when you think of Bluetooth speakers, but do enough research and it's a name you'll see pop up fairly often. Their Zipp and Zipp mini Wi-Fi speakers made rounds on best lists all across the internet (including ours), but they were intended for multi-room use around the house. Now with the release of the ONE Click and the Too, the Danish company is trying to make a name for themselves in portable audio as well. Both speakers have similar features such as 360-degree audio, a touch sensitive pad for playback controls, and the ability to sync two of them together via the Libratone app, but the main thing that Libratone wants you take away is that their sound is now way more portable.
Libratone ONE Click
The ONE Click weighs in at about 2 lbs and is roughly the size of a slightly large paperback book, but it's not so big that you can't easily pick it up on your way out of the house. It's compact enough to easily throw in a backpack if you need to but it was also designed to be easily carried in a few different ways if you're not one to sport a backpack all the time. It has an adjustable handle up for carrying it short distances, a U-shaped lock for hanging it from a tree branch or a bike if you need to, and Libratone is also going to be selling a shoulder strap this August for when you want to carry it a little more comfortably. Being designed with portability in mind, the ONE Click has a protective rubber bumper and a water-resistant mesh covering that gives it an IPX4 rating. The speaker is rocking Bluetooth 4.1 and also has a 3.5mm input for non-wireless devices. It has a 3" woofer and 1" tweeter that Libratone claims can play music for 12 hours straight (expect this to be tested in our full review coming soon). The ONE Click is available now in Caribbean Green, Cloud Grey, and Graphite Grey for $199.
Libratone TOO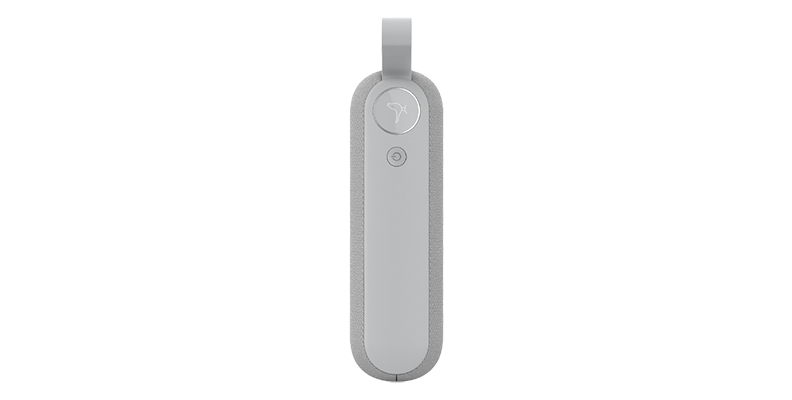 Clever naming aside, the Libratone TOO Bluetooth speaker was the second product announced. It shares many of the same specs as the ONE Click but in a smaller overall body. It has a 3" woofer and 1" tweeter as well, shares the same IPX4 splash proof rating, plays sound in 360-degrees, and even has the same 12 hour battery life. Really, the only reason you might be more interested in the TOO is because it's a little more portable. It's about the size of a UE Boom but has a small carrying handle incorporated into the design making it that much easier to carry around with you from point A to point B. The TOO comes in the same three colors as the ONE Click but is more aggressively priced at $149. Considering it has many of the same specs and features as the ONE Click in a smaller design, it doesn't seem like a bad deal. Unfortunately if this is the speaker that caught your attention you'll have to wait until it's officially available for purchase on July 1st.