All products featured are independently chosen by us. However, SoundGuys may receive a commission on orders placed through its retail links. See our ethics statement.
LH Labs Verb Review
For $39, the LH Labs Verb earbuds are a great deal, but those looking for more balanced sound may want to wait for the flatter Verb X.
UPDATE [January 2022]: This product is no longer available. If you're deal hunting, check out these earbuds under $50. For those seeking cutting edge products, we maintain a list of the best earbuds.
If you've already heard of LH Labs, chances are fairly good that it was either for one of their DACs or, more recently, their Geek Wave hi-res music player. While the company will surely keep producing products in those areas, they've also decided to move into an area we're much more familiar with here at Sound Guys: earbuds.
Currently, LH Labs has two varieties in the works. The pair we're reviewing today, the $39 Verb earbuds, provide a V-shaped response curve, or what some would call "commercial tuning." The Verb X, which are also on the way, will sell for $69 and offer "audiophile" tuning.
What's In The Box?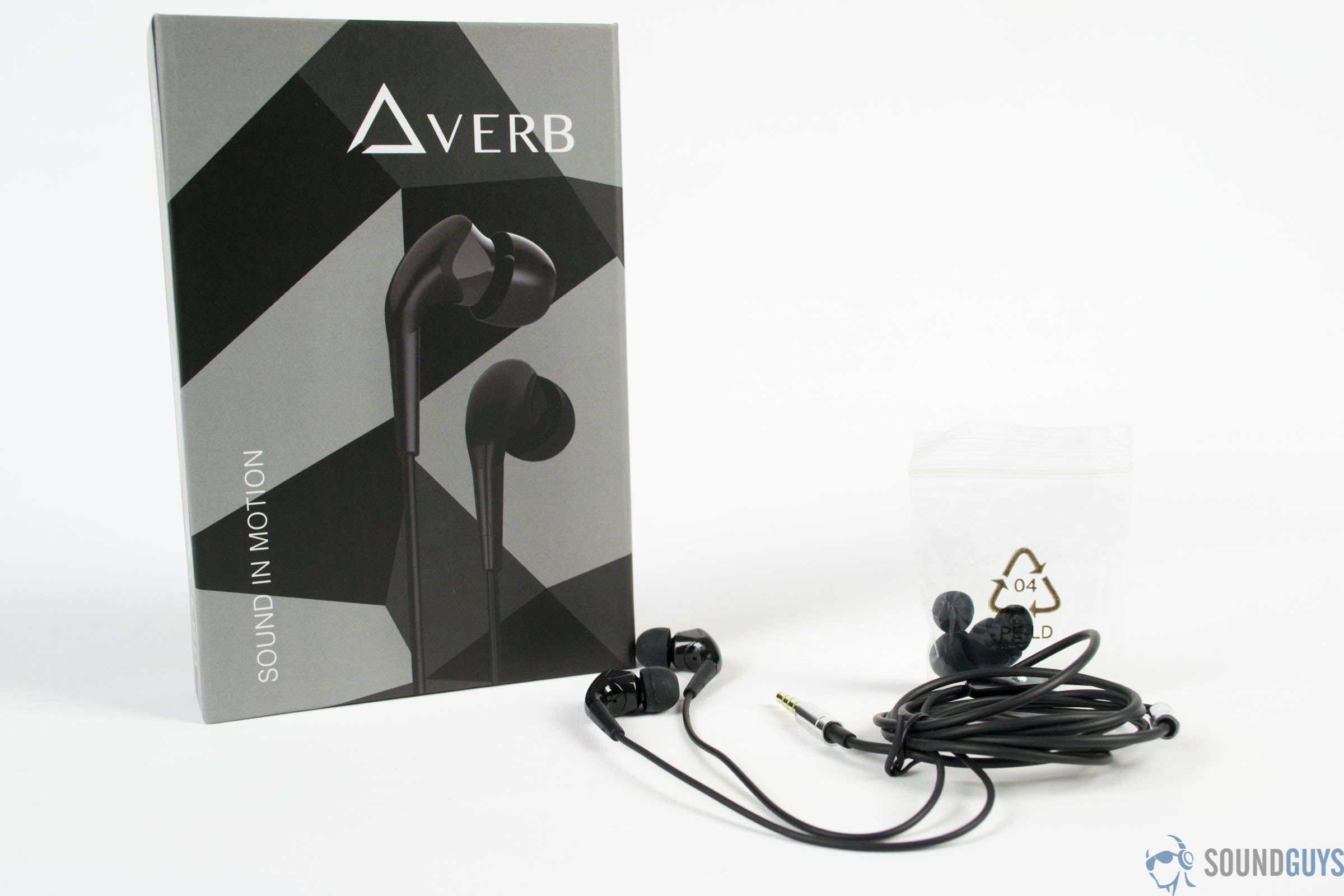 Keeping the price tag in mind, we were expecting a fairly sparse package, and that's exactly what we got. Open up the box and you'll find two things: the earbuds themselves and a bag with two alternate sized pairs of silicon tips.
Build & Design
We aren't clear on how many different colors the LH Labs Verb earbuds come it, but we know of at least two varieties: black and red. We're looking at the black, which tends to be the most office-friendly color, though the red model seemed to look very nice as well.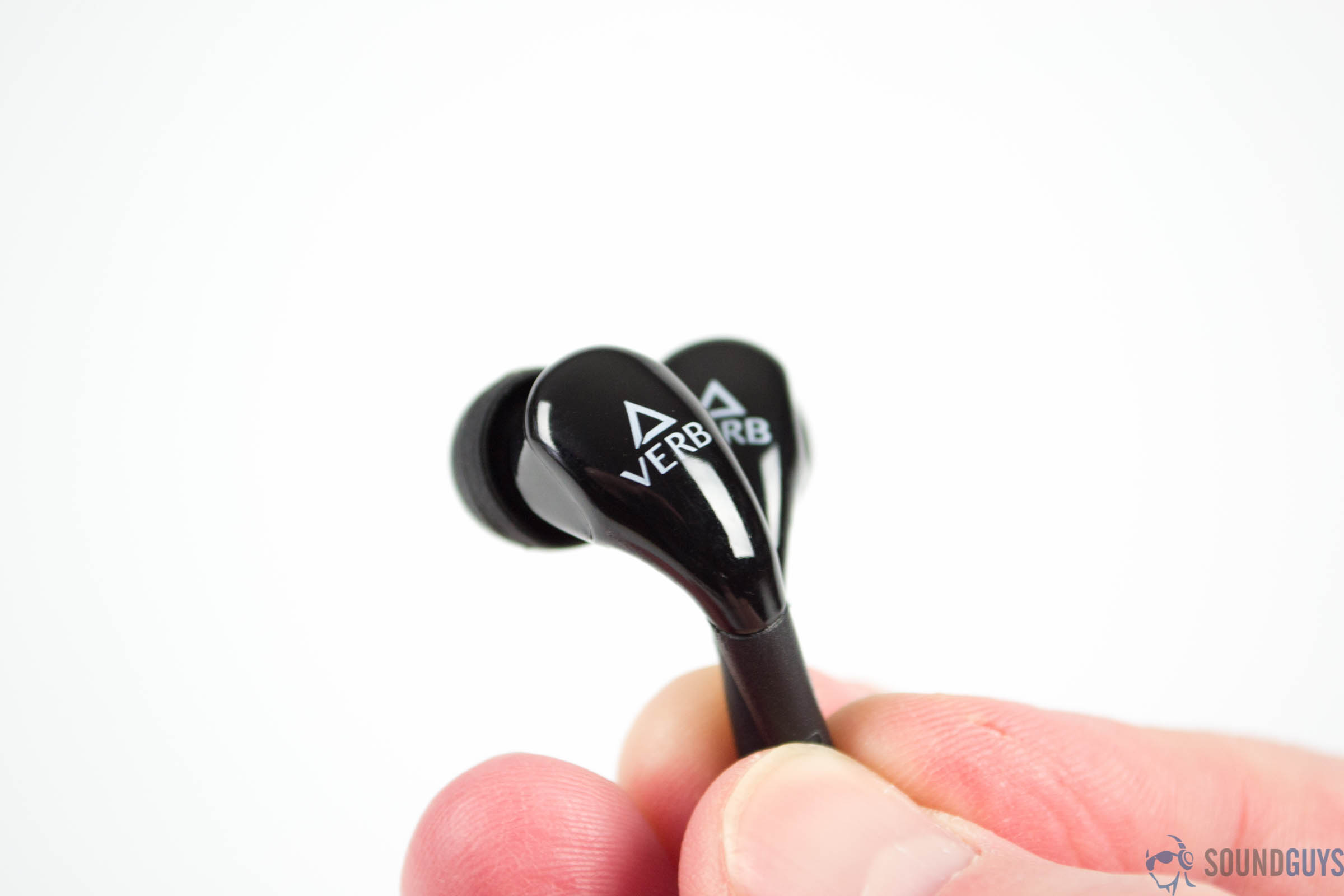 While looking at the earbuds would have you thinking that they are constructed out of plastic, you'd only be partly right. While the outside of the earbuds is indeed plastic, inside is a rigid metal earbud enclosure that ensures that, as the package states, "You don't lose part of the sound to vibrating plastic." In another step the maximize sound quality, the earbuds are ported for extended bass frequencies.
These aren't the smallest earbuds we've seen, as a height of 20 mm, width of 9.8 mm, and depth of 23 mm including the silicon tip, they certainly aren't huge. I was able to find a good fit using the largest of the included tips, though as always, your mileage may vary here. Once I found the right fit, the LH Labs Verbs were both light and comfortable, staying that way throughout testing.
Connectivity
For $40, we weren't expecting much in terms of the cable and remote, but I was surprised. While it isn't Kevlar-reinforced, the cable seems much more solid than what I see in many inexpensive earbuds, and the single button "clicker" style remote was also very solid. Even on higher end headphones, these remotes can often feel either unresponsive or overly sensitive but that wasn't the case here.
As the remote is only one button, this ensures compatibility with most any smartphone or music player out there. Call quality was fairly decent, and is almost certainly better than the earbuds that came bundle with your phone or MP3 player.
Sound Quality
The LH Labs Verb earbuds use a neodymium magnet and 4 mm drivers, and as we mentioned at the top of the review, these are tuned to provide a more "commercial" response curve (also known by some as a 'disco smile' curve). This means boosted bass and highs, with the mids either flat or cut. While this is what a lot of people look for, audiophiles tend to prefer as flat a response curve as possible.
Most listening during testing was done via a Focusrite Saffire Pro 40 audio interface, though as usual I plugged the Verbs into both an iPhone 5s and a Nexus 5 during testing. Both phones worked fine, which was expected — you don't find a whole lot of people plugging earbuds into headphone amps, and this goes doubly for inexpensive earbuds.
The lows are certainly boosted, but not to the point that they overpower the mids. The amount of low end on display here is generally impressive, especially considering the driver size. Bass is fairly accurate as well, providing nice definition on bass guitar without ever giving way to mud.
Midrange sounds somewhat dipped, but not as far as I've heard some other earbuds go. The biggest dip seems to be between 500 – 1000 Hz, with the higher mids being boosted somewhat.
Like the lows, the highs are boosted, though at times this can sound a bit overdone. On modern pop mixes, for example, vocal sibilance can be boosted to the point that it isn't exactly irritating, but it sounds like someone is whispering in your ear. On less aggressive mixes, this isn't a problem.
Listening to the Minutemen's "This Ain't No Picnic," the overall sound was very nice. The bass is well defined, D. Boon's super treble-y guitar never sounds too thin or harsh, and the drums fill in the middle perfectly. The Verbs were able to provide justice to the song in a way that many lesser 'buds fail to do.
Given the price and form factor, soundstage was decent. I don't usually expect much from inexpensive earbuds, and I was surprised here. These also do a nice job on the noise isolation front — they actually blocked out a whistling tea kettle with the volume cranked up.
Conclusion
Considering the price, the LH Labs Verbs are an excellent pair of earbuds, and that's really all there is to it. If you're still using the junky earbuds that came with your phone or iPod, do yourself a favor and spend $40 on the Verbs. Even if you're already happy with a pair of earbuds, these are worth a look if you're thinking about adding a pair to your stable. Considering how nice these are, we're looking forward to seeing what the Verb X can do.