All products featured are independently chosen by us. However, SoundGuys may receive a commission on orders placed through its retail links. See our ethics statement.
The bottom line
For the price the P7 is a gorgeous speaker with good sound, but there are better sounding speakers out there.
For the price the P7 is a gorgeous speaker with good sound, but there are better sounding speakers out there.
What we like
Build quality
Good battery life
What we don't like
Average sound
Spotty Bluetooth connection
Rating Metric
Sound Quality
7.6
Bass
7.0
Midrange
7.5
Highs
8.4
Durability / Build Quality
8.6
Value
8.6
Design
8.5
Portability
8.3
Battery Life
8.0
LG is one of those companies that make, pretty much any electronic you can think of. Their products range from smart phones  to washer machines and everything in between including headphones and speakers. We decided to take a look at their Bluetooth speaker the Music flow P7 to see if it sounds as good as it looks.
What's in the box?
LG keeps it pretty simple when it comes to the packaging. Opening the box and you get right to the point: the speaker. After that comes the wall adapter, micro USB cable, and then the instruction manual and warranty information.
Build & Design
One thing that the LG Music Flow P7 really has going for it is its looks. It's very reminiscent of the Bose Soundlink mini but with a slight bulge towards the middle of the speaker. It's not overly pronounced but it does its job at differentiating the speaker. Another thing we like about the P7 is that it's super minimal. There are basically no markings on the thing save for a small LG logo on one side and an equally small "Music Flow" logo on the top right of the speaker.
The body and grille are metal all the way around which means this has a good weight to it. It isn't so heavy that you can't bring it with you anywhere but it is heavy enough so the bass won't push it off a table if you put it down. The bottom of the speaker is also rubberized which further prevents it from moving too much when placed on a flat surface. Up top is a ring of buttons that control Bluetooth pairing, pause and play functionality, and volume up and down. The ring surrounds the power button which is situated right in the middle. The buttons had a nice click to them and worked perfectly in controlling playback. On the bottom left of the speaker is the micro USB port for charging and 3.5mm input to hardwire devices if you don't feel like connecting wirelessly.
Connection
The connection wasn't terrible but it did have some hiccups here and there. Within 10-20 feet of the speaker playback was flawless, which is good if you usually use your phone and are always walking around. Oddly enough it was in the range of 5-10 feet that caused the most issues. Playback wouldn't stop completely, but it did have some noticeable pauses and stutters. It's not enough to be a deal breaker by any means but it definitely got annoying. Under 5 feet the connection worked fine as it should, but that 5-10 foot not-so-sweet spot could get really annoying.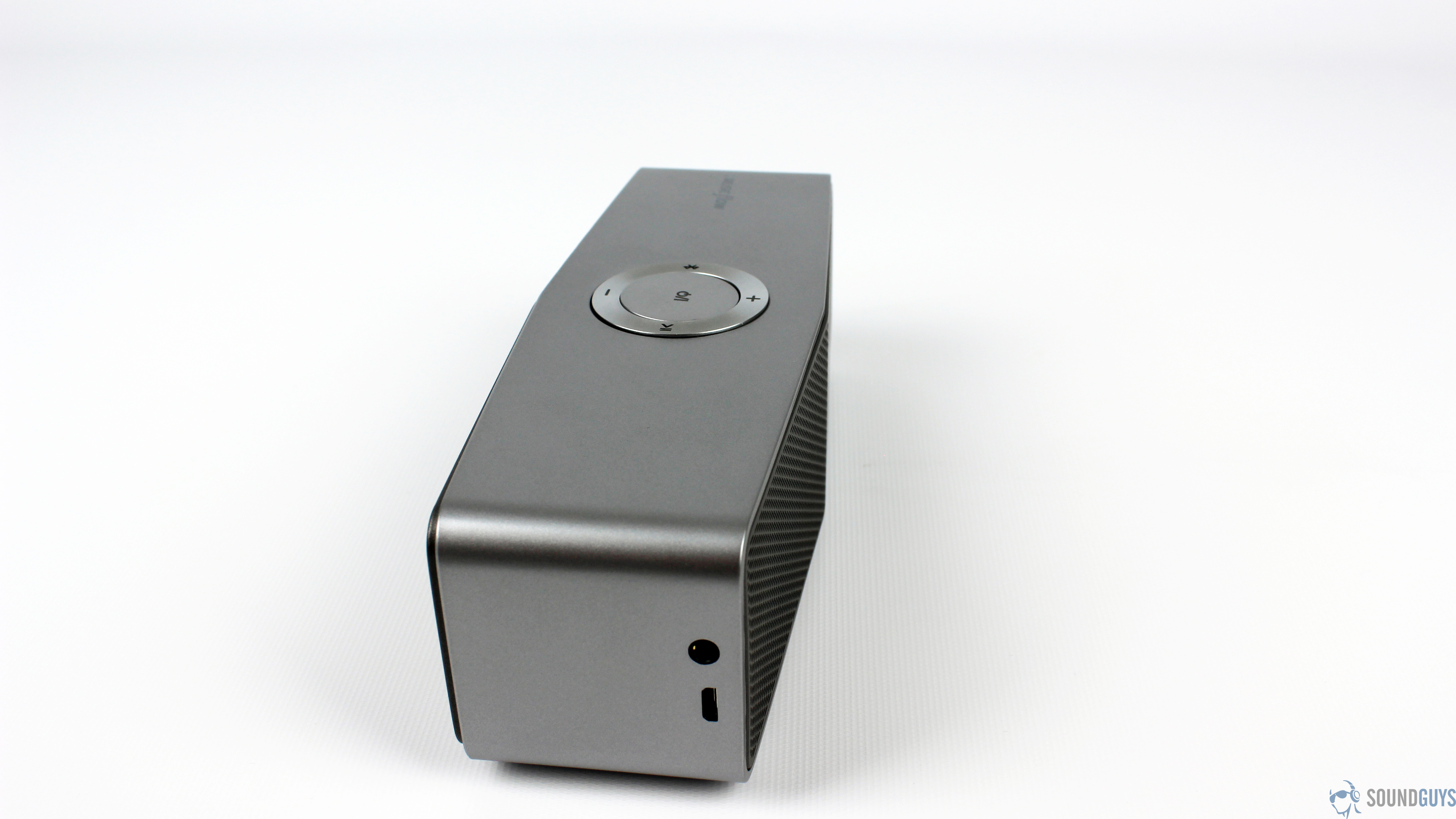 On the bright side you can easily connect up to 3 devices and switch between them depending on which one is playing the audio. On top of that you can sync two of them together for stereo sound and connect one to your LG TV to listen to the audio in any room. Unfortunately, we weren't able to test these last two features because we only had one speaker and also don't have an LG TV.
Battery Life
LG claims that the Music Flow P7 will get you around 9 hours of constant playback and that was almost spot on. In the first run we got around 8.5 hours of juice while the second gave us 9 on the dot. We've seen better battery life but the P7 isn't bad at all.
Sound Quality
As a portable Bluetooth speaker, we did all of our testing via Bluetooth from many different sources. iPhones, Androids, computers, and tablets were all used to get a better feel for how it actually sounds.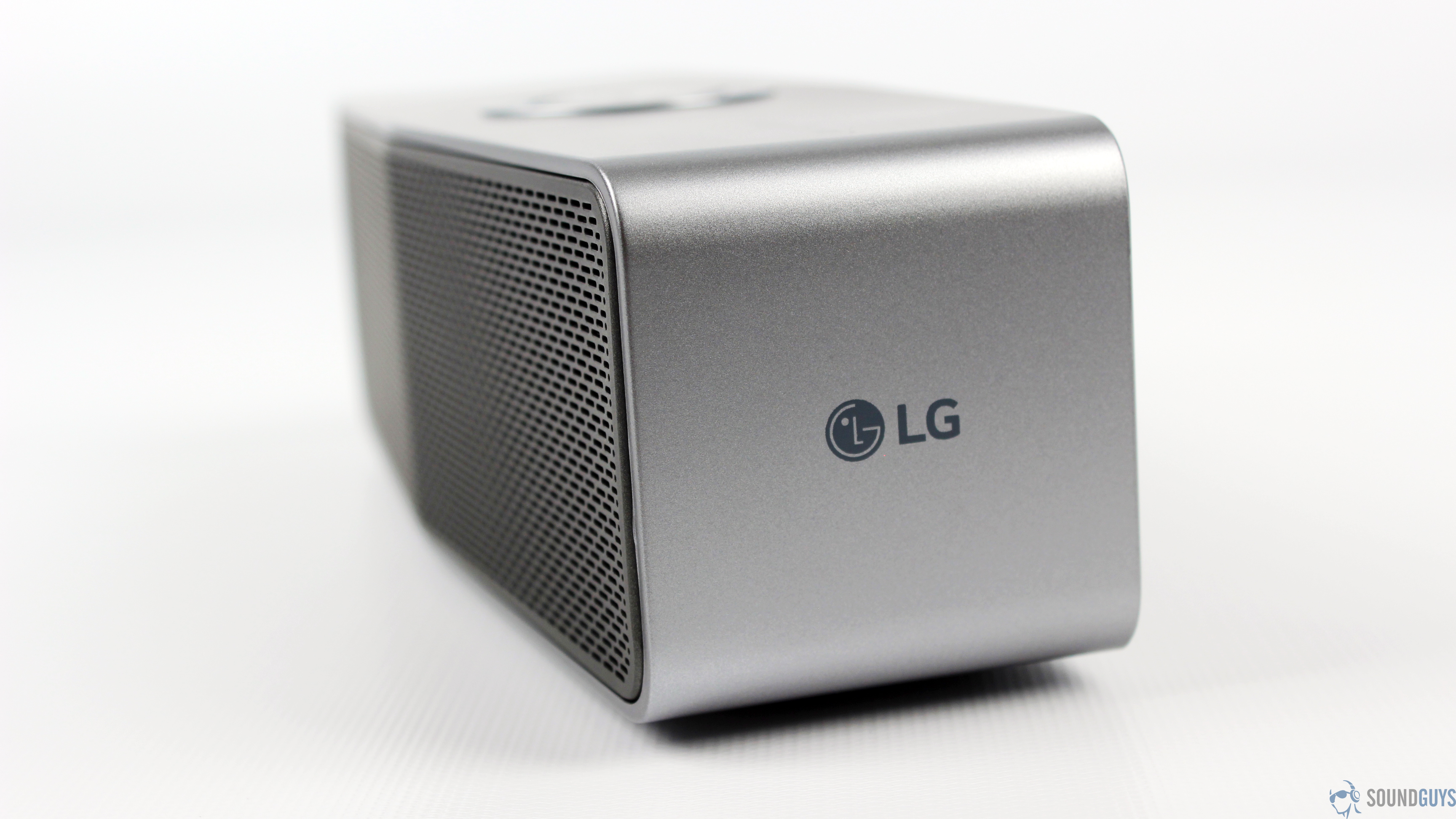 The P7 had a good low end, but not great. It's not a bass powerhouse by any means and songs like "Contact" by Logic that rely on thumping, rhythmic percussion to move along end up feeling slightly lackluster. Overall the bass would be better enjoyed on a desk rather than trying to be the life of the party.
The mids were a mixed bag of results. The majority of the time guitars and vocals came through nicely but they seem to be in competition with each other making things a little muddy. A good example of this was in "Take Me Out" by Franz Ferdinand where sometimes the vocals took clear precedence and then other times the guitar did. The song itself goes back forth between the two but it sounded exaggerated here. That said, it was really only an issue for music with a lot going on like rock and electronic. Acoustic music and most hip-hop sounded great.
Highs were probably the best part of the P7 in my opinion. Even though you can tell that the speaker is working to suppress harshness at times, it does so without sacrificing too much detail. "Youth" by Daughter sounded absolutely gorgeous on this speaker with guitar slides coming through perfectly.
Conclusion
Overall the P7 has a few things going for it and a few things going against it. One of the pros is the sleek design and solid build quality. Another is the battery life which lasts exactly as long as LG says it does. That said it does have a fair amount of negatives too. Sound quality for the P7 is fairly average and so is the Bluetooth connection. It really isn't bad at all considering the price but there are definitely better sounding speakers out there if you're willing to spend a few bucks more.