All products featured are independently chosen by us. However, SoundGuys may receive a commission on orders placed through its retail links. See our ethics statement.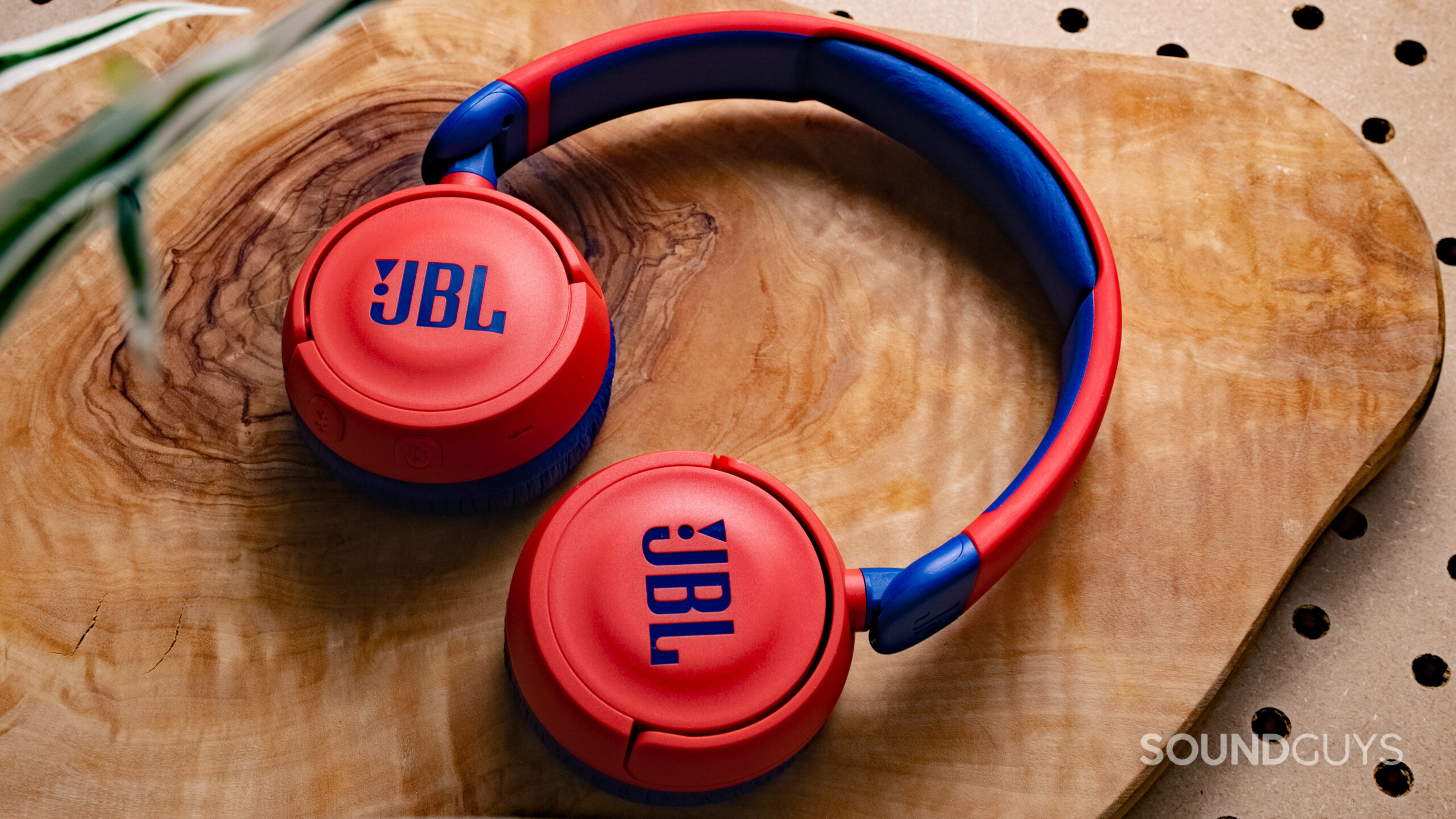 The bottom line
The JBL JR310BT is one of the pricier models of kids headphones, but falls short in areas like limiting volume and listening while charging. Given there are better options out there without these issues, you may want to grab something else unless this product is on sale.
JBL JR310BT
The JBL JR310BT is one of the pricier models of kids headphones, but falls short in areas like limiting volume and listening while charging. Given there are better options out there without these issues, you may want to grab something else unless this product is on sale.
What we like
Sound quality
USB-C connector
Sticker sheet
Battery life
What we don't like
Price
Volume limiter hit or miss
Wireless only
Can't listen while charging
Kids headphones are a minefield. What's good? What's bad? How do you know that the label isn't lying to you when it says it limits volume? Most people will find a brand they trust, but is that really good enough? Let's explore.
About this review: We tested the JBL JR310BT over a period of 4 days. SoundGuys purchased the unit for this review.
What you need to know about the JBL JR310BT
JBL JR310BT: $49.95 USD / $69.95 CAD / £39.99
The JBL JR310BT is an entry-level pair of kids headphones that come in dark blue and red, light blue and pink, and a sort of light and dark green colorways. A set of on-ear headphones, the JBL JR310BT has a very basic plastic construction that sits on your kiddos' ears instead of encircling them like over-ear models would. This is a wireless Bluetooth-only product, and there isn't a means to listen wired, despite the presence of a USB-C port. Inside the packaging are headphones, a charging cable, and a sticker sheet.
What's good about the JBL JR310BT?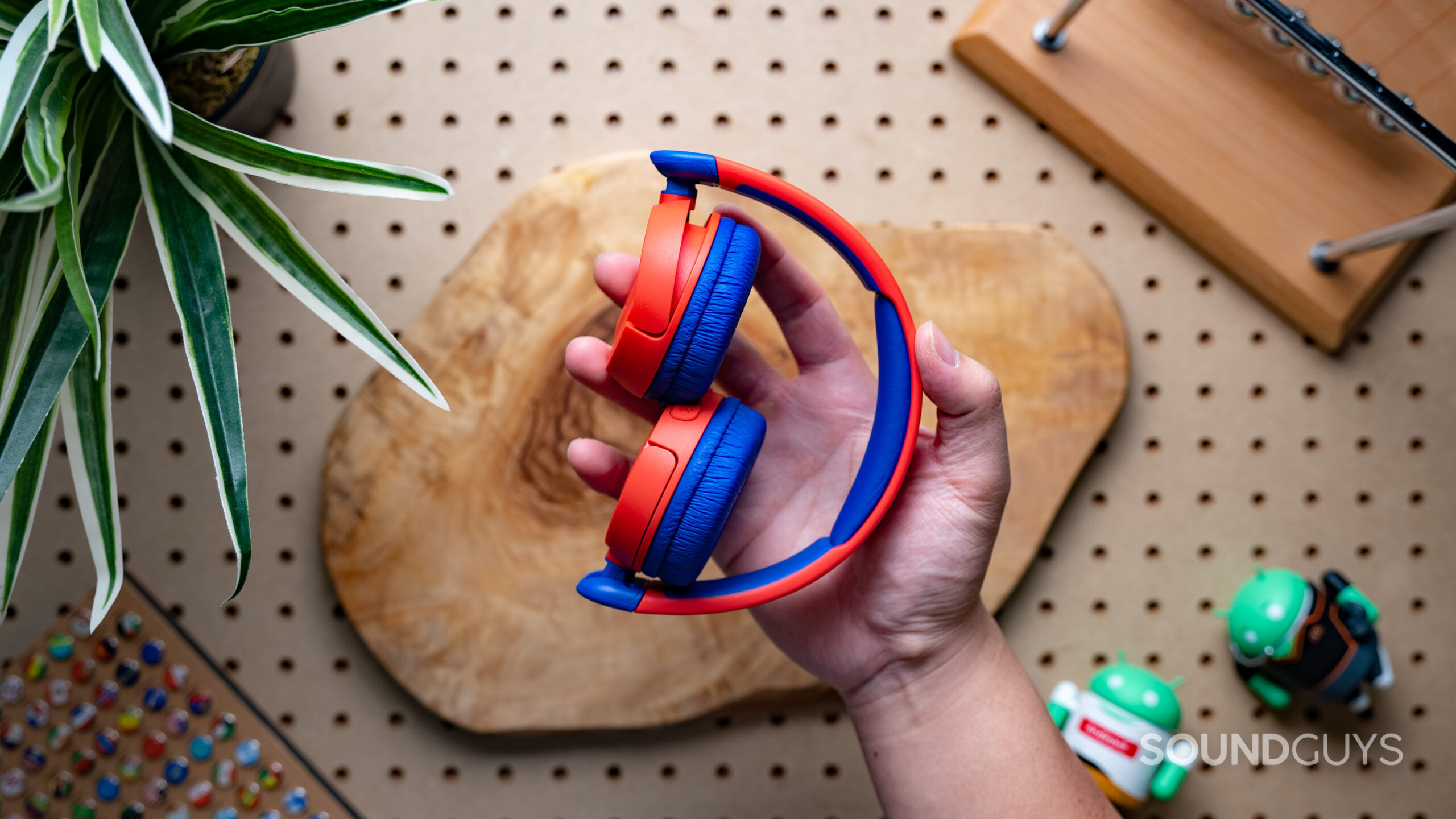 Folding headphones are much more portable than their non-folding brethren.
In general, you can't get much more established than JBL for Bluetooth products, as the company is the consumer audio wing of Samsung. The JBL JR310BT in particular seems to check a lot of boxes that the company tries to fill on all its headphones, including tuning the output for a consumer-friendly sound. The controls are extremely easy to navigate, and the overall design is geared towards listeners that don't want to think much about how to use the product—a big plus for kids.
With a bit of emphasis in the bass and slightly boosted highs, the JBL JR310BT should make voices and most music sound slightly enhanced compared to what most other kids headphones are able to do. For on-ears, this is an impressive result, given they typically means suffer from leakage and bass underemphasis.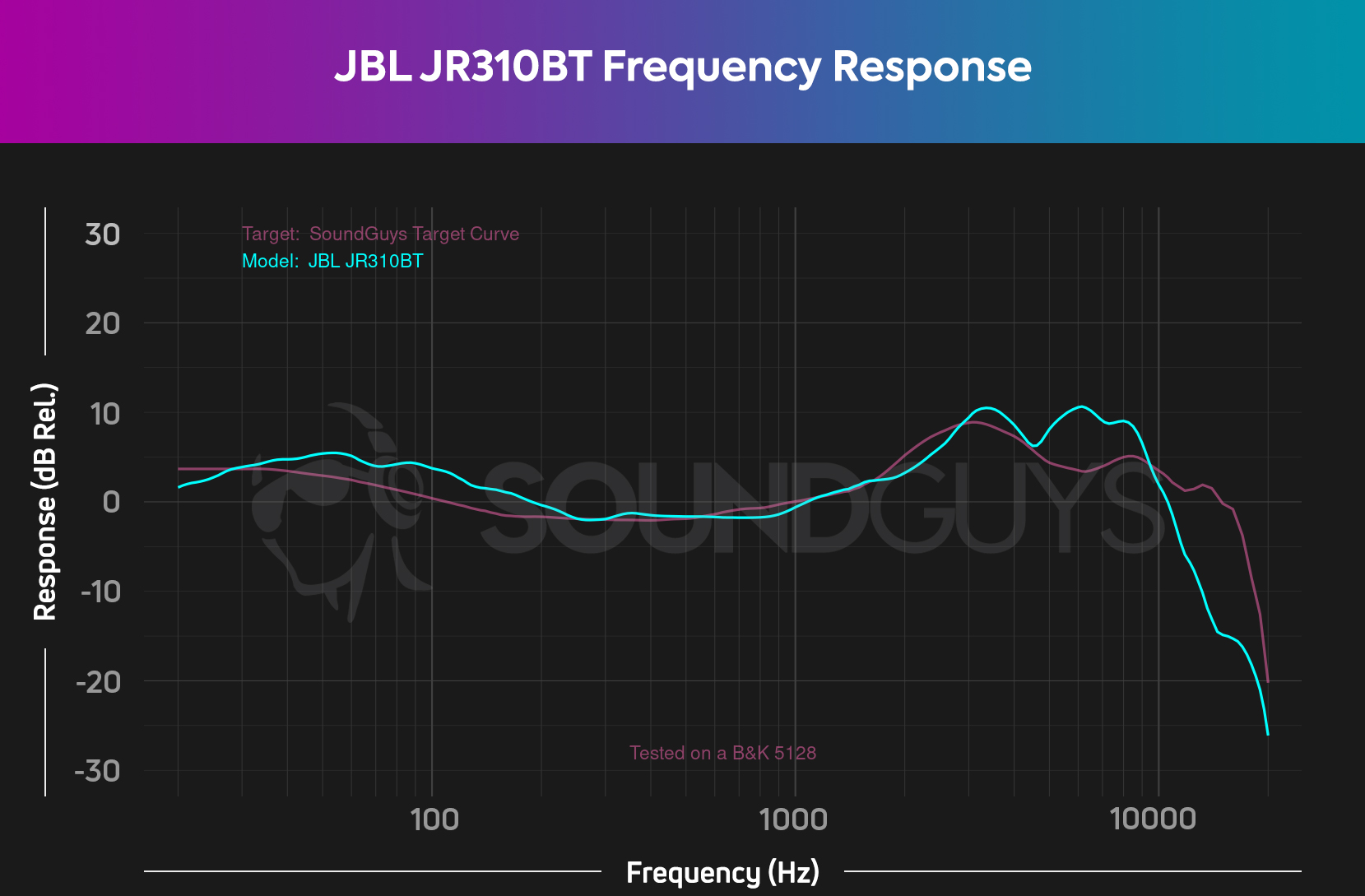 With the exception of the highest highs, the JBL JR310BT does a nice job with its tuning.
The good news here is that despite the volume limiter failing to meet its promise in our lab test, your kiddo probably won't need to turn up the volume to hear sounds that are underemphasized. That's reassuring, but it still isn't a hard guardrail.
Despite the on-ear design, the headphones do a good job of hiding internal wiring, and the light plastic construction is much more durable than it looks. Clocking in at 113g, the JBL JR310BT is quite light on your kid's neck, which should mean that these headphones are going to be among the more comfortable on-ear headphones made for kids.
It may seem a little weird to praise, but the JBL JR310BT is one of only a handful of headphones like the Belkin SoundForm Mini that comes with a sticker sheet. Though a minor detail, it helps to have options to personalize the headphones a bit if kids end up taking them to school. Not only does it give them a creative outlet, but it also allows them to keep track of what things are theirs and not. Believe me: that ends up being important a lot more often than is reasonable.
In our standardized testing, the JBL JR310BT was able to keep playing back music at our target 75dB level for 39 hours and 5 minutes—which is more than enough for an entire week's worth of bus rides. You should only need to recharge the JBL JR310BT every weekend or so, and it's nice to not have to do that so often (especially if the headphones get heavy use). A full recharge takes about two hours.
What's not so good about the JBL JR310BT?
We're not sure why the USB-C port is on top of the ear cup behind the yoke, but it does mean no listening while the headphones are charging.
First off, the volume limiter doesn't quite work as advertised. We've noticed that most kids headphones aren't really able to limit volume over a headphone cable, but wirelessly they usually land somewhere near the 85dB(SPL) mark. The JBL JR310BT does not, clocking a decidedly more-than-85dB 94dB(SPL) at maximum volume over Bluetooth. While it's possible to limit volume in some phones' settings, buying a set of kids headphones with a volume limiter implies that the headphones should do just that without any fuss, so this performance (or lack thereof) is something we take issue with. With an onboard DSP to handle Bluetooth decoding, there's no excuse for a volume limiter to not work over a wireless connection.
On-ear headphones aren't large enough to encircle your ear, so you'll have to deal with the padding touching your outer ear.
While the USB-C port is a rock solid decision to have for modern headphones—and this one in particular enables fast charging. However, its location means you can't simultaneously charge and listen to the JBL JR310BT, because the port hides underneath the yoke of the right ear cup. You can only charge it if nobody's wearing the headphones, which is a baffling design choice.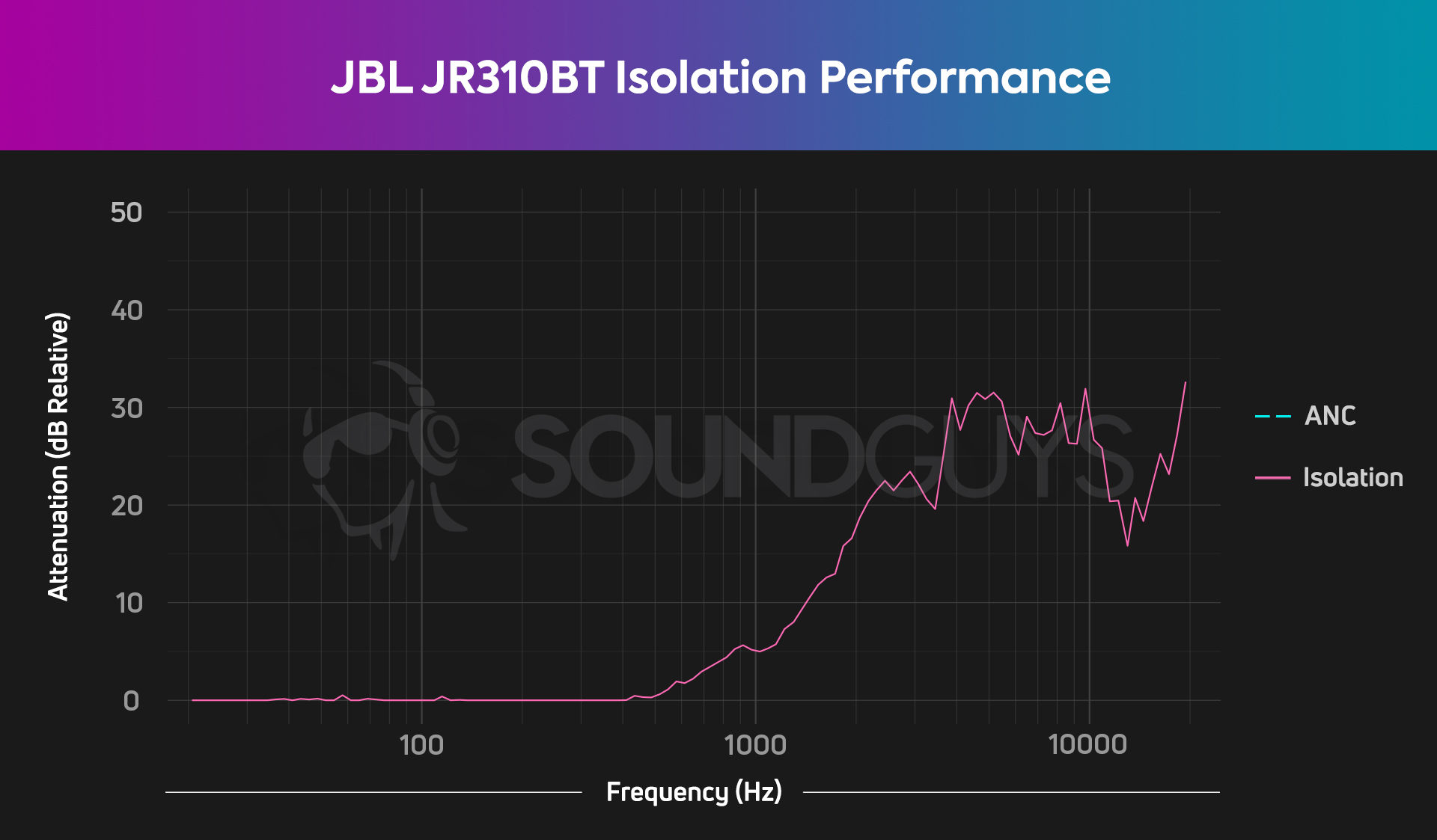 For on ears, the JBL JR310BT does an okay job at blocking outside noise.
Because headphones aren't protective equipment, they're not really the right tool for the job if you're trying to protect someone's hearing from loud noises. Such is the case for the JBL JR310BT—it does not block out any noise below 500Hz, which means it's no good at dispelling road or engine noise.
Your child may also just not like the on-ear design, as it carries a number of drawbacks. Some kids really don't like anything touching their ears, and as a rule, on-ear headphones put a noticeable amount of pressure on them. These headphones are lightweight, but the band is a bit small, which can end up adding a decent amount of additional force on a noggin. If you know your child wouldn't like that, or they have a slightly bigger head—and it's going to grow over time, too—you should probably look for headphones with an over-ear design.
JBL JR310BT specs
Controls are thankfully very simple.
There's a number of details to keep in mind when researching which kids headphones are right for your tiny tornado. Here's a list of all the important specifications listed for the JBL JR310BT.
| | JBL JR310BT |
| --- | --- |
| Size | Headphones: 150 x 125mm |
| Weight | Headphones: 113g |
| Connection | Bluetooth 5; SBC, AAC |
| Controls | Button |
| Battery life | 39 hours, 5 mintes |
| Fast charging | 5 minutes of charging for 2 hours of playback. |
| Wireless charging | No |
| Connector | USB-C |
| Price | $49.99 USD |
JBL JR310BT review: Should you buy it?
Small headphones come with their own expiration date.
Though the JBL JR310BT is a perfectly competent set of headphones, it's hard to recommend when it's simultaneously more expensive and less capable than its closest competitors. Not only is it missing a wired listening option, the volume limiter doesn't work as advertised, and the on-ear design isn't always something younger kids will like. Given that the JBL JR310BT is almost double the cost of the JLab JBUDDIES STUDIO WIRELESS and Belkin SoundForm Mini when not on sale, you should probably only keep this model on your radar if you can't find anything else, or your progeny really likes the look or the sound specifically.
JBL JR310BT
JBL JR310BT
Frequently asked questions about the JBL JR310BT
The dangers posed by any audio product are generally centered around the level of sound they are able to pump out, and in this case that relies on the volume limit working. While short periods of maximum output won't damage hearing right away, it's possible that prolonged exposure could—so just make sure the device you're using has some sort of volume limiting feature and you should be okay. While it's frustrating that the feature doesn't work out of the box, it seems to be one of those things that companies have extreme trouble with.
Don't do that. Babies can't understand what headphones are or what happens when you use them. Wait until they are old enough to talk to you about how they feel first (and understand some sort of cause and effect), then talk to them about it.