All products featured are independently chosen by us. However, SoundGuys may receive a commission on orders placed through its retail links. See our ethics statement.
JBL and Under Armour partner up for two new headphones
Under Armour is trying their hand at audio by partnering with JBL for two new pairs of wireless headphones.
If you were wondering why JBL is partnering with Under Armour, you probably haven't noticed the ongoing trend in audio to make fitness focused headphones. It turns out Bluetooth is good for anyone who hates wires, but is amazing for anyone looking for headphones to exercise with. If you've ever gone for a run and accidentally snagged your headphones, you know how annoying it is to have to stop what you're doing and put them back. Audio companies are beginning to realize the market is on the rise and are scrambling to get a piece of the pie.
Unlike Misfit, which announced their headphones a few weeks ago, Under Armour decided to partner with a known audio brand rather than build their headphones from the ground up. The upside to this is that JBL usually knows what it's doing when it comes to consumer audio, the downside is that there isn't really a fresh new take on how wireless earbuds should look/work. The two new headphones, dubbed the UA Headphones Wireless and the UA Headphones Wireless Heart Rate, look similar to every other pair of fitness headphones on the market. On the bright side, both of these headphones come with a free 12-month premium membership of MapMyFitness so you can easily keep track of all your activities along with some solid specs.
UA Headphones Wireless
The first pair of headphones announced were the UA Headphones Wireless. These are in-ears that keep the housing small with 5.8mm drivers in each 'bud. On the wire connecting the earbuds is a small control module with a built-in mic for answering phone calls. There's also three buttons on there that lets you control the tracks and the volume without ever reaching for your phone. One of the best features is that these also have a solid battery life of about 8-hours which is becoming a decent standard when it comes to fitness headphones. Of course, these are also sweatproof and IPX5 certified so while you won't want to go for a swim with them, you won't have to worry about damaging them with your sweat. These use a special TwistLock Technology, which basically means that once you put them in the correct way they'll stay put and won't fall out. You can pick these up now from JBL for $180.
UA Headphones Wireless Heart Rate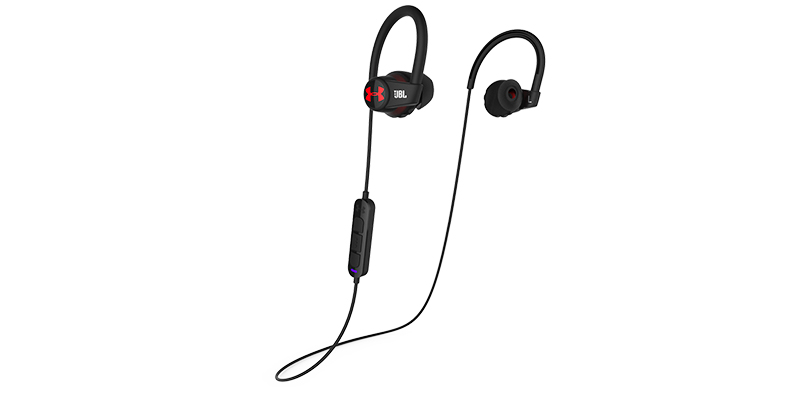 If you're the type who takes their workouts seriously and want to get a little more out of the headphones you invest in, you should take a look at these. The UA Headphones Wireless Heart Rate don't do anything we haven't seen before, but it's always good to have another option to choose from. They have a heart rate sensor built-in that'll provide you with feedback on your workouts. The data is all stored in the UA Record app so you can track your progress and make sure that you're on track to reach your fitness goals. There's also have a 3-button mic and remote for phone calls and music control, but unfortunately only a 5-hour battery life. Though it's less than we would like, it's fair considering the extra features JBL and UA packed into these. Even though these have a clip-on over-ear style, they still have the TwistLock technology so if you usually have issues with your headphones falling out, these might be for you. The UA Headphones Wireless Heart Rate will be available in Spring of this year for $250.