All products featured are independently chosen by us. However, SoundGuys may receive a commission on orders placed through its retail links. See our ethics statement.
What we like
Connection
Battery Life
Price
What we don't like
Sound Quality
Rating Metric
Sound Quality
7.4
Bass
6.7
Midrange
8.4
Highs
7.3
Durability / Build Quality
7.4
Value
7.8
Design
8.0
Microphone
9.0
Portability
8.0
Battery Life
8.9
Jabra has been making mobile headsets for a very long time. Along with maybe Motorola, they're arguably the most trusted brand when it comes to Bluetooth earpieces. They've had decent success with their past headphones, but they were mainly focused on fitness. The new Halo Smart Wireless headphones are sweat resistant making them great for exercise as well, but they're aimed at mobile professionals. If you've ever wanted a pair of headphones that you can use for important phone calls, these are them.
What's inside?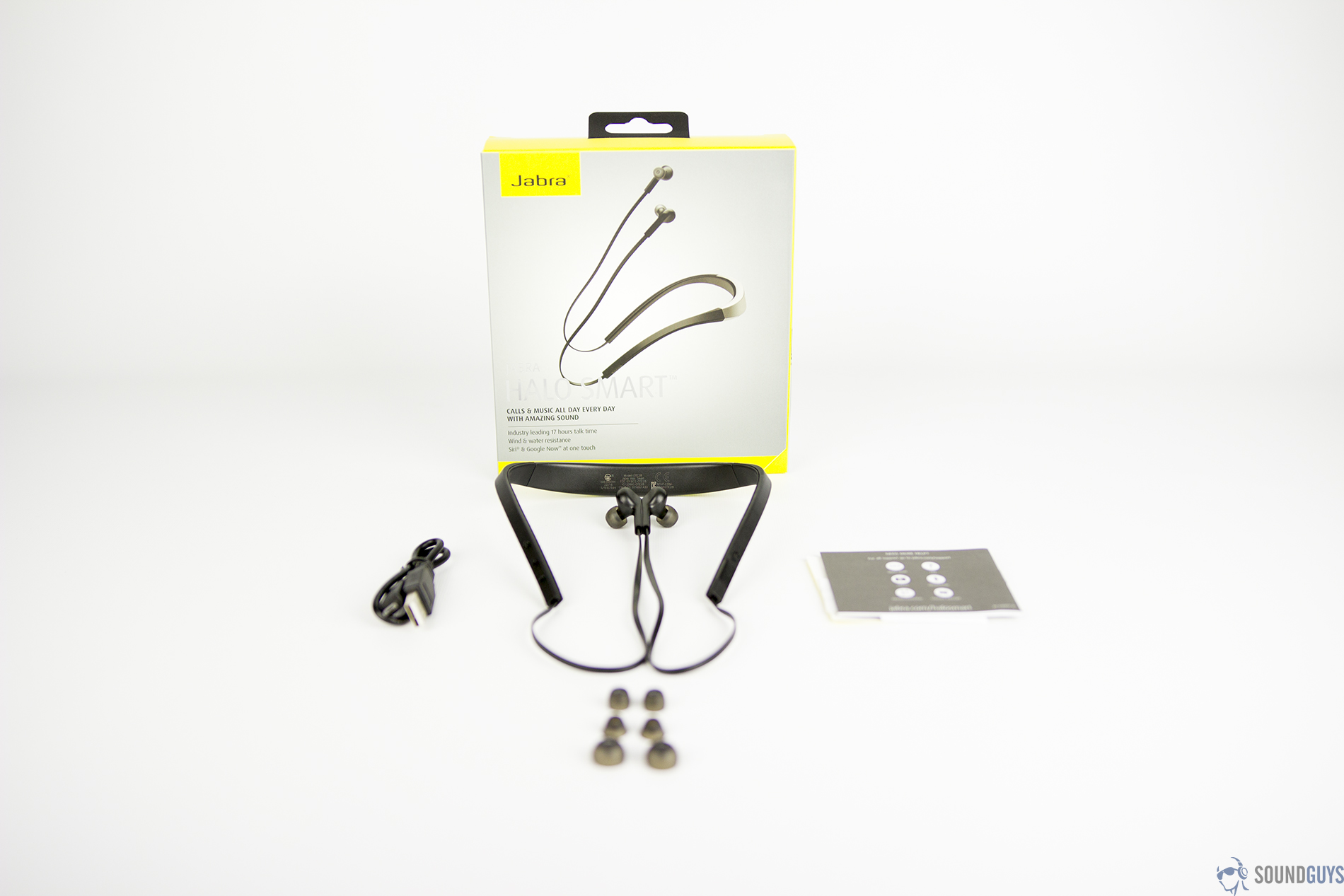 In the box you'll get the headphones, three different sized ear tips, micro USB charging cable, and the warranty information and instruction booklet.
Build & Design
Like many other pairs of Bluetooth in-ears, the Halo Smarts make use of the ever-popular neckband design. All of the larger components are packed into the neckband with the earbuds attached to either end. Though it looks weird, it's pretty much an acceptable design nowadays. They're made of a hard plastic that maintains some flexibility so they can rest on your shoulder with ease.
On the right half tip is where you'll find most of the controls. There are three buttons (plus sign, circle, and minus sign) that let you control your music as well as answer/end phone calls. On the left is a single mic icon along with the grill for the microphone. The microphone takes a up a good portion of the space, but there's a reason for that. Jabra put a strong emphasis on voice calls with the Halo Smart headphones. These have a high quality wind-resistant microphone built in, so you can take and make clear calls anywhere.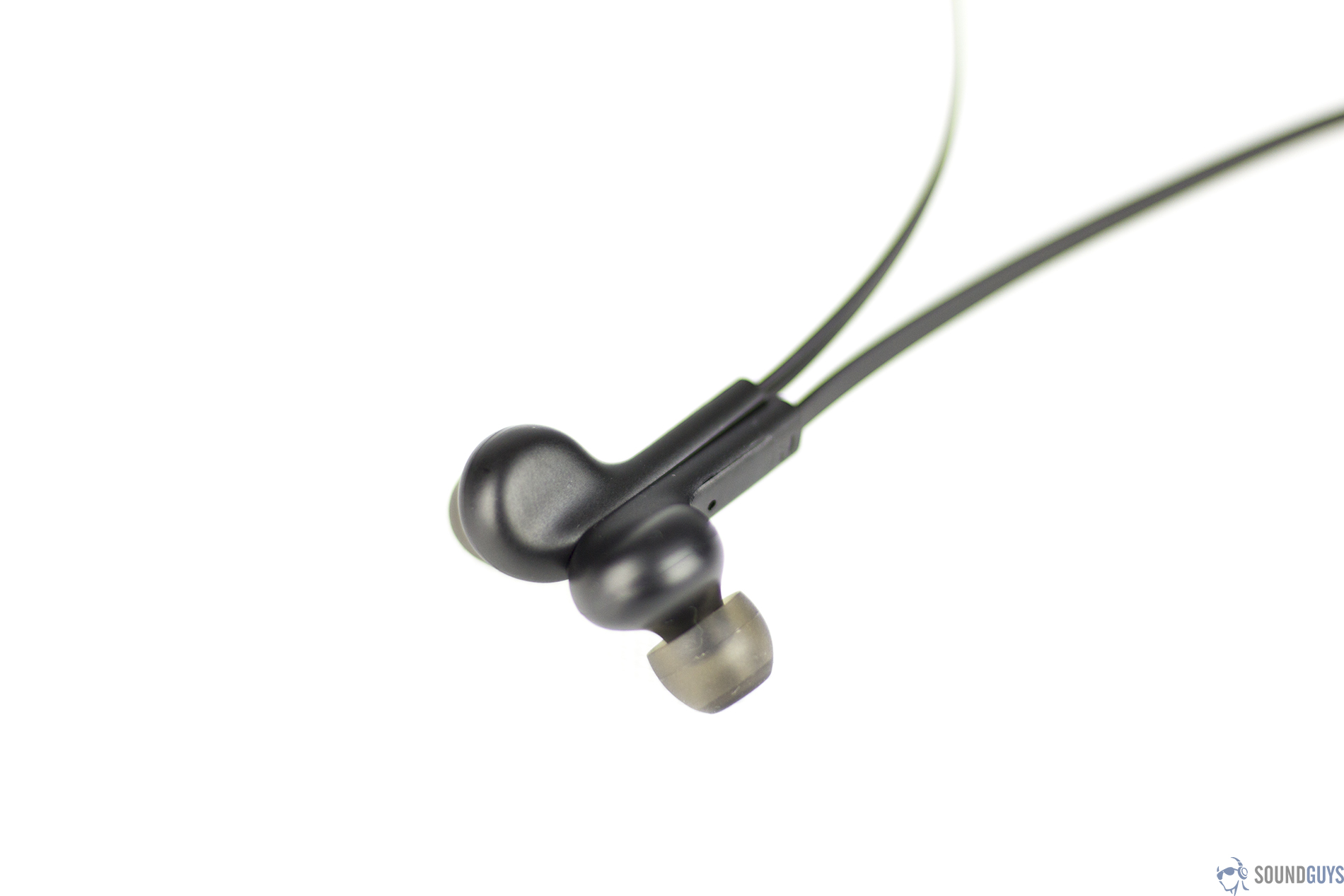 One of the cooler features of these headphones is that the earbuds have a magnetic backing. So when you're not using them they can clip to the metal part of the neckband, or even to each other. Snapping the earbuds together (or pulling them apart) initiates even more controls, like answering phone calls or pausing music playback. I found it most useful while listening to podcasts. I was able to pause playback just by clipping them together around my neck so I wouldn't lose my spot.
Connection
The Halo Smarts give you plenty of controls, and they all work great. You can control volume or skip between songs by tapping or holding down the plus and minus buttons, access voice assistance with the microphone button, and even redial the last number you called by quickly double tapping the circular multifunction button.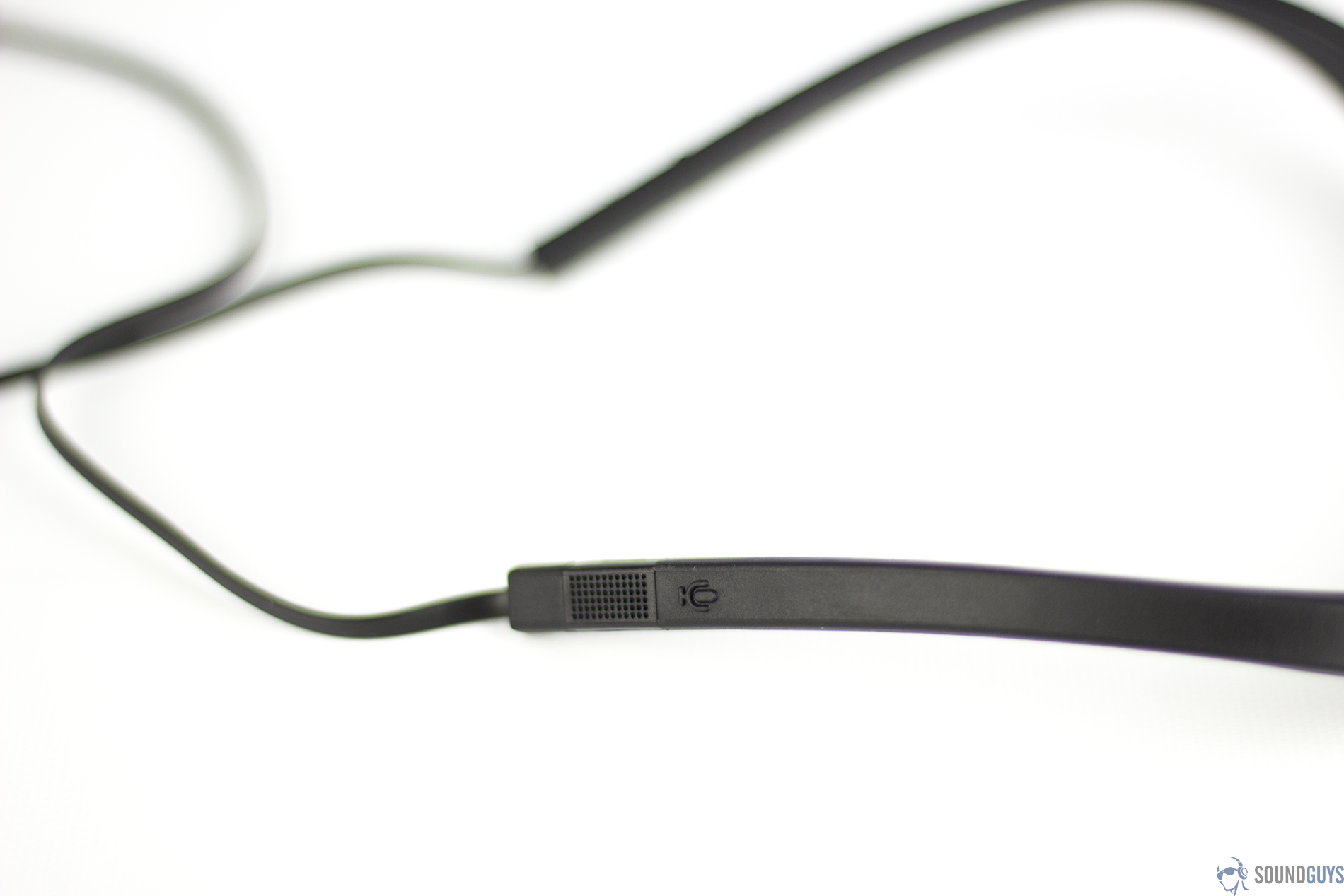 On top of that the call quality was great and no one was able to tell that I was speaking from a pair of headphones, even when I was outdoors. The Bluetooth strength was strong and there was nothing negative to mention when it came to the range. If you're within 30 feet, these excel. Overall, connection quality is probably the best thing about these headphones as it should be if Jabra wants to market them as great for professional calls.
If you receive tons of notifications, the Halo Smarts have one other cool trick worth mentioning. If you have an Android, you can download the free Jabra Assist app and turn on something called "Message Readout". This will give the headphones permissions to read out loud a number of different things like SMS messages and e-mails. Unfortunately, if you have an iOS device you won't be able to get SMS readouts and instead will feel a soft vibration in the neckband.
Battery Life
Jabra claims that the Halo Smarts will last you about 15 hours of constant music playback and 17 hours of talk time. Since I don't know anyone who's willing to talk for 17 hours straight I wasn't able to test that aspect of them, but I was able to test the music battery life. I got around 14 hours of constant playback with music on max volume. So if you listen to your music at moderate volume, 15 hours is definitely obtainable.
Sound Quality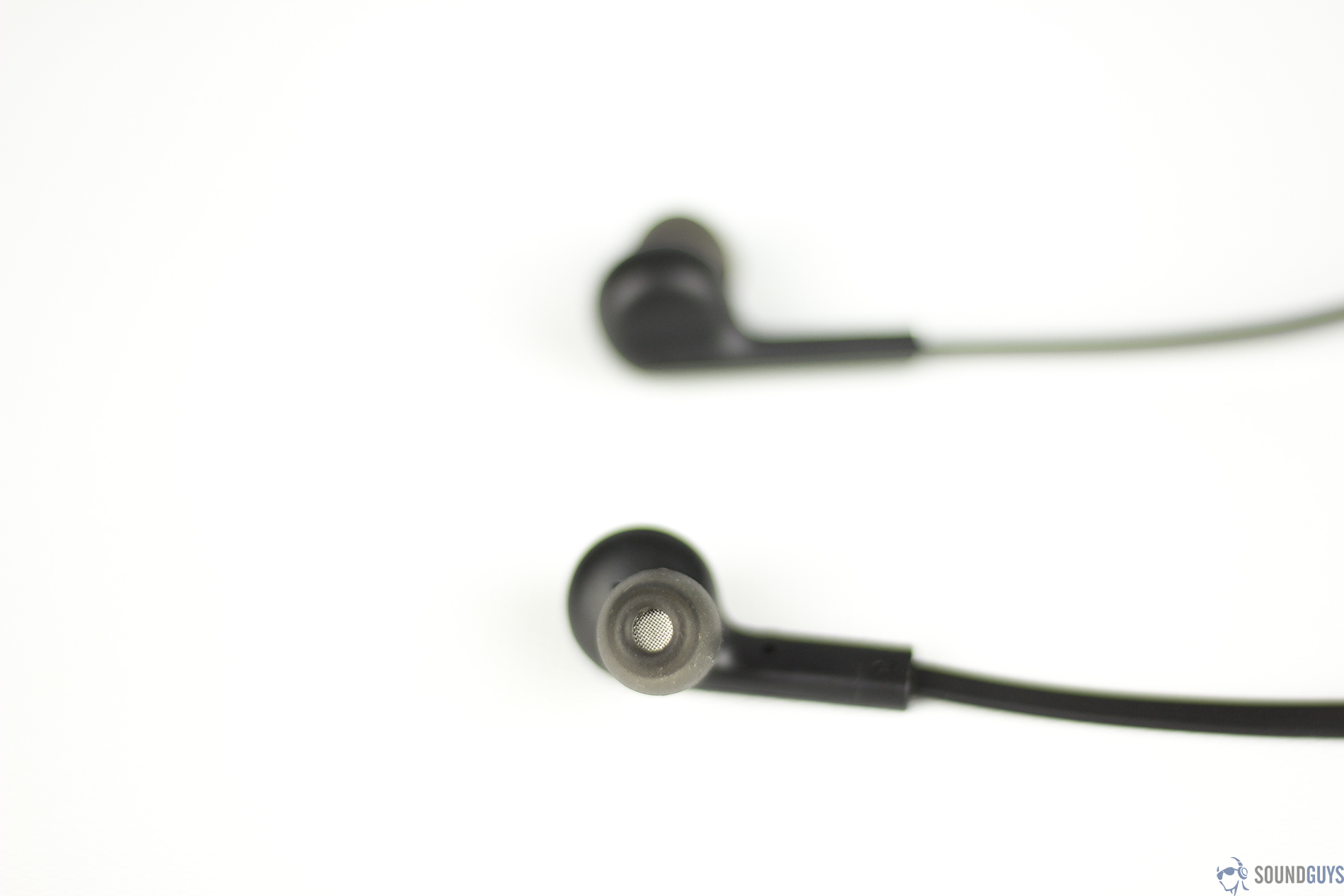 The Halo Smart headphones were designed for the mobile professional, so we tested them exclusively with smartphones.
The low end is there, but not too controlled. Bass kicks are a little too loose for my liking and it tends to rise into the mids, making things muddy.
These were made for voice calls, so it's no surprise that vocals sound great. As we mentioned before the lower mids are kind of murky, but everything above that is pristine. "Little Wing" by Jimi Hendrix sounds great on the Halo Smarts with the guitar keeping all of its detail and vocals floating over the top.
The highs do get somewhat harsh at times. I initially thought that it was because I had them on max volume (these get loud), but even after lowering the volume to bout 75% cymbals and hi-hats were still overly noticeable.
Conclusion
In the end, the Halo Smarts by Jabra are pretty much what you'd expect. They're great if you make a lot of phone calls or need to stay connected, not so great if you're super into audio quality. That's not to say that the sound isn't bad, but it isn't really good either. It's simply passable. But it's the extra useful features and great battery life that really makes them a good choice. Though they're not what you'd call cheap, they're also not really expensive at only $80. If your priority is call quality and convenient features and can live with average sound, these are for you. For the rest of us, it's not so great a deal.