All products featured are independently chosen by us. However, SoundGuys may receive a commission on orders placed through its retail links. See our ethics statement.
Hype Pyramid Review
For the price, the Hype Pyramid is a great choice as long as sound quality trumps light weight for your needs.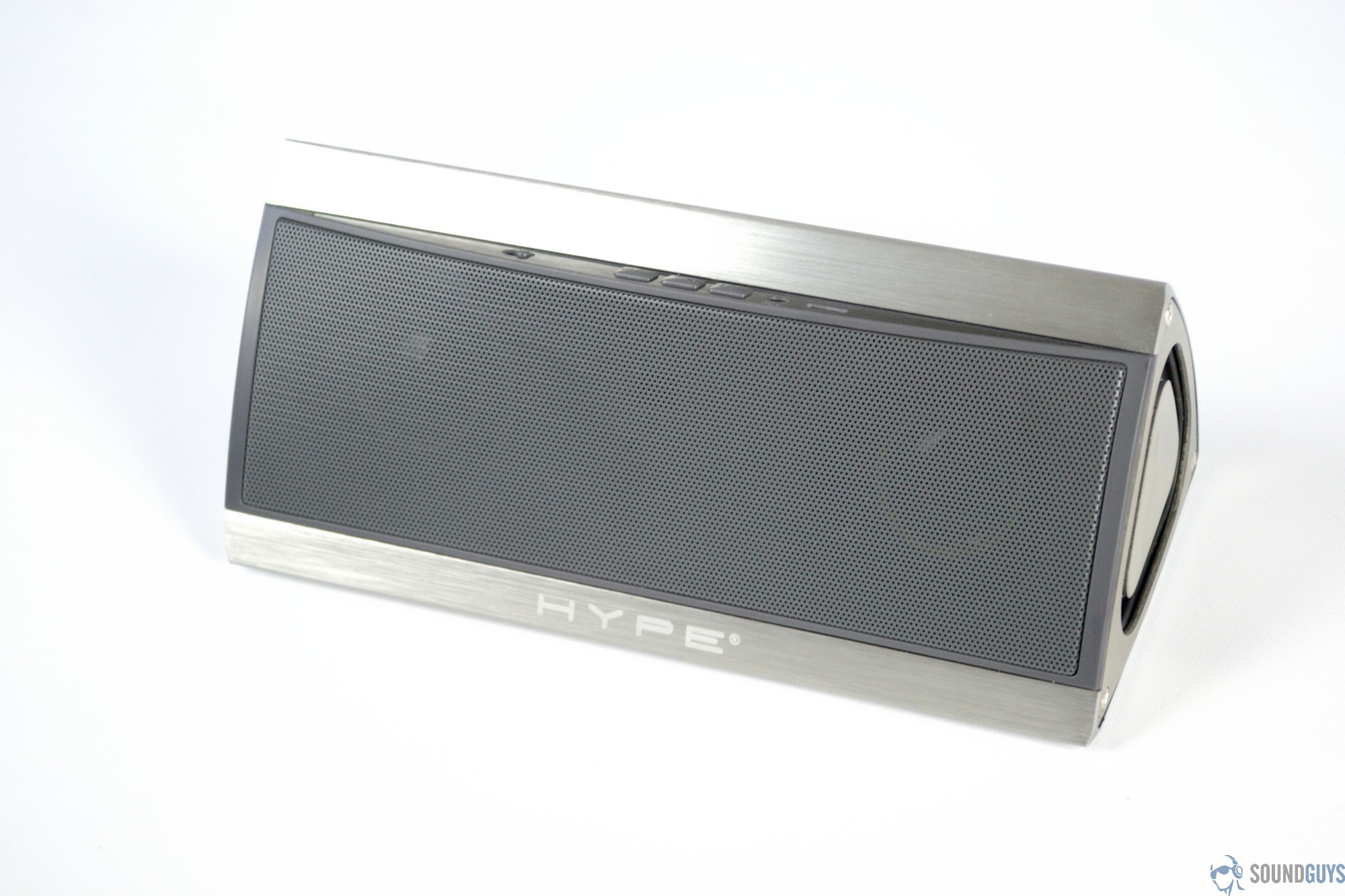 [button type="link" link="https://geni.us/3oEQ" size="btn-lg" variation="btn-primary" block="btn-block"]Buy now from Amazon[/button]
With the rise in popularity that Bluetooth speakers have experienced in the past few years, it's not uncommon to see speakers coming out by brands you've never heard of. Most of these are just okay, and that's being charitable. That said, every once in a while, one comes along that is a bit of a surprise. The Hype Pyramid is one of those speakers.
The Pyramid stands out right away, mainly due to the metal build and the titular shape. This doesn't look like a bargain brand knock-off, but the question is: does it sound like one?
What's In The Box?
It's not unusual for companies to skimp on the packaging to keep the price down, and as long as the box is sturdy enough to protect what's inside, that's fine with us. Open up the rather plain-looking box and you'll find the speaker, a USB cable, a 3.5 mm audio cable, and the manual and warranty information.
Build & Design
The first thing that stands out when looking at the Hype Pyramid is the brushed aluminum exterior. This isn't a façade; it's actual metal, and most of the body of the speaker consists of the same aluminum. While this certainly looks cool, the metal build also makes for quite a sturdy-feeling speaker. On the other hand, this adds a considerable amount of weight.
The combination of the weight and rubber feet on the bottom of the speaker keep it from sliding around on whatever surface it's set on, and it takes a substantial nudge to get it to move. This, combined with the shape of the speaker, also means that it's quite difficult to accidentally knock the speaker over. This is an obvious benefit, but the shape and weight do keep this from being the world's most portable speaker.
Connectivity
The Hype Pyramid offers Bluetooth 4.0 connectivity, and though NFC is not supported, pairing the speaker is still fairly easy. Turning the speaker on for the first time should automatically put the speaker into pairing mode, though if it doesn't, simply hold down the center button to start pairing. If you'd rather not use Bluetooth, the 3.5 mm auxiliary jack allows you to plug in any other device of your choosing.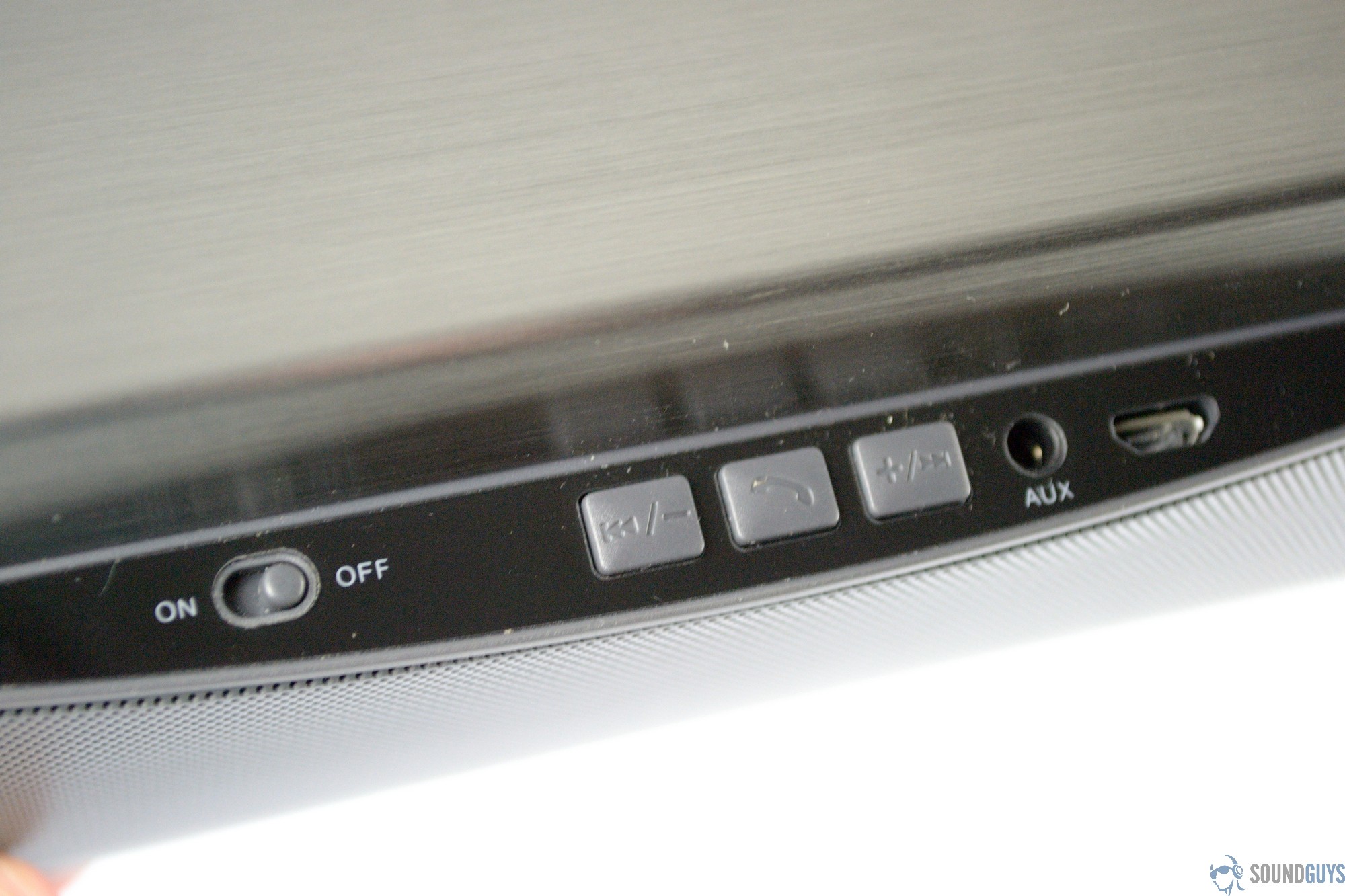 Though the Pyramid doesn't offer too many buttons, a decent amount of functionality is still exposed. You'll find an on / off switch, buttons to skip forward and backward, and finally a multifunction button that will pause and resume playback, answer and end calls, and enter pairing mode. A built-in microphone is included for hands-free calling, and call quality was fairly good.
Battery Life
The Pyramid is powered by a 2200 mAh battery and Hype claims a play time of up to 10 hours. Our play time was shorter — closer to 6 hours — but keep in mind that testing a speaker includes playing back at high volume and pairing / unpairing with a wide variety of devices.
Charge time was around 2 hours using the included micro USB cable into a USB AC adapter, which was not included. If you're charging the speaker by plugging it into a computer, expect charge time to take a little while longer, closer to 3 or 4 hours.
Sound Quality
In testing the Hype Pyramid, we did plug it into a Focusrite Saffire Pro 40 audio interface and play lossless audio files and CDs from a computer, but since most people who use this product will use the Bluetooth functionality, that is how we did the vast majority of our testing.
When I was first contacted about reviewing this speaker, I told the representative that we were fairly busy and might not be able to get to the Pyramid for a while. The representative said that was fine, but asked that I give the speaker a try, because once I heard it I'd likely want to review it sooner rather than later. He was right.
The lows are surprisingly powerful without going too far overboard. Low end frequencies are well represented, but never sound boomy or distorted.
The mids are solid and quite present, without sounding too forward. Boxiness or that "woofy" sound many speakers this size suffer from aren't present here.
The highs are slightly backed off, which avoids harshness without sacrificing too much detail. Given a choice between this and harsher sounding but more detailed highs, we prefer the rolled off approach.
As with all speakers of this size, there isn't much stereo separation, but this is a very large sounding speaker. It won't sound like the band is in the room, but it certainly sounds bigger than it is.
Conclusion
No, it's not the absolute best speaker we've ever seen, but for the price, there isn't an awful lot to complain about here. The battery life could be better and NFC would be a welcome addition, but neither of those are big enough issues to score points against the speaker. For the price, the build quality and sound are some of the best we've seen. As long as you don't need a lightweight ultra-portable speaker, this is certainly worth a look.
Hype has said that eventually they plan to raise the price on the Pyramid, but even if the price was around $99, it would still be worth it.
[button type="link" link="https://geni.us/3oEQ" size="btn-lg" variation="btn-primary" block="btn-block"]Buy now from Amazon ($59.99)[/button]