All products featured are independently chosen by us. However, SoundGuys may receive a commission on orders placed through its retail links. See our ethics statement.
How to get water out of AirPods
Rescue your water-damaged AirPods with these steps.
Have you accidentally soaked your AirPods? Don't panic. Even though AirPods aren't waterproof, they can endure a fair amount of abuse. In this article, we'll show you how to get water out of AirPods quickly.
QUICK ANSWER
To get water out of your AirPods, first dry the exterior with a lint-free cloth. Then, remove water from the interior with the Water Eject shortcut on iOS. Finally, place them in a container of silica gel to absorb any remaining moisture.
---
JUMP TO KEY SECTIONS
How to fix your water-damaged AirPods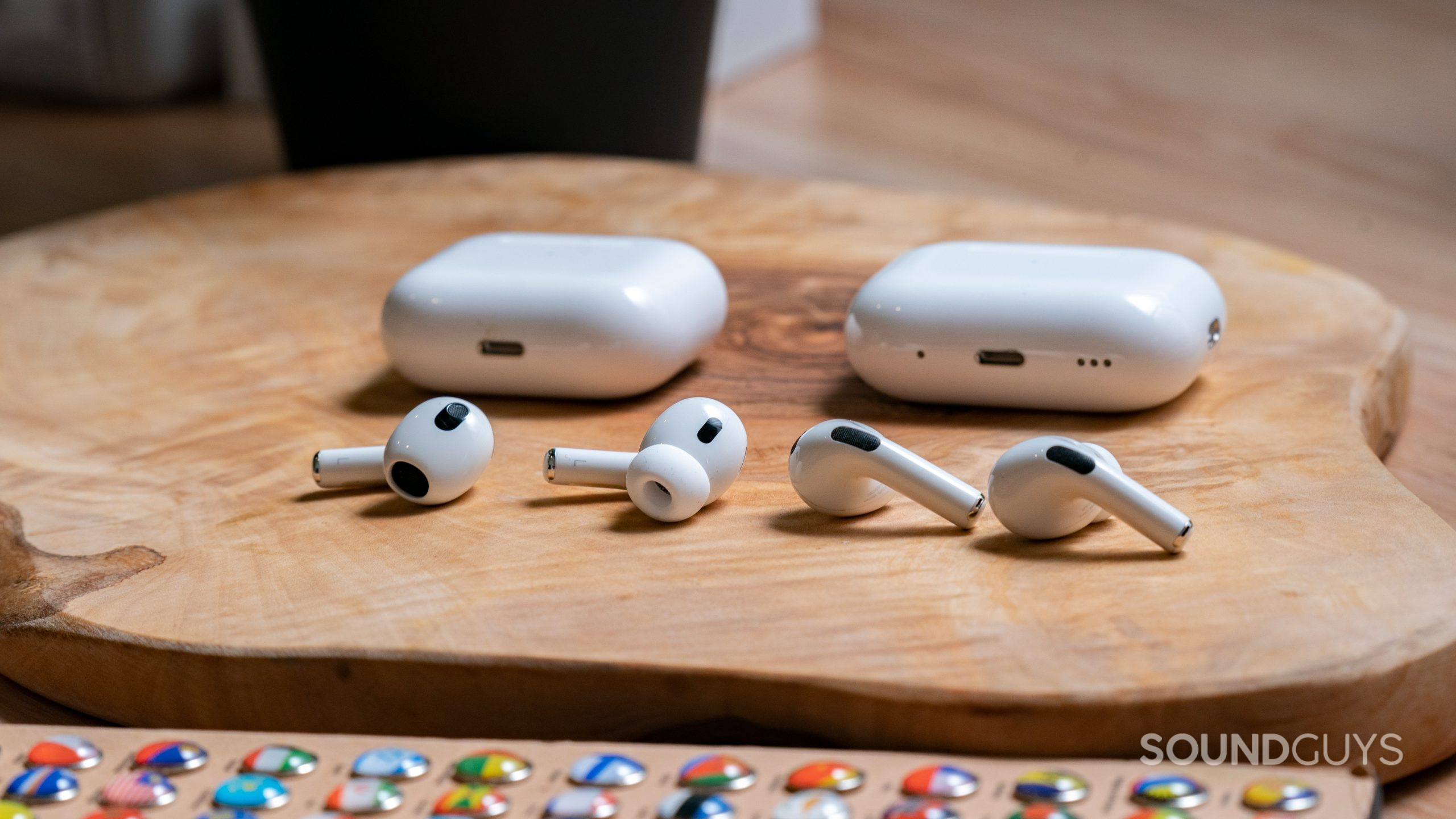 The biggest difference between the two product lines continues to be the different fit provided by the ear tips on the Pro model.
Follow these steps to save your water-damaged AirPods:
Dry the exterior of your AirPods using a lint-free cloth
To properly dry your AirPods and charging case, get a clean lint-free cloth. Start by carefully wiping and dabbing the AirPods with the cloth to remove as much water as possible. If you own a pair of AirPods Pro, remove the ear tips and wipe off any moisture trapped inside the plastic.
Roll a high-quality paper towel into a pointed shape and use it to dab the inside of the charging case if it was exposed. Don't use a brand that flakes or leaves behind particles.
After cleaning, place both the AirPods and charging case face down in a warm area or in indirect sunlight (direct sunlight may damage the device, especially in hotter climates) for about a day. Leave the charging case lid open to allow any residual moisture to evaporate.
Dry the interior of your AirPods with the water eject shortcut
Once you've removed as much water as possible from your AirPods, connect them to your iPhone or iPad. Open the Water Eject Shortcuts Gallery page on your mobile browser and navigate to Get Shortcut > Get Shortcut > Add Shortcut.
Launch the iOS/iPadOS Shortcuts app, tap Water Eject > Start, and choose the intensity. Water will likely start coming out of the AirPods. Repeat the process until the water stops. Then, disconnect the AirPods to turn them off.
If you don't have an iOS device, there are videos on YouTube that can produce similar sound and water ejection effects. You may need to manually increase your volume to the maximum to get the desired results. While many people have reported success using this method, it's risky because you have to turn on the AirPods. You may damage the circuitry if there's too much water inside. You can reduce the risk by shaking out as much water as possible before turning them on.
Leave the AirPods in a desiccant
Once you're done removing as much water as possible from the interior of your AirPods, toss them in a container with a few packets of silica gel for about a day. This should clear out any bits of water left in the devices and hopefully get them working again. Rice is another desiccant that may help, but we don't recommend it as the starch can cause problems.
Does AppleCare cover water-damaged AirPods?
Apple's one-year limited warranty does not cover liquid-damaged AirPods, as it's difficult to ascertain if the damage was caused by fluid or misuse. However, AppleCare+ lets you pay reduced service fees for up to two yearly incidents. It's worth noting that an incident claim applies to one AirPod. So, if you have damage issues with both AirPods, you'd have used up your yearly damage protection.
How to replace your AirPod buds or case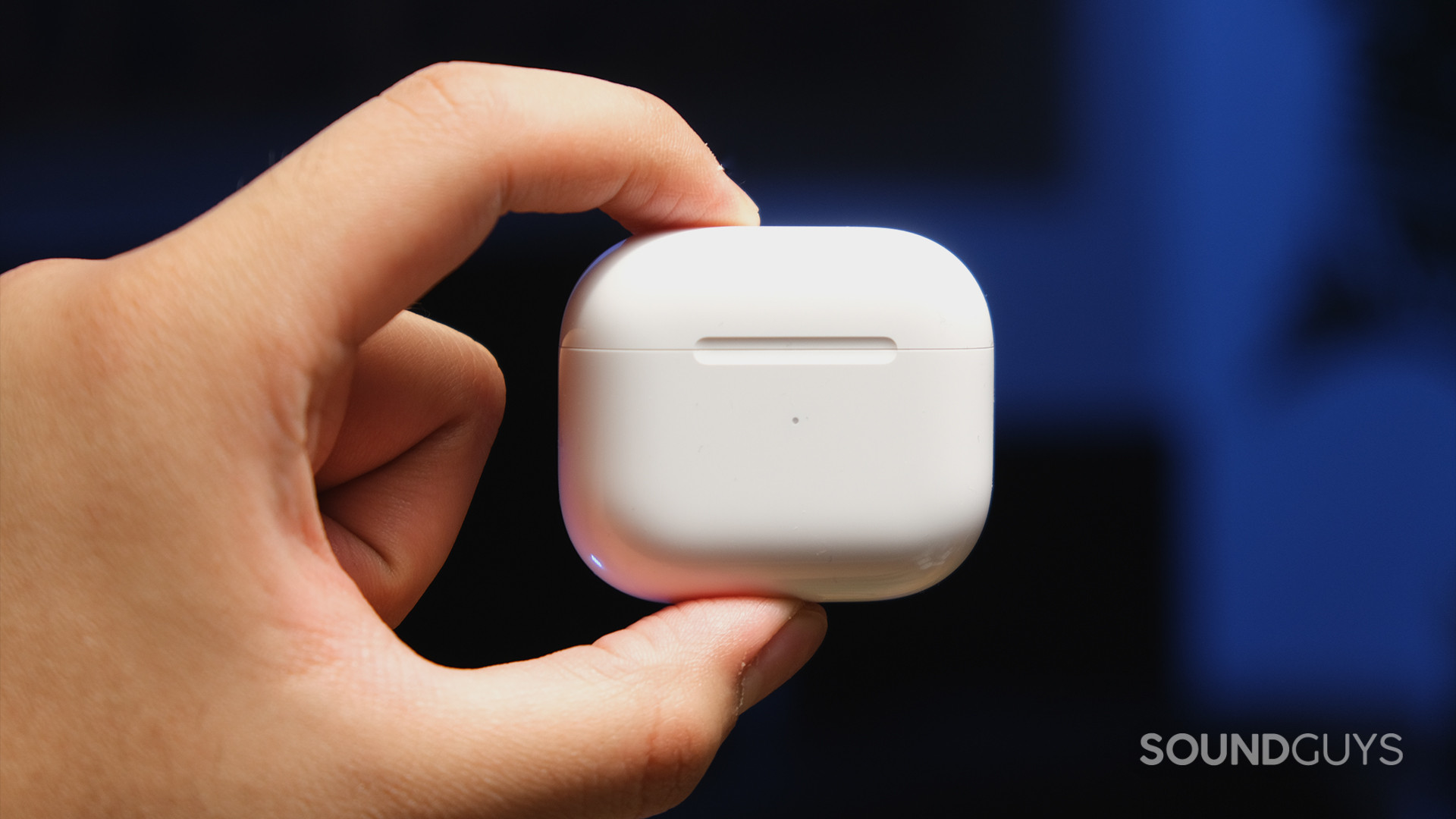 The compact case easily fits in a small pocket or pouch.
Apple covers manufacturing issues for one year after purchase. AppleCare+ covers accidental damage for $29, but only once a year during its two-year term. Repair/replacement costs vary with authorized providers and don't include intentional abuse. To repair/replace broken AirPods, take them to an Apple Store or authorized provider, or use a prepaid shipping box.
You can also buy AirPod replacements from Re-Cell Exchange, a trusted source with 800+ reviews and a 4.9/5 Google rating. They offer single AirPods and cases and provide fast shipping and a hassle-free return policy.