All products featured are independently chosen by us. However, SoundGuys may receive a commission on orders placed through its retail links. See our ethics statement.
The bottom line
Excellent set of earphones for the money that offer sound quality as good as sets costing four times as much
Excellent set of earphones for the money that offer sound quality as good as sets costing four times as much
What we like
Comfortable
Durable
Included ear tips mold the ear well
Great sound quality
Very affordable
What we don't like
No Volume Buttons
Cord could be thicker
Only two sets of ear tips
Rating Metric
Sound Quality
9.0
Bass
9.0
Midrange
9.0
Highs
9.0
Durability / Build Quality
7.0
Value
10.0
Design
8.0
Microphone
8.0
Portability
9.0
UPDATE [March 2022]: If you find that the House of Marley Smile Jamaica linked here are out-of-stock, try different color options. Otherwise, see if there's a model you like among the best earbuds we currently recommend.
Since its inception House of Marley has been about bringing high quality design, build, and audio quality to its customer base. Not only do they use sustainable materials, but they also provide a portion of their proceeds to the Marley family's charitable foundation 1Love. The Smile Jamaica in-ear headphones sit squarely at the higher end of the House of Marley's affordable earphones. Compared to their entry level offerings, the Smile Jamaica offers higher end materials in its build quality and has a pleasing aesthetic featuring more natural materials and less plastic. So the Smile Jamaica looks and feels the part, but how does this $25 earphone stack up to competition costing up to four times as much?
What's Inside?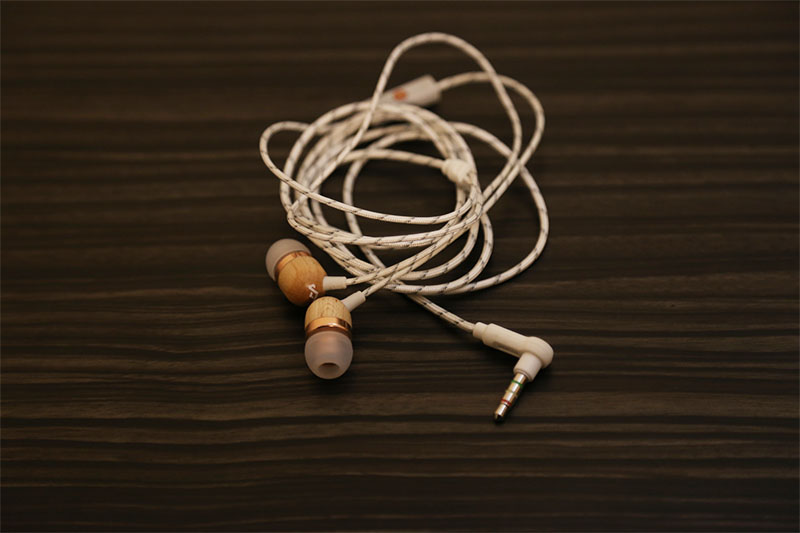 The Smile Jamaica's packaging is highly straightforward. The product is easily visible in the packaging so the customer can see which one of the vibrant colors they are purchasing. The earphones are held in place with simple plastic and the warranty information is hidden in a secret flap behind the patterned backing. Provided for people with smaller ears are a smaller ear gel replacement, so finding the right fit should not be hard. But for people with bigger ears, they will need to look to aftermarket solutions for ear fitment.
Build & Design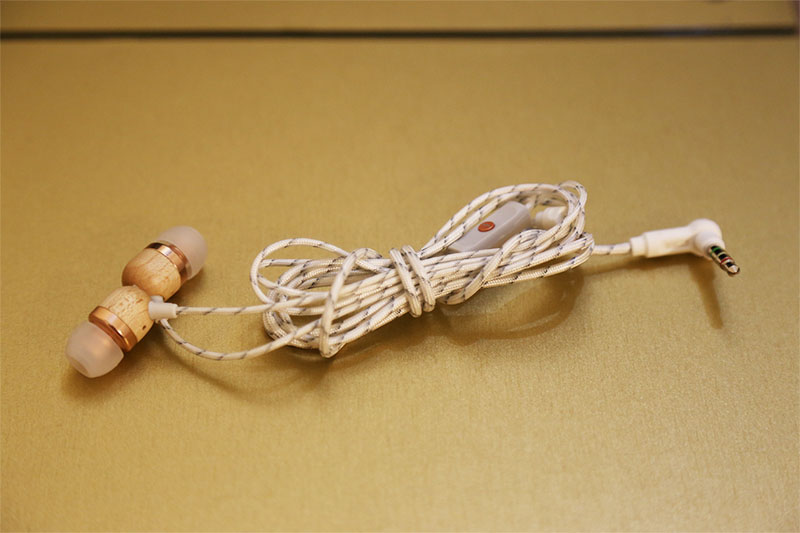 Quality materials are present all over the Smile Jamaicas. They feature actual aluminum for the housing (not just a chrome plated plastic), FSC™ Certified Wood surrounding the housings with the House of Marley Logo painted in an accent color, a tangle resistant braided cable, and soft touch plastics at the headphone jack. The R and L are slightly raised but barely visible and I actually had to double take looking for them so I could put the proper bud in the proper ear. The only place that felt a little cheap was the inline audio control and microphone which has a hard, smooth plastic and a colored play/pause button with the House of Marley logo in the middle.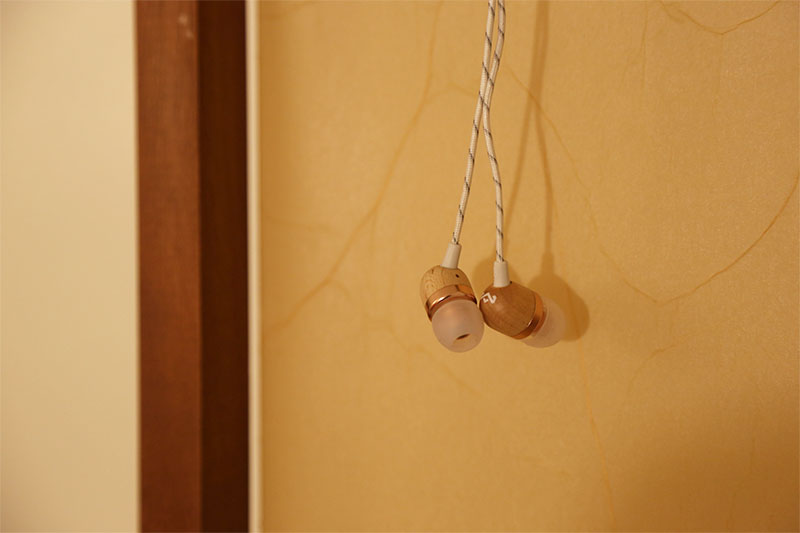 There are six colors available: copper, rasta, fire, midnight, mint, and purple. The color combinations can be found on the ear gels, the aluminum housings, color of the wood, and the braided cables. I reviewed the copper color with white braided cable which is a very safe color combination. I was more than happy to wear it on short walks and at the gym where the earphones happily blocked out the canned overhead music and sounds of gym machinery. That being said, I actually really like the mint color scheme which is almost identical to the copper, but the aluminum housing is colored in a light green along with the House of Marley logo on the wood.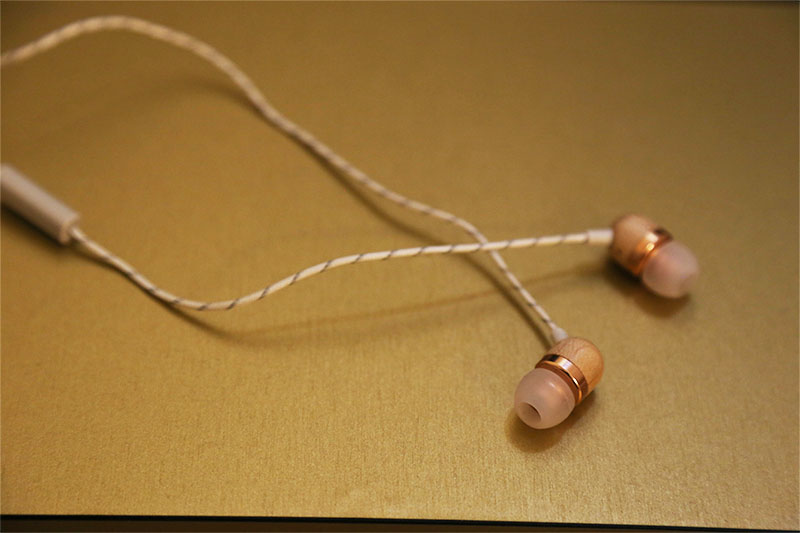 Comfort is so highly important for me in a daily driver earphone and the two that I bring with me often are the Audiofly AF45 with Comply earphone tips or my urBeats. I find the Smile Jamaicas actually more comfortable that both of those earphones because of the rounded back on the housing as well as the soft feel of the wood. Compared to the plastic housing of the AF45s or the metal housing of the urBeats and the sharp edges on the back, the Smile Jamaicas were pleasant to wear and they did not protrude past my ears. I also did not fear them popping out at the gym because the included earphone tips made an excellent seal in my ear canal.
Connection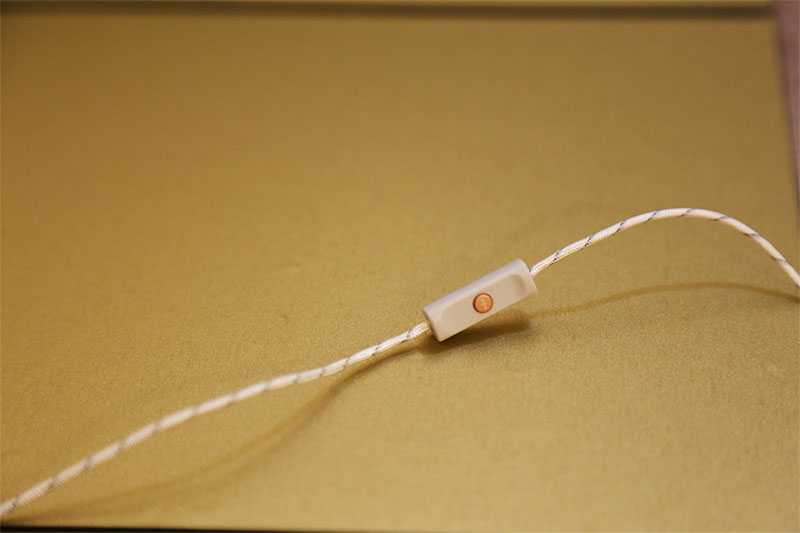 My biggest gripe with the earphones is the lack of controls. As it stands, the in-line microphone and play/pause button are adequate. It is highly convenient to be able to start and stop music at will, but having a volume control would have elevated the usefulness of the earphones much higher.  
Sound Quality
I subjected the Smile Jamaicas to a very diverse amount of music: everything from classical to metal to R&B. I really wanted to believe that these earphones could deliver sound quality beyond their modest price tag. Realistically a budget headphone is usually a one trick pony, having boosted bass or a complete lack of it and a tinny high range or a completely muddy one. Often mids are a lovely afterthought. With a modest 9mm driver, I was not expecting much out of these earphones, but as I listened to my varied playlist, many audio features were revealed to me.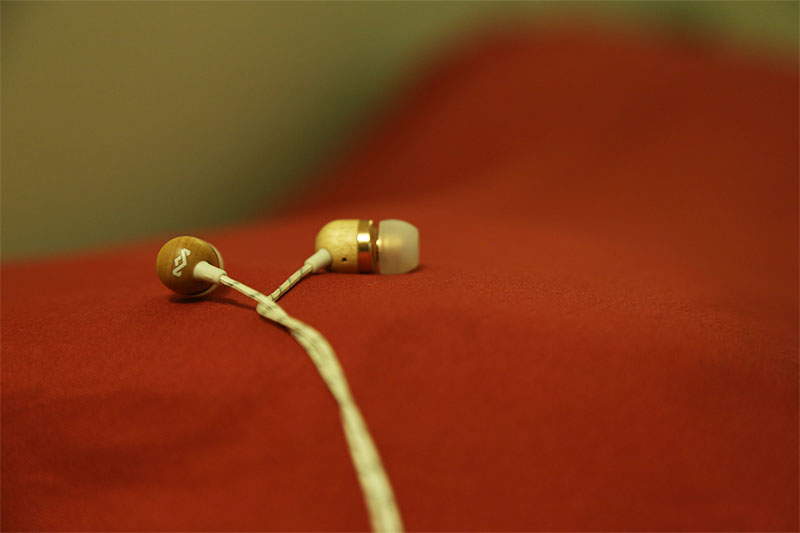 Listening to a little classical piano really helped flesh out the highs for these earphones. Chopin's "Nocturn in E-Flat Major" and "Waltz in C-Sharp Minor" showed me clear and crisp high notes that were not muddy nor overly tinny. They were sharp and concise without falling prey to any of the other sound stages. Listening to other categories of music revealed similar findings. I was able to listen to alternative and clearly hear the higher toned musings of Pierce the Veil's lead singer and listening to EDM from Jack U allowed me to hear high pitched synthesized sounds accompanied by Justin Bieber's high pitched voice.
I cycled through a little hip hop, classic rock and metal to test the midrange on the earphones. I picked Kyle "Endless Summer Symphony" and Queen "Don't Stop Me Now" because of how lyrically heavy they are. The Smile Jamaicas provided clean and clear representation of the lyrics without sounding muffled or bland. Listening to Turisas – Stand Up and Fight provided lead guitar riffs that were clean and did not blend together. The best was to describe the mids was accurate. They did not have any flair or added brightness or warmth, they just existed well and provided a nice listening experience.
Low range is so difficult to get right in more affordable earphones. Throwing a bass heavy EDM track like "Alone" by Marshmello can bring ugly, muffled low end that sounds like one long note. The good thing about the Smile Jamaicas is that in their diminutive size they are able to still provide good separation of the synthesized bass sounds from the track. Feeding the Smile Jamaicas hybridized music worked well as well. "Say U Won't" by Brasstracks mixes real instruments with synthesized sounds, and listening to the bass track on this song was enjoyable because the bass hits were clean but I do wish they hit a little harder so I could feel the hits on the bass drum. The 90's R&B stylings of Bruno Mars in "That's What I like" matched up perfectly with the bass tuning of the earphones. It's almost as if the audio engineer decided their baseline listening experience for these headphones was going to be Boyz II Men from the mid-90s.
Conclusion
The Smile Jamaica in-ear headphones surprised me greatly with their blend of quality and affordability. The overall listening experience is best described as clean and accurate. There were not any stand out features and the audio tuning was very clean especially for the MSRP of the product. Compared to my other daily driver headphones, which come in at two times and four times the price of the Smile Jamaicas, I actually enjoyed grabbing the House of Marley offering instead and at $25 I would definitely buy them again.