All products featured are independently chosen by us. However, SoundGuys may receive a commission on orders placed through its retail links. See our ethics statement.
The bottom line
These speakers sound good, but look better. Setup is simple and straightforward but they are fairly expensive.
These speakers sound good, but look better. Setup is simple and straightforward but they are fairly expensive.
Dimensions
Speaker: 7.5 x 3.5 x 8.75 inches
Weight
Speaker: 1.75 lbs
Amp: 1.25 lbs
What we like
Looks nice
Good sound
Rating Metric
Sound Quality
8.6
Bass
8.3
Midrange
9.0
Highs
7.7
Durability / Build Quality
9.1
Value
7.3
Design
9.0
First things first, let's get one thing out of the way. Grovemade isn't an audio company. The Portland based company specializes in making quality accessories for your phone, pockets, and desk. The majority of which are made of wood. Their products are usually great, but audio is brand new territory for them. Speakers are kind of different from phone cases. They teamed up with designer Joey Roth who already had experience with making speakers and surprised everyone with a pair of gorgeous wooden desktop speakers. We got a chance to check them out. So how are they?
What's inside
This was a review unit so the packaging isn't exactly the important part here. Opening up the box it came in you'll get the speakers, the matching amp, and all of the cables you'll need to get it up and running.
Build & Design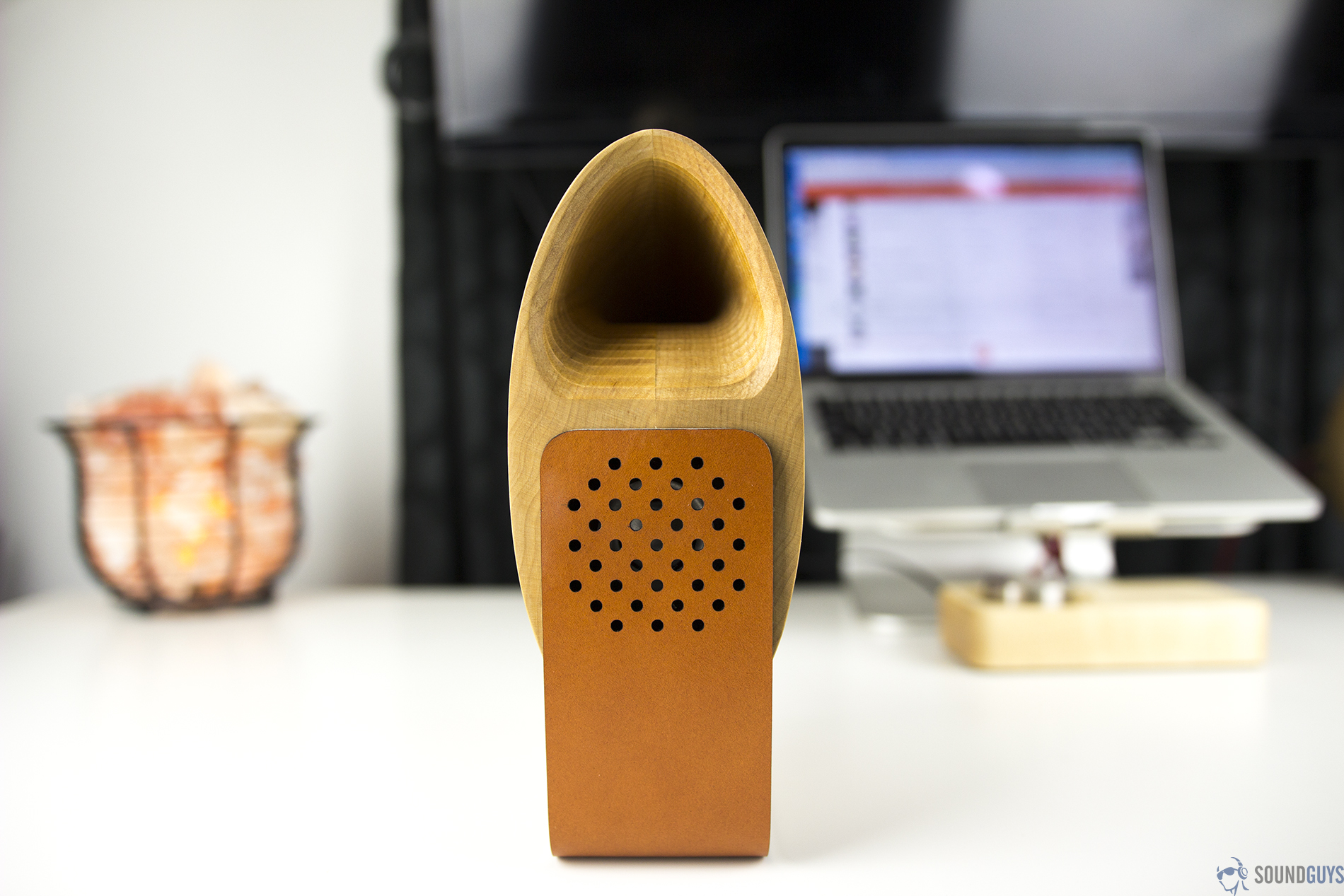 These speakers and the amp are made entirely of wood. We're looking at the model made of maple but they also come in a darker walnut. First thing you'll notice is the shape. If you took a giant wooden egg and sliced it down the middle, you'd get these. Luckily it doesn't look as weird as that sounds. Especially when you consider that the metal stand holds the speakers about an inch off the desk giving it the illusion that it's hovering. Those stands are wrapped in a vegetable tanned leather that gives these speakers a very premium look and feel.
The stand also acts as the grill, protecting the drivers hidden in the speaker. If you can look inside the speaker you'd find that there are no flat surfaces. Grovemade said they designed these speakers like how you would design a concert hall: with no parallel walls to avoid distortions.
Along with the speakers come a matching amp, also made entirely of maple save for the metal volume knob. Twisting the volume knob is perfectly smooth and unless you turn the entire amp around, it's the only thing you'll see. It's a perfect, minimal knob that gives you an odd sense of satisfaction every time you adjust the volume. Once you do turn it around you'll find the inputs required for actually using the speakers. The speaker wires are wrapped in a nice red fabric that feels really solid.
Connection
On the back of the speaker from left to right you'll find the analog inputs for RCA, inputs for both the included left and right speaker cables, and an AC in for powering them. These are definitely quality cables and I appreciate the thought that went into them. The only issue I have is with the included RCA to 3.5mm cable. It looks as heavy duty as it feels and when it's plugged into the side of the computer it's kind of an eyesore which is in contrast to everything else about the speaker. To be fair though, when plugged into something that has the input hidden on the back this obviously isn't a problem. But considering these are desktop speakers I figured it'd be worth mentioning in case you're like me and have to plug it in on the side of your computer.
Sound Quality
Since these desktop speakers we didn't do any testing with mobile devices, though you can by simply plugging in the 3.5mm cable (if your phone still has one. On desktop we listened to everything from YouTube videos to FLAC files.
Lows are nicely controlled in most songs but there is some rattling if you max out the volume. Though output is definitely more than enough at regular volume, every now and then (like when you're really into a song) sometimes you do want to blast the volume. Still, turning the knob about halfway is loud enough to enjoy music but not too loud that it distorts. The bass kicks in "Starboy" by The Weeknd sounded great and the lows in general weren't as strong as I was expecting in a good way. They were well balanced and did their job excellently, making my desk vibrate just enough to be enjoyable.
It's most likely due to the maple wood, but the mids had a slight emphasis to them that produced a nice warm sound. It sounds particularly great when you have the speakers aimed perfectly at your head. You can really hear it in the vocals of "1901" by Phoenix. The instruments and vocals combine for a nice full sound that doesn't leave you missing anything.
The highs have to be the weakest aspect of these speakers. Nothing ever becomes piercing or painful which is good, but cymbals and hi-hats seemed to be lacking. "Glow" by Retro Stefson makes good use of cymbals throughout and though they're a major part of the song, they don't have the same kind of emphasis that you'll find on a good pair of headphones or studio monitors.
Conclusion
Yes, the Grovemade speakers are expensive (especially if you opt for the walnut model) but they're also a great pair of desktop speakers. Now it's worth saying "desktop speakers" because you can always get a pair of studio monitors that sound as good as, or better once you enter this price range of several hundred dollars. Still, if you're not really looking for studio monitors but you want to take your desk setup or listening station setup to that next level, the Grovemade speakers sound good and look even better. They'll even give you a 4-6 trial period so you can try it out for yourself if you purchase it from their website. Though it's hard to recommend just because of the price, I'll definitely be adding these to my wish list.