All products featured are independently chosen by us. However, SoundGuys may receive a commission on orders placed through its retail links. See our ethics statement.
The bottom line
If you want a simple pair of computer speakers, these are a good option for the price.
If you want a simple pair of computer speakers, these are a good option for the price.
What we like
Cool glowing lights
Easy Setup
Decent mids and good highs
What we don't like
Bass is very loud
Small stutter in between tracks
Bluetooth 2.1 doesn't like walls
Rating Metric
Sound Quality
7.6
Bass
6.6
Midrange
7.2
Highs
8.9
Durability / Build Quality
7.0
Value
8.5
Design
8.3
UPDATE [February 2022]: While this product is still available, it's an older model. Have a look at our picks for the best PC speakers today.
If you've been keeping up with Sound Guys for a while then these speakers might look familiar, and that's because we already reviewed the previous version of these a while back. The main difference between that version and this one? These are wireless. There are probably more similarities between the two than there are differences. The overall design and features are virtually identical and besides the new Bluetooth 2.1 and the control buttons that come along with it, there isn't much else that's different. But that won't stop us from putting this new wireless version through the ringer the same we would with any other speaker.
Before the review we should probably get some things out of the way. The GOgroove BassPULSE speakers are desktop speakers, not monitors. If you're looking to edit or produce audio, you're going to need speakers many times more expensive than this (for the most part) and most likely an audio interface. That said, if your main objective is casual music listening and the occasional cat video while you procrastinate work, these are perfect.
What's inside?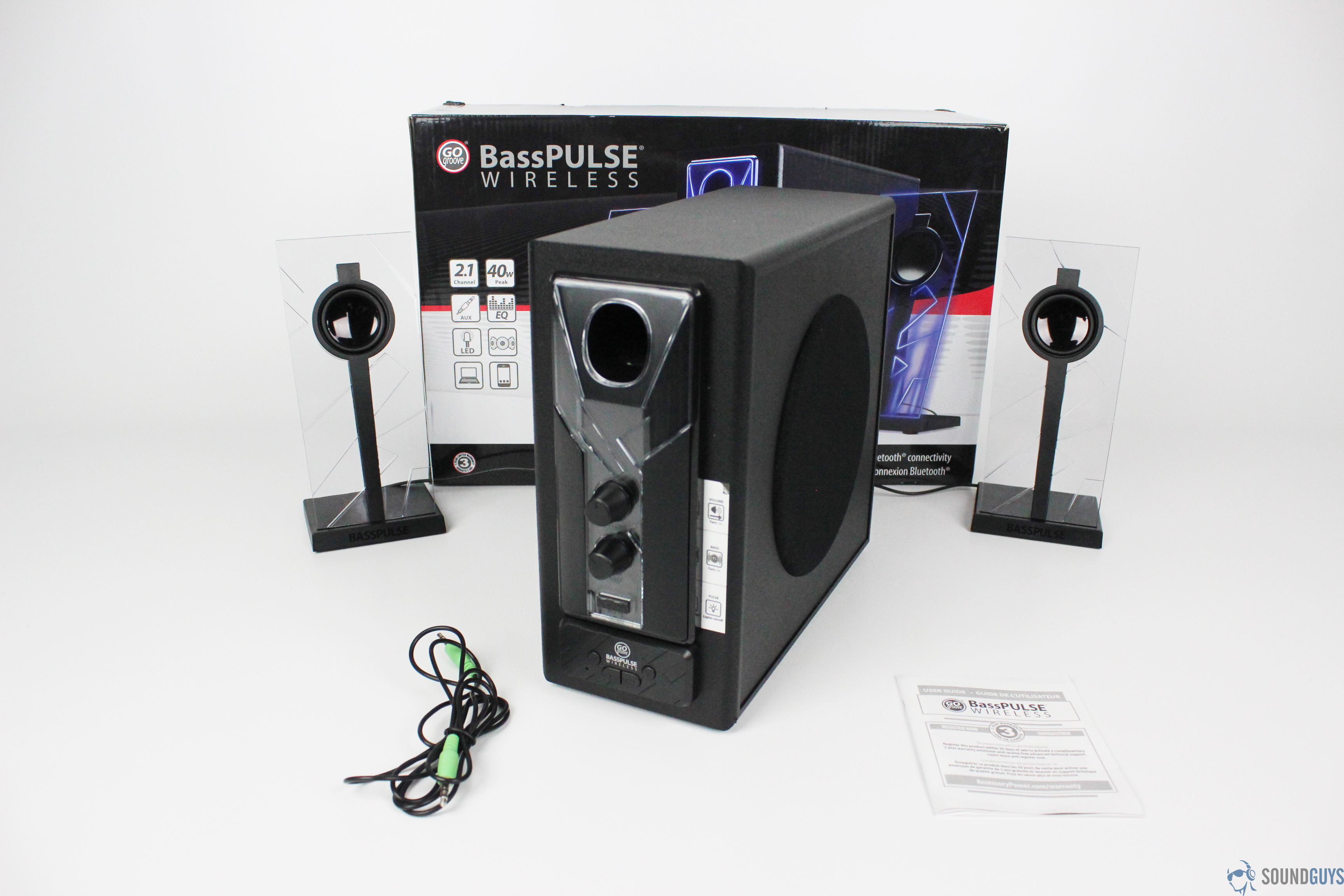 The box is fairly large and that's mainly due to the large 101mm subwoofer. Also packaged inside are the two 40mm speakers, 3.5mm audio cable, and warranty information. Side note, GOgroove has a 3-year manufacturer warranty on their products which definitely stands out in the sea of one and two year warranties most companies have.
Build & Design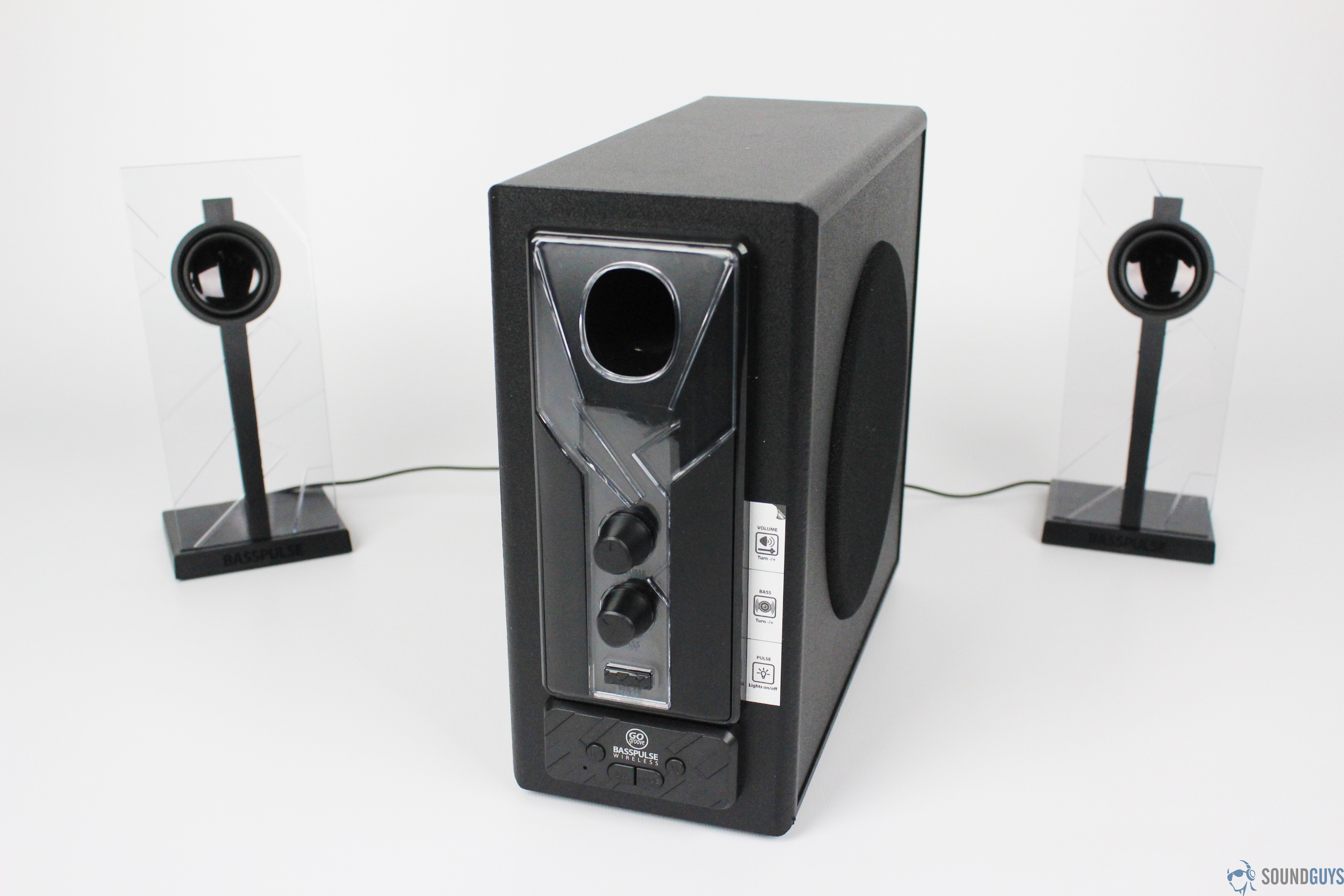 These aren't expensive speakers, so we weren't expecting to be blown away by any of the build materials. Our expectations were correct as these are mainly, if not entirely made of plastic. The two speakers are see-through save for the drivers built into them towards the top. This is one of those categories that gets split down the middle because even though the build material isn't the greatest, the design definitely leans toward the cool side. Though there is a large amount of personal taste that comes into play here.
Initially I was of the opinion that light up speakers are more of a gimmick (and still kind of am), but I can't deny that having these glow on my desk is really cool to look at. Especially when you turn up the bass to over 80% and the lights begin to pulse to the beat of the music you're playing. The two speakers have a black base with a clear plastic slab sticking out of it at an angle. The clear plastic looks like it's cracked, but it's really there to give it an edgy look when the LED lights shine through it.
The woofer is a fairly large black box with a few knobs and buttons on the front for playback and volume control. It too has a front plate of the same clear plastic found on the two desktop speakers that let the soft glow of the LED lights really give it some personality. Overall the effect is definitely unique, though whether or not it works for your personal setup depends on your preferred aesthetic for your work area.
Connection
As a pair of computer speakers, you can connect them via 3.5mm to the headphone jack of your computer the same you would with the previous version. However, these also have the option to connect via Bluetooth 2.1. On the front of the woofer are two knobs that control volume and bass output as well as a "pulse" button that turns the LED lights on and off. This was all present on the older version too, but due to being wireless these now have some extra controls just below the pulse button. Now there are dedicated buttons for skipping tracks, replaying tracks, and pausing/playing music. There's also a new mode button that lets you switch the inputs between Bluetooth and the 3.5mm cable. Either way, setup is super simple. For reference. the longest part of setting it up was taking them out of the box.
As for the Bluetooth connection it was fairly solid during testing. GOgroove claims a range of 33 feet (which is the standard range for Bluetooth) but the connection was strong even up to about 50 feet as long as there weren't any walls in the way.  If you're connecting to the computer on your desk via Bluetooth this probably won't mean much to you, but if you intend to play music through your mobile device this is good news. Once walls get in the way it's a different story, but otherwise there's not a problem.
The only issue that was consistent throughout testing was a slight pause during pauses in music that caused a slight stutter when songs began playing again. For example, when one song finished and another began the second song would start playing a half-second late. Again, this isn't a big deal if you're watching YouTube videos but if you listen to a lot of music at your desk, this could get annoying.
Sound Quality
Besides the previously mentioned stutter, playback was consistent when connected via Bluetooth. Since Bluetooth is the main new feature on these, we connected wirelessly to the computer as well as both Android and iOS devices for testing. We also did some testing through the 3.5mm audio cable just to see if there was any significant differences between wireless and wired playback, but there weren't.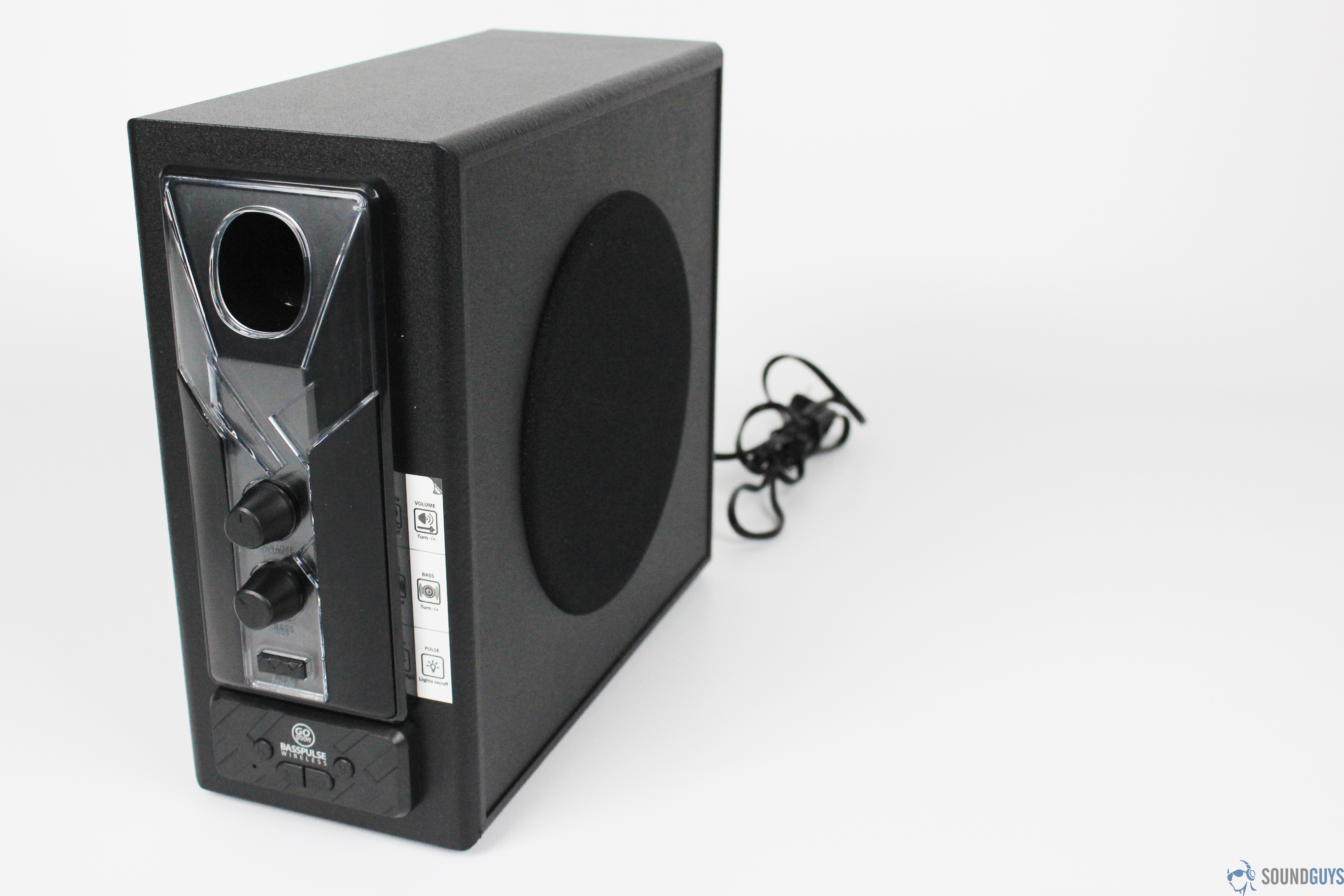 The low end is surprisingly strong, but not accurate. It tends to get loud but not deep. Luckily you can control the output and manually adjust it to your liking, otherwise you risk letting the low end completely take over. One example of this is in the song 'Like It Is' by Vince Staples. Normally hip-hop songs can withstand a slight boost in the low end and still shine, but in this case the loud bass almost overtook the vocals completely. The low end isn't necessarily bad for computer speakers, just a little out of control. Be prepared to adjust the bass depending on the song you're listening to. On the bright side (pun intended), watching the LED lights pulse to the beat is awesome.
The mid-range wasn't spectacular but there's not really anything bad to say about it. Vocals came through clearly enough and spacing between background instruments avoided becoming muddy. Guitars and horns in 'Me Gustas Tu' by Manu Chao each found their niche in the mid-range, though they did tend to lose detail.
The highs were, dare I say, almost great. There was the perfect amount of detail left in cymbals without feeling like they were too harsh to listen to. Certain piercing synths did cause some buzzing, but it was hit or miss depending on the song. One song would be fine but the next would buzz. Another problem with the highs that kept them from actually being great was that the s's and t's were overly emphasized at high volume making everyone sound like snakes. Lowering the volume almost fixes this issue, but once you hear it it can't be unheard.
Conclusion
For what they are, the GOgroove BassPULSE wireless speakers aren't a bad option if you just want some good computer speakers. They have a unique look, a decent Bluetooth connection, an easy setup, and also get pretty loud. Still, they're more of a niche product. If you're looking for speakers with extreme detail to listen to your lossless music files these aren't for you. You're not going to hear never-before-heard details in your favorite songs, but you shouldn't have many complaints overall. In fact for everyday usage, these are actually quite impressive and the competitive price makes them worth consideration.