All products featured are independently chosen by us. However, SoundGuys may receive a commission on orders placed through its retail links. See our ethics statement.
The bottom line
Though these are certainly crazy expensive, they're also crazy good. You get what you pay for and if you shell out the $1500 required to get these, you'll get an amazing pair of cans for life.
Focal Clear
Though these are certainly crazy expensive, they're also crazy good. You get what you pay for and if you shell out the $1500 required to get these, you'll get an amazing pair of cans for life.
What we like
Great sound
Super comfortable
three cable options
Great fit
Rating Metric
Bass
9.0
Midrange
9.5
Highs
10.0
Durability / Build Quality
9.0
Value
8.0
Design
8.5
Portability
6.5
A few months back I got a chance to check out the Focal Utopia headphones, which are easily one of the top 3 best sounding cans I've ever used. But there were some things that I didn't like about them, mainly the loose fit and of course that $4,000 price tag that I could never afford. Now the French audio company is back with their newest pair of cans dubbed the Focal Clear. These headphones will only run you $1,500—which is less than half the price of the Utopias—and also don't slide off your head every time you look down. At $1500 most people probably won't buy these. Still, I want them. And here's why I think you should too.
What's Inside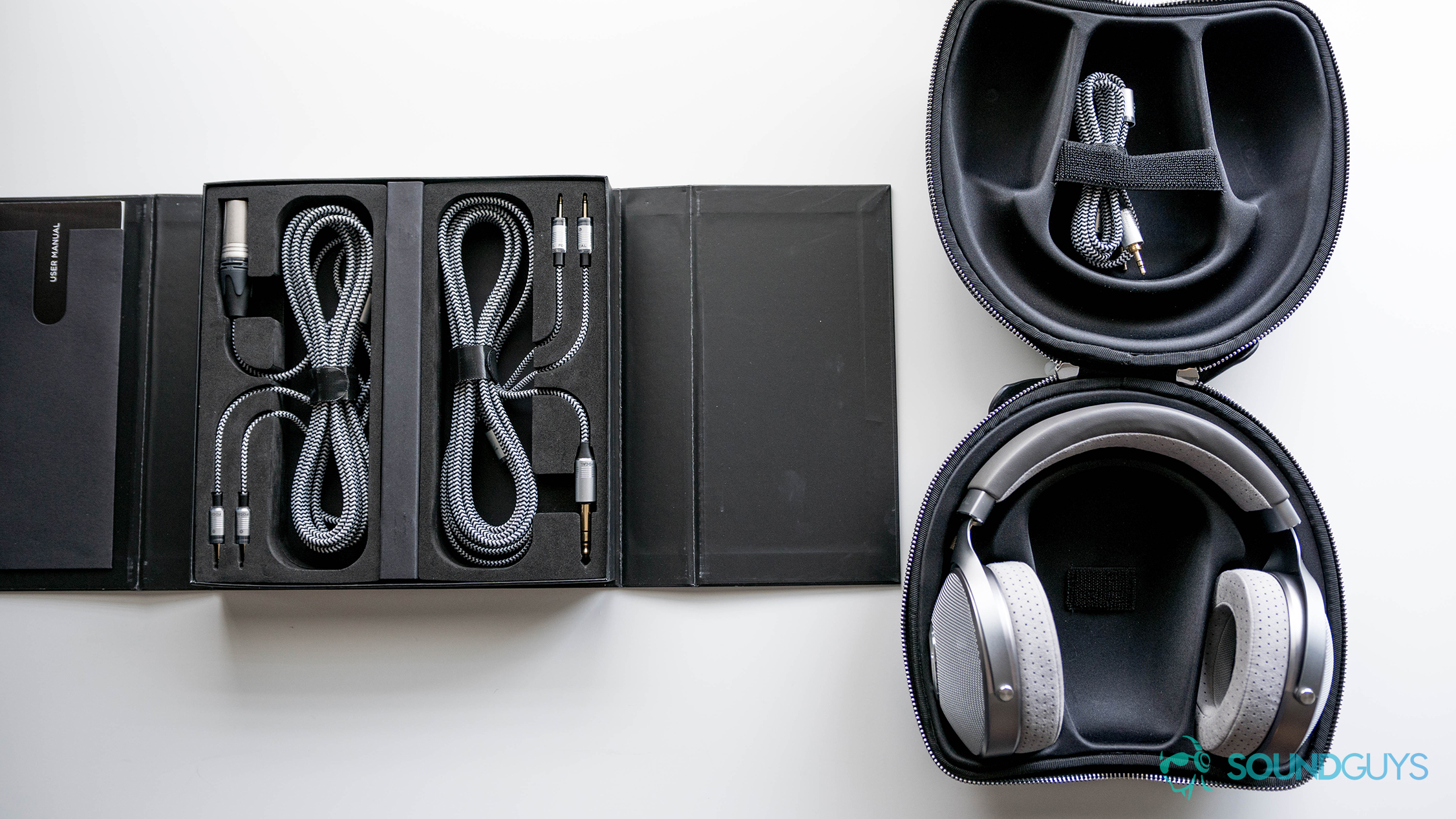 Everything that comes in the box with the Focal Clear headphones
In the box you'll get a nice hardshell carrying case, with the headphones tucked away nicely inside. The cavity in the middle is also perfect for storing the three cables that it comes with, two of which are 10-feet long. Besides that you'll get the quick start guide and instruction manual and that's about it.
Build & Design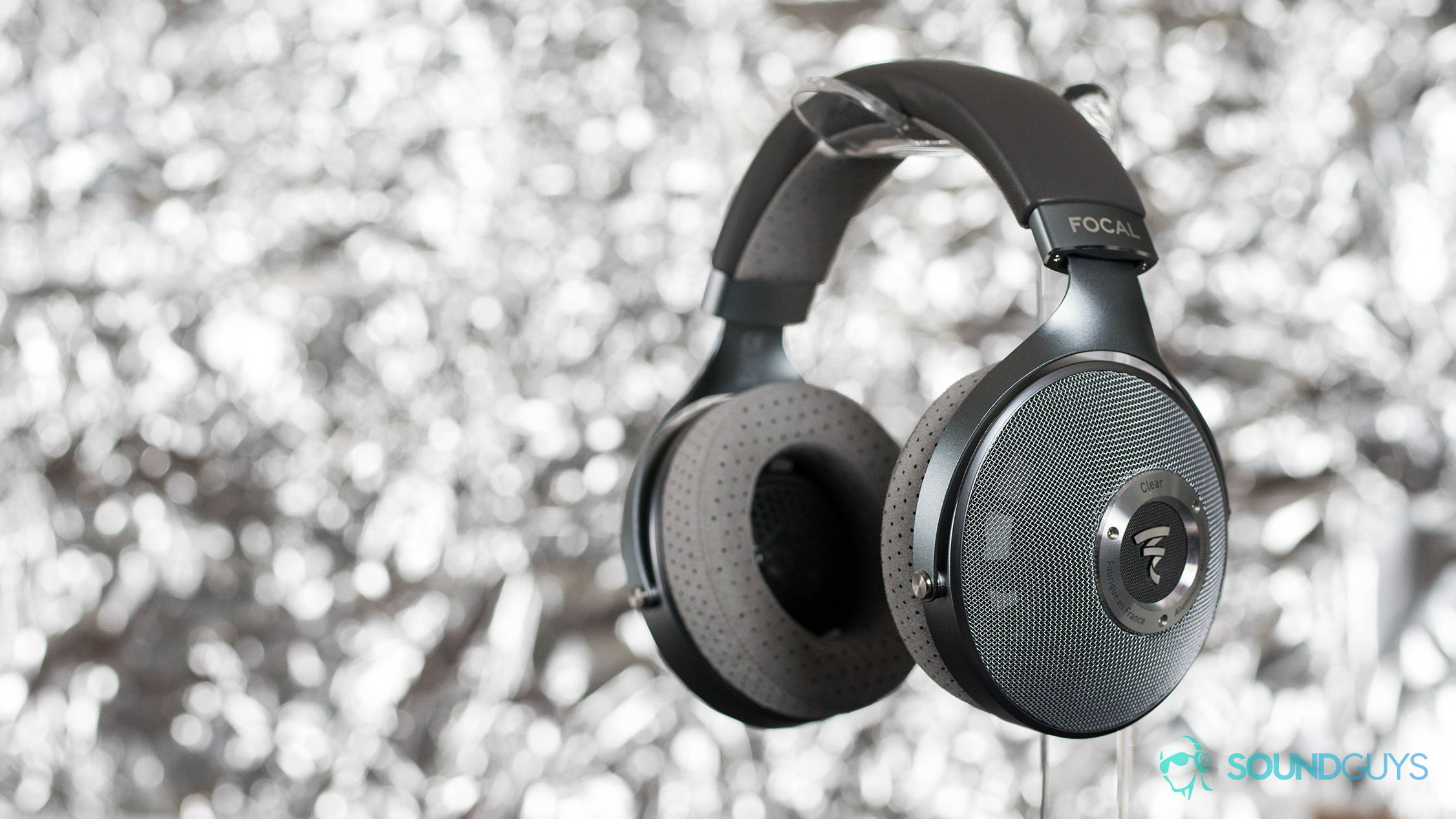 Focal Clear have plenty of padding for ultimate comfort
When you look at the Focal Utopia it jumps out at you. The design is bold, and the large, industrial looking cans are unapologetic about the fact that they're not portable headphones. You need to find a spot for them in your house and leave them there. This same design has found its way into the Focal Clear headphones—which are just as sleek and bulky. They don't have hinges on the headband, so there's no folding them into a more compact size. If you want to take them anywhere, you'll have to make space in your bag for the hardshell carrying case which is just as sturdy and finely designed as the headphones. That's exactly what I'd expect from a pair of headphones that cost this much, but it's always nice to see a company actually care about the accessories that come along with the headphones.
The Focal Clear is made of solid aluminum, so everything about them feels sturdy, but that also means that these are fairly heavy at 450g (0.99 pounds). That said, this basically becomes a non-issue when you put it on. The memory foam cushions on the earpads and bottom of the headband keep these gently floating on your head, and have enough of a grip to them that I was able to walk around my apartment wearing these with no issues. That wasn't the case with the Utopia, which demanded that I be seated and barely moving unless I wanted them to slip off. The Clear do a great job at being heavy enough so that you're aware that you're wearing headphones, yet light enough that you're okay with it. As if memory foam wasn't comfortable enough, the padding is covered in a perforated microfiber fabric that keeps them from becoming too warm during long listening sessions. Though I should mention that if you're wearing these in the summer that probably won't be the case for you, They're not that breathable.
The Focal Clear headphones from the front
If it sounds like I'm gushing, that's because I am. These are built spectacularly well, though they're not perfect. My only qualm with the build is that the headband is a bit squeaky at times, and though this isn't a problem when you're wearing them: if they're fresh out the box, it could very well become an issue over time. Shaking the earcups slightly when testing flexibility just reveals a soft squeaking coming from inside the headband, as if the adjustable headband is a little too loose in there.
You don't have to look far to see why Focal named these Clear. Like the Utopia and the Elear before them, these are open-back headphones. If you've made it this far into the review, you probably know what that means for real-world usage. Forget about wearing these on your commute or your local coffee shop while pumping out that new novel. That is, unless you don't care that everyone around you can hear what you're listening to. These are meant to be used at home; not on the bus. Inside are 40mm drivers suspended in the open for all to see, though they're thankfully protected by the aluminum grill.
Connection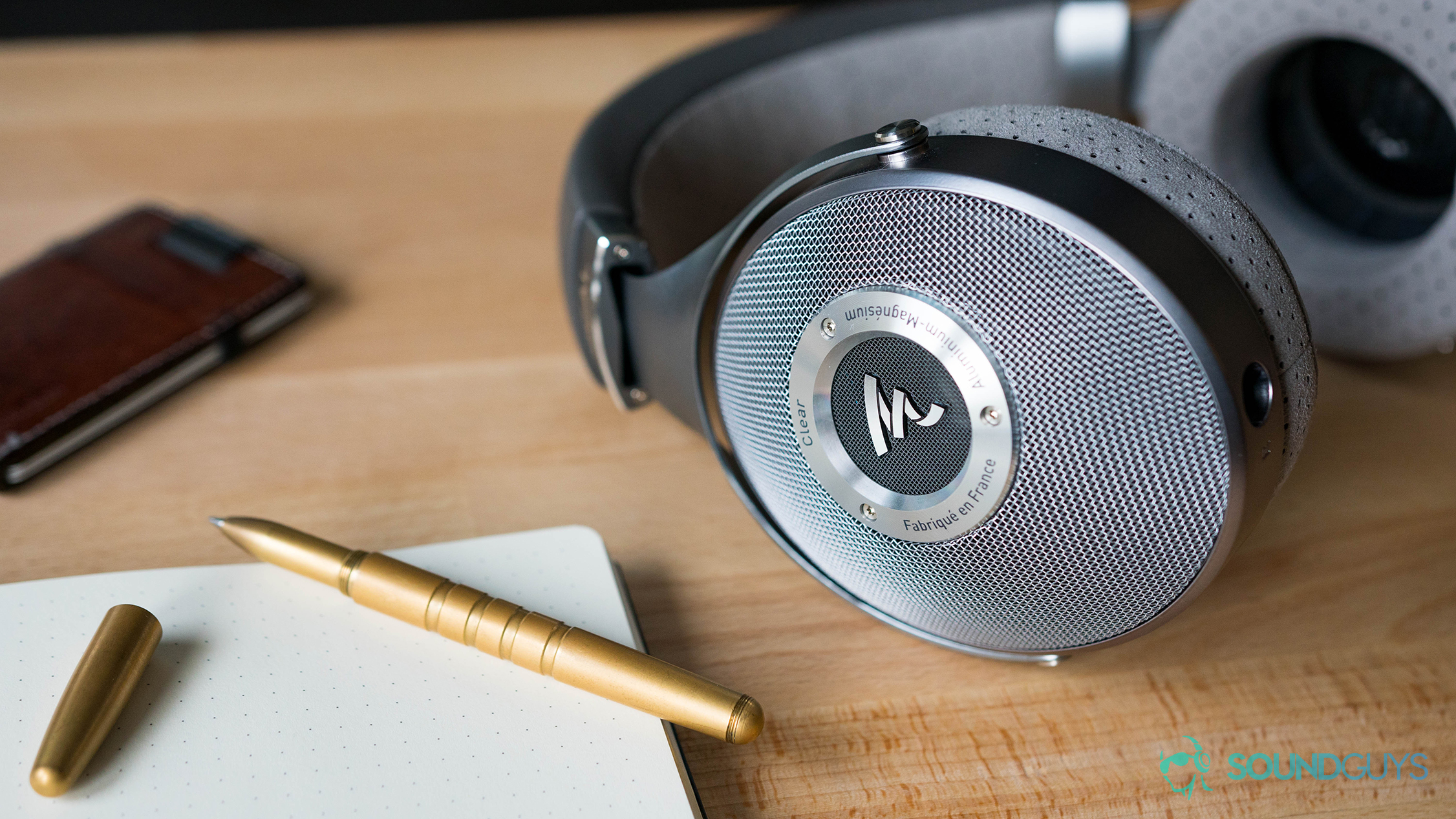 The Focal Clear headphones sitting on a desk
As far as connections go, Focal made sure to provide almost every kind of connection in the box with three different kinds of cables. All three cables are covered in a beautiful, durable fabric, and they all get plugged into the bottom of each earcup via 3.5mm connectors. On the end of the cable is where you get the options. One of them ends in another 3.5mm connector so you can plug them into your average mobile media device and is roughly 4 feet long. Because these have an impedance of 55Ω (and a decent sensitivity), I had no problem playing them just straight from my Android phone. If you do have a headphone amp: power to you, but you probably don't need one here unless you're using a standalone DAC.
These headphones are kind of large, but comfortable
But besides that, you'll also get two more cables, each 10 feet long. One of them ends in an XLR so you can plug into higher end equipment or interfaces, while the other ends in a ¼" jack. So whatever you're going to be using to listen to your music Focal has you covered here with three high quality options.
Sound Quality
When it came to testing sound quality, I mainly used the cable that ended in a 3.5mm jack since that's what most of my devices have. I did do a little bit of listening via the ¼" jack plugged into my audio recorder for work, but that was about it. Now let's get into the reason why you should buy these headphones. The sound is just incredible.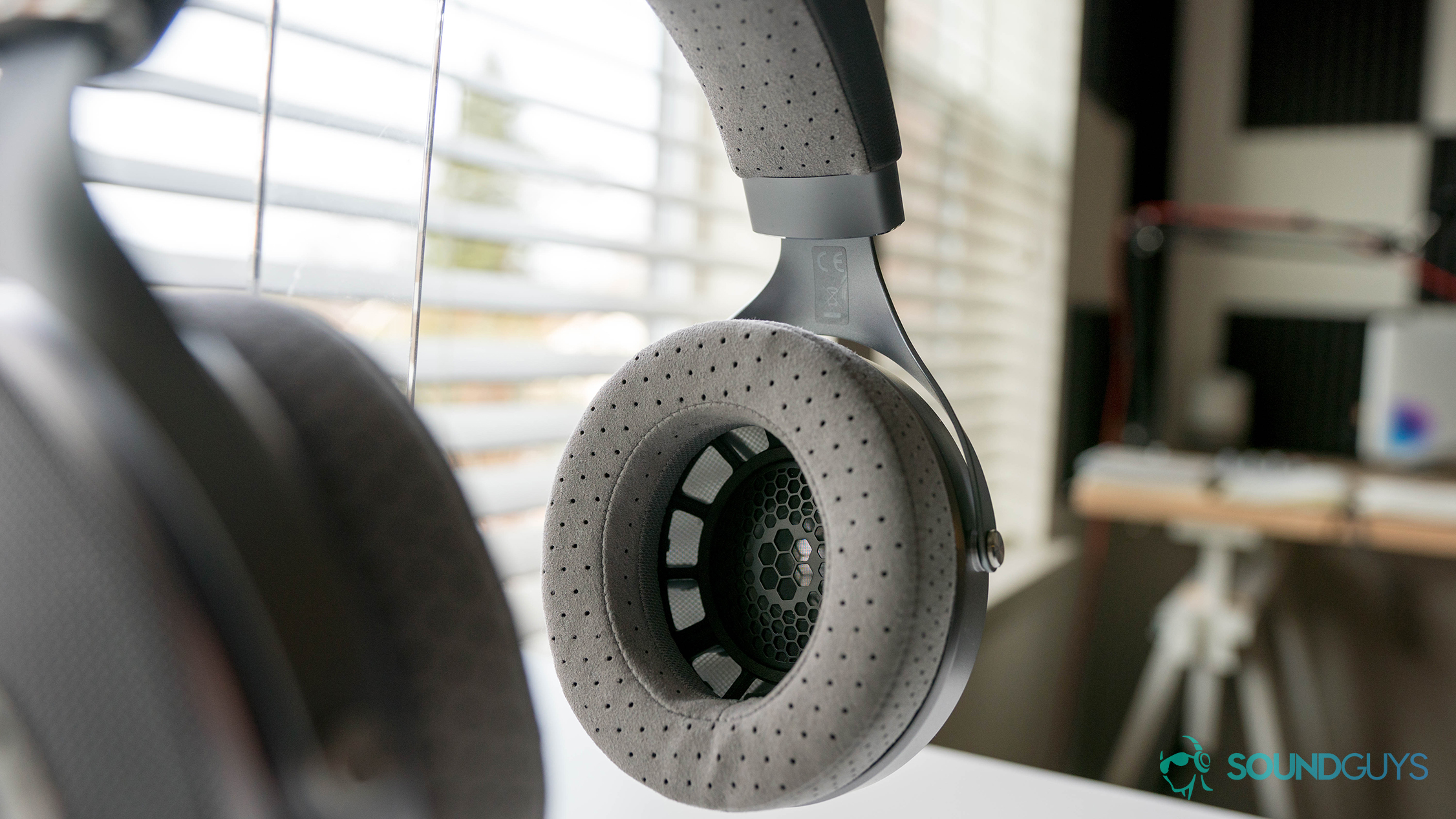 These are open-back so you get an amazing soundstage
My first experience with them was playing the song "In Us" by Lexie which starts with some guitar plucks descending into the main rhythm. When the song started it gave me a bit of a jump because the soundstage is just that good. It sounded like the plucks were coming from right next to me.
Bass kicks also push a good amount of air making giving them just the right amount of power, so if you're an intense bass head you won't like these. But if you consider yourself more of a bass connoisseur then these are magnificent. You can really hear this in the song "Plants" by Crumb which features the drums prominently throughout the song.
That same level of detail extends all the way up throughout the vocals in the middle and the cymbals and hi-hats in the highs. Everything benefits from the space you get with open-back headphones, but these somehow take that to another level in the same way that the Utopia did but for way less money.
Conclusion
If you couldn't tell, I love these headphones. Now don't get me wrong I know $1500 is a high price tag for anyone (high might even be an understatement), but I'm still going to be adding these to my wish list. These aren't an everyday pair of headphones for the average commuter; these are for the person who loves their audio setup and wants their listening sessions to be an experience.
The best part of these is that they're almost attainable. I've come to terms with the fact that I'll never be able to buy the $55,000 Sennheiser Orpheus that I got the chance to listen to at CES last year. Similarly, I don't think I'll ever be able to justify purchasing the Focal Utopia headphones unless I hit the lotto, but at $1500: the Focal Clear headphones are both amazing and decently priced for what you get. It's my new grail pair of headphones. My list of grail items isn't very long, only consisting of a pilot watch, a gorgeous knife from Mission Workshop, a zoom lens that puts the "L" in luxury, and my recently acquired OP-1 synthesizer, and now I can add the Focal Clear headphones to that list.