All products featured are independently chosen by us. However, SoundGuys may receive a commission on orders placed through its retail links. See our ethics statement.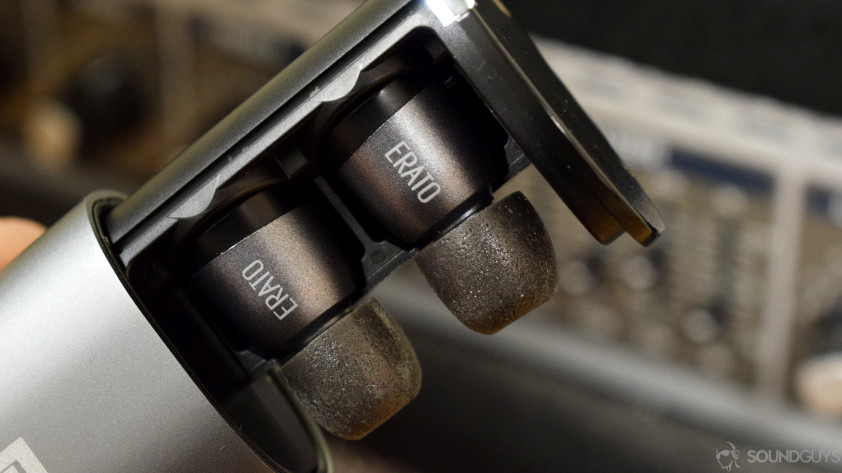 The bottom line
The Apollo 7's design and accessories are top notch, but Bluetooth, battery, and bass drawbacks push the pair into overpriced territory.
The Apollo 7's design and accessories are top notch, but Bluetooth, battery, and bass drawbacks push the pair into overpriced territory.
What we like
No wires
Plenty of ear tip options for fit and comfort
Charging case is well built and packs plenty of juice
Solid construction and IPX7 rating
What we don't like
Earphone battery life could be better
Low end can pack a punch, but lacks finer detail
A little on the expensive side
Rating Metric
Bass
7.3
Midrange
8.8
Highs
8.4
Durability / Build Quality
9.5
Value
7.0
Design
8.0
Microphone
7.5
Portability
9.5
Battery Life
6.0
After launching a successful Kickstarter last year, Erato Audio Technology's Apollo 7 arrived looking to show the audio industry how truly wireless headphones should be done. Completely doing away with cumbersome cables is at the heart of the Erato Apollo 7 design ethos, resulting in two separate earphones that use Bluetooth not only to communicate with your media player of choice but also with one another.
Entering an expensive market segment that's struggled to perfect the wireless formula is a tough challenge to rise to, so can the crowdfunded Erato Apollo 7 finally buck the trend?
What's Inside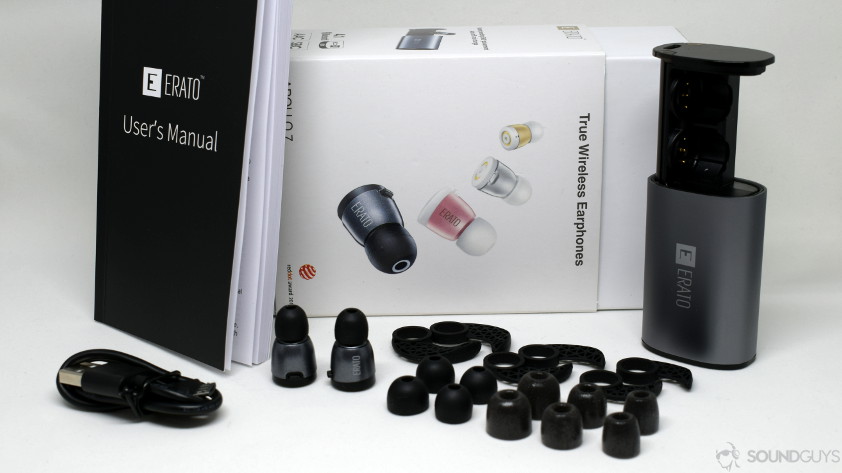 Erato has stuffed in all the extras that you would expect to accompany a $299 recommended price tag into the Apollo 7 box. Most notable is the unique charging case, which is required to store and repower the earphones. The case's aluminum finish has a nice feel to it and it's a simple job to push open the box and clip the earphones into place so that they won't fall out when you open the case later.
There's a wide selection of tips included, which come in three sizes – small, medium, and large. The box contains three standard rubber pairs and three foam tip variants that are designed for additional comfort and extra noise isolation. I definitely prefer the latter set, even if they are rather fiddly to actually fit on the earphones. You'll also find three different sized sport stabilizers in the box, and Erato provides a micro-USB cable for charging the case as well.
Build & Design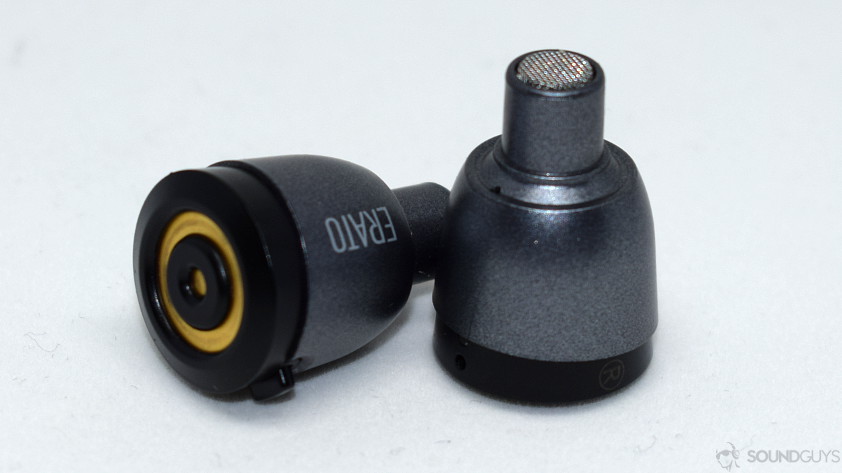 The look of the Erato Apollo 7 is rather conventional but it's construction is more than sturdy enough to withstand a drop or two. However, the design is somewhat bulkier than your typical wired earphones. Despite the size, each Erato Apollo 7 earphone weighs just 4 grams, making them lightweight and easy on the ear, even after a prolonged listening session. The plastic construct is finished with a "nano-coating" that provides an IPX7 rating for water resistance, which is certainly an added bonus.
Each earphone houses a small on/off button that doubles up as the function control for play, pause, etc. The pair are charged in their case via a patented ring connection design on the back side of the body, so there aren't any USB connectors to be found on the earphones themselves.
Connectivity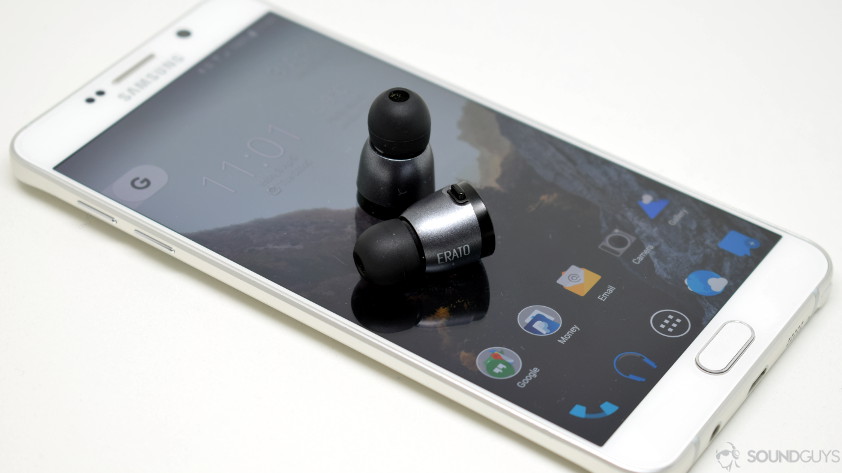 We really like the Erato Apollo 7 truly wireless earbuds.
Despite being a truly wireless pair of earphones, connecting the two up to a media device is a cinch. Simply pair up one of the two with your phone, laptop, etc, and then turn the other one on. They will then automatically be paired up as a stereo set. You can even use just one 'bud as a headset if you want. Once paired, I didn't have any problems quickly reconnecting them up to my phone.
The wireless connectivity features offer the full suite of pause, play, skip, and even volume controls, which are all operated from the single power button located on each earphone. Siri and Google Now / Assistant are also supported, if your smartphone has the necessary software.
After a few days of testing, the Erato Apollo 7 seems to offer a reasonable Bluetooth connection most of the time, although I noticed a number of bothersome drops. We're not talking complete disconnections, but music can skip every now and again, and I've had one earphone drop out and quickly reconnect a couple of times. The manual does indicate that you should position the earphones in a particular way to maximize antenna strength, which is a detail we'd obviously rather not to have to bother with.
Speaking of connectivity, the Apollo 7 supports a selection of Bluetooth codecs – the regular SBC, AAC, and Qualcomm's aptX. Most Android smartphones support aptX, while Apple offers its customers AAC transfers. Given that SBC quality can vary between devices, aptX and ACC are definitely the more consistent options and features that I'm glad to see included.
Battery
Erato's Kickstarter page claims that the Apollo 7's battery life offers a reasonable 3 hours of music playback and 4 hours of talk time, but the reality is less compelling. Over the course of several timed listening sessions the earphones consistently piped up to tell me that the battery was running low at around the two hour mark, with the best and worst results coming in at around 15 minutes either side. Perhaps it's possible to extend this listening time closer to the promised three hours, but certainly not at volume levels that you'll be able to hear while out and about.
Fortunately that should be enough time to last a lengthy commute and the portable charging case means that you'll be able to power up the earphones again before heading home. From empty, it takes just under 1 hour 30 minutes to charge the Apollo 7 to full. You'll also receive two full earphone charge cycles before needing to top up the case battery.
Sound Quality
AAC and aptX codecs are supported by the Erato Apollo 7 truly wireless earbuds.
Right off the spec sheet, the Apollo 7's tiny 5.8mm "micro-driver" looked likely to struggle with bass reproduction and this is my only real complaint about the earphones' sound. This isn't to say the Apollo's sound dull or quiet in bass heavy tracks, but, depending on the seal I could achieve with the various tips, the bass could swing from lackluster to a tad boomy across a variety of tracks.
Fortunately drums sound nice and tight with a discernible snap and there's plenty of volume, but the earphones struggle to drive the very low end in a way that brings out the important detail and tone in rumbling bass lines. Your milage may vary if you can squeeze the canal design a little further down your ear for some additional proximity effect, but that proved uncomfortable for me. In the end the foam tips provided me with the best balance of seal, comfort, and results, but my overall impression is that the bass reproduction isn't as good as other in-ear models at this price point.
Given the so-so bass, the mids form the prominent force in the Apollo 7's presentation, and fortunately there's good balance to be found here. Vocals sit nicely on top of other instruments, but there's still plenty of space and definition to pick out details across background instruments. Clarity in bass heavier tracks can sometime suffer as low boom drifts into the mids, but you have to be very picky to find faults here.
The highs seem just as well balanced as the mids, providing a great sense of space and reproducing finer instrumental details. There aren't any problems with clarity here, as cymbals crash and decay with the expected vibrancy. At higher volumes the highs and upper mids can become a little harsh, but you'll have to practically deafen yourself before this becomes an issue.
Conclusion
The Erato Apollo 7 boasts a number of ambitious features and commands a hefty price tag as a result. The waterproof design, range of accessories, and portable charging case are excellent touches that help these truly wireless headphones stand out from its competitors.
However, the execution on the audio side doesn't quite do enough to justify the premium price tag, which is very unfortunate. The occasional Bluetooth connectivity drop and sub-par battery life sours the experience, while lower cost wired and wireless headphones can provide a superior sound. That being said, there's a good product here that does offer a compelling experience for those who want to completely break free of wires.