All products featured are independently chosen by us. However, SoundGuys may receive a commission on orders placed through its retail links. See our ethics statement.
Apollo 7 earbuds aim to be truly wireless, for real this time. 
A new Kickstarter for the Apollo 7 earbuds hopes to make truly wireless earbuds a functioning reality for the masses.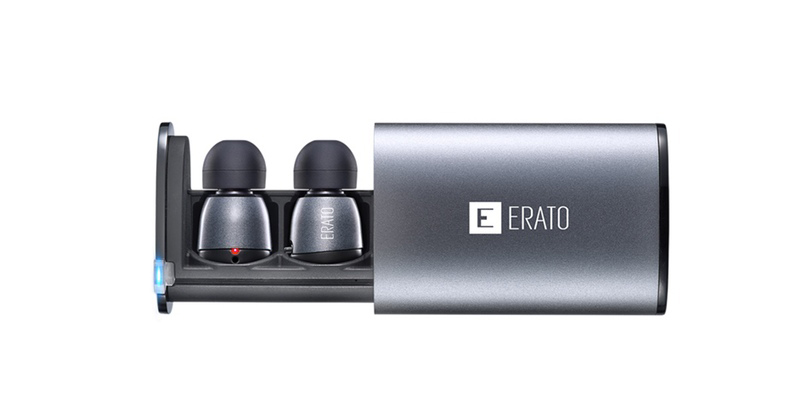 We've seen plenty of earbuds that try to ditch wires all together, including some like the Bragi Dash and Earins which are already for sale. The common theme between truly wireless earbuds thus far has been that – well they're not too good. Bluetooth has a hard time getting through something as solid as your body under normal circumstances, let alone two small earbuds. If you need proof just connect to a Bluetooth speaker, put your phone against your chest, and then turn around. But a new Kickstarter has popped up by Erato Audio Technology for their Apollo 7 earbuds which claim to have finally gotten it right.
Unlike the Bragi Dash these don't offer much in terms of fitness tracking or any other cool features, instead opting for the Earin approach of simply being good at playing music. The Apollo 7 earbuds have Bluetooth 4.1 with aptX which is supposed to increase the quality of the audio that is being streamed. They have a single button on the earbud that lets you play/pause, skip tracks, or change volume simply by holding or tapping the button a certain amount of times.
The Apollo 7 earbuds look and function in the same way that many, if not all of their competitors do. They're two independent earbuds with a 3-hour battery life that comes with a charging/storage case to give you an extra boost if you're using them on-the-go. It has enough power to fully charge the headphones twice before needing to be recharged itself. Long flights might be an issue if you have to spend an hour or two waiting for your headphones to recharge, but if you have a somewhat average commute time then 3 hours isn't too bad.
$250 is fairly expensive for a pair of headphones in a market that seems to be struggling with getting it right.
In terms of design and functionality there's really nothing new here, except that they might actually work. Sean O'Kane with The Verge said that the microphone quality was actually great compared to something like the Bragi Dash and Jacob Kleinman with TechnoBuffalo has admitted to being "smitten" with the Apollo 7 'buds. Both did mention that there was some kinks that needed to be worked out before the final versions ship in June to backers, but prototypes getting any kind of positive attention is always a good sign. That said, $250 is fairly expensive for a pair of headphones in a market that seems to be struggling with getting it right.
When released, these will retail at $299 but you can get a pair for less if you back the campaign and select one of the many perks that they have. The Apollo 7 comes in silver, gold, grey, and of course rose gold so you can match it with whichever color phone you own. There is also a Kickstarter exclusive Satin Black edition, but it will be limited to only 200 units so make sure to go grab one if you're entered. The campaign is almost 60% funded at the time of this post and still has a solid 28 days to go.