Affiliate links on SoundGuys may earn us a commission. Learn more.
Denon announces the HEOS HomeCinema
Denon has just announced a new product called the HEOS HomeCinema which will make movie night sound that much better.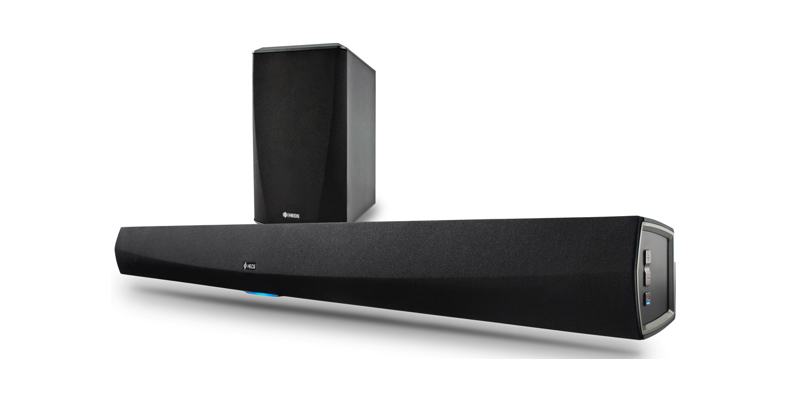 Denon has been quietly stirring up the home audio industry with their HEOS line of home audio products. Last month they announced the HEOS 1 wireless speaker, but that was just the tip of the iceberg. The newest additions to the HEOS line-up are a wireless soundbar and a wireless subwoofer which together go by the name of the HEOS HomeCinema. The soundbar and subwoofer give any flat screen TV sound quality to take your movie experiences to the next level.
As far as sound goes, the wireless soundbar has dual drivers that provide clear midrange while also dipping into the upper bass so that vocals are crispy clear. Pair that with two 20mm tweeters that can reach up to 20kHz and the soundbar alone would be a welcome addition to any quality set-up. The subwoofer on the other hand does what a good sub is supposed to do, which is provide solid bass. The dual 5 1/4 inch woofers get the job done and can even be adjusted via the HEOS app just in case you want a little less bass during the explosion scenes.
The HEOS HomeCinema can connect in a multitude of ways, so if you have a TV that was made in the past decade chances are it'll work with it. It has an HDMI in and out along with optical and digital coaxial inputs. Inside are decoders that work with Dolby Digital, Dolby Digital Plus, and DTS so if you want surround sound they have it covered.
Since they're speakers you can easily play music from your source device through them as well via the HEOS app. Keep in mind that they are not Bluetooth compatible (it does have an aux input however), so you will need to be connected to your home Wifi in order for that to work. That said, hopefully there aren't too many people out there trying to take a soundbar too far from the house just to play some music. For that, you might want the HEOS1. Just in case the only place you can put the soundbar is in front of your TV's IR sensor, it also has an IR sensor built-in so that's a headache you won't have to worry about.
The HEOS HomeCinema is just one of many products that Denon has in it's audio line so if you're looking for an entirely new set-up definitely check out the rest of their products. As for the HomeCinema, it will be available sometime in July for $799. Just make sure we get an invite for your next movie night.