All products featured are independently chosen by us. However, SoundGuys may receive a commission on orders placed through its retail links. See our ethics statement.
Denon announces the HEOS 1 and HEOS 1 Go Pack
Denon has announced their new HEOS 1 wireless speaker, an affordable step into the world of premium home audio.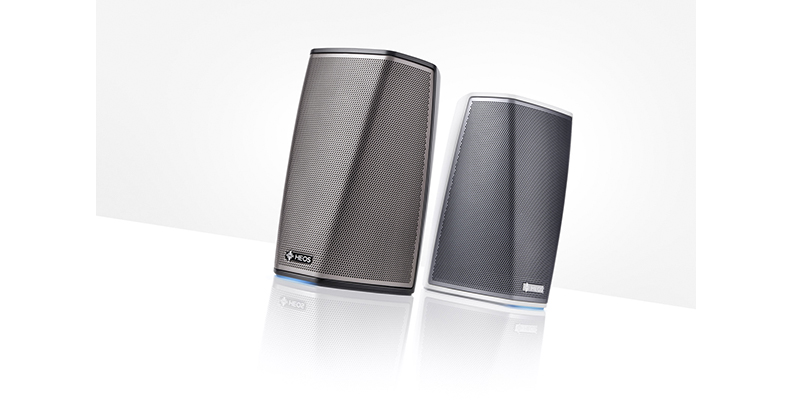 Today was a big day for Denon as they announced their newest addition to the HEOS line-up with the HEOS 1 wireless speaker. The new multi-room speaker is one of the first that you are able to use both indoors and outdoors, and at a very affordable price point. It's the "entry-level" speaker to an audio ecosystem that Denon is creating with their HEOS line.
Being a multi-room speaker the HEOS 1 piggybacks off of your home Wi-Fi for functionality, at least it does initially. By itself there is no Bluetooth present and needs to be plugged in to an outlet via the included AC power adapter in order to use it at all. That said, if you want a little more portability out of your speaker Denon also announced the HEOS 1 Go Pack. This is an optional $99 accessory kit made specifically for the  HEOS 1. It comes with a 6 hour rechargeable battery (so you can ditch the wall-hugging AC adapter), a Bluetooth USB adapter, and a splashguard that makes it IPX4 certified. Keep in mind that it's not meant to be left outside indefinitely, but it will protect the speaker enough that a splash or some rain won't do any damage.
To stream music to the speaker you will have to download the free HEOS app which gives you full control of your multi-room system. The app has three main tabs: rooms, music, and now playing. The rooms tab allows you to pick the speaker that you wish to play music through, along with volume controls. If you have more than one HEOS speaker you'll be able to control all of them through the app. In party mode, you can group multiple speakers together so that they all play the same song. On the flip side you can also have them play different songs, just in case your party guests can't agree on what to listen to.
The second tab is for music, and it is here where you'll be greeted with a selection of multiple music streaming services such as Spotify, Pandora, Rdio, Sirius XM, and many more that Denon says will be coming soon (Tidal). The third tab is the now playing tab which, as it's name implies, allows you to see what's currently playing in any given room. You can also create and save playlists from here.
As for the speaker, it's dimensions are 7.4 x 5.08 x 5.04 (inches) and it weighs 4 lbs. This doesn't make it the most portable speaker we've ever seen, but it's definitely not cumbersome by any means. The HEOS 1 has advanced Digital Signaling Processing (DSP) and dual class D amplification which helps give the two all-important speaker drivers the support they need for high quality audio. One of which is a soft dome tweeter that takes care of all of the highs while the other is a mid-woofer, and takes care of everything else. Should you decide that you want two speakers you can also sync them together in stereo mode for seamless playback through your Wi-Fi network.
If this sounds like the speaker for you, here's the best part: it will retail for only $199. Sure the Go Pack is another $99, but that's only if you plan on taking it out into the world. Whether you want to add to your existing set-up or are simply looking for a way into the home-audio game, the HEOS 1 wireless speaker seems to be a solid bang for your buck option.
It will come in both black and white color options so if you're a minimalist it will most likely fit nicely on your desk or bookshelf. Hopefully we'll be able to provide you with a more in-depth look at the HEOS 1 when it is released sometime in June of this year (wink wink).