All products featured are independently chosen by us. However, SoundGuys may receive a commission on orders placed through its retail links. See our ethics statement.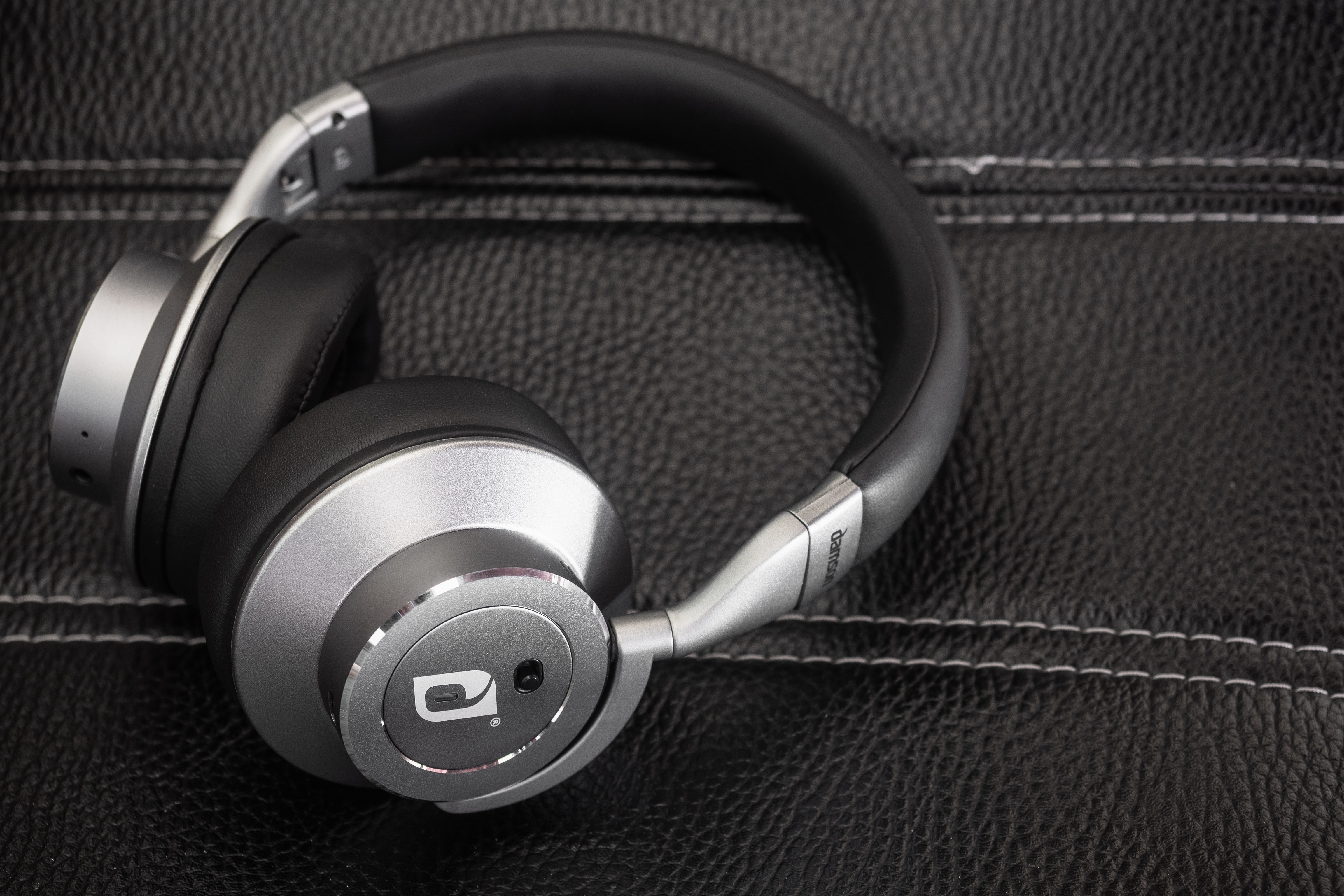 The bottom line
As long as you keep your expectations realistic concerning the Damson HeadSpace's active noise-canceling capabilities, you'll be satisfied with these cans.
Damson HeadSpace
As long as you keep your expectations realistic concerning the Damson HeadSpace's active noise-canceling capabilities, you'll be satisfied with these cans.
What we like
Great value<br>
Easy to transport despite size<br>
Good included case<br>
Multipoint connectivity<br>
What we don't like
Finicky connectivity<br>
Heavy<br>
Audible hiss present, despite "hiss-free" technology<br>
Controls hard to differentiate<br>
Rating Metric
Sound Quality
7.3
Bass
7.4
Midrange
7.1
Highs
7.4
Durability / Build Quality
8.8
Value
8.1
Design
8.0
Microphone
7.8
Portability
8.3
Battery Life
8.2
What started off as an Indiegogo campaign has come to fruition as a value-packed pair of Bluetooth active noise-canceling headphones: the Damson HeadSpace. All-metal construction constitutes the HeadSpace, which is outfitted with multipoint technology, a large control panel, and a 10-meter Bluetooth range.
The UK-based company was able to raise $202,209—638 percent of Damson's original fundraising goal. So does money speak or will the HeadSpace be another forgotten crowd-funded product?
Who are they for?
Listeners who want the benefits of active noise-canceling headphones without the financial drawbacks. Though Damson isn't a household name like Bose, the active noise-canceling capabilities exceeded my expectations for less than half the price of the Bose QuietComfort 35 II.
Those who want a great bang for their buck by investing in durably built headphones with replaceable parts. Aside from being a feature-packed set of cans, the Damson HeadSpace ear pads can be swapped out at any time.
What's included with the Damson HeadSpace Active Noise-Canceling headphones?
The Damson HeadSpace come packaged in a soft-touch, hard-shell case.
Aside from the headphones themselves, you get a micro-USB charging cable, a 3.5mm auxiliary cable, and a hard-shell carrying case. The zippered carrying case features a matte finish, and its convex form is compact enough to fit into a medium-sized bag without worrying about leftover space.
How are the Damson HeadSpace Active Noise-Canceling headphones built?
The all-metal construction gives the Damson HeadSpace a substantial amount of heft; 322 grams of heft to be exact, but who's counting? Though the added weight can be burdensome compared to the featherweight Bose SoundLink On-Ear headphones, it makes the headphones feel premium and durable. I like that "cold to the touch" feel that all-metal headphones have, but perhaps that's just a consequence of having clammy hands.
Initially, expanding the headband is a stiff process that require some elbow grease, but this gets easier over time.
Despite the weight of the Damson HeadSpace, they're quite comfortable for average-length listening sessions. Once, I enter one-and-a-half-hour territory, however, the crown of my head begins to ache. This could be remedied by improved headband architecture, but that would likely call for increased funding to the R&D department. In all fairness, the headphones are easy to wear with glasses and don't cause unnecessary temple pain.
All-metal construction and replaceable parts means that the HeadSpace are built to last.
Aside from the main construction of the headphones being durable, the Damson HeadSpace sport replaceable synthetic ear pads. The included ear pads are plush and ~0.5in thick and replacements can be had for just $9.99. Now if only Damson could add a bit of that cushioning to the headband…
Playback controls could use some work
The aesthetic design of the playback controls is fine, but the ergonomics are sub-par—despite the large size of the controls. Each button, including the Bluetooth toggle, sits flush with all the others. Though it makes the ear cup look sleek, pressing the buttons turns into a guessing game. And if you happen to be wearing gloves, forget about it.
Though the playback controls are evenly spaced and look nice, each one is flush against the other, making it difficult to blindly differentiate between them.
Criticism aside, once you manage to press the proper button, you'll notice that each gives a tactile response. The feedback is nice, and you're not left wondering whether or not you hit the button.
"These look large, can I travel with them?"
You're not wrong. They are large, but they fold up or flat for easy transport. If you're worried about them breaking, toss them in the carrying case. Otherwise, folding them to lay flat works just as well. Speaking anecdotally, I was never frustrated by the HeadSpace's size when coffee shop-hopping or walking out and about. The large ear cups serve to better isolate you from ambient noise, which improves overall audio quality.
Is the active noise-canceling any good?
Yes, within the context of the affordable price tag.
Located on the left earcup is the black active noise-canceling toggle switch. Unlike the playback controls on the right ear cup, this is easy to locate and control without looking.
How do noise canceling headphones work?
Guides & How-to's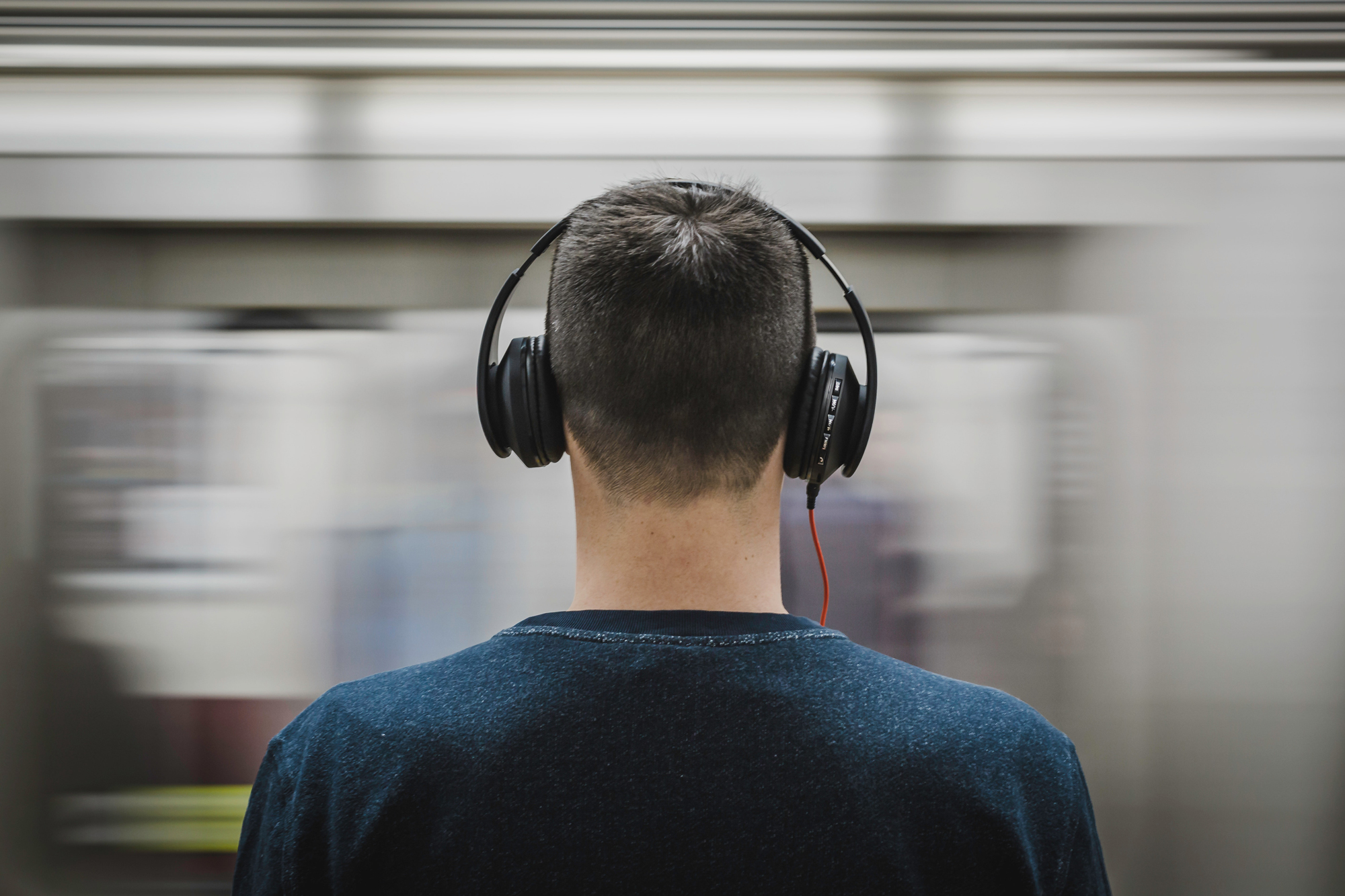 The headphones' XD Audio Technology effectively approaches low, predictable frequencies but struggle to combat higher frequencies such as voices and laughter. (If you're looking for concrete specs: They're able to attenuate background noise by a maximum of 28dB.) Fellow coffee shop patrons who spoke at a 10-foot distance from me came through robotic as a consequence of the selective frequency cancellation.
To give the HeadSpace some context, relative to the Plantronics Voyager 6200 UC active noise-canceling earbuds, these do fairly well. The Voyager 6200 UC outperform the Damson headphones when it comes to higher frequencies, but the two are comparable as it applies to low frequencies.
For the most part, the XD Audio technology lives up to its "hiss-free" advertising. Though it's still audible at nearly any volume level, it's a much less fatiguing sound than cheaper active noise-canceling models relay. That said, it was disappointing to say the least, especially since it detracts from the sound quality of the Damson HeadSpace.
How's the battery relative to other Bluetooth ANC headphones?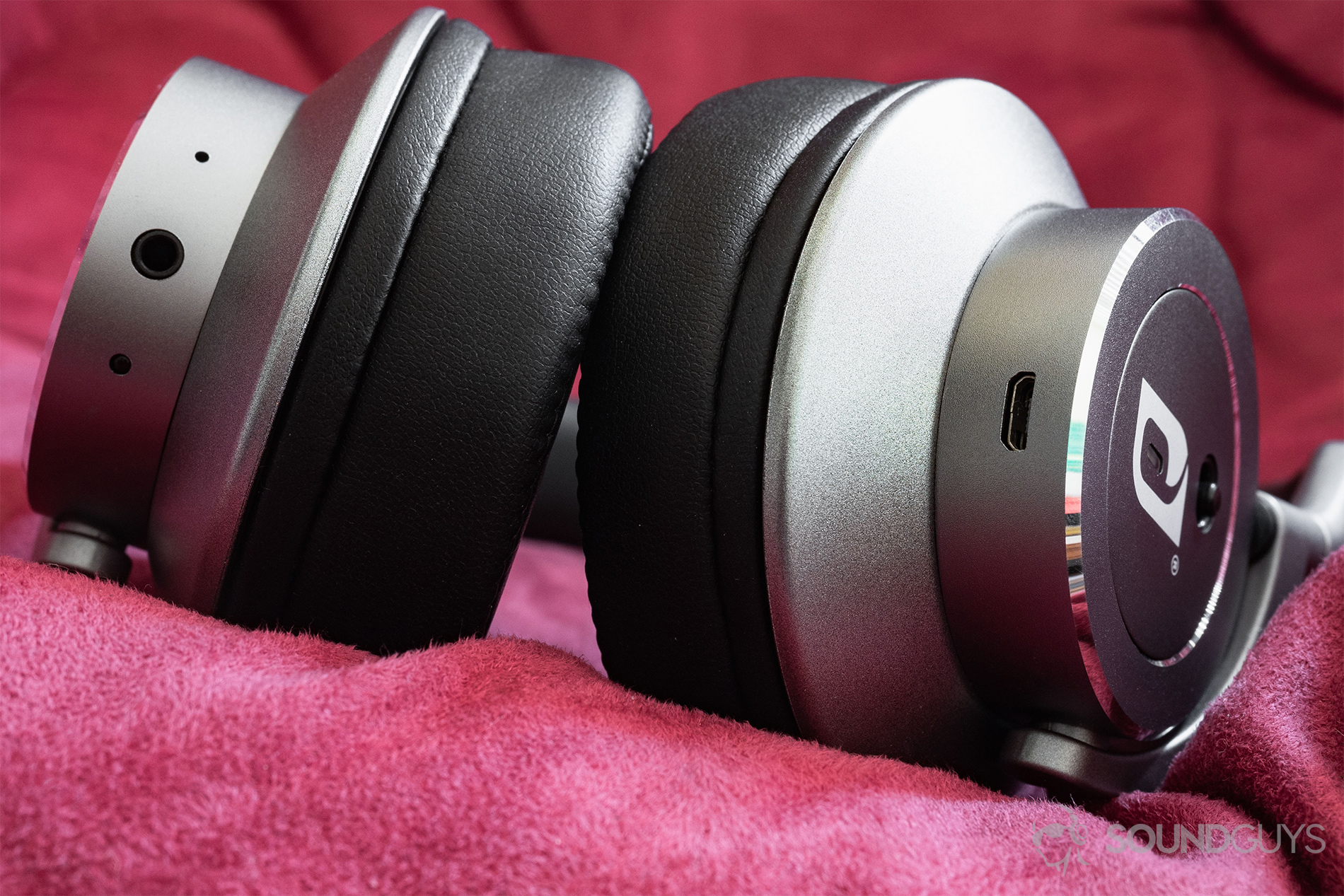 The Damson HeadSpace provide 16 hours of playback with ANC activated and take two or three hours to fully charge, depending on the power source.
The headphones provide 16 hours of playback with active noise-canceling turned on, which is great. What's more, despite the micro-USB charging mechanism, they don't take too long to complete a full charge cycle. Doing so takes anywhere from two to three hours depending on the power output.
Connectivity: Yay or nay?
Nay. Even if all else were perfect, the dubious Bluetooth 4.0 connectivity is disappointing at best. To illustrate this, imagine i f   thi s  ar tic le     w a s written like thi s. It would be annoying, and the frequent audio interruptions are too.
Multipoint connectivity, on the other hand, is a plus. The Damson HeadSpace are able to switch between two devices with ease. The process is identical to other multipoint-enabled headphones—just pause on the current device and hit play on the desired device.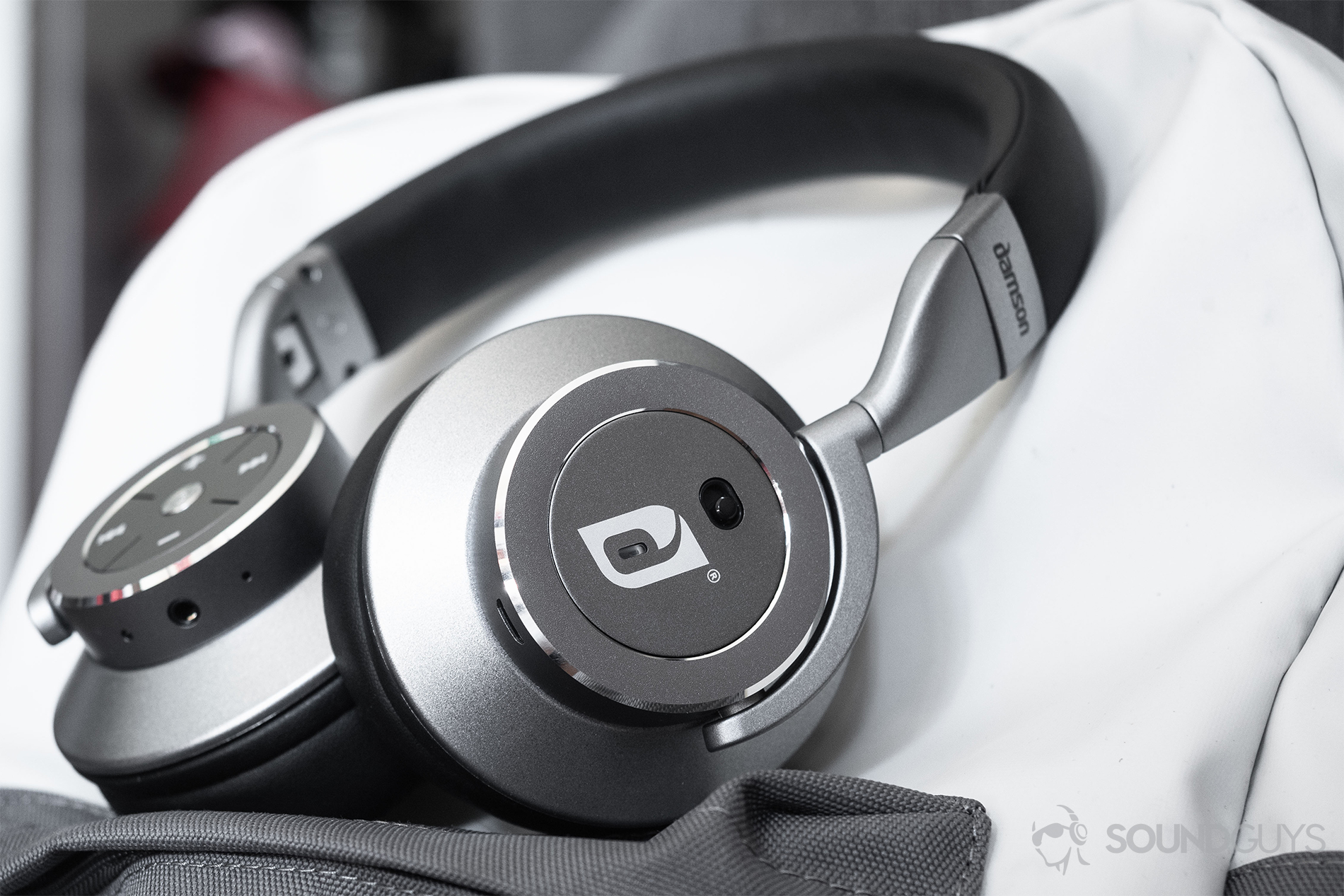 Unfortunately, the Damson HeadSpace struggle to maintain a strong connection even when the source device is two feet from the headphones.
"I hate audio-visual lag. Is latency an issue with these?"
Yes. Though the HeadSpace are equipped with low latency Bluetooth 4.0, movie dialogue is awkward at best. Hopefully the next set of Damson cans includes aptX compatibility, but for now, this can be fixed by using the included 3.5mm cable.
How do they sound?
It's worth noting that these will sound best with the active noise-canceling turned on. Regarding soundstage these cans are impressive, though the Sennheiser HD 598 CS are still king of the hill for closed-back, circumaural cans in this price range. In Julep by the Punch Brothers, the muted strumming of the mandolin can distinctly be parsed from the violin, which is perceived to be behind and to the left of the mandolin.
Clarity won't blow audiophiles away but each note is relayed clearly enough for those with limited audio experience. Had the hiss not been present, I think the audio output would be much cleaner. Even then, though, the Beyerdynamic DT 240 Pro reproduce a much clearer sound. Not to mention that during moments of silence or string solos, however, a "dead air" hiss is transmitted.
The bass emphasis is audible but avoids flagrance. In Julep, the bass picking never masks over the violin and mandolin parts (2:41). As a consequence of the emphasis, the low end frequencies of Chris Thile's vocals are masked. This isn't a huge deal since the or folksy, orchestral instrumental takes precedence over Thile's voice, but it's something to be aware of.
Both ear cups rotate along the X and Y axes. This combined with the plush ear pads makes for a comfortable, albeit hot, listening experience.
If you like your bass powerful and clear, you may not be satisfied by the HeadSpace and probably won't be able to skimp on a pair of active noise-canceling headphones. But if you're able to tolerate the slight lack of clarity caused by a combination of bass emphasis and ANC-induced hiss, then these will be more than fine.
They're not great though. Thile's vocals are reproduced as recessed relative to the bass and treble. This is appropriate for the closing segment of the song where he sings, "tick, tick, tock to the time we used to wind it," but is frustrating during the verses and chorus, when his voice should be at the forefront of the song.
Mid-range frequencies are recessed, kowtowing to the emphasized low frequencies.
Though this isn't ideal for folksy, classic-infused music like the Punch Brothers' the under emphasis of the mid-range frequencies in favor of the bass and treble is beneficial for pop and hip-hop fans.
The highs are interesting because they receive a minimal amount of emphasis but still manage to sound less clear than they should. As the bandmates fingers slide up and down the necks of their instruments, a distinct, high-pitched slide noise can be heard. Sure, this sounds louder than through something like the M40x, but it lacks clarity that the same cans are able to provide.
Should you buy them?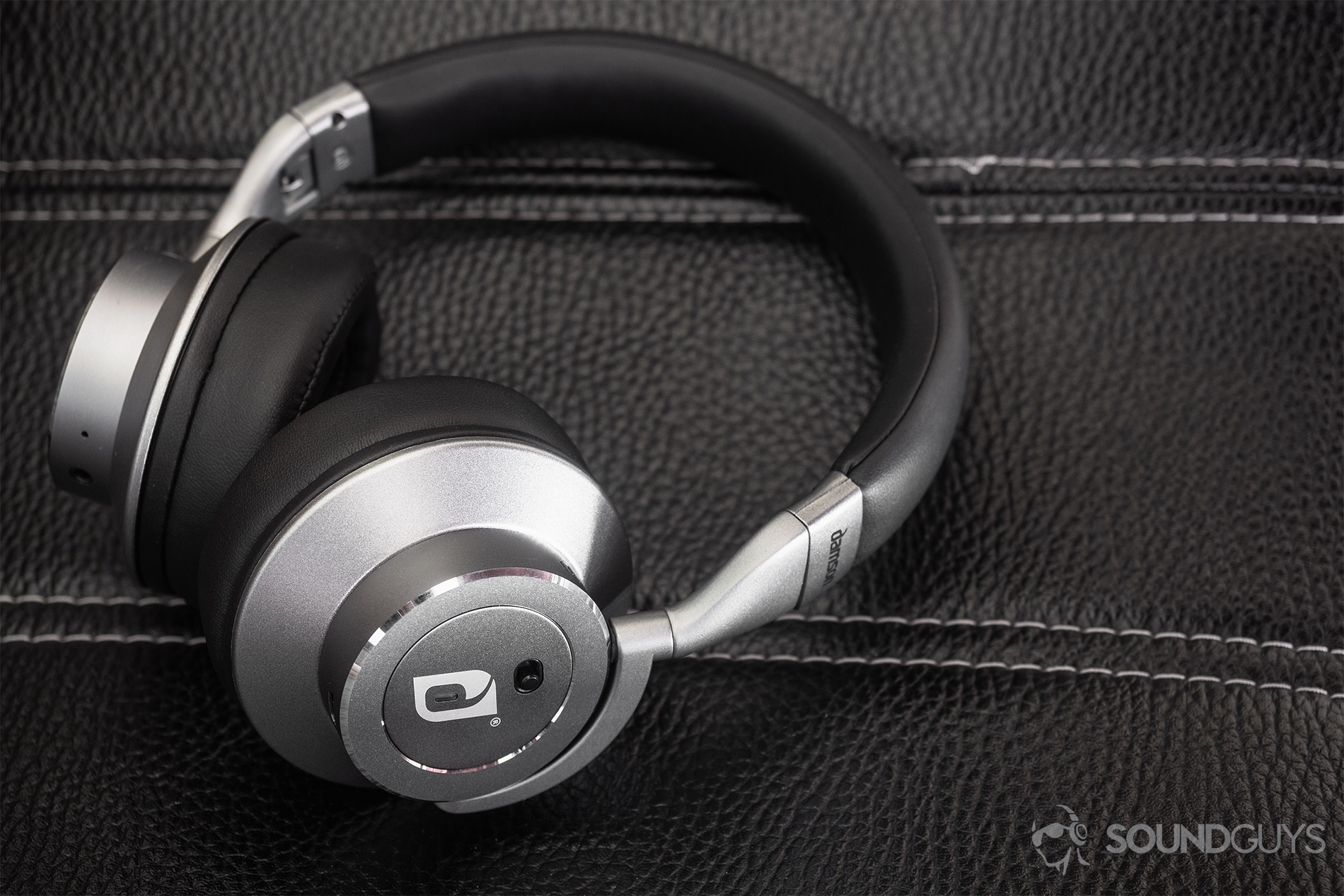 If you need a bargain pair of active noise-canceling headphones and can live with the finicky connectivity, then the Damson HeadSpace are a great, affordable option.
If the "who are these for?" section resonates with you then, yes; you'll be more than satisfied with the Damson HeadSpace, so long as you keep your expectations realistic in remembering that these are economical active noise-canceling headphones. On-brand competitors such as the Sony WH-1000X M2 and Bose QuietComfort II are each listed over $340 and do outperform the Damson HeadSpace, but they should with a $200 price difference.
Though the Damson HeadSpace still relays a hiss, as a consequence of active noise-canceling technology, there's no denying that these formidably counter predictable, low-pitched noises like air conditioners and car engines. If you want affordable active noise-cancelling, Bluetooth-enabled headphones, you'll be hard-pressed to find a better value than the sturdy Damson HeadSpace.