All products featured are independently chosen by us. However, SoundGuys may receive a commission on orders placed through its retail links. See our ethics statement.
Creative Sound Blaster Jam Review
The Creative Sound Blaster Jam are some of the least expensive wireless headphones we've tested, but they sound surprisingly good.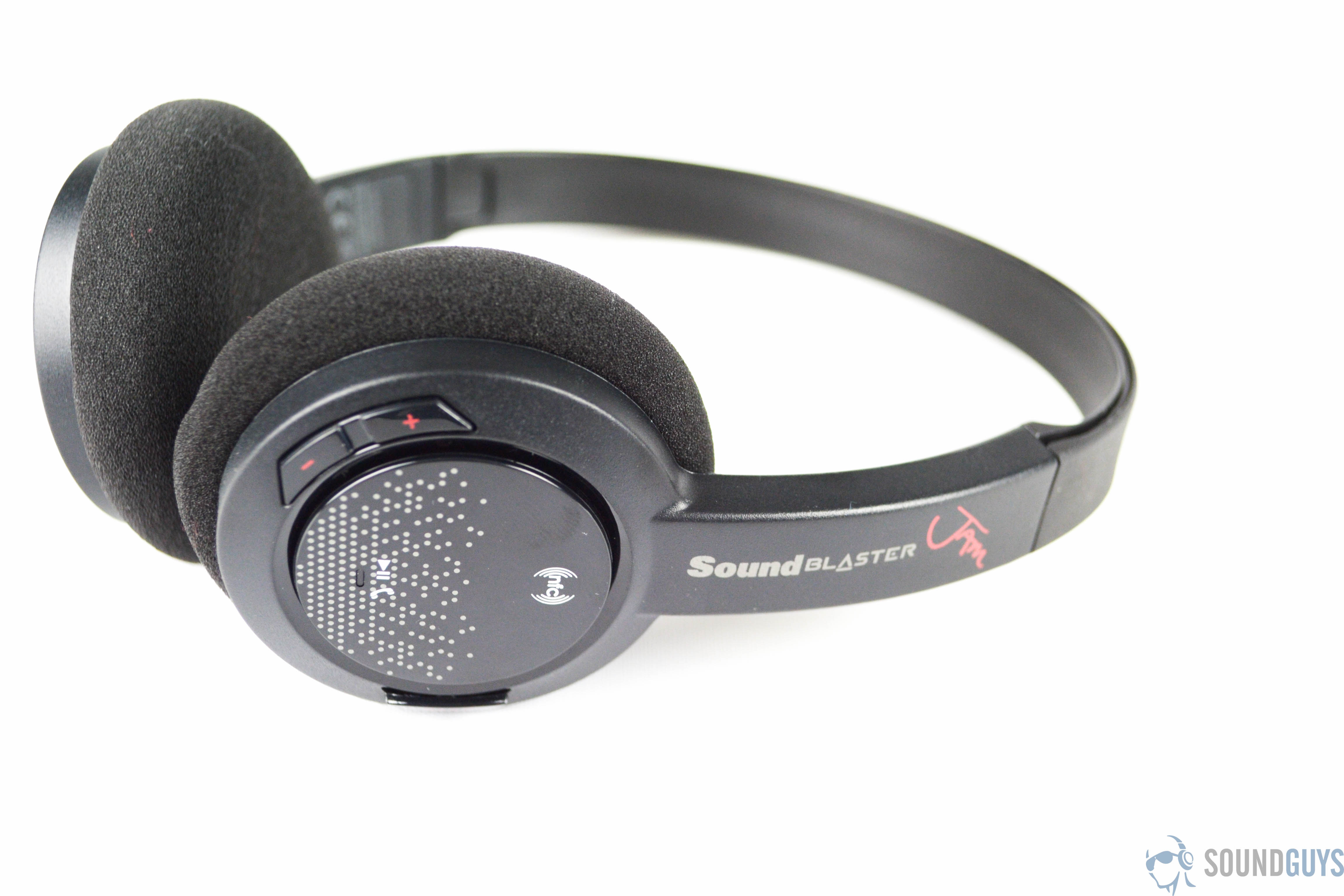 Before writing this review, I was having a conversation with fellow Sound Guy Adam Molina, and said that every time one of these super-inexpensive products from Creative arrives, I start out skeptical and end impressed. We wondered how long Creative could manage to keep that streak up.
The Creative Sound Blaster Jam seem too good to be true: a pair of Bluetooth headphones for under $50 that actually sounds good? It's something we'd love to see, but haven't so far. Can Creative keep up their winning streak?
What's In The Box?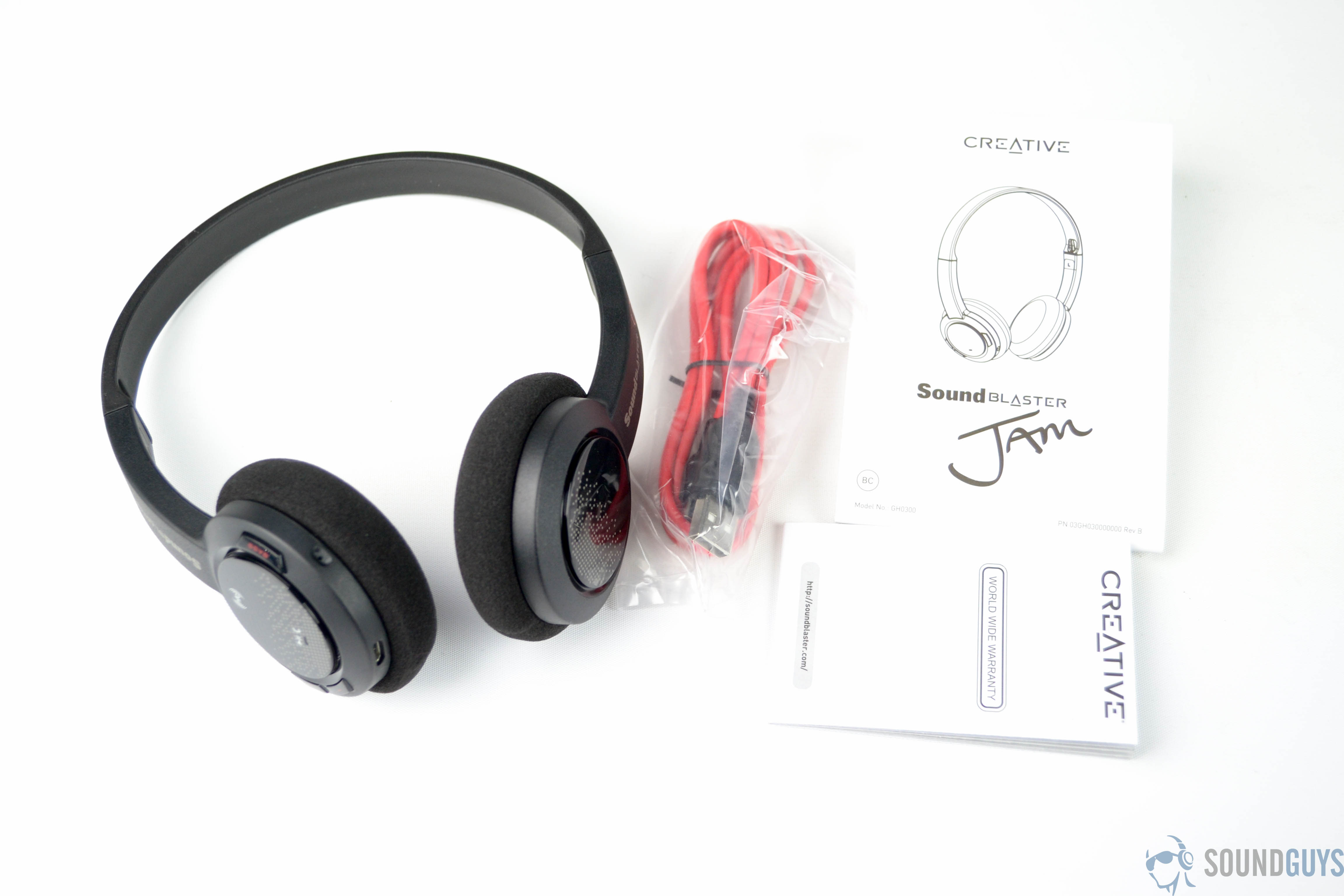 As with most inexpensive Bluetooth headphones, there isn't a whole lot in the box. You can see the headphones without even opening the box. Open it up and you'll find a plastic pouch that holds the manuals and USB charging cable.
Build & Design
Given the price, one of the first areas you're going to see the effects of the limited budget is the build quality. These aren't flimsy, but it's clear that Creative didn't spend more than they had to on the build and design of the Sound Blaster Jams.
These don't fold to travel, so be careful tossing them in a backpack, and there isn't an overabundance of padding on the ear cups. These were still comfortable enough — surprisingly so, actually — but if you're used to the more cushion-y ear pads on most modern headphones, this trip back to the '90s may seem a little strange.
There is also a slight hint of the '90s in the overall look of the Sound Blaster Jams, particularly the font used in the logo, but the slim build is still nice looking. This move against the overly bulky build often found in Bluetooth headphones is refreshing.
Connectivity
The Creative Sound Blaster Jams offer NFC pairing, but no matter how you pair it's a simple process. Again, given the low price these use the basic lossy Bluetooth compression — no aptX here. The range is 30 feet as usual, and I found that the headphones worked fine at the limits of this range, though a few solid walls in the way did make for some stuttering.
The buttons are located on the right ear cup. The main multifunction button is responsible for turning the headphones on and off and entering pairing mode in addition to pausing and resuming playback and answering and ending calls. Next to the multifunction button you'll find volume controls and a bass boost button. No track skipping controls are available.
Call quality was serviceable, but certainly wasn't the best we've ever encountered. If you're looking for a pair of headphones strictly for making calls, you'll likely want to look elsewhere.
Battery Life
Creative claims a battery life of 12 hours for the Sound Blaster Jams. WHile it varied from charge to charge, we found that we generally did hit somewhere around the 12 hour mark. We've seen better battery life, but considering the small size and light weight, this is actually somewhat impressive.
The Jams charge via USB, but no charger is included — just the cable. Using a generic charger, we found charge time averaged right around 2 hours.
Sound Quality
As these don't even include a 3.5 mm input jack, all of the testing was done connected via Bluetooth, though we did test with an iPhone 5s, Nexus 5, and a Windows laptop.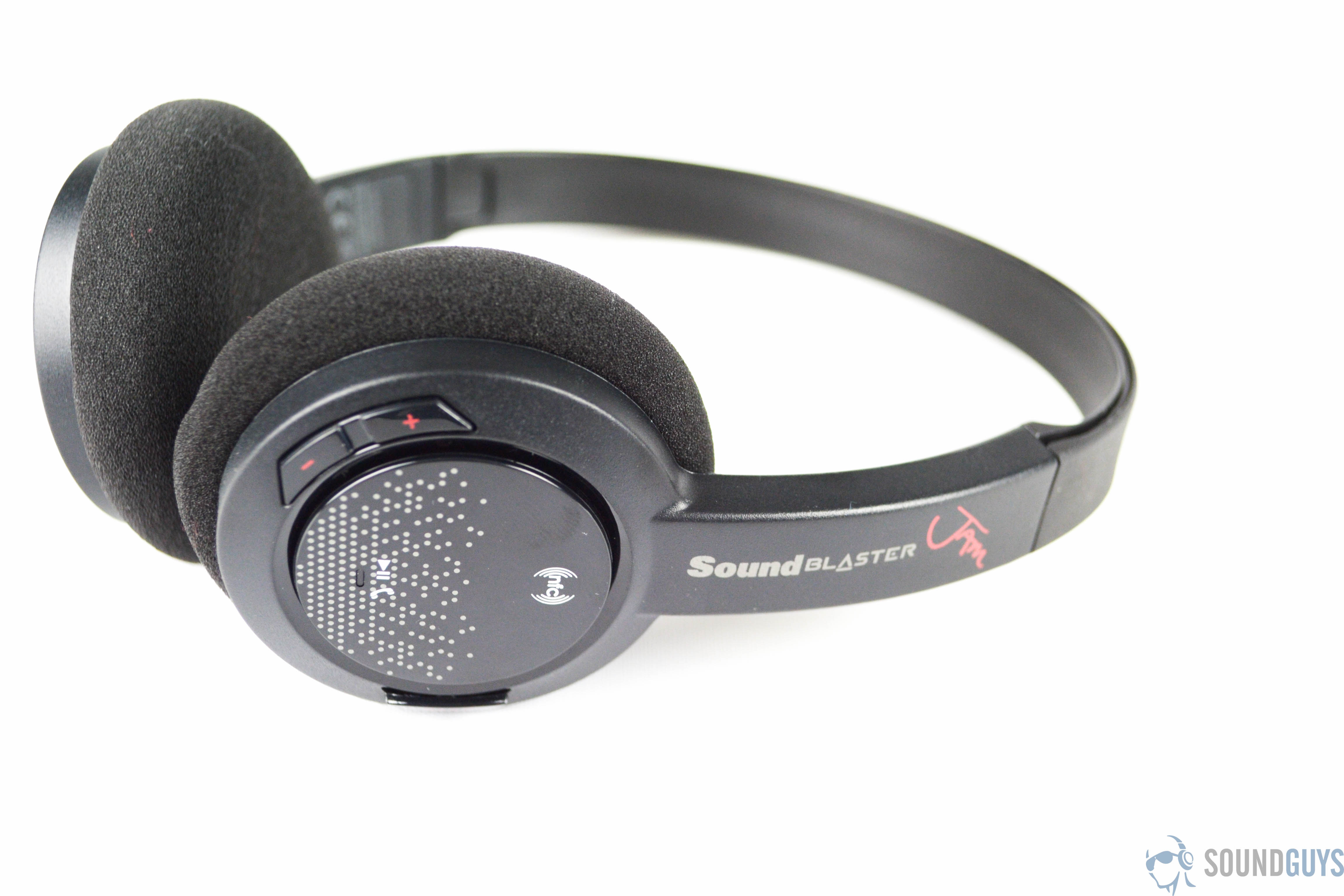 With the bass boost turned off, lows are serviceable but not great. Hitting the bass boost switch does sound better, but it sounds more like this boosts the upper lows and low mids than sub bass. There is no big thump here, but the bass doesn't sound anemic.
The mids are nice overall, though vocals can disappear in guitars on some songs. There was nice detail on clean electric guitars, though there was some harshness in the high mids as you push the volume higher.
As the highs cross over from the high mids, there is some lingering harshness, but the highs roll off at the top prevent ear-piercing whine. Details come through well enough, and the treble overall is fairly crisp.
Don't expect to listen to these on a crowded plane without your neighbors hearing what you're listening to, as the Jams do leak a fair amount of noise. Given the on-ear style, this is understandable.
Conclusion
One again, Creative has managed to produce a product that seems like it should cost more than it does. The $49 price on the Sound Blaster Jams is the list price too — it isn't even a discount.
No, these aren't fantastic. There are plenty of better options if you want to spend more, but finally there is a sub-$50 option for Bluetooth headphones that is actually worthwhile. That alone is impressive enough to earn these a recommendation.