All products featured are independently chosen by us. However, SoundGuys may receive a commission on orders placed through its retail links. See our ethics statement.
The bottom line
The outlier Sports wireless earbuds don't do enough to set them apart from the pack, but that doesn't make them a bad choice.
The outlier Sports wireless earbuds don't do enough to set them apart from the pack, but that doesn't make them a bad choice.
What we like
Battery Life
Price
IPX4
What we don't like
Average sound
Design not for everyone
Rating Metric
Sound Quality
7.2
Bass
7.4
Midrange
7.3
Highs
7.1
Durability / Build Quality
8.0
Value
8.0
Design
7.5
Microphone
8.0
Portability
9.0
Battery Life
8.9
Creative Labs has been around for a while, but they still haven't lost their touch. Usually when we bring up the company we're talking about their Bluetooth speakers (which are always impressive) or their bang for your buck Bluetooth on-ears (also impressive). This time however we're taking a look at their Bluetooth in-ears: the wireless Outlier Sports. Are these just as impressive as some other Creative products or are they a flop?
What's Inside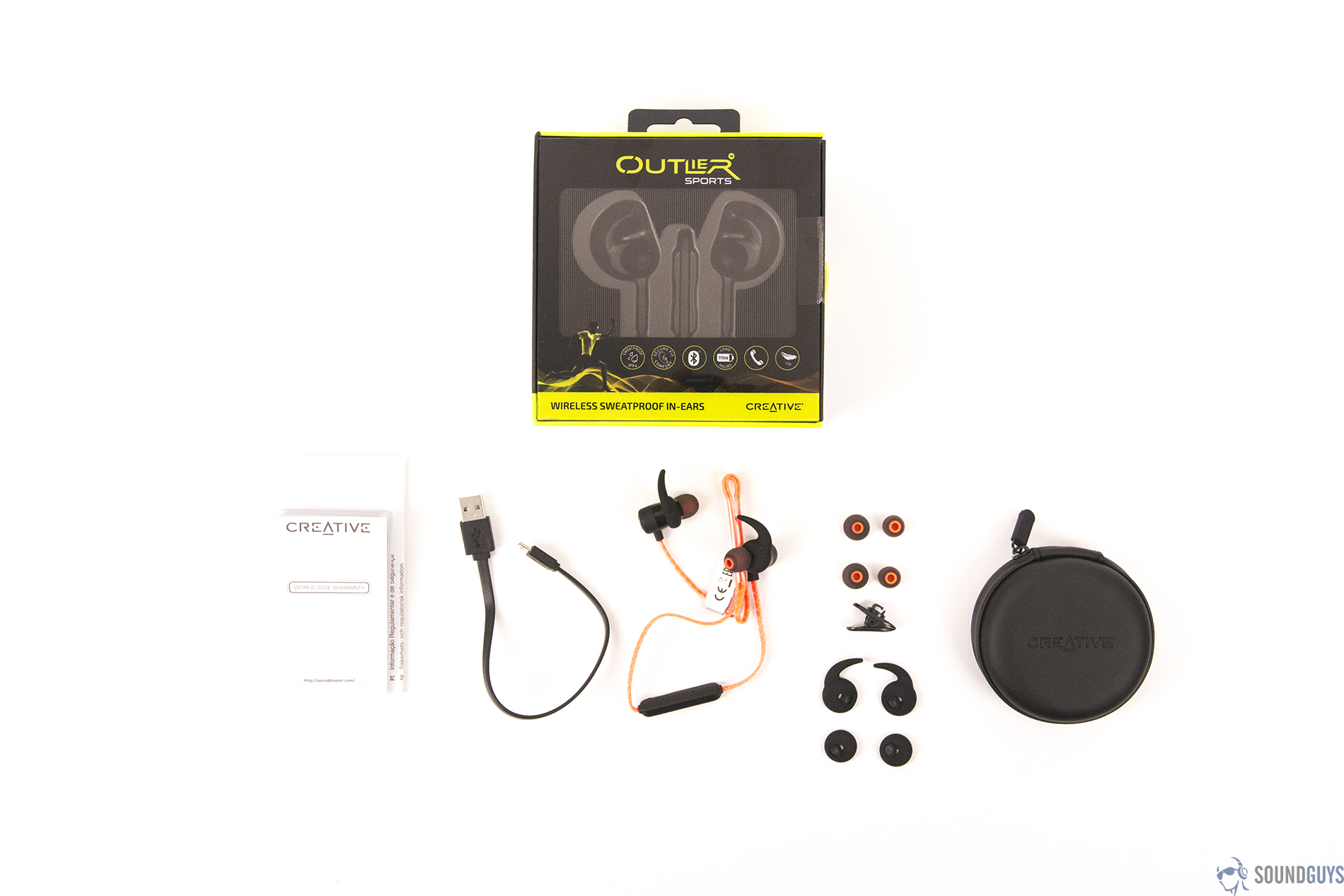 In the box you'll get the headphones, a short micro USB charging cable, a cable clip, two extra sizes of ear tips, and two extra pairs of wing tips so you can get the right fit. Then there's the hardshell carrying case and of course the warranty information and instruction booklet.
Build & Design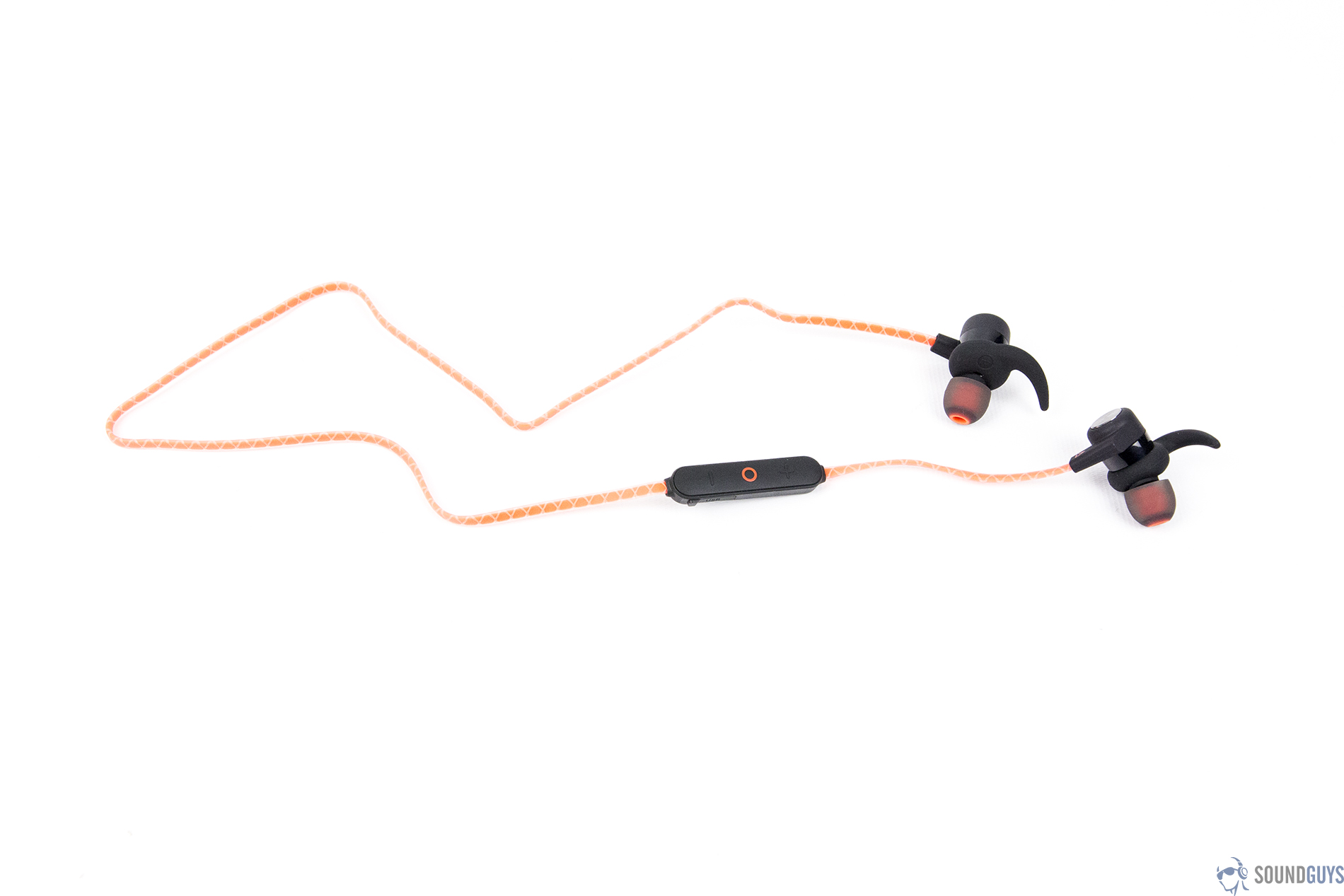 At first glance you'd probably be able to tell the kind of person these were designed for. They're a pair of fitness headphones through and through. They come in two bold colors (neon orange or green) and a slightly more subtle navy blue color as well. Depending on your style one of these is sure to work. The earbuds have a hooked ear wing that was fairly sturdy once I found the right combo, and these also have angled drivers pointing directly into your ear. The housing is made almost entirely of rubber and plastic, which makes sense considering these need to be light and sweatproof. Though it isn't too uncomfortable in short bursts (about 1-2 hours), I did find myself having to let my ears breathe every once in a while if I was wearing them any longer than that.
The bright orange cable that connects the two earbuds together is covered in a clear, rubberized plastic that protects the cabling from sweat and water damage. The Outlier Sports do have an IPX4 rating which protects from your average rainfall or some beads of sweat, but don't expect these to survive being completely submerged. On that cable is control module/mic that isn't too bulky, but isn't the prettiest thing either. It's kind of an eyesore when compared to the sleekness of the rest of the earbuds, but at least it's functional which is all that really matters.On that control module is a small mic, a micro USB input covered by a plastic flap, and three buttons for playback and volume control.
Connection
The Outlier Sports headphones have a good connection, but not great. If you're working out or running with your phone strapped to your arm or in your pocket you shouldn't have any problems. Music never stutters and the ability to adjust volume, skip between tracks by holding down the volume buttons, and pause or play music by tapping the middle button is always useful.
That said, if you're the type to leave your phone in your gym bag a few feet away from you, you might not want to go more than twenty feet away from it. These can easily handle up to thirty if you don't mind occasional skipping, but I do mind. So as long as you stay under that the Outlier Sports should suit you fine. While testing I also watched a few YouTube videos and there wasn't any lip-syncing or delayed audio, so if you watch tons of video you won't have any annoying delays here.
Battery Life
Creative usually lives up to their battery life claims and the Outlier Sports are no different. Though we didn't reach the claimed 11 hours of constant playback, we got fairly close at around 9.5 on 75-100% volume. If you listen to your media on average volumes you shouldn't have a problem. Even if you tend to max out the volume like I do, you should get a good amount of use before needing to look for a charger.
Sound Quality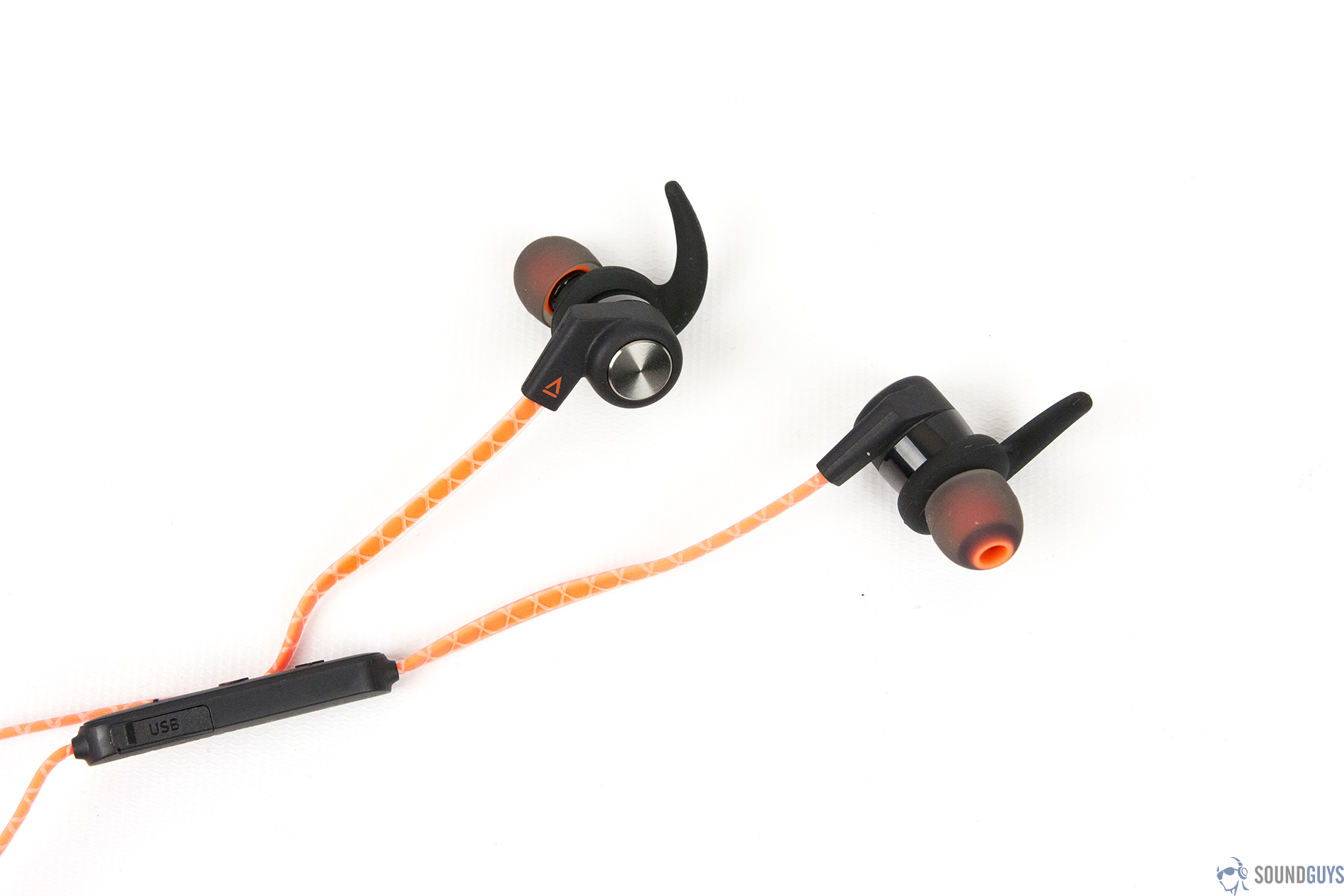 There's no sugar-coating it. The lows on the Outlier Sports are really strong. If you were looking for smooth basslines and balanced sounds I wouldn't say these are a good choice. That said, these are fitness headphones. And the best case for a strong bass in my opinion is when you're exercising. That extra push can definitely help you get over the exhaustion hump. I'm not a big fan of these for casual use, but if you're looking strictly for a pair of workout headphones these are fine.
Because of that strong low end, mids tend to suffer a little bit. The bassline in "Redbone" by Childish Gambino takes front and center stage and seems to overpower them at some points. It's not terrible, but it's fairly noticeable at some points during the verses.
Highs were about as much as you can expect from an average to sub-average pair of Bluetooth earbuds. You won't get any shine or shimmer in hi-hats and cymbals, but they're there.
Conclusion
There's plenty of sports headphones on the market to choose from, and Creative didn't do much to set the Outlier Sports apart from the pack. It has fairly average sound quality albeit with a strong low end, a decent enough fit, a good connection, and an IPX4 sweat certification, none of which are too hard to find in any other headphones. That said, the 11 hour battery life is definitely something that might mean a lot to some people. If you forget to charge your headphones every night and want something that will last more than a few workout sessions, these could be the right choice for you. Throw in a price tag of only $69 and these venture into "Why not?" territory when it comes to a purchase decision. There isn't really a strong reason why you shouldn't buy these if you're in the market for fitness 'buds, but at the same time there isn't a reason you should. They're a really good, average pair of Bluetooth earbuds.