All products featured are independently chosen by us. However, SoundGuys may receive a commission on orders placed through its retail links. See our ethics statement.
The bottom line
The Creative Muvo 2c is a decent speaker, but it isn't good enough in any single category to make it a must-have. For a sub-$50 speaker it's not a terrible buy, just not one I would recommend unless you need microSD card support.
The Creative Muvo 2c is a decent speaker, but it isn't good enough in any single category to make it a must-have. For a sub-$50 speaker it's not a terrible buy, just not one I would recommend unless you need microSD card support.
What we like
IP66 water-resistant
Plentiful playback controls
Decent sound
What we don't like
Confusing to use
Battery life
Rating Metric
Sound Quality
7.5
Bass
7.0
Midrange
7.6
Highs
7.9
Durability / Build Quality
8.0
Value
6.9
Design
7.0
Microphone
9.0
Portability
9.2
Battery Life
5.5
UPDATE [March 2022]: This product is no longer available. If you're looking for a compact and affordable speaker, you'll want to look at this list of low budget Bluetooth speakers.
Recently we reviewed the Creative iRoar, which is one of the most expensive and feature-packed speakers the company has ever made. We liked it so much, we figured we'd take a look at one of their entry-level products to see if that level of quality extends down to lower price points. The Muvo 2c is a fun-sized little speaker with microSD support and an IPX6 rating, but is it any good?
What's inside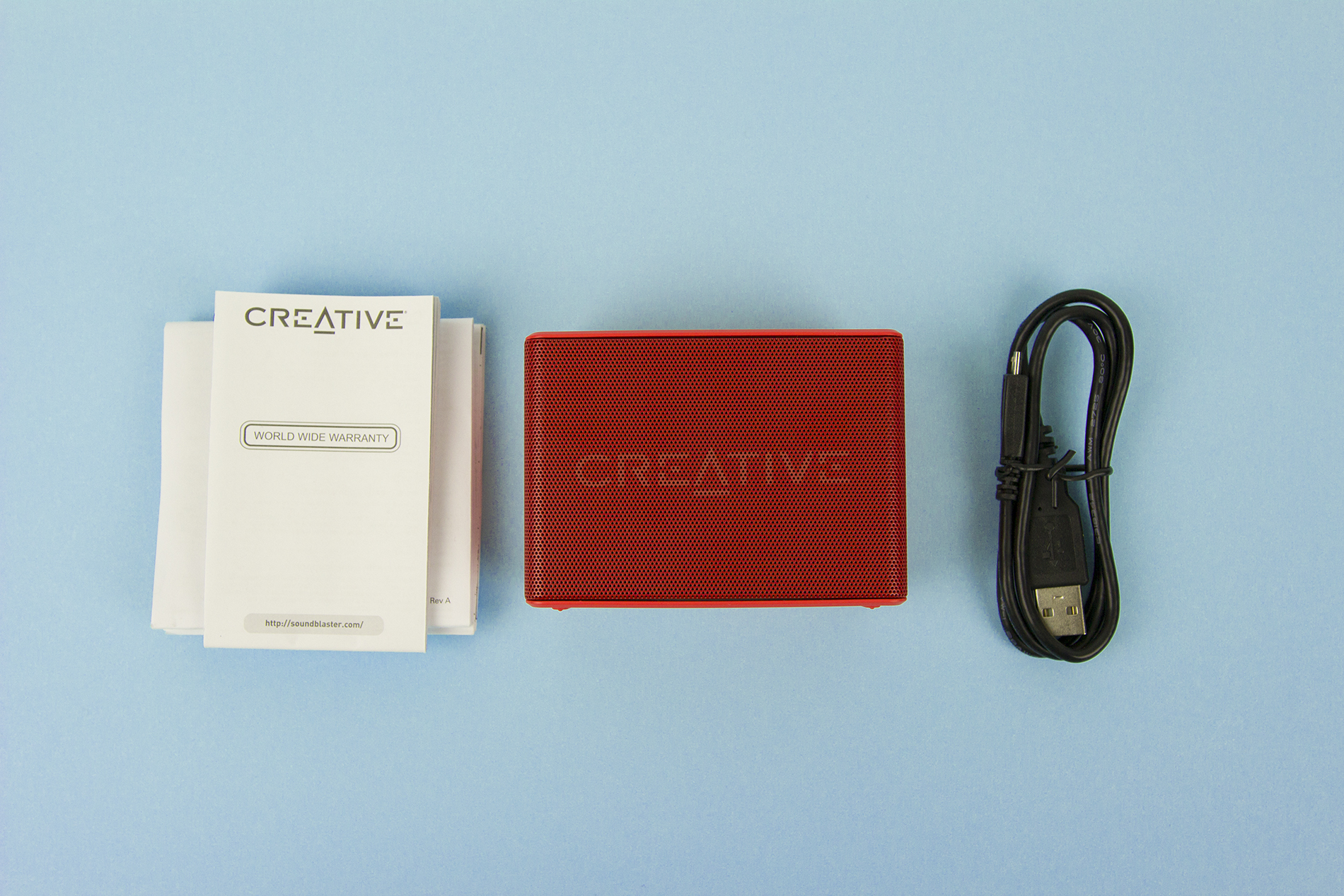 The packaging is just a hard plastic shell with the speaker plainly visible inside. Once you get it open you'll get the speaker, a micro USB charging cable, and a quick start guide, and the instruction booklet.
Build & Design
Creative didn't reinvent the wheel with the Muvo 2c. There's nothing particularly different about it. It's small and square-ish in shape which is a form factor that's a dime a dozen. It also isn't heavy at all, weighing in at only 165 grams. We got a chance to look at the red model, but you can also pick it up in black, blue, or green if you have a preference. The single driver inside is protected by a grill that takes up the entire front portion of the speaker, and up top you'll find five buttons to help you control playback without reaching for your source device.
That said, the 2c isn't entirely generic. On the back you'll find a passive bass radiator which isn't entirely brand new, but also isn't too common in sub-$50 speakers. Another useful feature is the IP66 rating which means that it can survive basically any amount of water shy of submersion. A small rubber flap on the right side keeps the micro USB input, 3.5mm input, and microSD card slot safe from liquid. The Muvo 2c may be small, but it's a little too bulky to stuff in your pocket. That said, it'll easily fit in a backpack. Still, if you want to take it with you somewhere you can always attach a wrist loop to the top left of the speaker.
Connection
For the price we weren't expecting anything other than basic functionality in terms of connection, but the Muvo 2c surprised us. Not only does it have a strong connection up to around 30 feet (which is the standard), it also has all kinds of controls and inputs. Lining the top of the speaker are five buttons: a power button, Bluetooth pairing button, multifunction button, volume down, and volume up. Along with that are two small LED lights. The one on the right tells you what mode you're in. You can switch between AUX input, Bluetooth, microSD Card, or USB Audio, each with its own designated color. The left light tells you how much battery is left which is a little more straightforward.
Though I was happy to find that the Muvo 2c had a bunch of controls, it was borderline impossible to figure out how to access them without opening the manual. And even then, it got confusing. I'll attach a picture of the instructions below, but the TL;DR version is that Creative decided to follow almost none of the playback control norms that we're used to with all other speakers. For example, normally you might skip a song by double or triple tapping a certain button, but with the Muvo 2c you'll have to press the multifunction button and a volume button simultaneously to achieve the same result. Though all of the controls worked fine, the process of having to remember a combination of colors, taps, and buttons requires the use of the instruction manual unless you have a really good memory.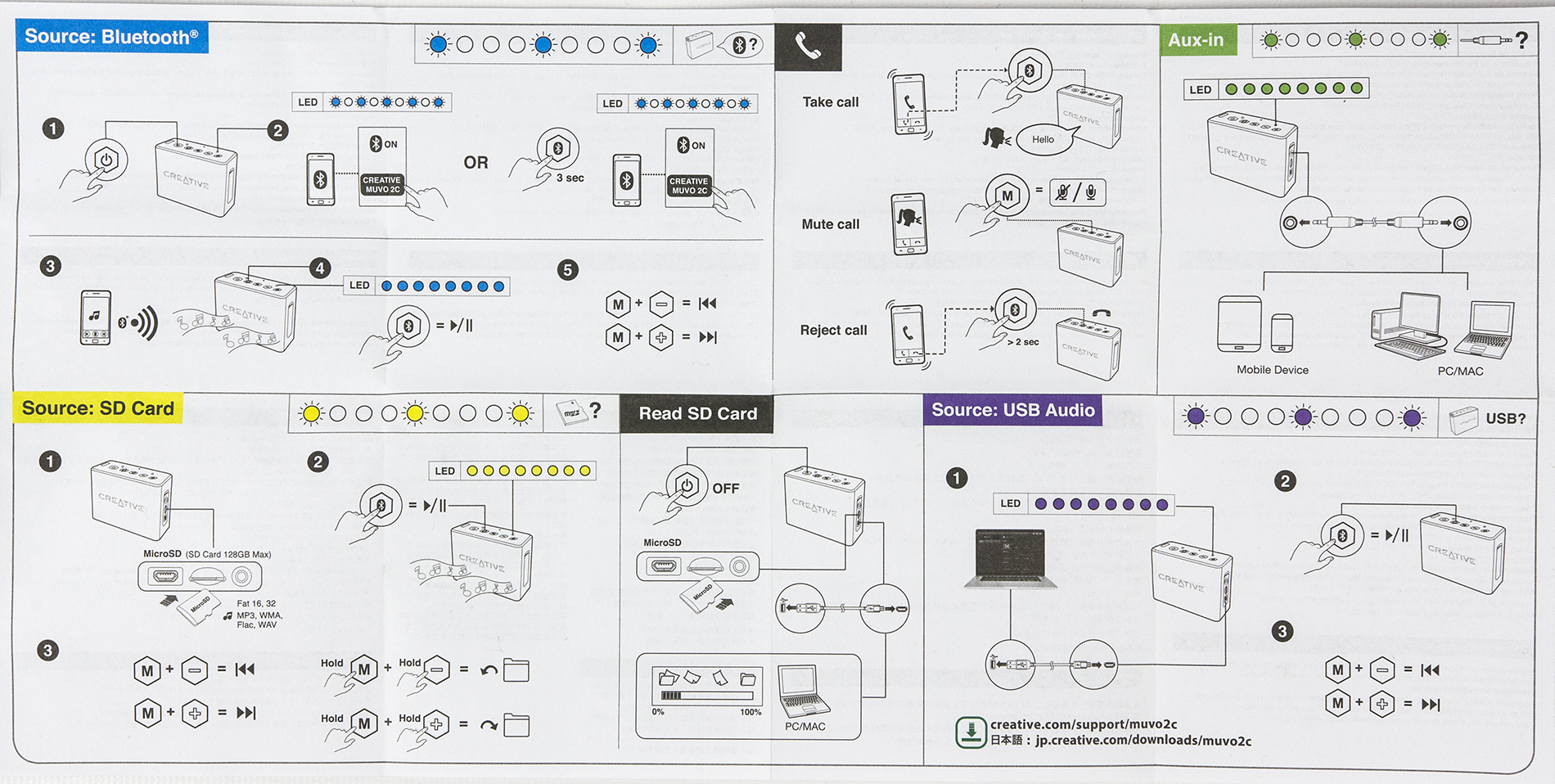 Battery Life
Creative claims a battery life of 6 hours of constant music playback with the 2c. While we did achieve 6 hours on medium to low volume, we only got about 4 hours on max volume.
Sound Quality
Seeing as most consumers stream their music, we did most of our testing via Bluetooth. That said, we also did some testing using files on a microSD card slot.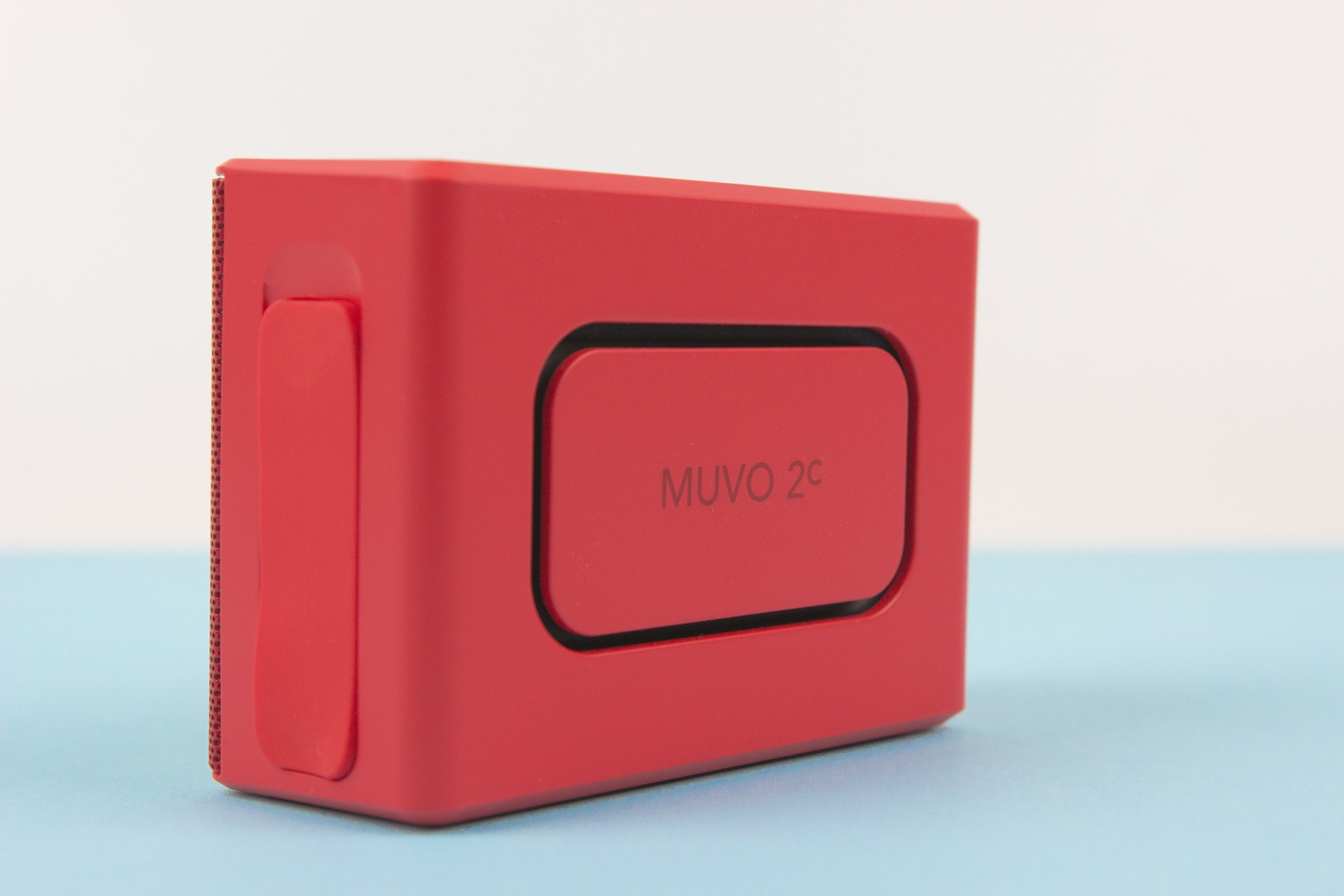 The Muvo 2c isn't a powerhouse by any means when it comes to the low end. It's not going to rattle your desk or anything, but the passive bass radiator on the back does add a good push. It's still hard to consider a true bass, but for the size it isn't bad. In songs that had a really deep bass like "Tremors" by SOHN there were a few slight distortions in the beginning, but that was the exception rather than the rule. Overall, the low end did as good as you can expect from a speaker of this size.
Vocals do have a slight precedence over the other instruments but there isn't much spacing. The main piano melody in "Hymn For The Weekend" by Coldplay sounds like it's being punctuated by the snare hits and just sounds a little messy when all of the elements join together during the chorus.
The highs were handled nicely and never really becomes sharp or painful. There is a good amount of shimmer in cymbals and hi-hats but not anything to write home about. Just a solid performance overall.
Conclusion
Creative may have blown us away with their iRoar and SoundBlaster speakers, but the Muvo 2c didn't really blow me away. It's a solid speaker that sounds just as good as some of its competitors at this price point such as the Anker Soundcore. Still, it does have a few more tricks up its sleeve like microSD support and the ability to pair two speakers together, but that's also hindered by its lackluster battery life and confusing controls. If you absolutely need microSD than this speaker is the way to go, but I still find it easier to recommend something like the Anker Soundcore which is similar in sound but has a drastically better battery life.