All products featured are independently chosen by us. However, SoundGuys may receive a commission on orders placed through its retail links. See our ethics statement.
The bottom line
Sure the Creative Metallix has its faults, but for $29 the pros outweigh the cons by a longshot. If you want a tiny speaker that won't break the bank, the Metallix might surprise you.
Metallix
Sure the Creative Metallix has its faults, but for $29 the pros outweigh the cons by a longshot. If you want a tiny speaker that won't break the bank, the Metallix might surprise you.
What we like
Price<br>
Plenty of connectivity options<br>
Fairly durable for a speaker that wasn't meant to be<br>
Battery life<br>
What we don't like
Low end is lacking<br>
Mids sound cramped and not much detail<br>
Rating Metric
Sound Quality
7.5
Bass
7.5
Midrange
7.0
Highs
8.0
Durability / Build Quality
8.0
Value
9.0
Design
8.0
Microphone
6.0
Portability
8.5
Battery Life
9.0
Creative Labs has their hand in everything. If you want headphones for the gym, they got you covered. If you want a speaker that will fill your living room with sound on your next party, they got you covered there too. But what if you want a speaker that's more portable? Or let's be frank, not so expensive. There are plenty of Bluetooth speakers under $50 to choose from, but it's hard to sift through the garbage in order to find the good ones. But even still every once in a while you stumble upon something good, and the Creative Metallix speaker is one of those unicorns. It might not be the prettiest little gadget, but it gets the job done. And it does it well.
What's Inside
Creative doesn't throw too much in the box with the speaker. You'll get the speaker, some paperwork, the micro USB charging cable, and that's it.
Build & Design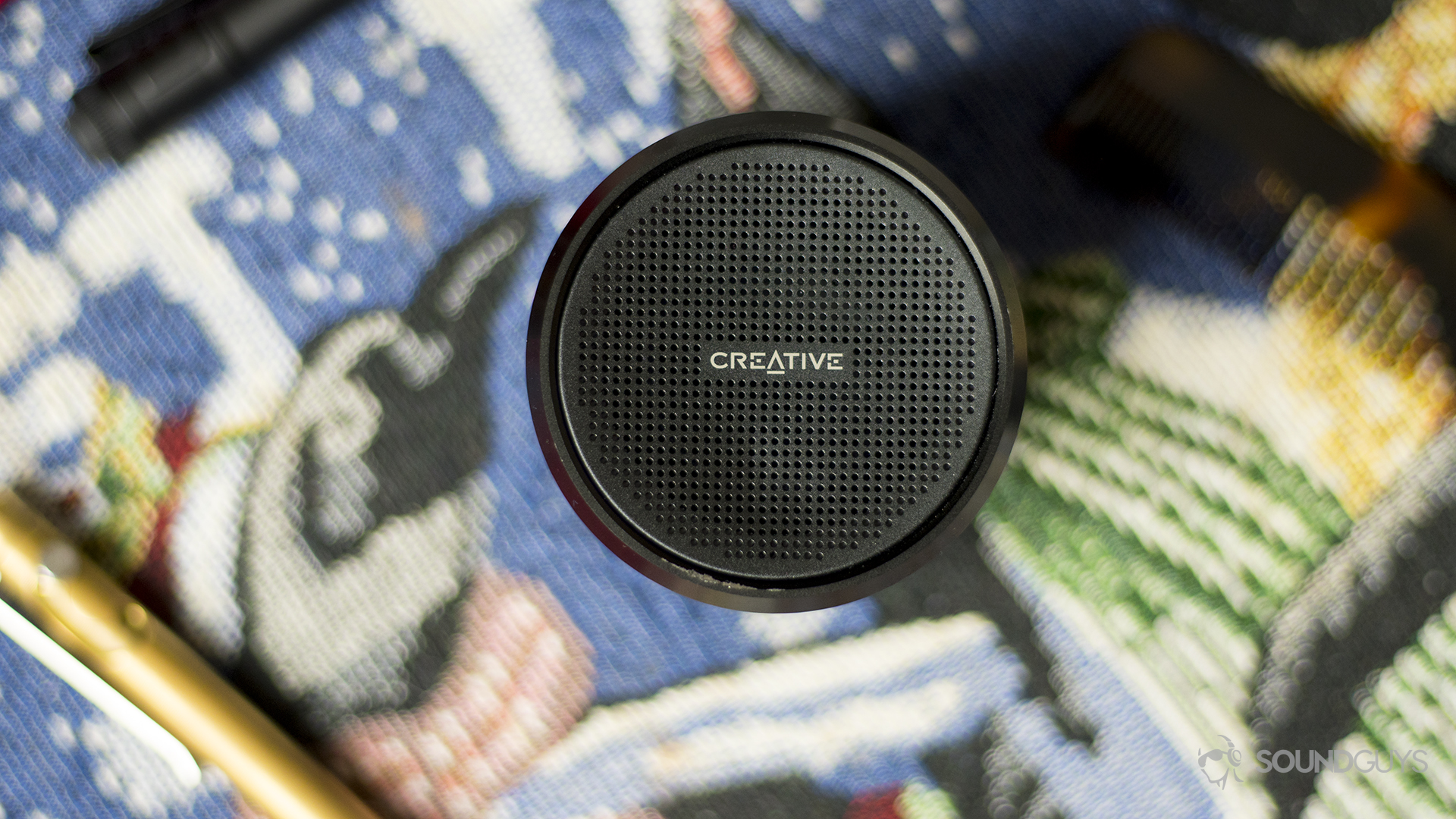 After a few weeks of testing the Metallix has some battle scars, and still works perfectly
I don't know about you, but when I hear about a speaker that costs less than $50 I just assume it's made of plastic from head to toe. And don't get me wrong there are plenty of plastic speakers that sound great, but there's something confidence inspiring about picking up a block of metal. Even if it isn't so durable. Luckily, as you might have guessed from the name, the Metallix is metal. I don't mean that you should go dropping it off a building (or even a table for that matter), but over the course of two weeks I haven't exactly babied this thing and it seems to shrug it off as easily as a bad insult. The top rim has had the black paint chipped away and I'm fairly certain the grill that's covering the single full-range driver is dented slightly, but it's still going strong and it looks a little better in my opinion.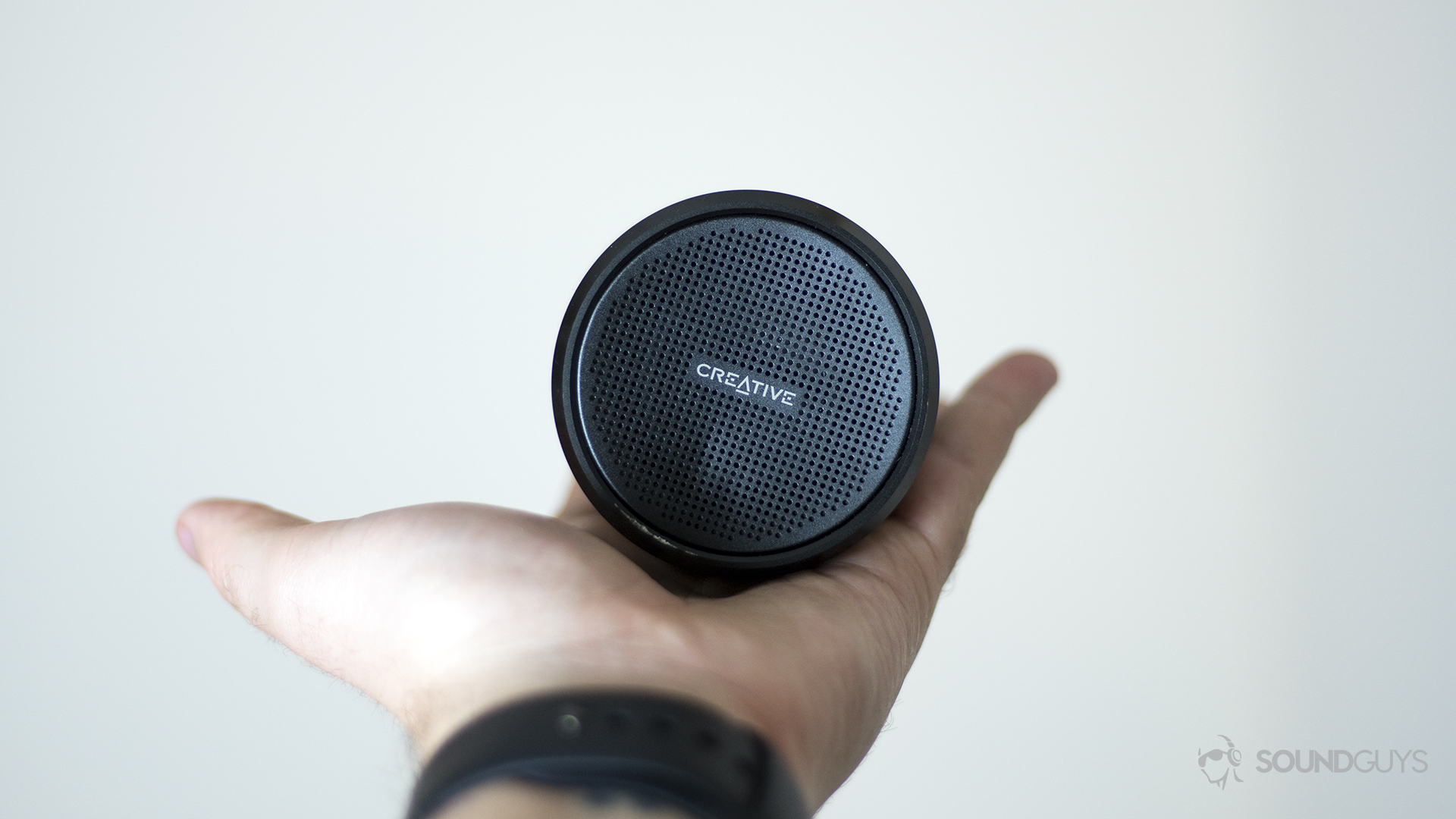 Minimal branding puts the only Creative logo in the center of the grill
The speaker itself only weighs 7.2 ounces and can fit in the palm of your hand making it easy to toss in a bag and bring with you wherever you go, or just to pick it up and bring it to the bathroom while you shower. Though keep in mind it isn't waterproof so that might not be such a great idea now that I think about it (but I've been doing it anyway). The bottom of the Metallix is rubberised so it won't go slipping around on slick surfaces but again, the speaker isn't waterproof so keep that in mind. It's cylindrical shape means that the top-firing driver is technically pointing straight up, but it does a good job at not sounding like your music is going away from you. It sounds pretty clear from all angles around the speaker.
It does a good job at not sounding like your music is going away from you
Towards the bottom of the Metallix is where all the fun happens. And by fun, I mean the minimal slick metal gives way for all of the inputs and buttons. While they work fine I don't like the way that the buttons feel at all. They're hidden underneath a small area of plastic with textures that I feel could've been a little more pronounced for when you're trying to adjust volume without looking. They also just have a cheap feeling click to them that reminds you how much you paid for the speaker. On the bright side they work perfectly and you'll get all the playback controls you could want.
Connection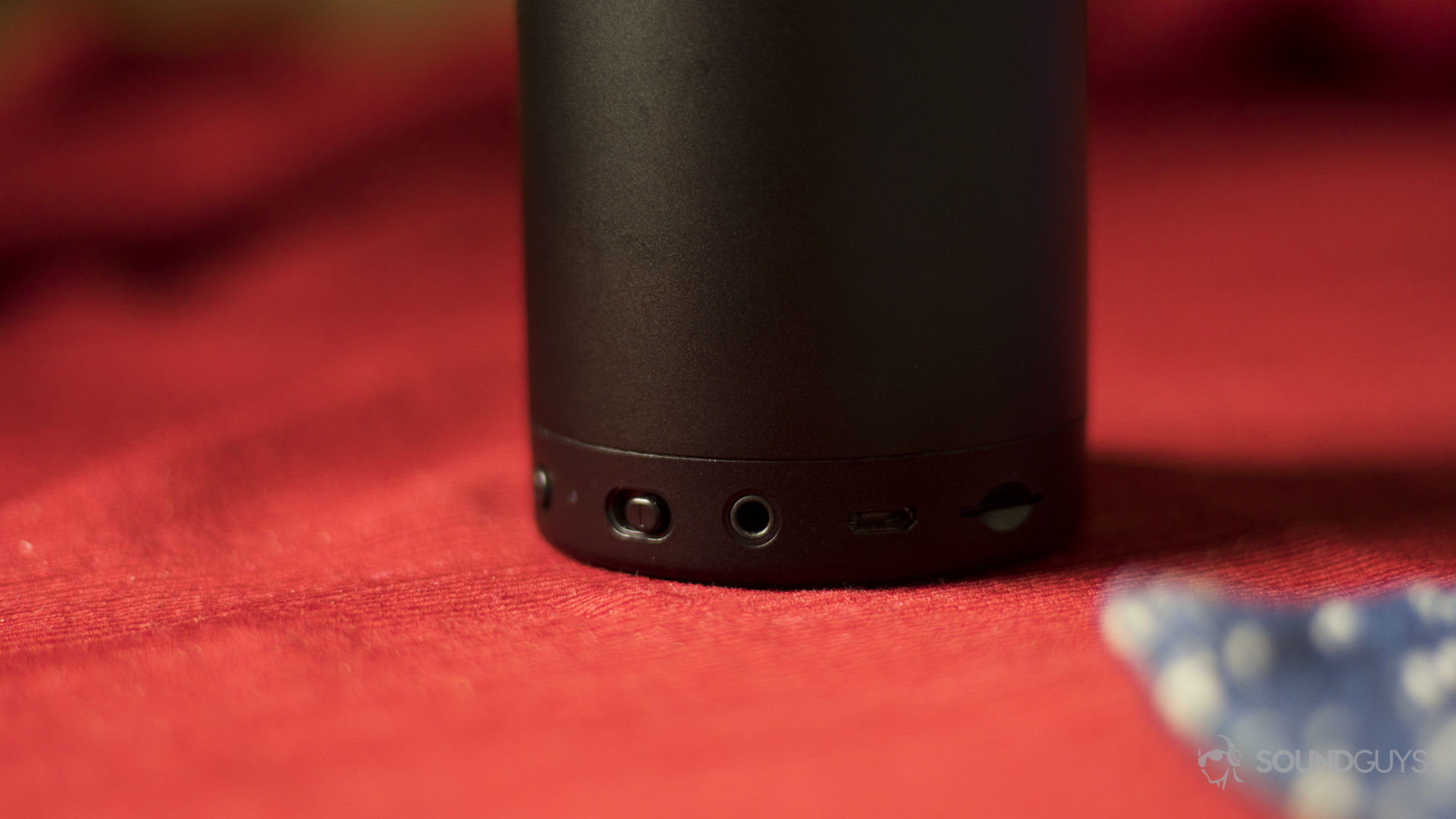 There are plenty of ways to connect to the Metallix
From left to right you'll get the volume down button, play button, and volume up button. By pressing the volume buttons at the same time you can answer and end phone calls, and you can also access Siri or Google by double tapping the play button in the middle. Besides that you'll get the usual pause/play functionality, as well as volume control and skipping between tracks once you memorize the right amount of taps. There's also a mode button that lets you switch between Bluetooth mode and the built-in FM tuner, plus you can use it as a mute button for when you're taking a phone call on it. Speaking of which microphone quality was fuzzy at best, but both parties were able to distinguish what the other was saying. It gets the job done.
What is impressive are all of the other features Creative built into this speaker
As far as connection strength goes this speaker is just average. With nothing in the way you'll get the standard range of about 30 feet with no skips or stutters, and once you throw a few walls in the way that drops to about 20 feet. It's solid, but nothing that's going to blow you away. What is impressive are all of the other features Creative built into this speaker. For one, if you have two of them you can pair them up for stereo sound. Then there's all of the different ways you can play music.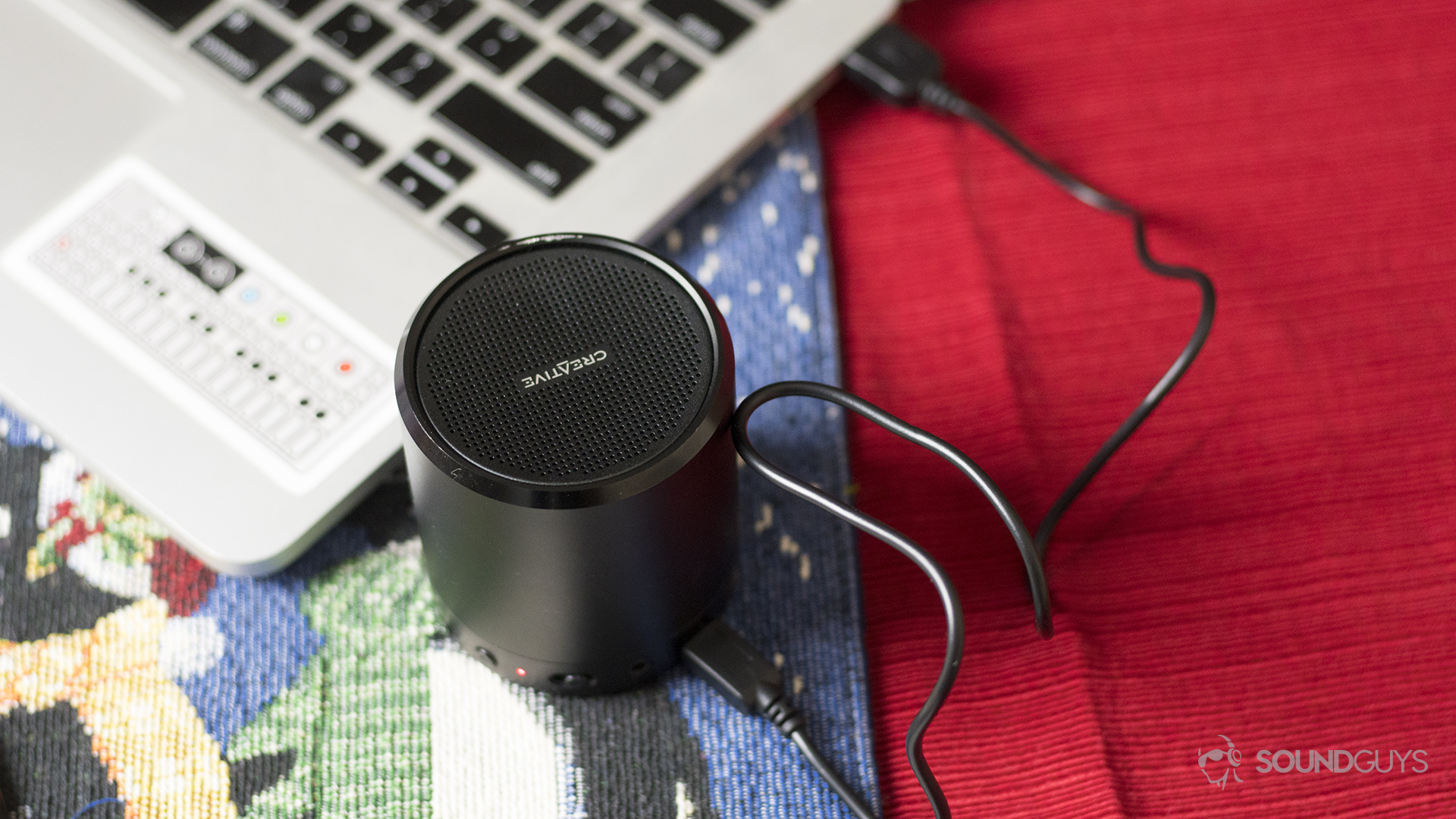 The micro USB cable can be used as an antennae for the built-in FM radio
Of course you can stream over Bluetooth from your phone (Bluetooth 4.2 in the Metallix), but there's also a 3.5mm input for passing the aux, a microSD input if you have your favorite tunes stored locally, and even an FM radio built-in. Plugging in the included USB charging cable acts as an antenna for tuning into FM stations. All together these features definitely help make a speaker of this size and price stand out from the crowd.
Battery
Creative claims a battery life of 24 hours of constant playback but that's if you keep it to around 60% volume, which is fine if you're just working at your desk but not so much if you're blasting music around the house. At 100% volume I got a battery warning after around 6 hours on the first run. During the second run we got closer to 9 hours of constant battery while a third run with music playing at about 50% volume lasted closer to 20 hours in total.
Sound Quality
As I already mentioned the Metallix has a single full-range driver inside along with a hidden passive radiator which Creative claims makes the speaker sound bigger than it is. I wouldn't go as far as that, because the speaker sounds just about as big as it is. But for the size I was pretty happy with the air it pushed. If you haven't noticed the consistent theme yet, the Metallix gets the job done here too.
The Creative Metallix speaker from above
Considering I wasn't expecting much from the low end I was pretty surprised with the level of control it had over insanely strong basslines like the one you'll find in "Mikey Rocks" by The Cool Kids. Sub-bass is non-existent so if you keep your expectations in check you'll notice that the bass kicks never distort or get in the way of the vocals. Don't get me wrong, the bass isn't great. Even something like a JBL Flip will give you more power, but for the size and price the Metallix manages to punch above its weight. Similarly, mids were there but not amazing.
It's probably because the Metallix has a single driver trying to take care of everything, but during the chorus of the song "Step Out" by Jose Gonzalez everything gets so hectic it's hard to distinguish individual instruments. The string melody gets completely hidden by things like drums and cymbals, which shouldn't be happening. Just like the lows, the mids are fine but not great. If you're at a party chances are you won't hear a complaint, but any kind of critical listening will make you realize where this speaker falls short.
On the bright side I found that there was a surprising amount of space in the upper mids and highs for cymbals and hi-hats to flourish. The rolling cymbal hits throughout "For the Damaged Coda" by Blonde Redhead don't exactly give you the impression of space, but they're surprisingly detailed and well-managed for a speaker that fits in my hand.
Conclusion
If you couldn't tell the Metallix is a mixed bag of good things and compromise. You're getting a tiny speaker with plenty of connection options and features that make it one of the more versatile products we've tested in a while, but because of its size you're going to have to give up some sound quality. Though to be fair not as much as you might think.
Being made of metal also means that it's a tough little thing. Though you won't want to take it to the beach, average drops around the house don't seem to be a problem for it. But the one feature that it obviously has going for it is the low price. It sells for $40 but you can usually find it for around $30, which makes it one of my favorite cheap speakers hands down. Whether you're looking for a spare speaker for your house or just want to give it to someone as a gift, I have no problem recommending this little guy to nearly everyone.