All products featured are independently chosen by us. However, SoundGuys may receive a commission on orders placed through its retail links. See our ethics statement.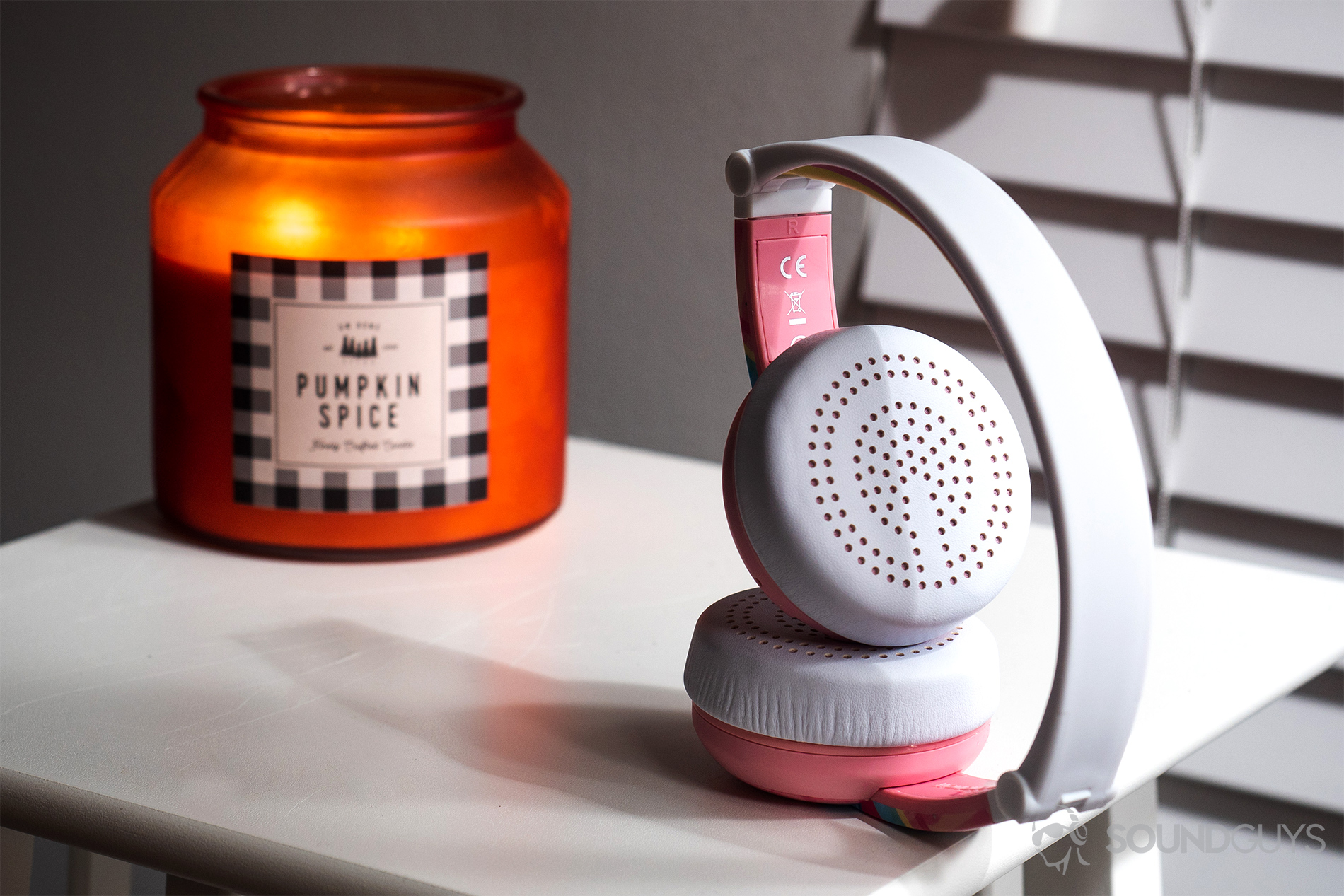 The bottom line
Before you let your kids loose with a standard set of headphones, you'll want to give the Buddyphones Wave a shot. These cans include a plethora of safety features from Safe Audio, to pinch-free hinges. Plus, they come in a handful of whimsical designs.
Buddyphones Wave
Before you let your kids loose with a standard set of headphones, you'll want to give the Buddyphones Wave a shot. These cans include a plethora of safety features from Safe Audio, to pinch-free hinges. Plus, they come in a handful of whimsical designs.
What we like
Long battery life<br>
Pinch-free hinge<br>
Hypo-allergenic earpads<br>
Safe Audio settings<br>
IP67 dust- and water-resistance<br>
Included cable splitter<br>
Two-year warranty<br>
What we don't like
Ear cups don't swivel<br>
Safety features degrade sound quality<br>
Rating Metric
Sound Quality
8.0
Bass
8.0
Midrange
8.1
Highs
8.0
Durability / Build Quality
9.0
Value
8.5
Design
8.6
Microphone
7.0
Portability
8.5
Battery Life
9.0
As a parent, all you want is to keep your kids safe—or so I've been told—and the Buddyphones Wave kids headphones are an easy way to protect your child's hearing without having to helicopter parent over him. The Wave comes in a variety of kid-friendly designs and includes a slew of safety features, leaving you worry-free while your kid enjoys the latest Kidz Bop iteration.
Who is the Buddyphones Wave for?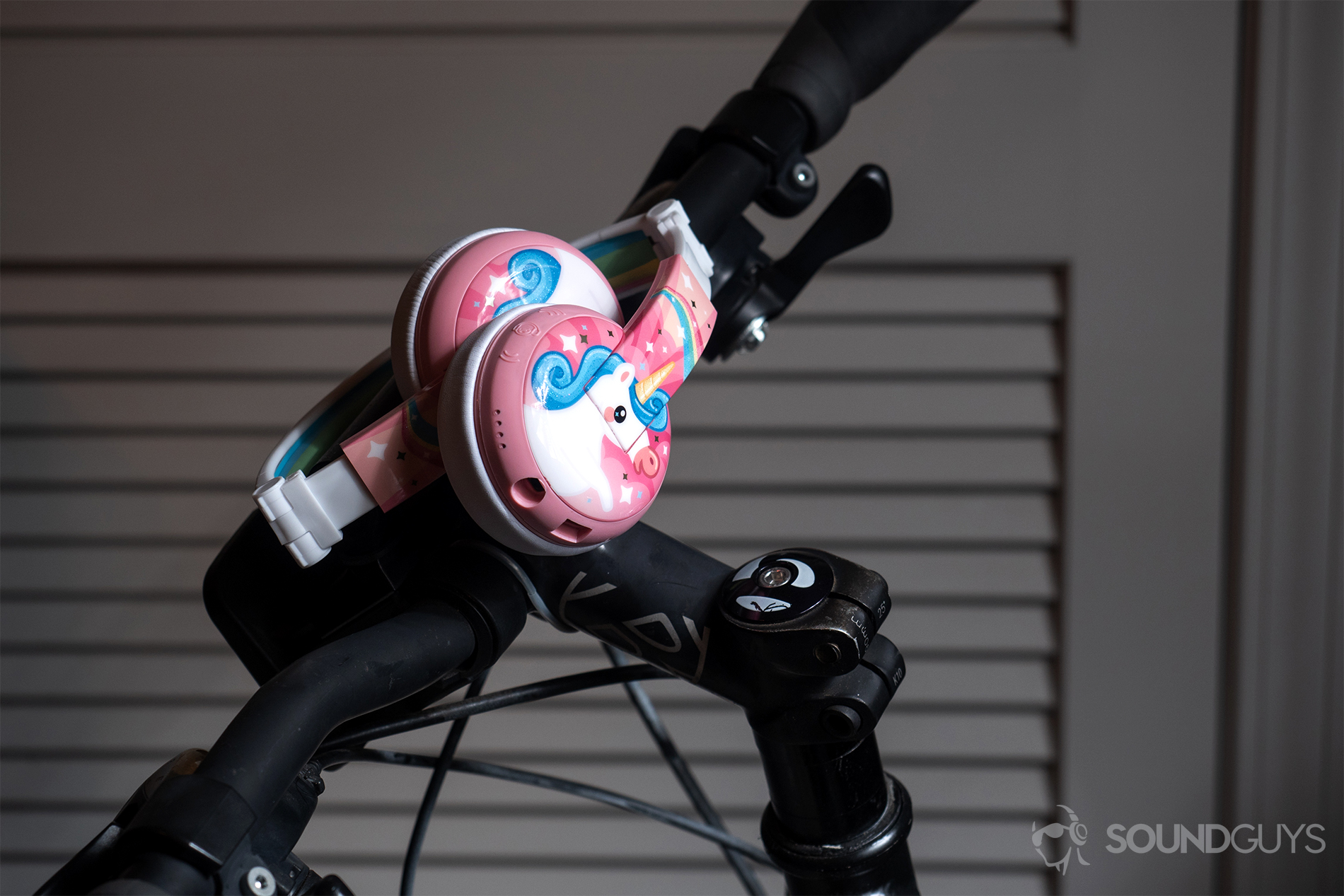 Our review unit features a pink design and unicorn, but there's a wide array of options for kids to choose from.
Kids

.

These headphones are made to be kid-proof resistant with their IP67 certification, convenient wireless listening, fun design, sharing cable, and more.

Parents

and anyone with a child in their life.

Buying headphones for kids can be tricky:

are they safe

, and comfortable? Fortunately, the Wave is both as parents can set volume limits and rest soundly knowing that the headphone feature pinch-free hinges.
What's inside
The Buddyphones Wave includes a 3.5mm cable with a splitter on the end, which allows for daisy-chaining; a decorated carrying pouch; nametag stickers; a micro-USB cable; and the IP67 wireless headphones.
What's it like to use the Buddyphones Wave?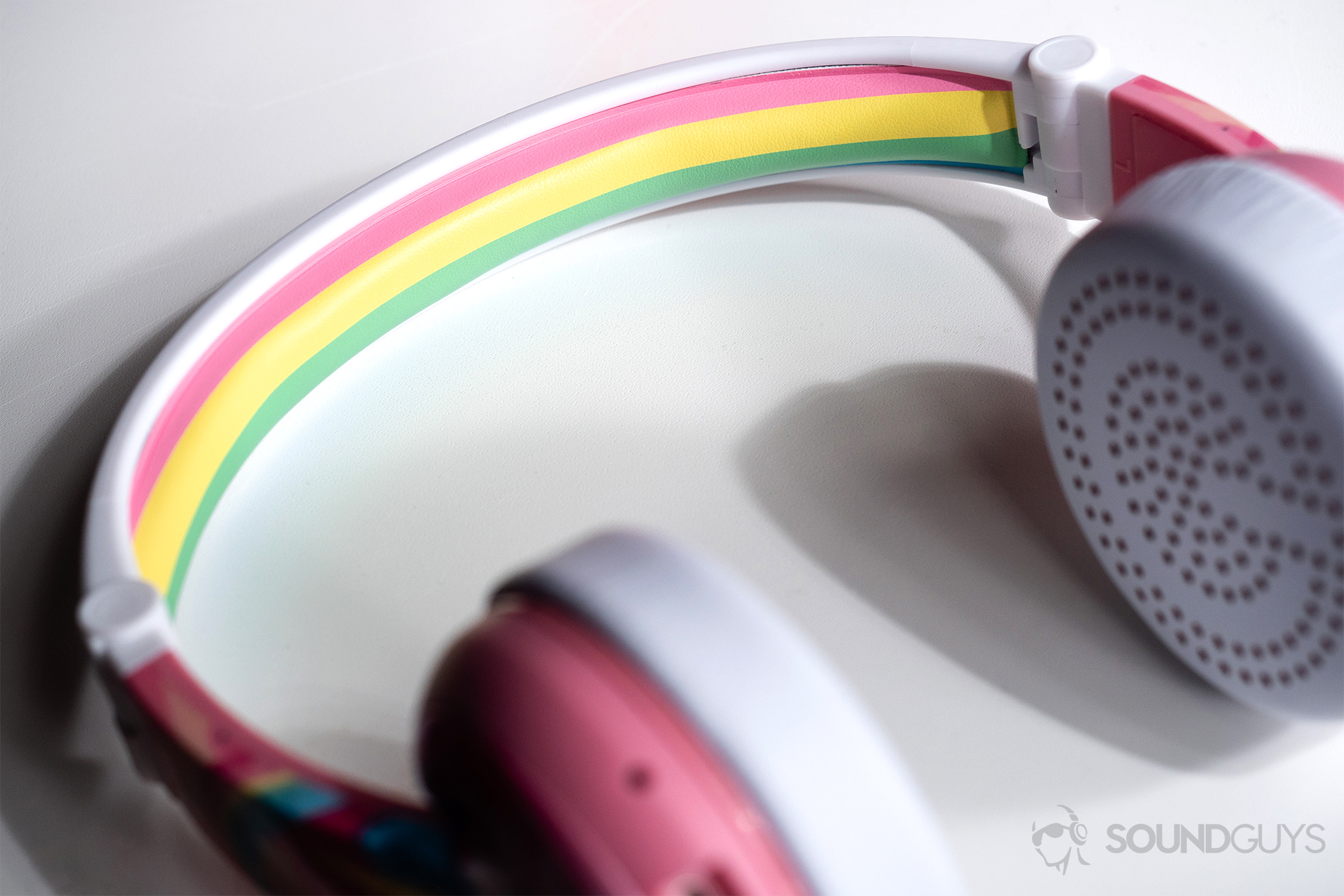 The headband is lined with a colorful cushion, which is lightweight and sits comfortably on the crown of the head.
These headphones are for kids three and up, and the build reflects that. They weigh just 145g, lighter than most smartphones, and tout commendable safety features such as pinch-free hinges, Safe Audio decibel limitations, and IP67 dust- and water-resistance. That's right, your kid can drop these headphones into the tub, and they'll surface just fine—so long as your tub is less than a meter deep and the cans are in there for under 30 minutes.
Your kids can choose from a wide array of designs, our review unit is the pink unicorn because why not? Extending the ear cups down is an effortless process, and the right ear cup houses the volume and playback controls. While the convenience is appreciated, it's hard to identify the buttons by touch, which could be frustrating for an impatient child.
Safe Audio volume limiting enables parents to let their kids listen to music freely, knowing that their kids' hearing is protected.
One thing your child may not like about the headphones is the lack of rotating ear cups. They wiggle a bit along the y-axis but can't swivel on the x-axis, this could make for an uncomfortable fit during prolonged listening. That said, when I wore the headphones, I didn't find it to be uncomfortable until the 45-minute mark.
How to set volume limitations
Buddyphones places an emphasis on hearing protection by allowing parents to alternate between four modes. In order to cycle through them, depress the volume up and down buttons simultaneously.
While this feature is much needed, it's not foolproof. A child could easily increase the volume limitation—and not all volume levels are actually appropriate for a child. An easy way to remedy this would be by adding an app give parents control of volume caps from their phones, but so far there isn't one.
Toddler Mode: 75dB, 2/4 LEDs flash green.

Kids Mode: 85dB, ¾ LEDs flash black.

Travel Mode: 94dB, 4/4 LEDs flash blue.

Study Mode: 94dB, 4/4 LEDs flash in an alternating sequence.
If you've read our piece on noise-induced hearing loss, you know that the "Travel" and "Study" modes are not wise to enable with any set of headphones. Therefore, we recommend going no higher than the "Kids" mode.
The mic is bad, but your kid probably isn't making conference calls anyway
I was surprised to see that the Buddyphones Wave includes an in-line mic and remote and one in the headset. The quality of the microphones is as you'd expect: bad. It sounds like I'm speaking from a Coca-Cola can some kids spent two blocks kicking down a gravel road.
Battery life
The Buddyphones Wave headphones can pump out a consistent 75dB(SPL) for 20.3 hours of playback. And while this is shorter than the advertised 24 hours, your kid will likely listen at lower volumes, which extends battery life.
Connectivity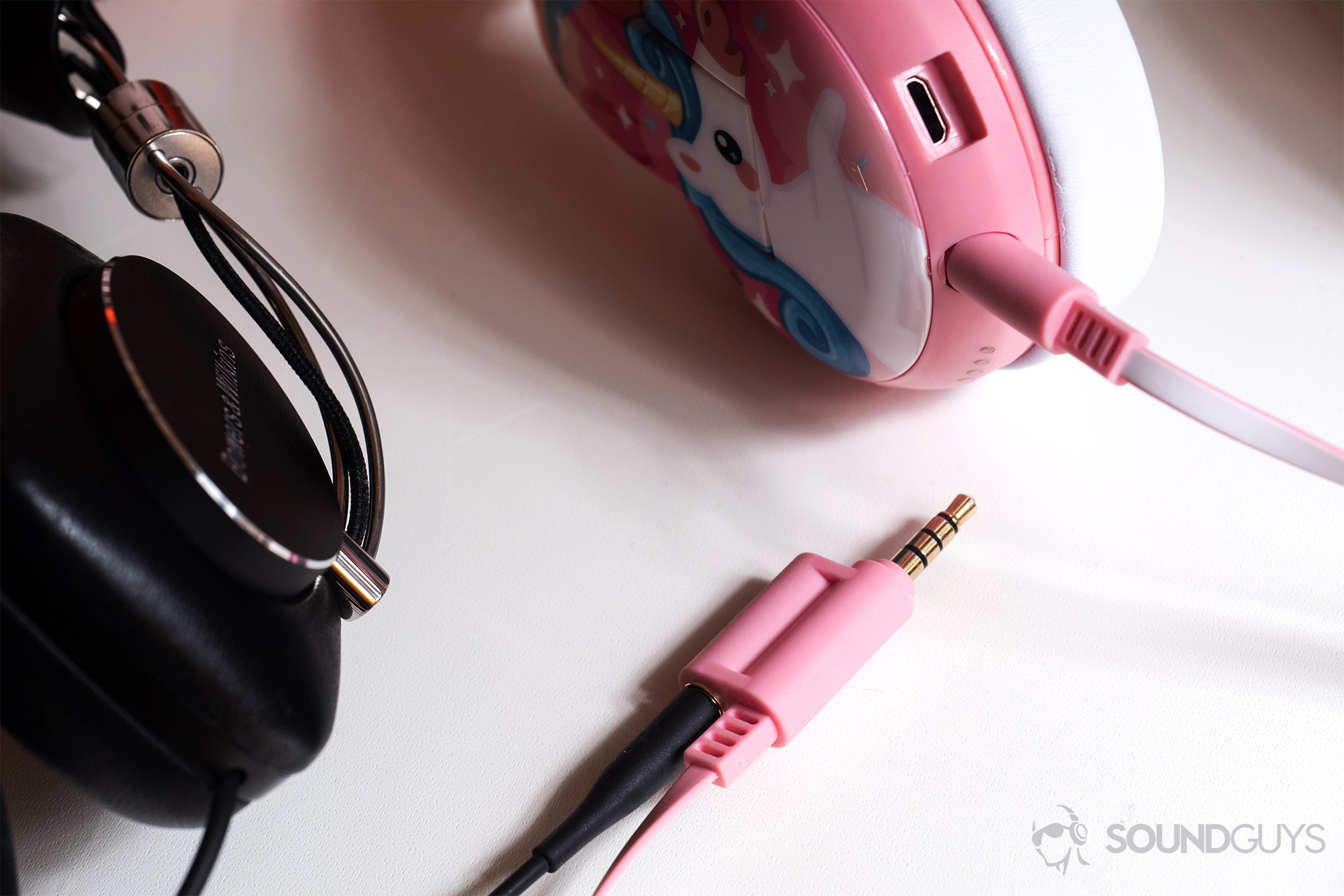 With the included cable splitter, kids and parents can listen to music together.
The Buddyphones Wave operates supports SBC, operates on Bluetooth 4.2 and allows for a 10-meter connectivity range. While Bluetooth 5.0 may afford more range in some instances, this limit is good for kids. The connectivity drops notify them of wandering too far from their phones. If they decide to go wired, the cable is an appropriate 0.8-meters long.
How do the headphones sound?
Seeing as these are for kids, it's OK that they don't sound great, because kids ears are more sensitive than our own, and the Buddyphones signature strives to keep their hearing sensitivity intact.
The low-end and treble response is attenuated by design to protect kids' hearing.
As depicted by the frequency response chart, the bass and treble reproduction are severely underemphasized, rendering the Wave a pair of mid-centric cans. It's safe to say music sounds… weird compared to general consumer cans.
For kids, however, the vocal emphasis is ideal because it lets them hear the lyrics of their favorite songs and lines of their favorite shows without having to increase the volume—just another way that the Wave protects kids' hearing.
Plus, it's not like the low and high frequency responses are completely neutered; no, things are still audible, but they're not clear.
Take NoName's song With You, the beat is audible but sub-bass is only present through its absence, leaving the song feeling off. What's more, the cymbal hits throughout the song are easy to hear backing Fatimah  Warner's vocals but they lack harmonic resonance, which is good for kids as treble won't irritate their eardrums.
Should you buy the Buddyphones Wave?
If you're a parent or a child with a generous allowance and hefty dose of common sense, maybe!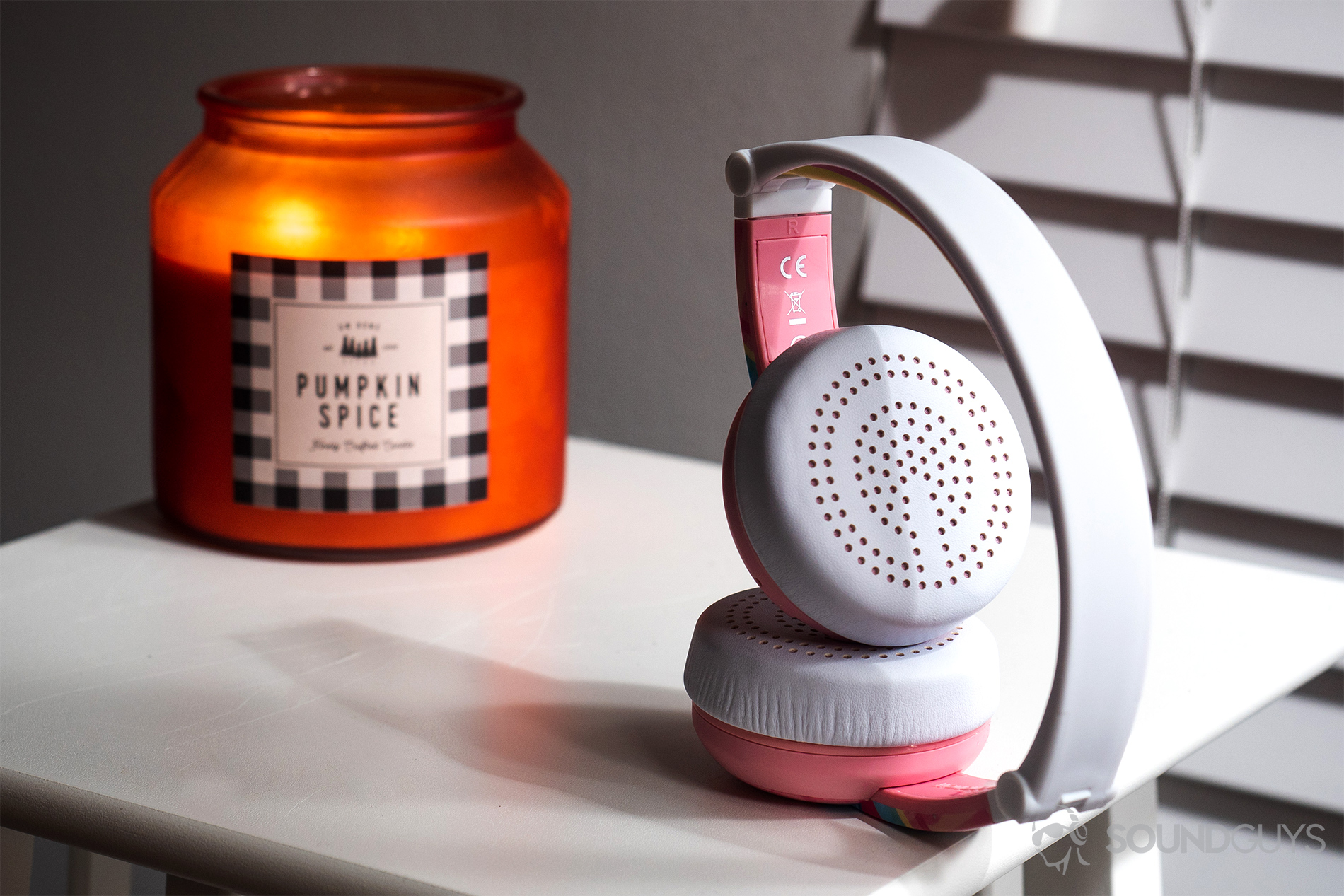 Kids and parents alike benefit from the pinch-free hinges found on the Buddyphones Wave headphones.
The Buddyphones Wave is a fabulous option for anyone seeking to protect their kid's hearing. The hypoallergenic earpads and Safe Audio volume limitations are excellent features that add value to the headphones. While it is strange that the only available mic is integrated into the detachable cable, rather than the headphones themselves, your kid probably won't need a mic too often anyway.
Although these are an expensive investment, it's worth keeping your child's ears in pristine condition. Plus, the Wave headphones are unusually durable, making them all but impervious to destruction, and Buddyphones includes a TK TK-year warranty for when things do go awry.
Still looking? Read up on our list of the best kids headphones