All products featured are independently chosen by us. However, SoundGuys may receive a commission on orders placed through its retail links. See our ethics statement.
Bose SoundLink Around-Ear Wireless Headphone 2 Review
The Bose SoundLink Around-Ear Wireless Headphone II is comfortable and sounds excellent, but if you don't like Bose headphones already, these won't change your mind.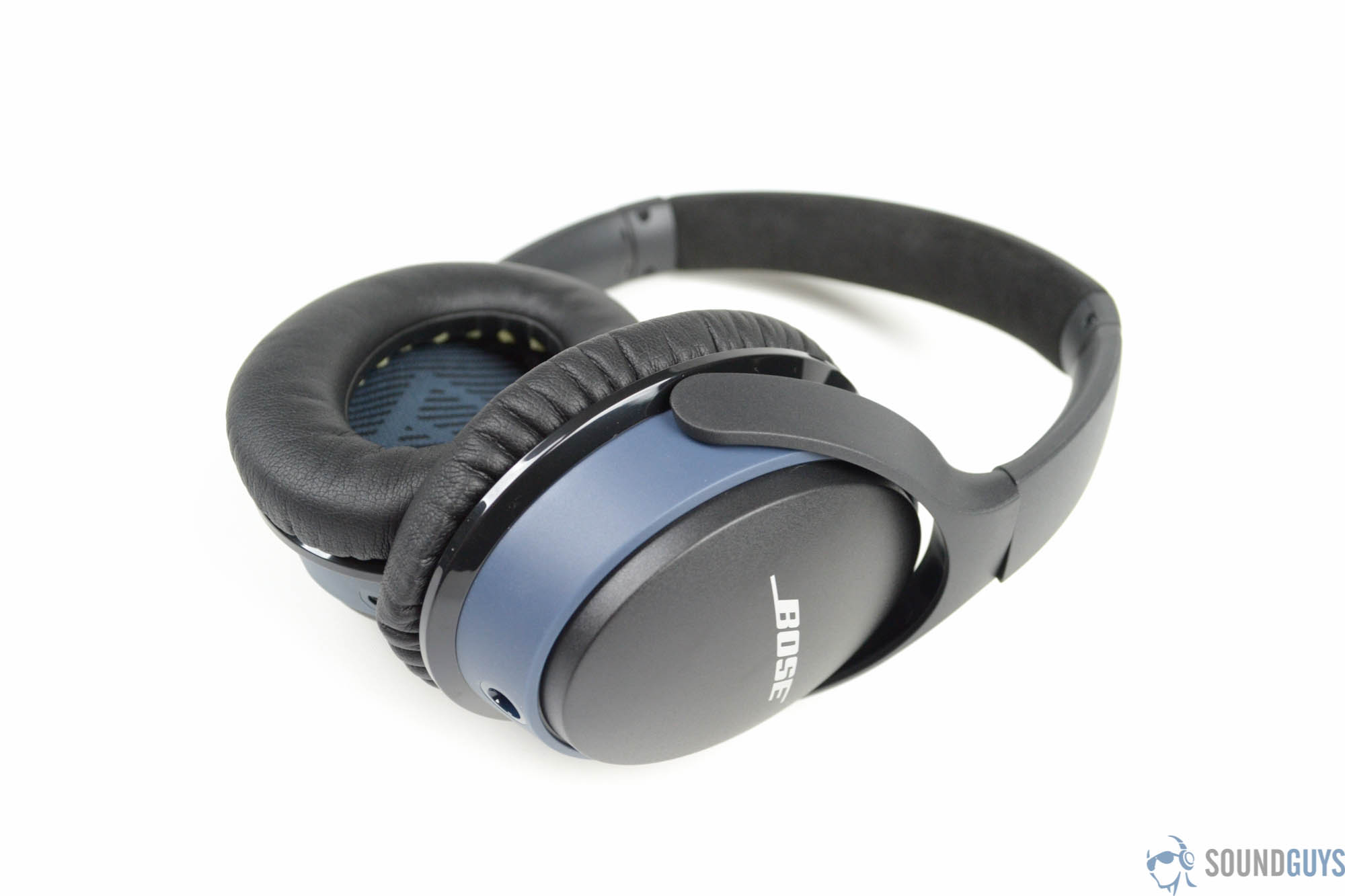 Bose needs no introduction as a brand, whether it comes to home audio systems, wireless speakers, or headphones. While not everyone is a fan of the Bose sound, it's hard to debate that the company's products are aesthetically pleasing to say the least, which is why the unsightly Bluetooth module on the Bose AE2W – since renamed the SoundLink Around-Ear Wireless Headphone – was so puzzling.
Fortunately the company has finally released a sequel to that pair of headphones in the Bose SoundLink Around-Ear Wireless Headphone 2 which, like every other pair of Bluetooth headphones out there, doesn't require a bulky external Bluetooth module.
What's In The Box?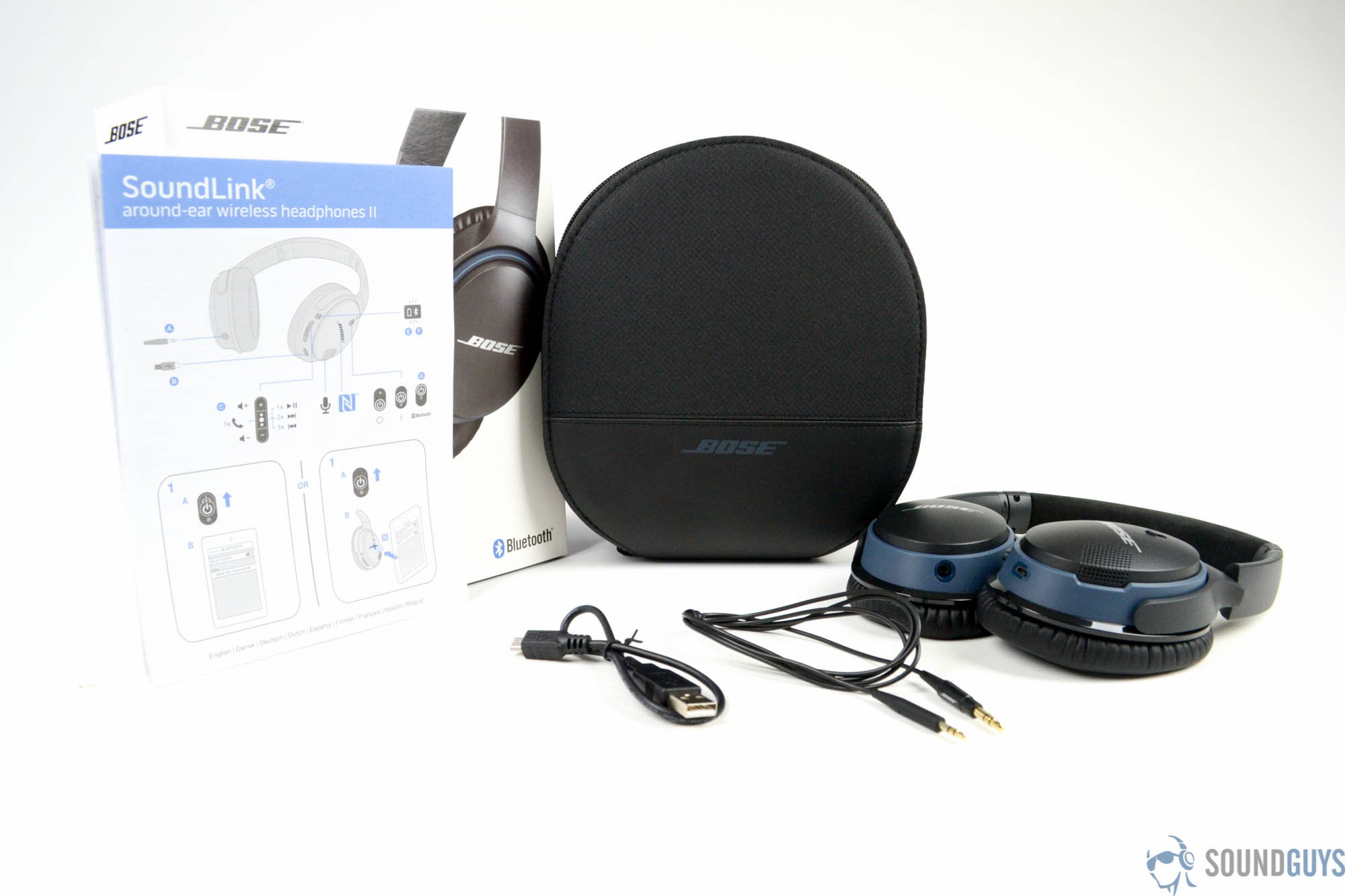 Open up the box and the first thing you'll see is the included soft-shell carrying case. Zip it open and inside you'll find the headphones as well as a pouch containing the "backup audio cable" and the USB cable. Underneath you'll find the manual and warranty information.
Build & Design
The Bose SoundLink Around-Ear Wireless Headphone II comes in two color varieties: white with tan highlights, and black with blue highlights. The white variation may be more in line with the classic Bose look, but if you ask us, the black is the sharper looking of the two.
The look and general feel should be instantly recognizable if you're tried a pair of Bose headphones in the past few years. As we've seen with the company's designs in Bluetooth speakers, it seems to take the "if it ain't broke, don't fix it" route when it comes to updating its designs. As a result, these happen to look very much like the Bose QC25, only minus the cable.
Bose says that these are "engineered with impact-resistant materials." It's difficult to say how tough they actually are without actively trying to break them, but it's nice to know. While the headphones will flatten out, they're not collapsible, so if you're throwing them in a backpack, make sure to tuck them inside the included case.
When it comes to actually wearing the headphones, they're light and comfortable, just like the SoundTrue and QC25 before them. They stay comfortable after extended use too, though they can get a little warm after a while.
Connectivity
Bose has gone a long way toward making the SoundLink Around-Ear Wireless Headphone II user-friendly, and the ­­voice prompt that provides battery life and pairing status on turning the headphones on is a great example of that. Whether or not you use the built-in NFC functionality, pairing and re-pairing the headphones is an easy process, even compared to how simple many headphones make it these days.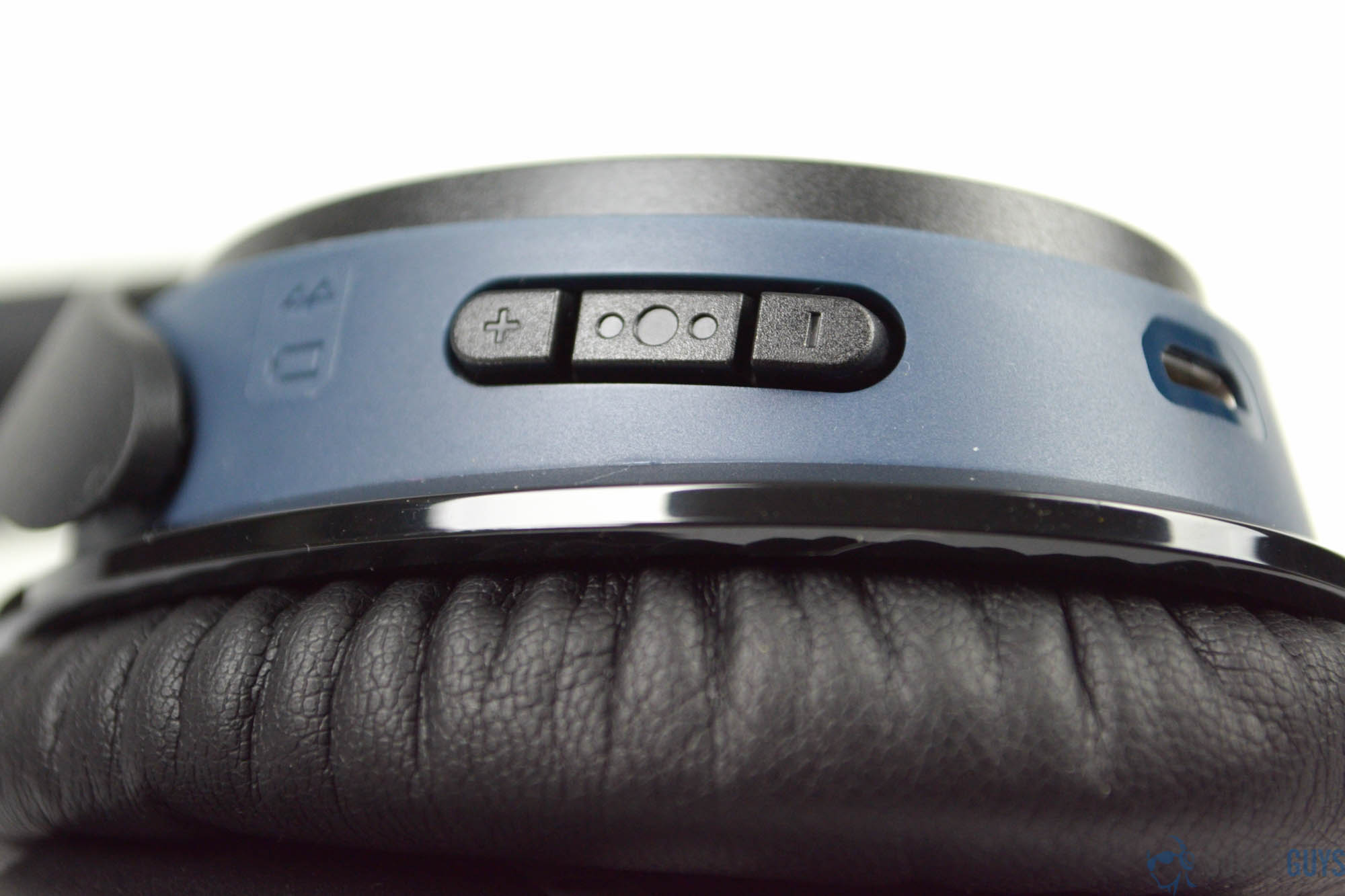 These headphones can be paired to two devices at the same time, allowing you to switch between them with ease. Bose's example is watching a video on an iPad while also connected to an iPhone. If a call comes in, it can switch – pausing the video in the progress – take the call, and resume video playback when the call ends.
There is a major focus on calls here. The headphones support HD Voice and feature "adaptive audio adjustment" to keep call quality good, even when you're in noisy or windy environments. Neither of these environments were available during testing, but call quality was indeed much nicer than some headphones we've seen.
Looking at the controls, it's the standard three buttons. The plus and minus buttons only control volume here; everything else is taken care of by the multifunction button. Tapping this button once will pause and resume playback or answer and end calls. Tapping twice will skip forward, while tapping three times skips backward.
Battery life­­­
Bose claims an impressive 15 hours of playback time, and during our testing we found this to be right on the mark. Charge time is stated as three hours, though this will depend on the charger you use, since none is included – just the USB cable. Bose says that a quick charge time of 15 minutes will provide up to two hours of battery, which is handy.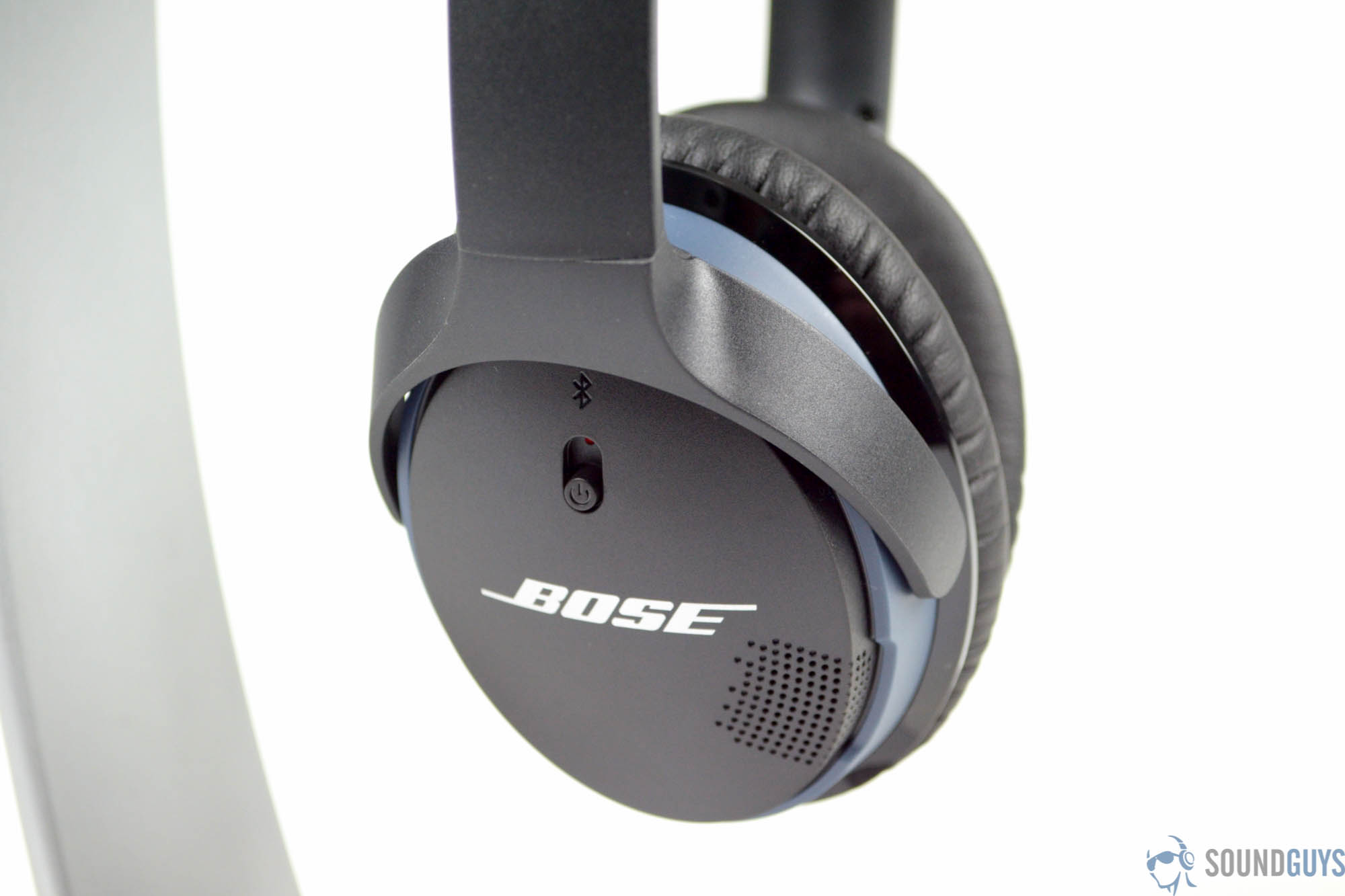 If you do find yourself running out of battery life, just make sure to keep the included audio cable with you. Unlike a lot of Bluetooth headphones, these will work in passive mode, meaning plugged in. Of course, the volume will be a little lower and the headphones won't sound the same, which is why Bose refers to this as a "backup" audio cable.­­­
Sound Quality
Bose makes a big deal out two names in its marketing, TriPort and Active EQ, but the company doesn't say a lot about which either does. TriPort has been used in the company's marketing since the early 2000s, and Active EQ is essentially a way of saying that these sound the way you'd expect anything from Bose to sound: big and somewhat "processed" sounding.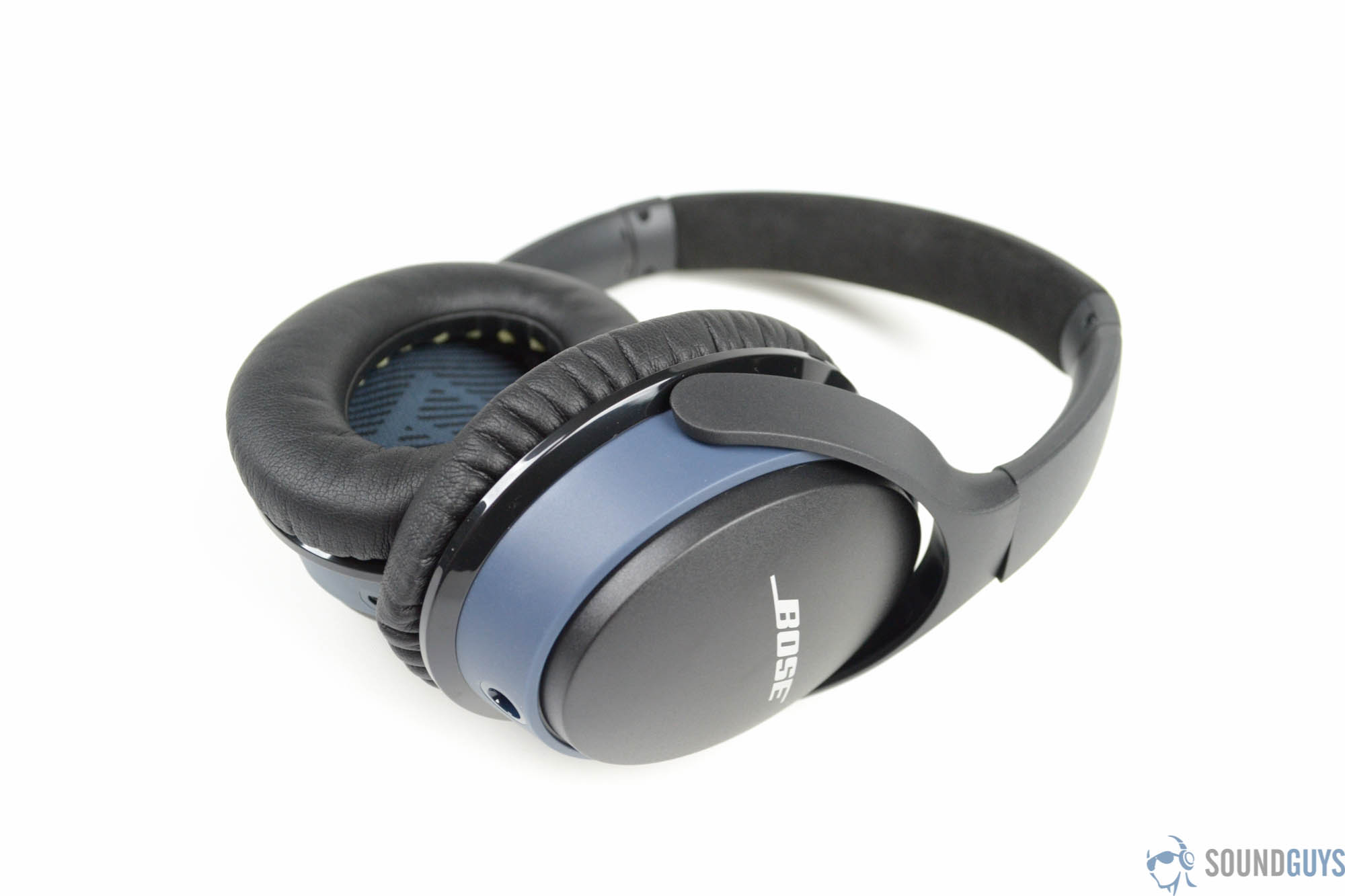 The lows are solid enough, but if you live and die for bass, these probably aren't going to do it for you. Instead these go for a happy medium: the bass is certainly more present than many consumer-focused headphones, but it doesn't go over the top. That said, the bass on JEFF the Brotherhood's "Cosmic Visions" sounded like it was coming from a subwoofer somewhere in the room behind me.
As mentioned earlier, the EQ curve here is far from flat, but unlike many headphones released in the last few years, the mids aren't kicked down into the ditch. On The Damned's "I Just Can't Be Happy Today" Dave Vanian's vocals are never buried by the keys, which isn't an easy feat for some headphones.
The highs never speak up enough to become overly harsh, and there is definitely some roll-off present from the Active EQ, but they don't sound too artificially toned-down. The sound of the pick hitting guitar strings on Kurt Vile's "Wakin' on a Pretty Day" was preserved nicely without becoming overbearing.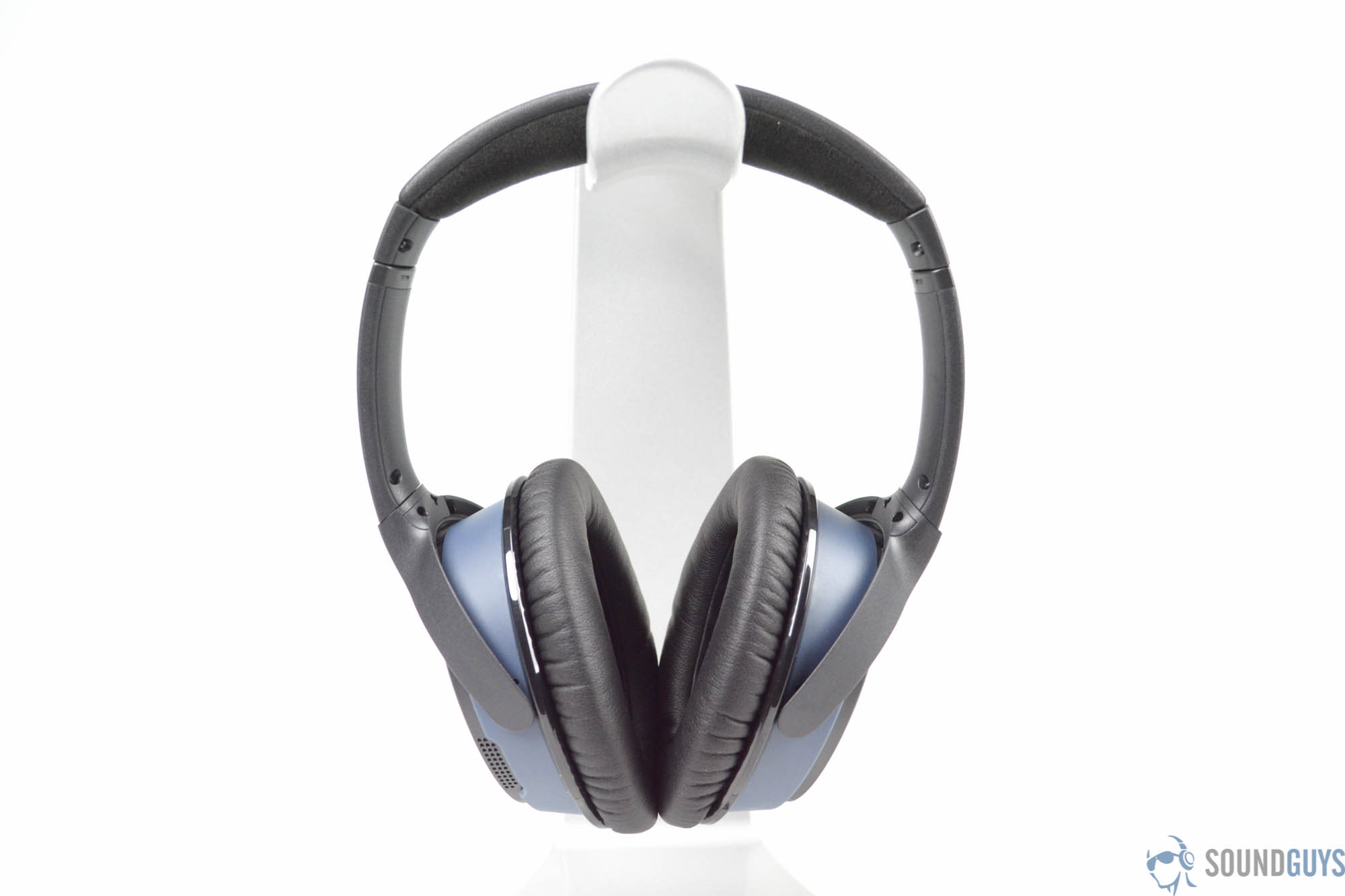 Listening to these headphones, it's clear that the DAC is playing around with the sound much more than on other Bluetooth headphones. Fortunately Bose has been doing this long enough that the company has learned a thing or two, and even while I normally prefer a hands-off approach to how the source audio is handled, I found the sound to be enjoyable.
You're not going to find any Active Noise Cancellation here – you'll need to look to the $400 QC25 to get that from Bose – but the passive isolation is quite effective. With music playing, even at lower volumes, you're going to struggle to hear anything going on around you. The same can't be said for others hearing what you're listening to however: these do leak a decent amount of sound.
Conclusion
As with a company like Beats, there are going to be plenty of people who have already made a decision about these headphones based on the name alone, and in one respect, they have good reason. The Bose name on these headphones certainly has something to do with the price. They're not overpriced, especially considering how good they sound, but you can find more feature-rich headphones for a lower price without a doubt.
Still, there is no denying that this is a quality pair of Bluetooth headphones, even for the $300 asking price. If you're looking at these headphones in the first place, you likely know what you're looking for, and it's not neutral, accurate sound – you're looking for something that sounds "fun." As someone who usually prefers the former, these do the latter well enough that I didn't want to take them off when my time testing them was done.