All products featured are independently chosen by us. However, SoundGuys may receive a commission on orders placed through its retail links. See our ethics statement.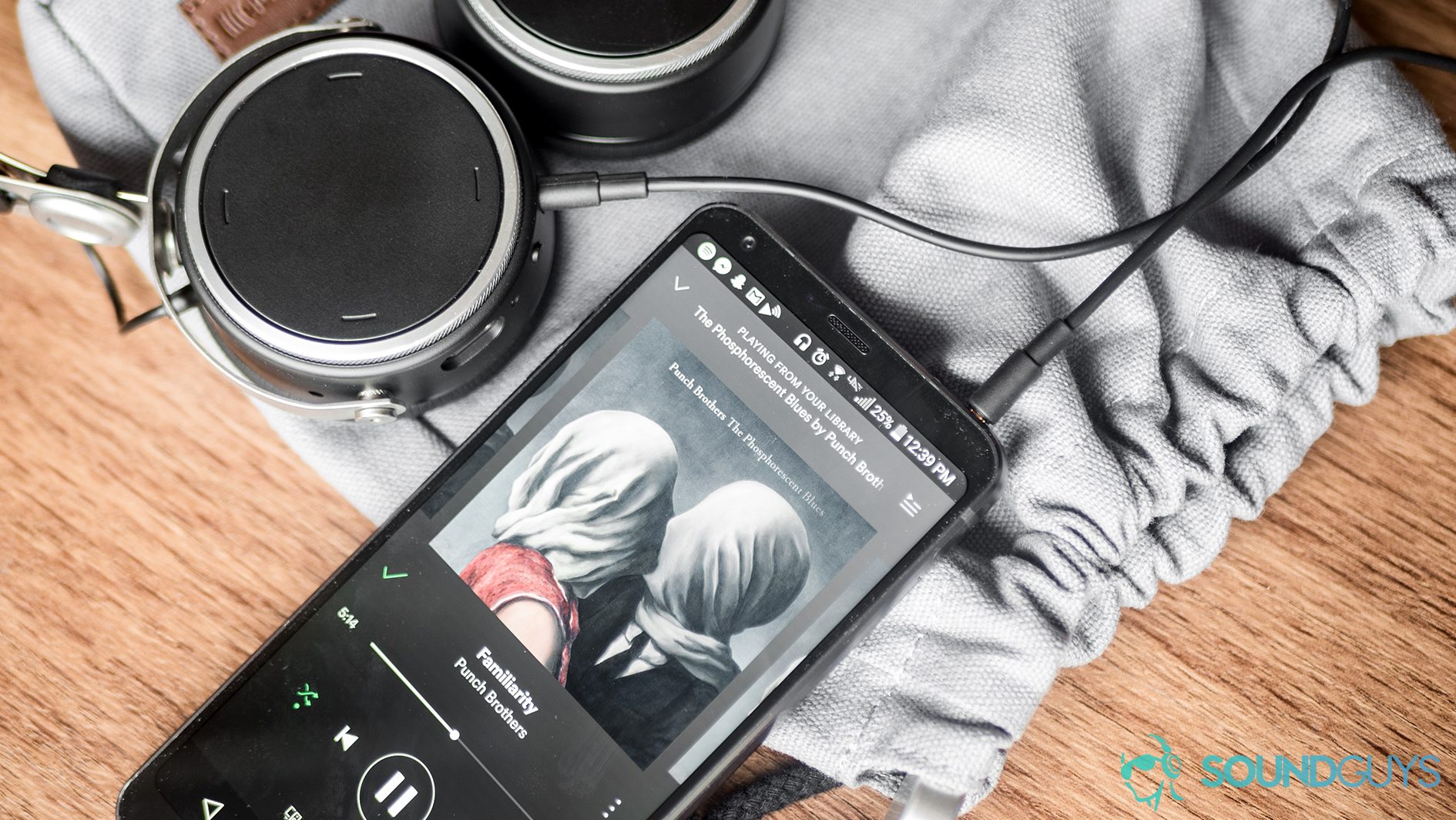 8.5
Beyerdynamic Aventho Wireless
The bottom line
The Aventho Wireless are a well-rounded Bluetooth contender, if you don't mind shelling out for them. The on-ear headphones are quite good with or without the app, but they'll cost you.
Beyerdynamic Aventho Wireless
The Aventho Wireless are a well-rounded Bluetooth contender, if you don't mind shelling out for them. The on-ear headphones are quite good with or without the app, but they'll cost you.
What we like
aptX HD<br>
Excellent instrument isolation<br>
Elegant design<br>
Responsive touch controls<br>
USB-C charging<br>
What we don't like
Finicky MIY app<br>
Price<br>
Discomfort with eyewear<br>
Rating Metric
Sound Quality
8.6
Bass
8.5
Midrange
8.8
Highs
8.6
Durability / Build Quality
8.5
Value
7.9
Design
8.5
Microphone
8.0
Portability
8.9
Battery Life
8.6
All that glitters may not be gold, but all that's stamped with "Made in Germany" just might be. Cue the Beyerdynamic Aventho Wireless headphones: a mobile masterpiece. From the 3.5mm cable to the synthetic leather protein headband, the Aventho Wireless appear to have been crafted with the same care that goes into any clock, train, or luxury car from Beyerdynamic's home country.
Editor's note: This review was updated on January 16, 2021, to align its formatting with current SoundGuys standards.
Who is the Beyerdynamic Aventho Wireless for?
Anyone who sees money as no object: Due to the wallet-deflating price tag of $449, those who are looking to get the most out of mobile listening no matter the cost will enjoy the Aventho.
Audiophiles: The sound quality on these cans is top-notch.
What's in the box?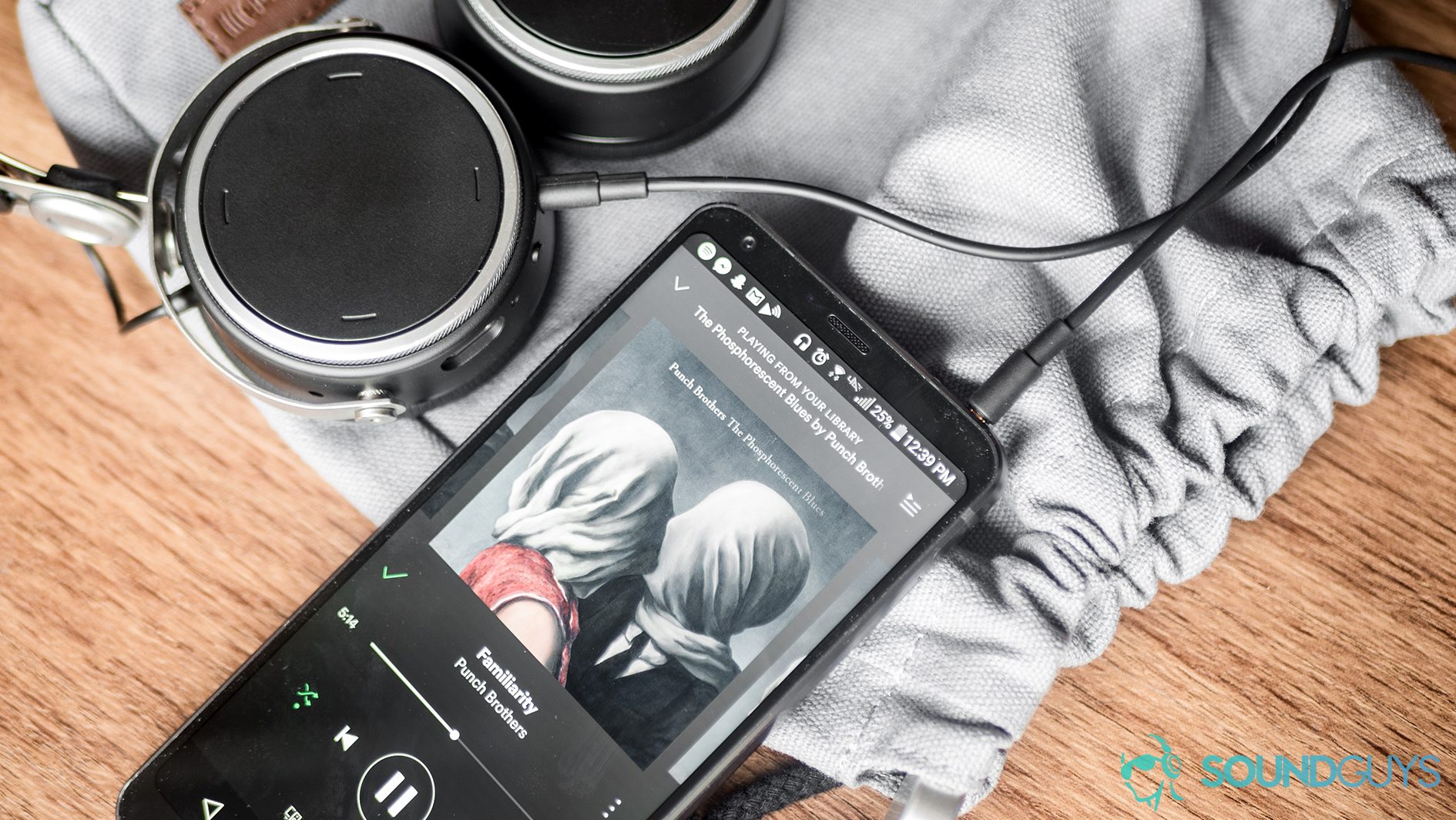 Wired listening is available as long as the source device has a headphone jack.
Beyerdynamic takes a direct approach to packaging the Aventho Wireless. Thin cardboard encases the headphones and a padded, canvas carrying pouch. Typically, included carrying cases are unremarkable. But the double-sided cushioning, lining the lower half of the drawstring pouch, makes it worth writing home about. An interior elastic pocket holds a USB-C charging cable and 3.5mm cable.
Build quality is top-notch with the Beyerdynamic Aventho Wireless
Sophistication meets functionality with the Beyerdynamic Aventho Wireless build, which echoes design elements of the Beyerdynamic T51p headphones. The flat, circular panels on the outside of the supra aural ear cups protect Beyerdynamic's acclaimed Tesla drivers. As dynamic speakers require strong magnets to move their diaphragm elements quickly, a more powerful magnetic driver—able to exert more force—means minimal distortion and greater energy efficiency than its conventional counterparts.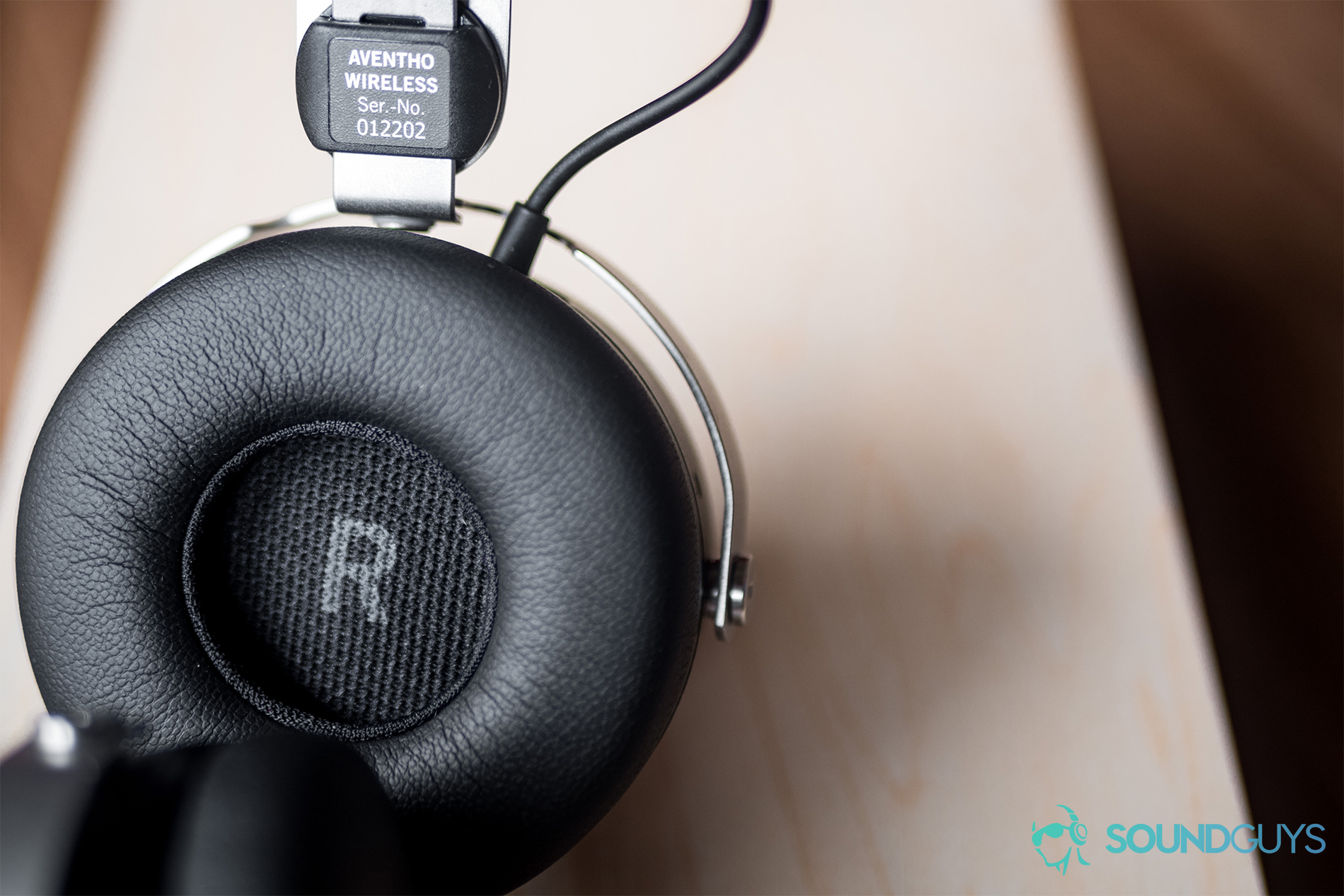 Soft synthetic protein leather make up the ear pads and headband of the Beyerdynamic Aventho Wireless.
A matte finish successfully avoids oily fingerprints and general scratches. Unlike the left side, the right ear cup is blank and touch enabled, allowing users to command the Aventho with an assortment of intuitive gestures—virtually identical to those of the Sony WH-M1000X M2. You can adjust volume by swiping up and down, move tracks by swiping forward and backward.
Housed on the same ear cup is a USB C input, a 3.5mm input jack, an LED indicator, and a power button. With an easy learning curve and lightning fast responsiveness, "ease of use" is the Aventho's middle name.
The metal headband, although gorgeous, has a penchant for pulling out rogue hairs.
The Beyerdynamic Aventho Wireless are available in an all black or black/brown colorway.
Synthetic protein leather cushions the headband and ear cups. Though it's not real, it appeals to those with an aversion to animal-derived materials. Also, given how thin the padding appears: it's exceptionally comfortable while maintaining a slender profile. As per usual with on-ears, there is some discomfort when worn with glasses. After 45 minutes, the pressure coming from the weight of the metal unit becomes difficult to ignore. What's more, the headband, although gorgeous, has a penchant for pulling out rogue hairs.
Two pivot points alleviate some of the pressure: one connects the forks to the headband and the other joins the forks to the ear cups. The former gives the headphones leeway to fold flat and the latter helps to relieve pressure on upper-ear cartilage.
Do the Beyerdynamic Aventho Wireless stay connected?
The Beyerdynamic Aventho Wireless are able to operate up to 10 meters from a source device, typical for Bluetooth headphones. This works well when moving through large spaces with few obstacles. But when traveling from one floor of a house to another, the connection becomes disrupted due to various physical barriers.
What can be said, is that the Make It Yours app sucks battery like a binging Dracula on Halloween.
What Bluetooth codecs are compatible with the Beyerdynamic Aventho Wireless?
An array of Bluetooth codecs are compatible with the headphones, one being Qualcomm's exceptional aptX HD codec. This grants a maximum transfer rate of 576 kbps and has a short latency period. Therefore, watching videos is almost lag and frustration-free. It's also AAC compatible, great news for Apple users. For those who loathe Bluetooth like our Executive Editor, Chris Thomas: cabled listening is available. It's a plain 1.2 meter detachable 3.5mm cord, and feels durable enough for regular use.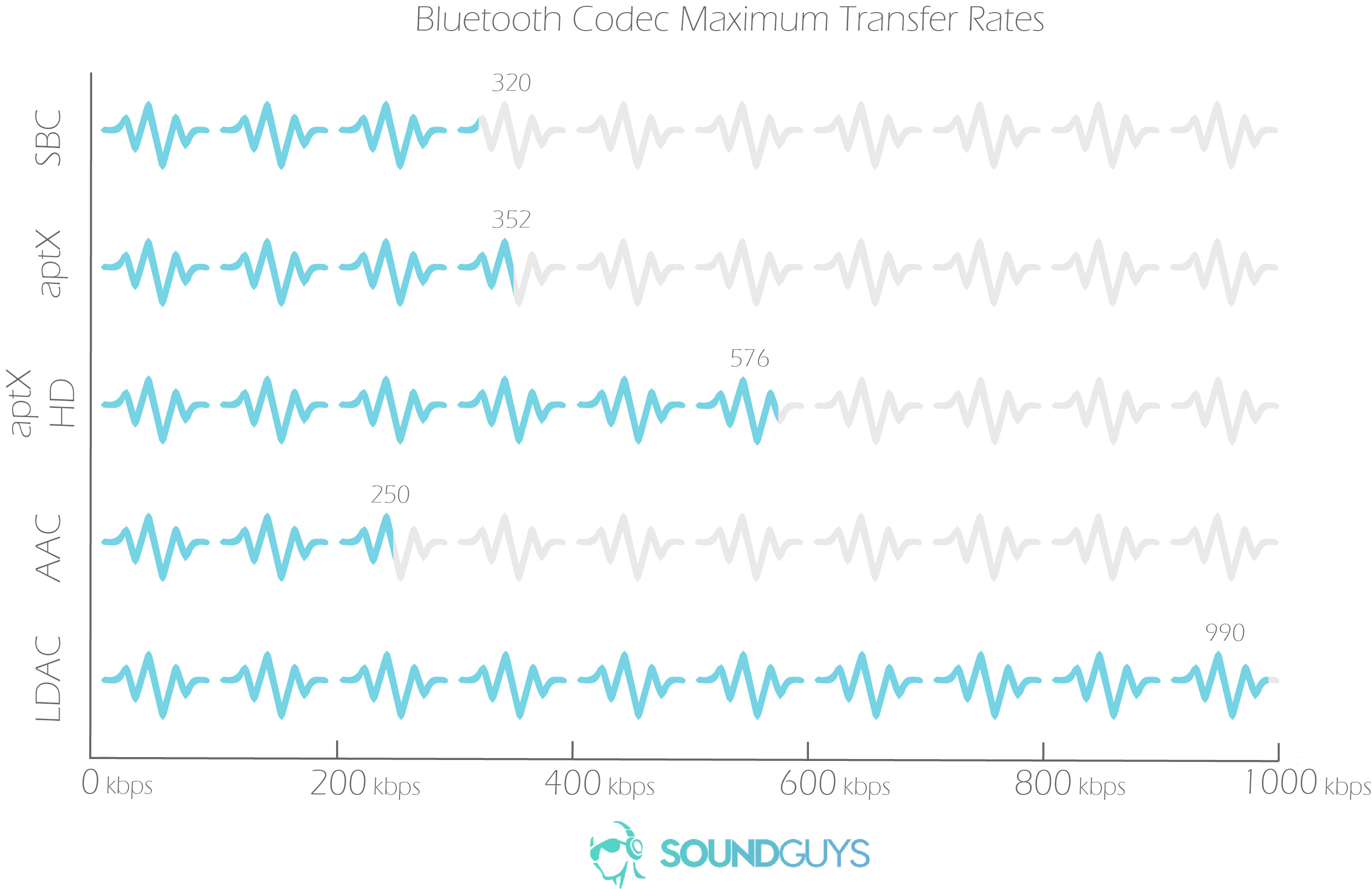 Represented is the max transfer rate (kbps) of each respective Bluetooth codec (greater is better). Each waveform depicts a transfer rate of 100 kbps.
The MIY app could use some work
Back at IFA 2017, we praised Beyerdynamic and their partnership with Mimi Hearing Technologies for their conception of the MIY app. In theory, it's remarkable. In practice, well… it needs a little work. The app promises a personalized sound and offers a slew of features but we had a lot of trouble getting it to work on our devices. Chris was unable to pair his Aventho Wireless headphones with the app. I, on the other hand, was able to get to that point, but the app froze during the personalized profile portion.
After four or five re-installations, I was able to experience the MIY app's sound adaptation. The headphones sound great without the app, but with it, the signal processing greatly enhances the illusion of space in the recording you're listening to. Increasing the intensity to 60 or 80 percent is like inflating a balloon; it sounds much roomier. There also appears to be volume increases occurring when switching from inactive to active.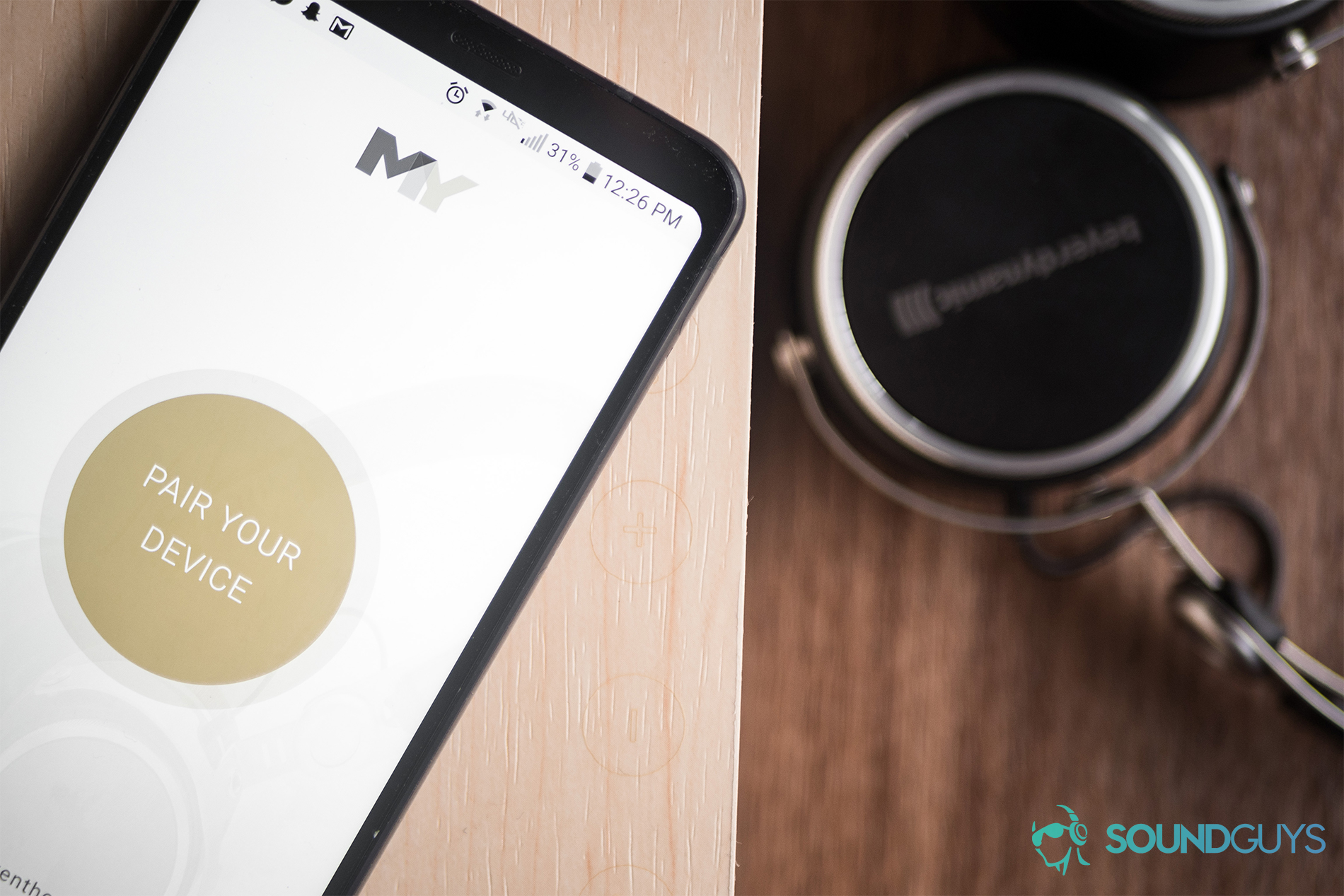 Cool in theory, the MIY app struggles to pair with the Beyerdynamic Aventho Wireless.
Though the app is great when it works, it sucks battery like a binging Dracula on Halloween. My LG G6 usually lasts all day, but when the MIY app pairs to the Aventhos, the G6 drains to 40% before 11 a.m. This was without any sound personalization active, since the only step I was able to complete was the pairing process. After uninstalling the app, battery drains a little more than usual, due to the high transfer rates of aptX HD, but is manageable.
As bad as this sounds, it's merely a software issue; so all of our problems could be some distant memory not too long from now. An update could come along and fix everything, so don't get discouraged quite yet! That's the great thing about letting your smartphone handle these new features: even if something isn't perfect at first, that can change over time.
The battery life is very good
Two hours of charging via USB C provide 30+ hours of playback time for the Beyerdynamic Aventho Wireless.
The official run time of over 30 hours is believable, or at least reflects my experience. After five workdays of listening to music, the Aventho review unit I've been listening to finally needed to be topped up. The 1,050mAh battery takes two hours to reach a full charge; not bad considering that it lasts approximately 33 hours. Upon startup, a nice English lady greets listeners by saying, "Power on. Battery XX percent." There's also a basic "power off" prompt, so listeners aren't kept wondering if they've held the button down long enough yet.
The sound quality is great
The sound quality is phenomenal, thanks in no small part to the top-tier hardware with rock-solid aptX HD support. If you're looking for sound quality above all other concerns, the Aventho blow many competing Bluetooth cans out of the water. Though these are still Bluetooth cans, and low hums occasionally underscore music playback. This can almost be forgiven, as the unreasonably strong magnets that move the drivers allow for far more efficient sound reproduction, allowing listeners to focus on individual instrumental riffs even at low volumes.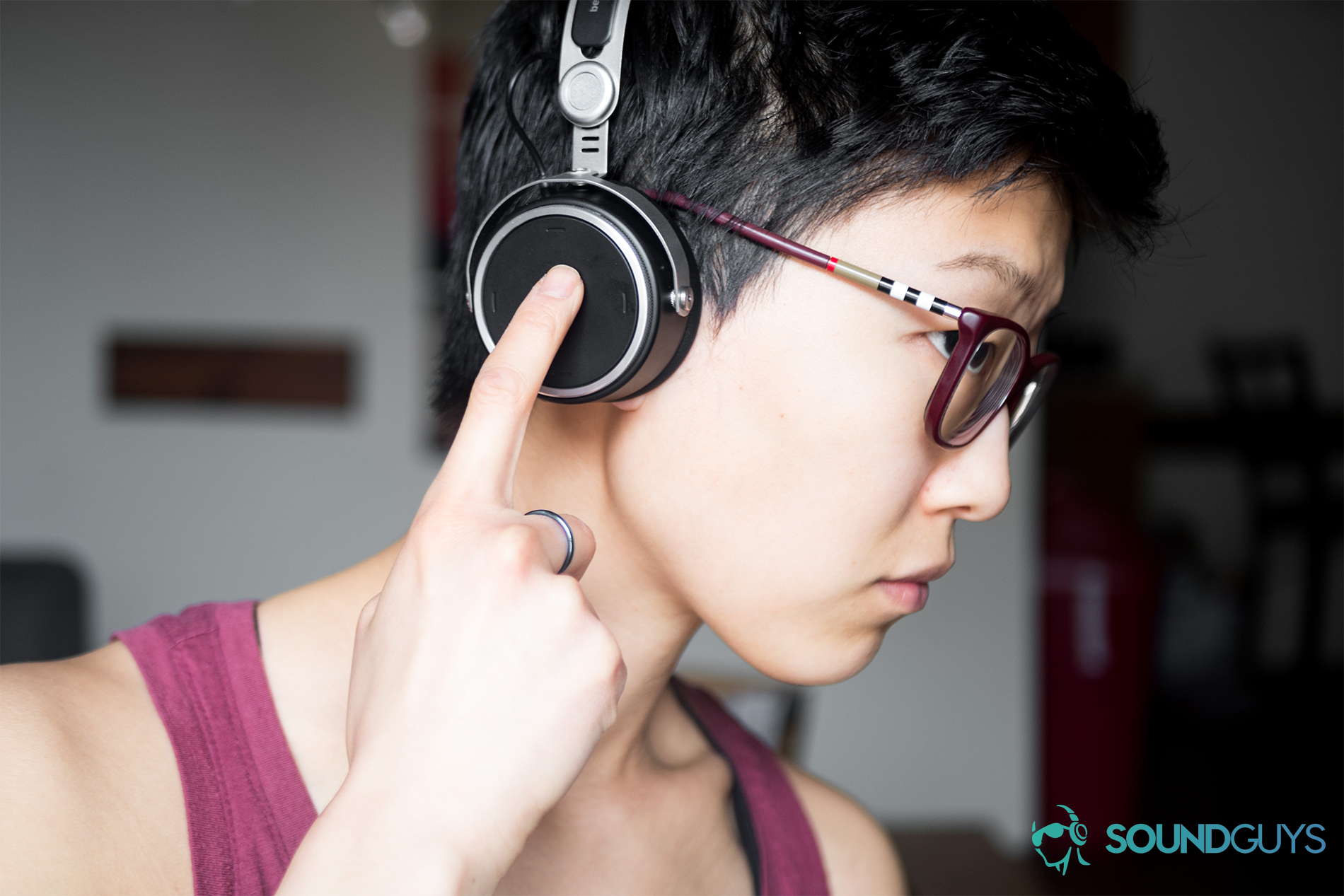 Users can control their music with intuitive gestures via the right ear cup on the Beyerdynamic Aventho Wireless.
While that may sound like hyperbole, it's not something you can do on just any headset, as many older dynamic headphones simply aren't capable of moving their drivers in such an exacting way—you typically need something crazy-good to do it. Discoveries to old favorites are likely to be made when using the Aventho Wireless.
Lows
Iron Eyes Cody, a Vermont-based indie band, sounds great on the Beyerdynamic Aventho. Their song Animal is held steady by the introductory drum beat. It has just enough kick without knocking listeners into a dizzying daze. Lows don't bleed into the mids at all, leaving room for harmonies to shine through. Drum kicks are easy to distinguish from guitar riffs, too. The ability to isolate different parts of a song feels like zooming in on a photo and then zooming back out to understand the full context.
Mids
A gorgeous reproduction of mid range frequencies is demonstrated by Sylvan Esso's Slack Jaw. A song like this is a really good way to tease out some of the quieter details of a recording, and where you can most easily hear the difference a super-strong driver makes. While the song is mixed well for most audio equipment out there, it takes a really stellar set of headphones to preserve certain details in the presence of louder sounds of similar frequency. Most headphones struggle a bit in this way, even if sometimes you can coax better performance out of them with intense signal processing… but who has the time for that?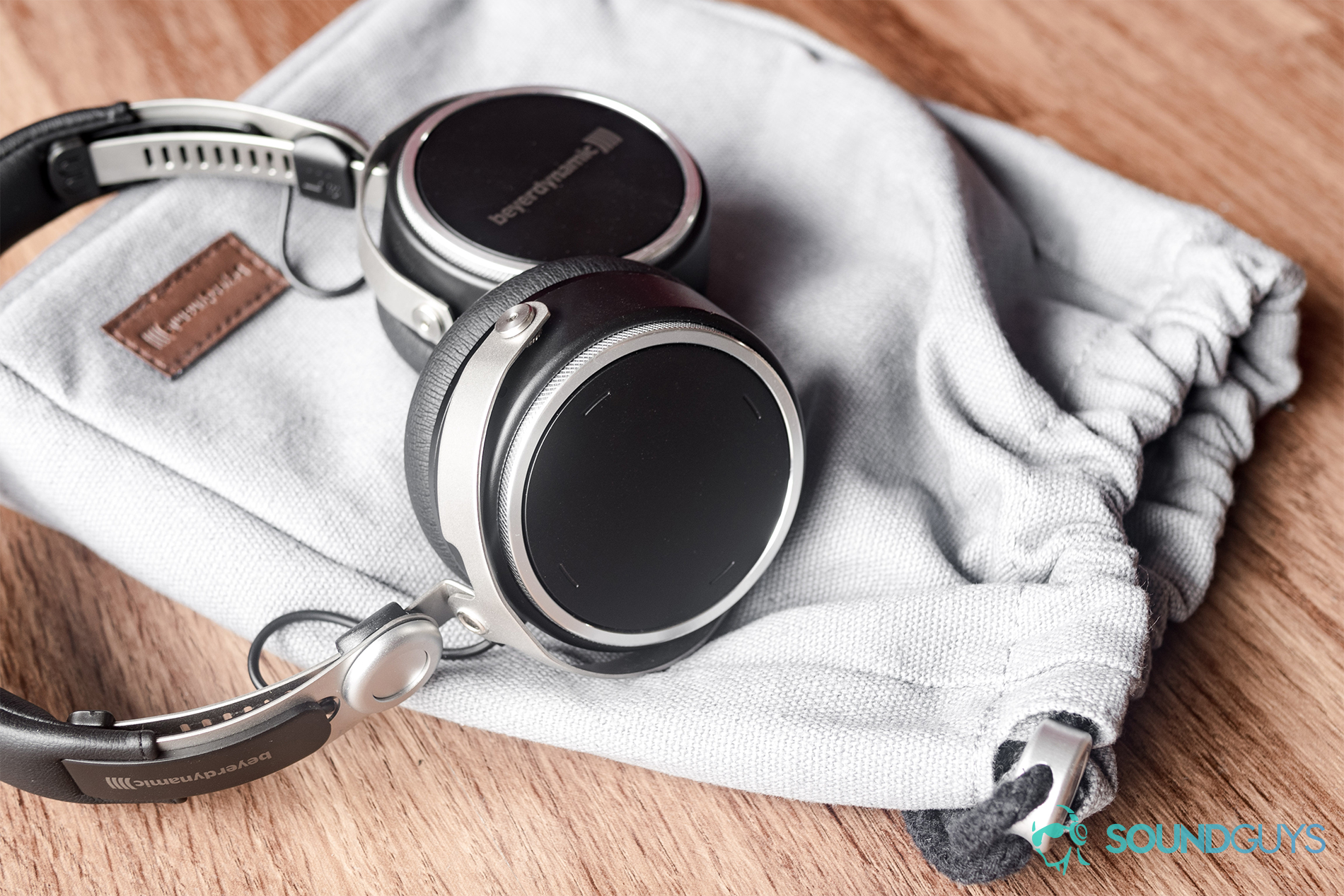 The Beyerdynamic Aventho Wireless canvas pouch is a great, protective inclusion.
The Aventho Wireless do Amelia Meath's vocals justice in a way I deeply appreciate. Slack Jaw is a firsthand account of life plagued by depression, and relies on fairly quiet background melody in a minor key to drive home the tone of the song, which can get easily lost with entry level equipment if you don't crank the volume. The speaker has "got all the parts [she] wished for" and is still unable to enjoy the beauty around her. The Aventho Wireless underscore the band's talents, leaving no note to waste when listened to as a wired headphone or with aptX HD enabled.
Highs
The mandolin is the instrumental star of the Punch Brothers' Familiarity. Dexterously-plucked high notes are laden with dimension. Tesla driver technology negotiates a tricky bargain between detail and sharpness (AKA, overemphasis). Listening fatigue isn't an issue with the Beyerdynamic Aventho Wireless.
The Beyerdynamic Aventho Wireless has some of the best sound quality we've heard in Bluetooth headphones.
Two minutes and forty-eight seconds in, and the string ensemble runs with a high-note solo for fifteen seconds where the mandolin and violin weave between each other seamlessly. My ears were awaiting a precipitous clash between the instrumental solo but were, astoundingly, never met with one.
Should you buy the Beyerdynamic Aventho Wireless?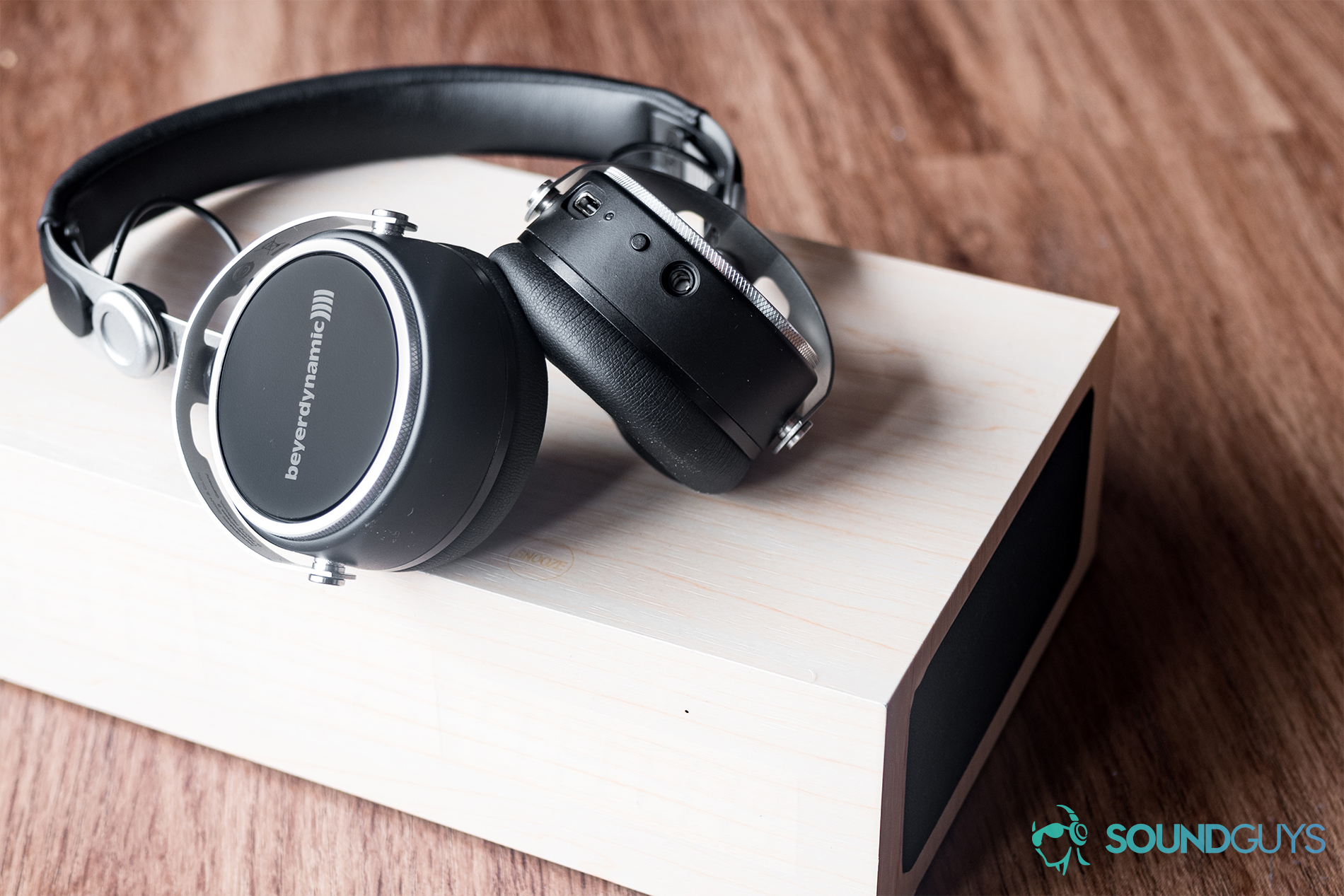 Beyerdynamic's Aventho Wireless offer apt X HD support and AAC support for Apple users.
If money isn't an object, you can't go wrong with the Beyerdynamic Aventho Wireless. Even without sound customization provided by the MIY app, the headphones sound lovely.  A portable, Bluetooth-enabled form factor with great battery life suggests that these are for those of us who don't want to sacrifice sound quality while on the go. If that's not your cup of English breakfast tea, you may want to check out their not-so-distant cousin, the Beyerdynamic DT770 Studio headphones.
Again, Beyerdynamic's build quality never ceases to impress us. Pair that with the detailed, responsive sound of the Aventho Wireless headphones and you've got yourself a real pretty set of cans, if your bank account doesn't mind the gut-wrenching deficit.