All products featured are independently chosen by us. However, SoundGuys may receive a commission on orders placed through its retail links. See our ethics statement.
Best of NAMM 2020
A fun show full of fun gear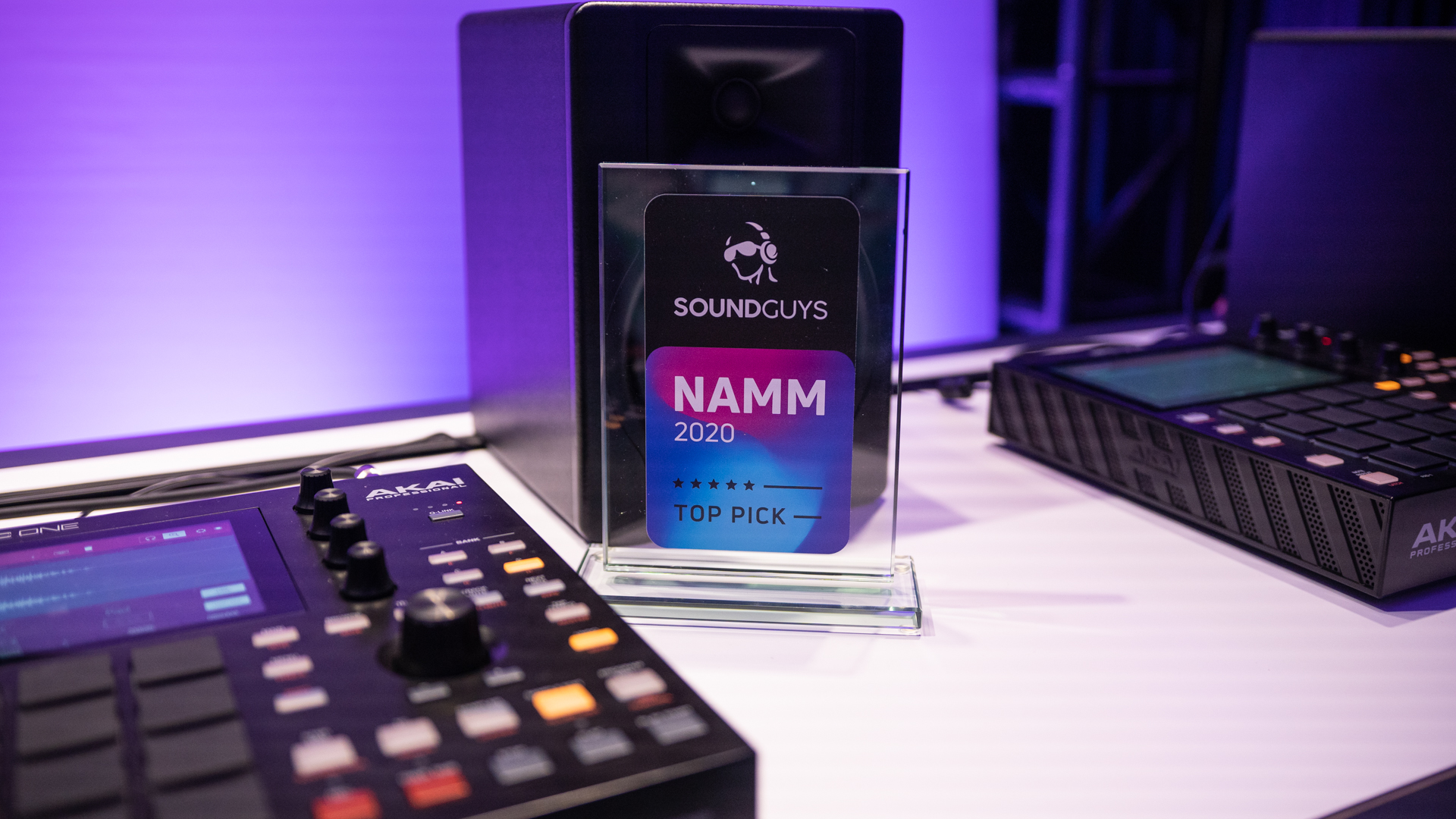 The National Association of Music Merchants (NAMM) is a show that happens in Anaheim, California every year. It's a show where manufacturer's of everything that has to do with music and audio announce their newest gear. This can range from synthesizers to violins and everything in between, including lighting and software. At NAMM 2020 there was a lot to like, but there were a few things that stood out among the noise. One of the common themes I noticed between walking the floor and seeing the flood of press releases was that the music industry as a whole seems to be very interested in lowering the barrier to entry for anyone looking to create in audio. At least, the best products that we saw were all lowering the price point of something that's normally super expensive, or just has a low price tag to begin with. This is the best of what NAMM 2020 had to offer.
MPC One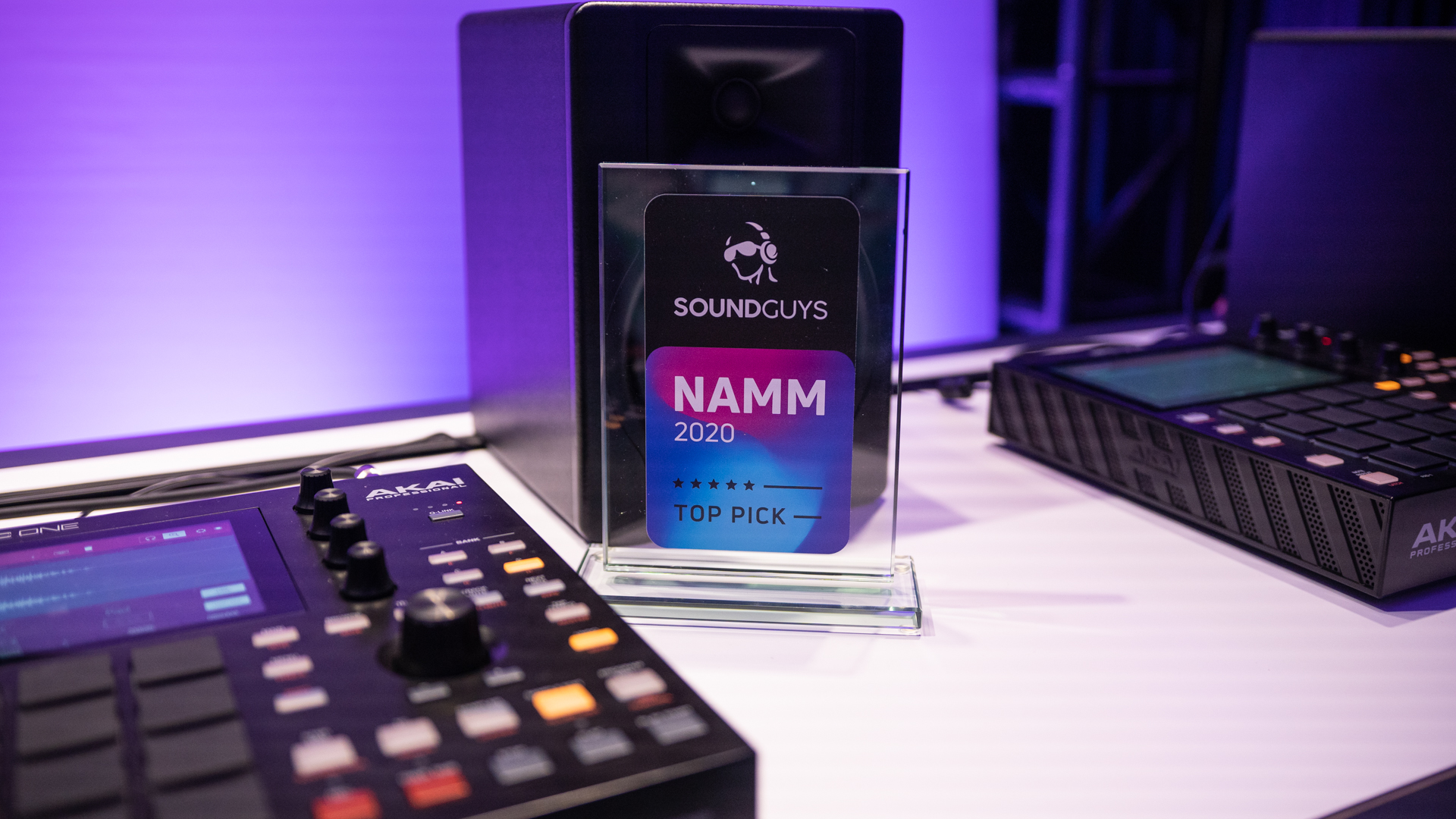 The MPC One was one of the best announcements of NAMM 2020
One of the best products we saw at NAMM was the MPC One by Akai. The MPC is one of the most universally recognized pieces of gear with its drum pads and ability to be played as a standalone instrument without a computer. The problem is, MPC's are usually expensive. For anyone looking for an affordable entry into the world of MPC's, the MPC One might be for you. At $699, the MPC One isn't exactly cheap but it's a great deal compared to some of the other MPC's that are currently available. If you're already a proud owner of an MPC Live or MPC X then this new one really doesn't make too much sense for you to get, but if you've been eyeing the MPC X, now you have a more affordable option.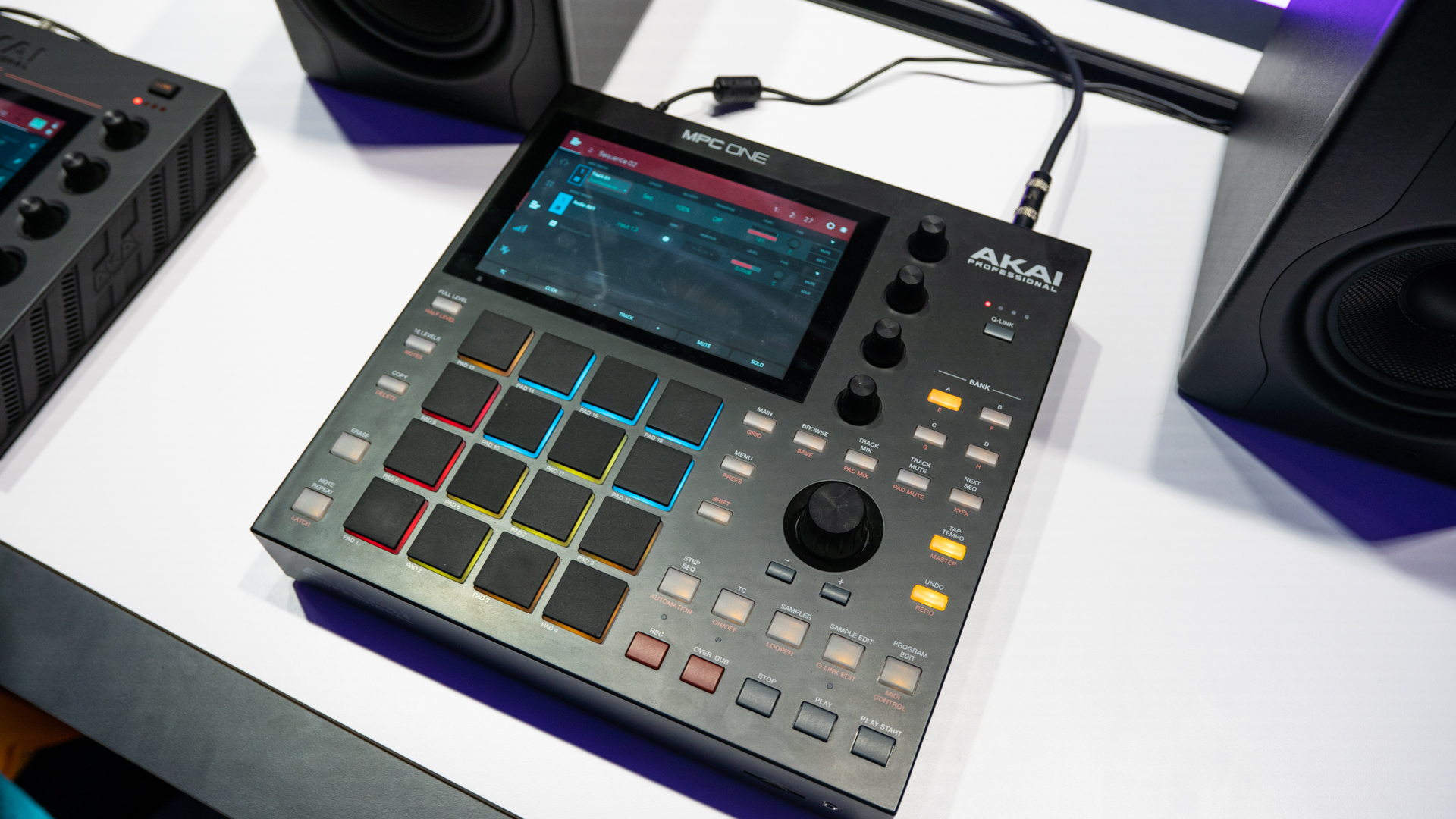 The MPC One doesn't have a battery, but it offers many of the best features of MPC's for a fraction of the cost.
There are some corners that had to be cut in order to get the price down, but you get most of the main functionality. For example, the MPC One needs to be plugged in to work so you won't be able to just take it out of your backpack and make a beat at the park, but on the brightside the MPC One has eight CV gate outputs which was originally only on the $2000 MPC X. So if you have a modular setup, you can easily add this to your kit without too much hassle for less than three times the cost of the next available MPC that has that functionality. The MPC One will be available this February for $699.
Sonicware Liven 8bit Warps
The Sonicware Liven 8bit Warps synthesizer won one of the best of NAMM 2020 awards.
Another piece of hardware that stole the show for us was the Sonicware Liven 8bit Warps. Hidden away at the edge of random aisle was the Sonicware booth. The company has been riding the success of the ELZ-1 synthesizer, and now announced the Liven 8bit Warps synth. This is a synth that specializes in the 8bit sound of old school video games, letting you make your own chiptunes masterpiece. The best part is that the Liven 8bit warp will be just $199 at launch in June later this year, so it won't even break the bank. Plus, you can save some money by backing it on Kickstarter now where it's already blown past its funding goal.
For just under $199, the Liven 8bit warps by Sonicware is an impressive 8bit synth for all your chiptune needs.
Even though the device is full of 8bit sounds it still features 32-bit effects. So when you throw on an effect like a reverb, you'll still get a nice and detailed sounding reverb even though the actual voice of the instrument is just 8bits. Despite the price tag, the 8bit warps feels surprisingly solid. While it is made entirely of plastic to keep the cost down, the buttons and knobs don't feel cheap at all. Overall, this is just a fun piece of hardware that is good at what it does, super fun to play with, and won't destroy your bank account.
Korg Wavestate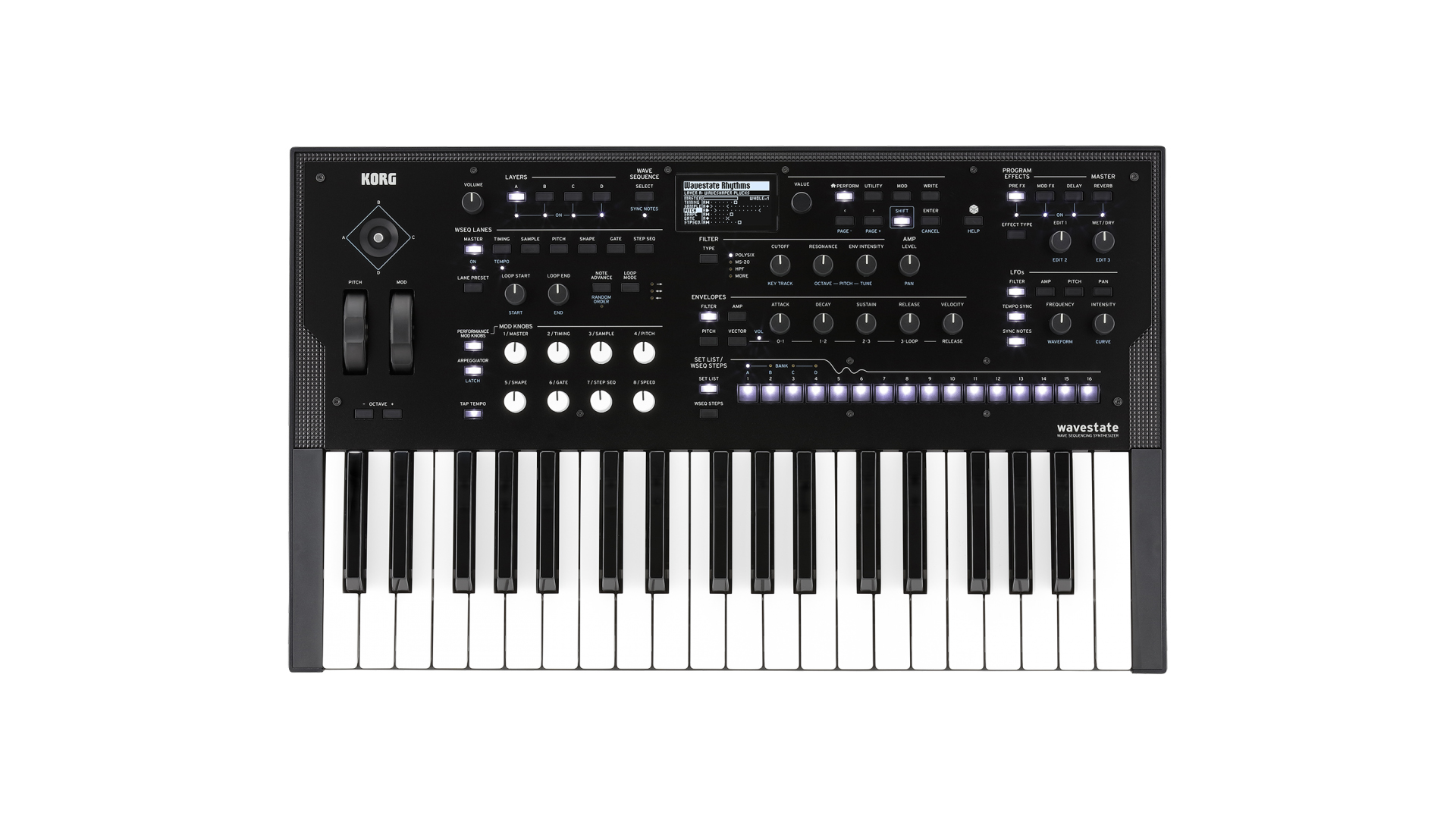 The Korg Wavestate was another top synth of the show for any serious sound designers or musicians.
Though it didn't win our award, another piece of hardware that was hard to ignore was the Korg Wavestate wave sequencing synthesizer. This thing is a beast, and if you're hardcore into synthesizers and sound design you're going to want to check this out. It gives you control over almost every aspect of a sound so that you can shape a raw waveform into anything you want. The upside to something like this is that you can get sounds out of this that is truly unique to you, giving whatever you're working on a touch of individuality. The downside is that it isn't the most intuitive piece of gear we saw.
Be prepared to invest some time into learning the ins and outs of this machine, but once you do it's almost guaranteed that you'll be pulling some great sounds of it. Not to mention that the hardware itself is beautiful and extremely well-made. Where the Sonicware Liven 8bit warps is quirky and easy to learn, the Korg Wavestate is professional with a steeper learning curve. Whether you're looking for a powerful new piece to add to your setup or want an all-in-one production machine, the Korg Wavestate should be on your shortlist. Just be prepared to shell out for it as it'll run you about $799 when it's released later this year.
SSL 2 and SSL 2+ audio interfaces
The SSL 2 interfaces offer high quality recording at a low price point, taking on the likes of the Focusrite 2i2 Scarlett interface.
NAMM isn't just about the best money can buy, there were also plenty of companies showing off bang for your buck products that looked very promising. One of them being the SSL 2 and 2+ audio interfaces. For a long time the Scarlett 2i2 interface has been the go-to budget interface for anyone looking to record audio in a meaningful way for cheap. But Solid State Logic is making a case for the SSL 2 and SSL 2+ interfaces, both of which offer a good way to record into your software of choice. They both have two mic preamps for your XLR microphone of choice along with USB 2.0. Plus, they capture audio in 24-bits at 192kHz which should be enough for all but the most demanding Hollywood-sized projects. The only difference between the SSL 2 and the SSL 2+ is the addition of two extra outs on the 2+ model. The SSL 2 is 2-in/2-out while the SSL 2+ is 2-in/4-out. The SSL 2+ also has two headphone outputs instead of one for any collabs you might be doing. The SSL 2 will retail at $229 while the SSL2+ is $279.
Audient Evo 4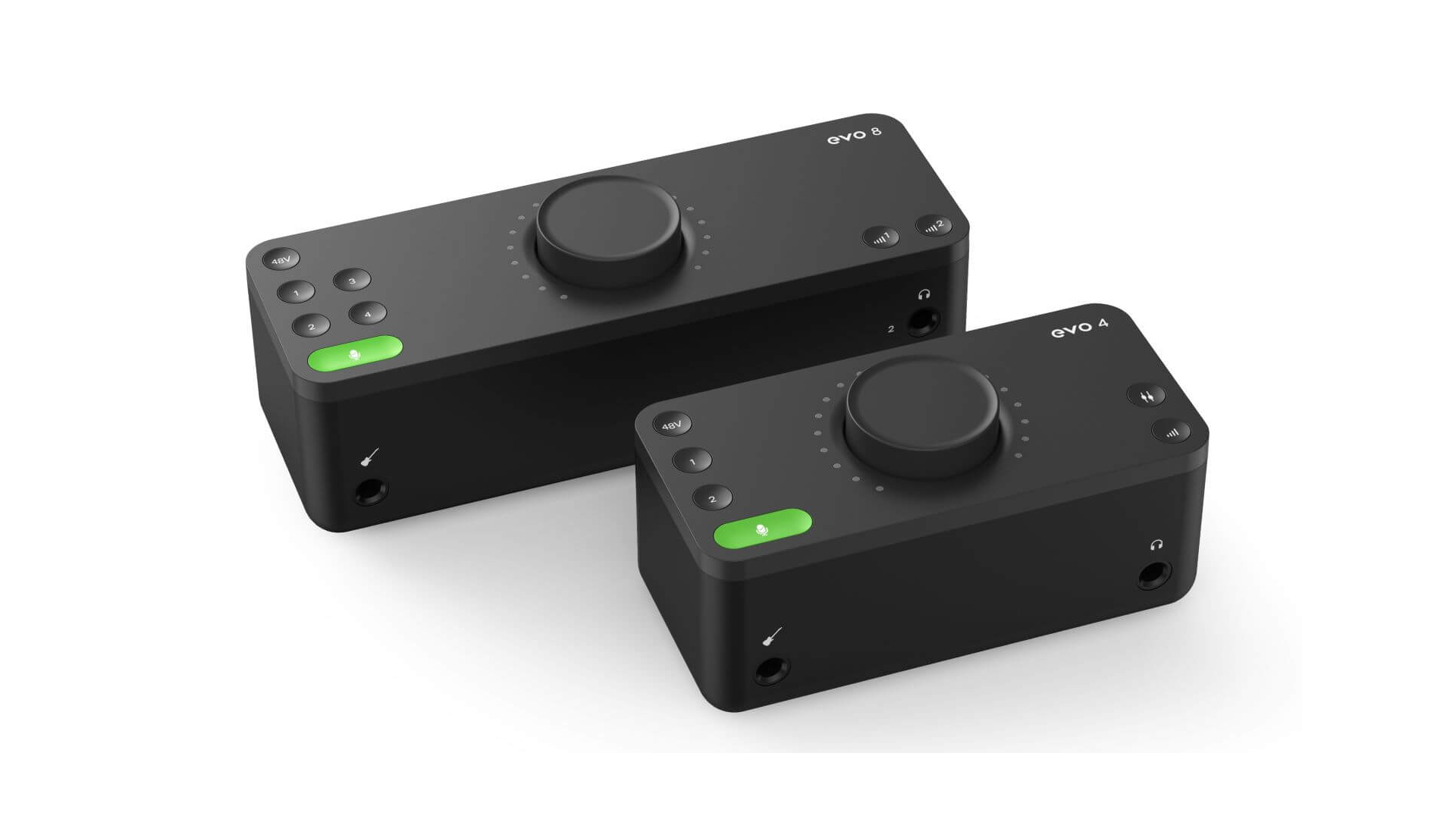 The Evo 4 and Evo 8 audio interfaces are a portable solution with smartgain controls for anyone that doesn't want to constantly be checking levels during an interview or production.
There was a big push this year at NAMM to lower the barrier to entry for potential creators. One of the companies pushing the envelope was Audient, which introduced the Evo 4 audio interface. It's a slick and ultra-portable 2-in/2-out interface for anyone that creates on the go. If portability is your primary concern (such as traveling podcasters or musicians), then the Audient Evo 4 is about as good as it gets. It has phantom power to give enough juice to XLR microphones, but the coolest feature has to be the smartgain toggle. It will automatically detect and adjust the audio coming in and adjust accordingly so that you capture everything at a decent volume. You can avoid clipping without even trying. Of course, this leaves you with a little less flexibility since the gain is being controlled for you, but it can be a lifesaver for one-person production teams that may have a harder time performing/conducting an interview while also monitoring the levels. It's just one less thing you have to worry about. Best of all, an Evo 4 will only run you $129 when it's released.