All products featured are independently chosen by us. However, SoundGuys may receive a commission on orders placed through its retail links. See our ethics statement.
Best of CES 2018
We took to the show floor to find the best audio CES 2018 had to offer.
It's January again, and that means another stroll through Las Vegas to see all the most exciting new audio products that should hit the market in 2018. After scouring the exhibitors for interesting products, we chose four standouts (and one company) to receive our most interesting-looking honor: the SoundGuys Best of CES award. Made of over 20 pounds of laser-etched glass, these cool-looking accolades serve as an unreasonably cumbersome statement that we, the SoundGuys, love those that earned them.
Because of the largely iterative nature of many product releases at this show, we tried to highlight products that we felt would stand the best chance of making a strong impact at the consumer level this year. Without further ado, here's the best audio you can find at CES 2018.
Sennheiser HD 820
Stealing the audio show was the Sennheiser HD 820. It seems unfair, but these cans were easily the stars of CES 2018—how could we not geek out over this one?
Prior to the release of the HD 820, the HD 800 was the best dynamic headphones available for less than a small fortune. Crafted by revered headphone engineer Axel Grell, the HD 800 borrow design elements from aerospace engineering and were groundbreaking for their implementation of the world's largest dynamic transducers.
The HD 820 are a welcome stablemate to the legendary HD 800, released in 2009. As most audiophiles and enthusiasts will agree, these are the greatest thing since sliced bread, assuming that sliced bread is dynamic headphones. Departing from the traditional open-back form, the HD 820 are outfitted with a curved Gorilla Glass panel to protect each transducer. If you're worried about the fact that most closed-back headphones sound a little worse because of their sealed chambers, don't be: The panels reflect sound waves emitted from the transducers into absorber chambers to lessen overall resonance.
Both Adam and Lily tried these out first-hand, and came away with glowing praise—and why wouldn't they? These cans are incredible. While they'll need some serious amping to get the most out of them (300Ω), if you're plunking down the cash for the HD 820, you probably are fine with spending a little extra.
According to Sennheiser, the HD 820 will be available early summer 2018 for $2,399.95/€2,399 (MSRP).
Shure RMCE USB Cable
For those who are avid followers of SoundGuys, as we expect all of you are, you may remember our Best USB-C headphones list. TL;DR: They're mostly terrible.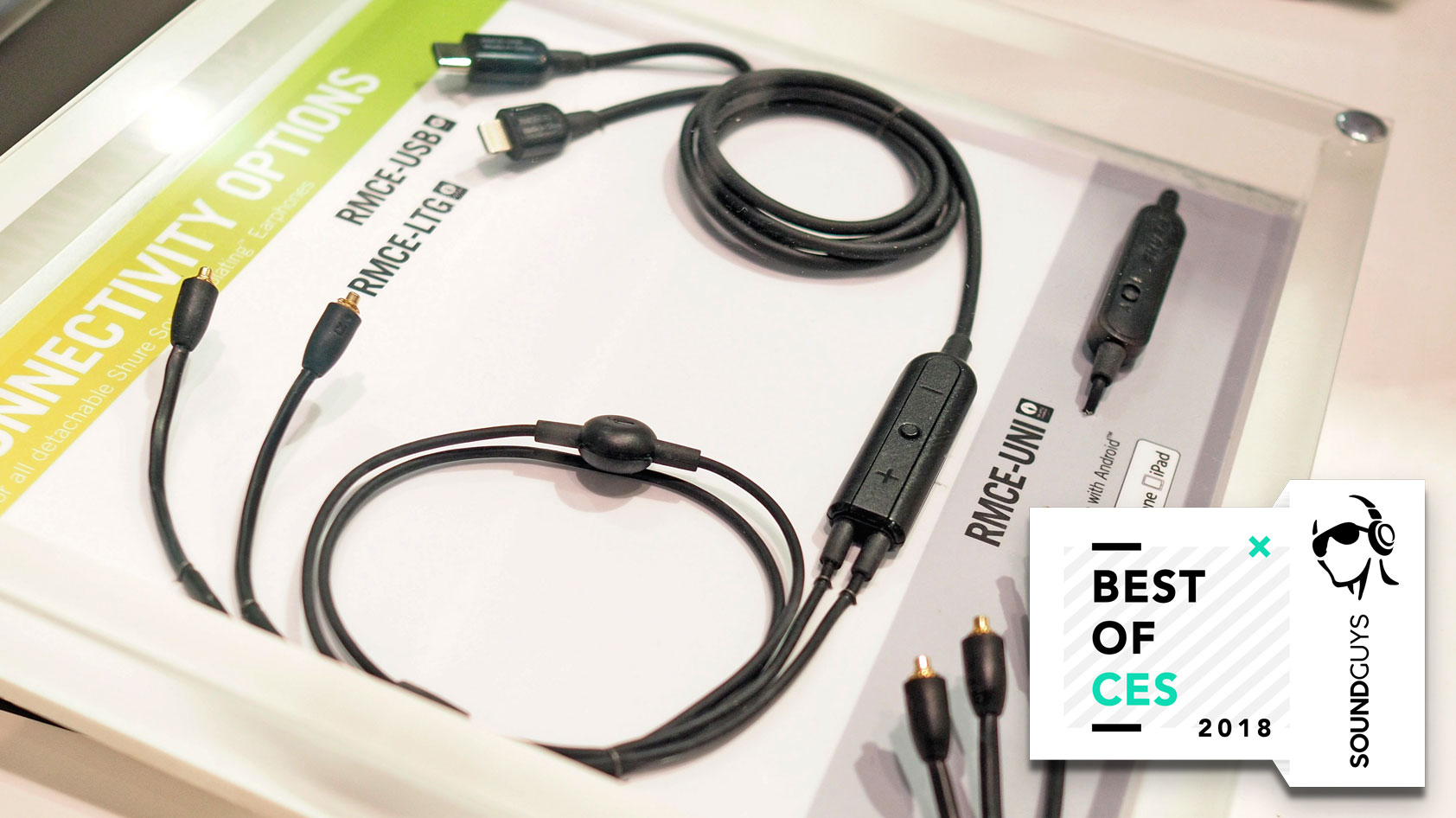 With one cable, Shure dominated the USB-C in-ears category. Smart.
While we begrudgingly highlighted the JBL Reflect Aware and Libratone models as the best true USB-C earphones, it was only a matter of time before another manufacturer figured out a better solution. Shure's launch of a USB-C cable that can connect to any of its IEMs with interchangeable cable hookups makes almost its entire lineup of legendary in-ears credible USB-C headphones with a great pedigree.
Consequently, by default, this means that as of publish, the SE215, SE315, SE425, SE535 and SE846 models are all the best USB-C headphones available. We'll probably wait to update the best list until we get to use this cable, but even if the cable merely works without any headaches—Shure's got it in the bag.
Audeze iSine LX
Audeze may not be a household name, but audiophiles are well acquainted with the brand. Planar magnetic enthusiasts can regale you with tales of when they tried the LCD-4, EL-8, or Sine headphones, but even the most hardcore audiophile might not know that Audeze also makes in-ears.
At roughly half the cost of the previously-cheapest set of in ears Audeze offered, the iSine LX are the most affordable model in the iSine line at $200. While that's not quite as low as Monoprice's competing units, these definitely look more fun.
A "budget" set of planar magnetic in-ears, the Audeze iSine LX makes super high-end audio a little more accessible.
We wanted to highlight these for readers because they bridge the gap between what many consider "excessively expensive" and "accessible, but a little spendy." The iSine look may not be for everyone, but the Audeze sound is definitely is. Sure, too many budget cans fall flat (unlike their sound signature) but the Audeze iSine LX is a credible set of entry-level audiophile in-ears.
LG SK10Y
Another notable update arrived to the CES floor: The LG SK10Y sound bar. A 5.1.2 channel 550W system, and includes a wireless subwoofer. A product of a collaboration between LG and Meridian audio, this soundbar stands as the most credible hi-res soundbar coming to market this year. 
Aesthetically, the sound bar is fitted to rest perfectly under LG OLED and Super UHD TVs. As with many unveiled products at CES, the sound bar is Google Assistant-enabled, and can communicate with other smart products like smart plugs, or connected lights. Want to watch a movie, but don't feel like getting out of your comfy chair to turn off the lights? Just bark orders at your soundbar! If talking to your home theater system is weird to you, the LG SK10Y also offers Chromecast support for other integrations. 
LG's SK10Y soundbar has a lot to offer, including hi-def playback, Atmos, and more.
While just about everyone and their grandmothers were offering Alexa or Google-integrated speakers, where the LG SK10Y stands alone is in its audio quality and audio processing. Thanks in part to the partnership with Meridian, the SK10Y can decode extremely high-bitrate audio, and reproduce it faithfully. Additionally, the unit is compatible with lossless file formats if you're a perfectionist, and the soundbar does a fantastic job with spatial imaging.
So why is this worth your time? Adam and Lily were fortunate enough to tour LG's booth. Even in a convention environment, they found themselves impressed by the sound bar's ability to blanket listeners, and the lesser-used 3D-sound features (like "Bass and Space") are actually quite cool. If the SK10Y is anything like its predecessor, it'll come in around $1,000, but official pricing has yet to be announced. Either way you're getting one hell of a return on your investment.
Sony
It seems a little weird to be honoring a company and not a singular product, but this is a special type of circumstance. Said circumstance is Sony's showing at the CES show floor this year: they've got a lot of entry-level models hitting the market that press their advantages in the consumer space, and while they've lagged a bit in the past: they're coming back.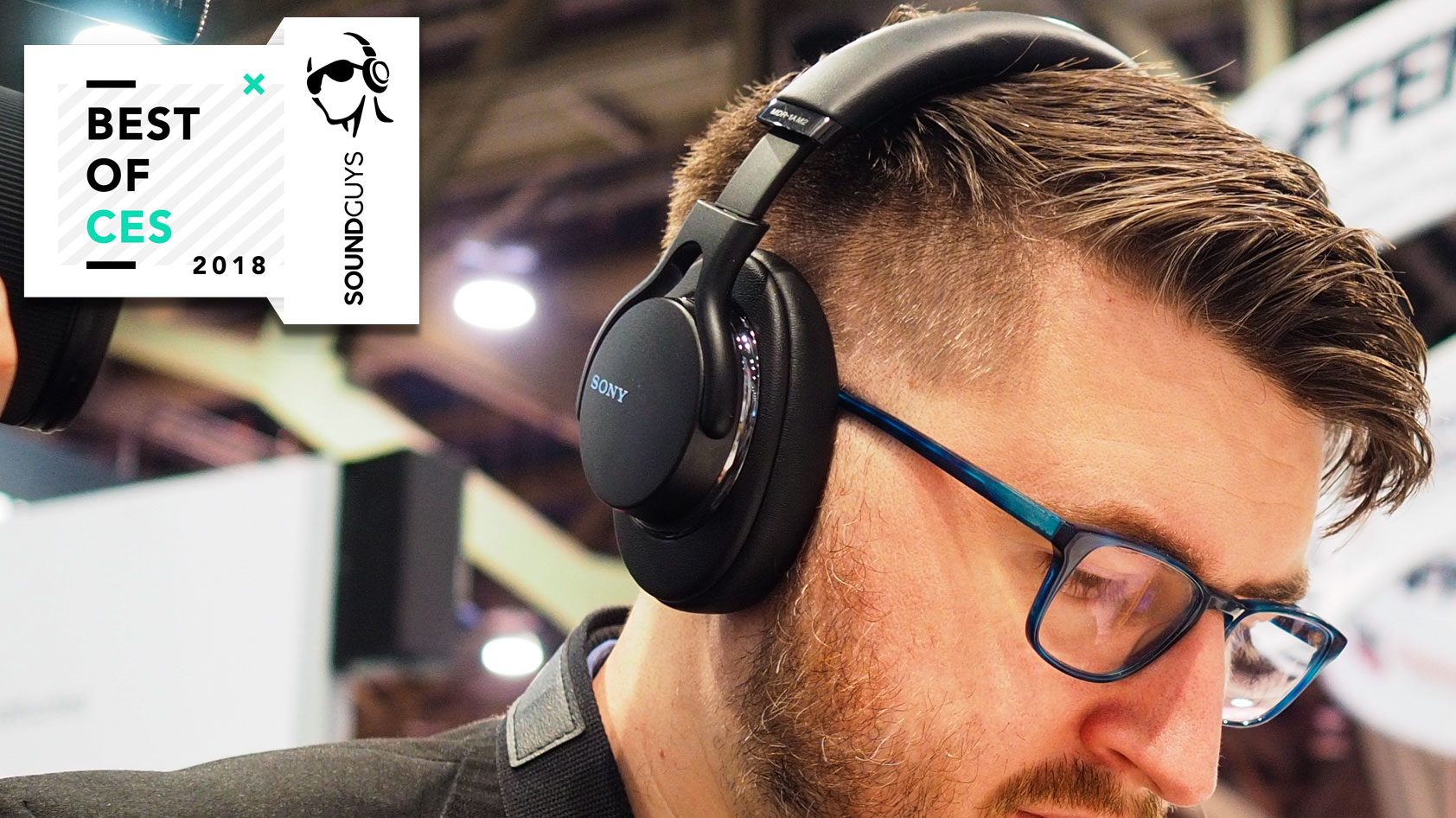 Sony's efforts this year are rock-solid, even if no one single product stole the show.
Where a lot of audio companies decided to cram a voice assistant into an existing or otherwise uninspiring audio product, Sony decided to press their advantage in Bluetooth products with a slew of products, including IPX4 truly wireless earbuds. Additionally, they debuted a new generation of digital signal processing for a 3.1 channel soundbar that's convincing enough to emulate 7.1.2 channel audio for Dolby Atmos certification, a short-throw projector with glass-tube tweeters, and updating a successful model of audiophile headphones with the MDR-1AM2.
In short, they took risks; not drastic ones, but risks nonetheless. Sure, it may not sound all that exciting to you if you're not a fan of truly wireless earbuds, entry-level audiophile gear, or esoteric home theater solutions, but Sony put forth a commendable effort this year.
Addendum
This year's show saw a lot of really cool audio products, but these are what we decided to be the best. There are plenty of really awesome items that didn't make this list, and that's largely due to the fact that our focus was narrowed to stuff that consumers are going to care about, and not specifically enthusiasts. Additionally, we saw a ton of cool microphones that producers are going to love, so stay tuned for that.
We'll be covering CES 2018 both here and on our YouTube channel, and every so often on our Instagram account @realsoundguys. Thanks for reading, and as always: