All products featured are independently chosen by us. However, SoundGuys may receive a commission on orders placed through its retail links. See our ethics statement.
Best audio products at IFA 2023
Take a look at what the show had to offer this year.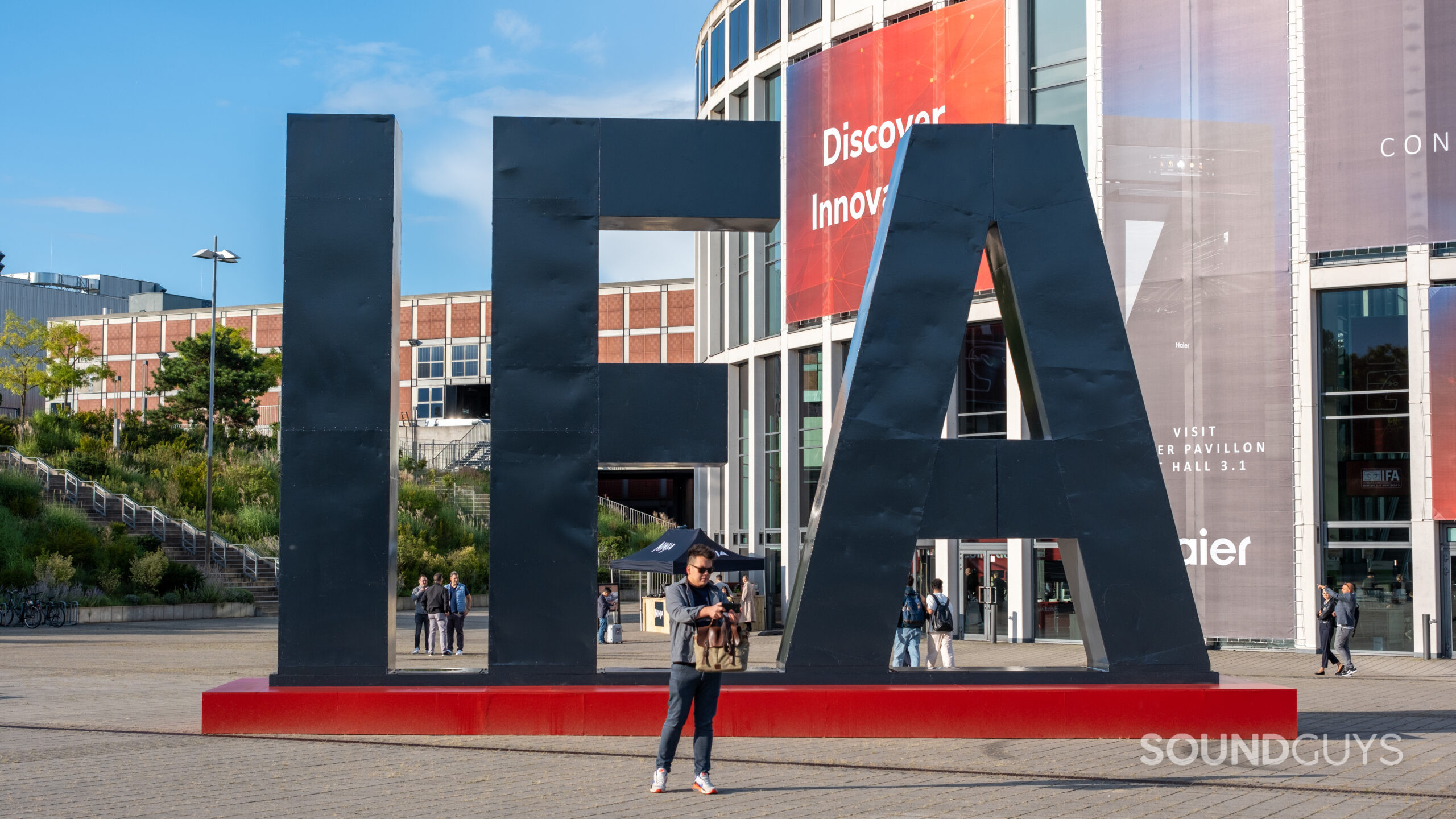 For consumer tech enthusiasts, IFA is a trade show that generates buzz time and time again. From housewares to headphones, the show has a lot of hidden gems unveiled to the world in a short period of time. We've taken a look at the scene and selected our favorite releases of the show for 2023.
Headphones and earbuds
This year's show saw a number of headphone and earbud releases, but we chose to highlight our favorite three.
Shure AONIC 50 Wireless Noise Canceling Headphones Generation 2
The Shure AONIC 50 Gen 2 is one of the best headphones released at IFA 2023.
Following up the first-generation fan-favorite AONIC 50 Wireless, Shure took the wraps off the AONIC 50 Wireless Noise Canceling Headphones Generation 2. Though not a lot looks terribly different at first glance, under the hood there's an update to the latest Bluetooth 5, spatial audio support, a customizable equalizer, and updated ANC. For a sequel, that's not too shabby.
Available in September 2023, the headphones will retail for $349 online and at big box stores where available.
Jabra Elite 10 and Elite Active 8
The Jabra Elite 8 Active and Elite 10 are some of the best earbuds released at IFA.
With two products to market for the show, Jabra hopes to capture interest in the earbud space with its Elite 8 Active and Elite 10. Each set of earbuds is built around cramming everything but the kitchen sink into tiny plasticine housings, as both earphone models come standard with a high ingress protection rating, the latest Bluetooth standard, and features like spatial audio. The Jabra Elite 8 Active is geared towards the exercise enthusiast who regularly encounters extreme moisture (an IP67 rating means it can handle more than just sweat), while the Elite 10 is made for people looking for earbuds that have all of the latest features like Atmos support or head tracking. Both earbuds support Multipoint, will end up supporting LE audio and the LC3 family of codecs, and sport active noise cancelation. Essentially, these are the earbuds you want to get if you don't intend to replace yours for a few years.
The Jabra Elite 10 and Elite 8 Active earbuds will be available in September, for $249 and $199 respectively.
JLab JBuds Mini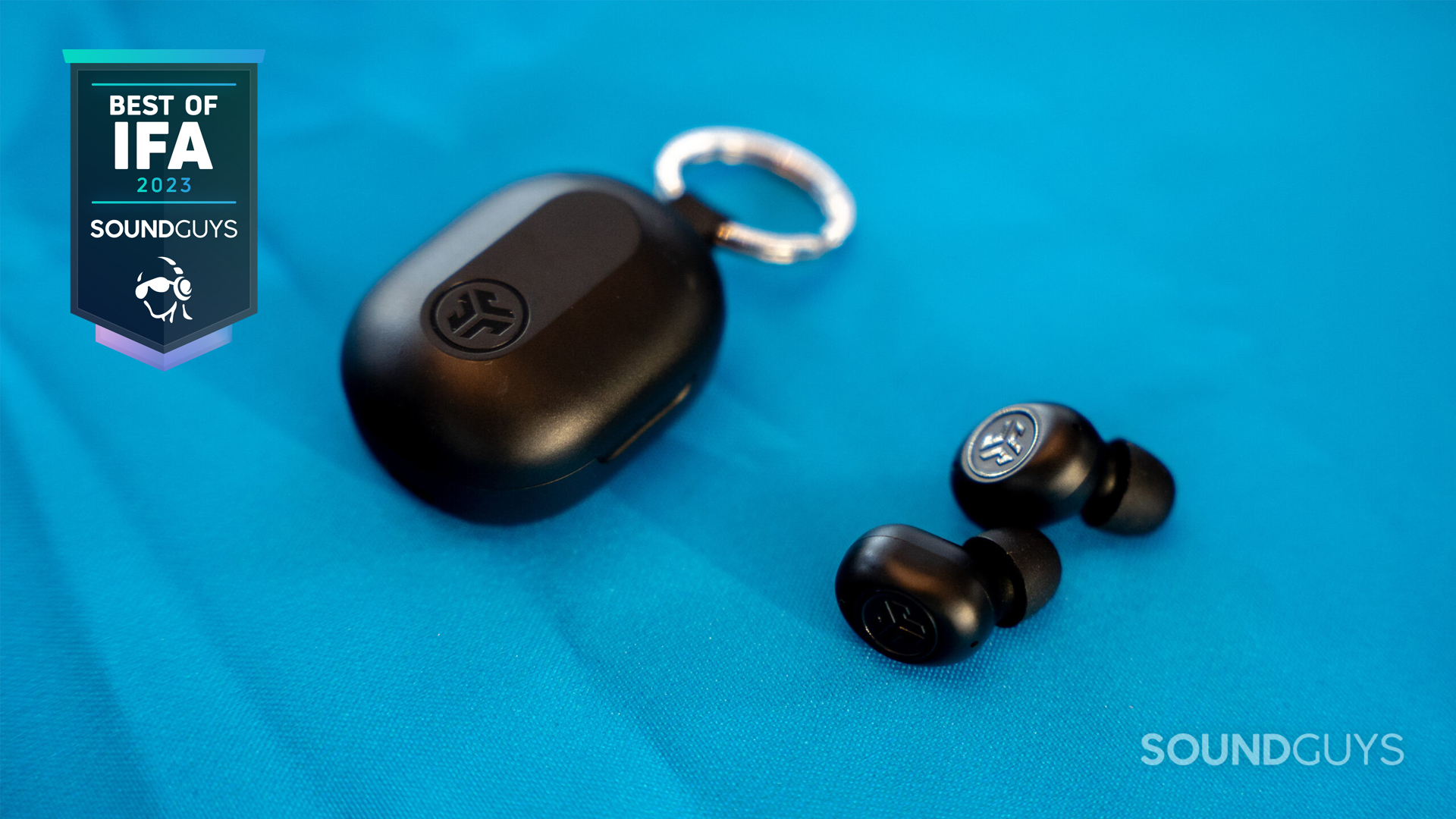 We felt like we needed to encourage useful design attributes like those found on the JLab JBuds Mini.
JLab tends to target the entry-level with unique or off-the-wall design features. The new JBuds Mini are small enough to attach to your keychain comfortably — and in fact, that's their intended means of transportation. That's cool because it makes them much more difficult to forget (and, by extension, your keys). Though these earbuds were announced at CES this year, they weren't made available until now. These should hit shelves and online retailers on September 1 for $39.99.
Speakers and home theater
The show had a lot of home theater and speaker releases this year, but the best releases pushed the envelope of tech and design.
Sennheiser Ambeo Mini
Building on the success of the AMBEO soundbar, the AMBEO Mini packs a lot of power into a comparatively tiny package.
Following up the release of the AMBEO Plus released at last year's show, Sennheiser released the AMBEO Mini soundbar to slot in as an entry-level soundbar in its stable. Though the product will set you back $799 at launch this September, it does have many of the features of the original AMBEO soundbar, including 7.1.4 channels, Atmos and DTS:X support, and support for Chromecast and Bluetooth connections. Of course, the smaller size means less power, but it's a more appropriate fit for smaller rooms that don't require a behemoth like the original soundbar.
Dolby FlexConnect
Dolby's FlexConnect platform will enable users to build their own home entertainment system with their existing speakers.
Though it's not a product you can buy (yet), Dolby's FlexConnect platform is a means by which you can pair your TV's sound system with any wireless speakers you pair to it. By using your television's internal microphones to locate and calibrate each speaker, you can put each channel wherever you want and not have to worry about making manual adjustments. Additionally, with enough channels, you can bring Dolby Atmos to your living room even if your sound system wasn't originally created for it. No exact release date is set, but the feature should appear first on TCL televisions and speakers in its 2024 lineup.
JBL Authentics Smart Speakers
JBL's retro-inspired speakers pack a lot of power into an attractive package.
Though pricy, JBL unveiled a line of retro-enthusiast smart speakers with fairly powerful hardware behind the grille. Dubbed the Authentics (500, 300, and 200), these speakers take their design cues from the older L100 speakers of the 70s.
Hallmark features of this line of speakers include multi-platform support for streaming services, voice assistant access, JBL One app access, and self-tuning. The 500 is the only model that offers Atmos support, though the less-expensive models boast several channels (including downward-firing woofers). Though the two most expensive models have a battery for portable listening, the least-expensive model (Authentics 200) does not have a battery. All three models will be available on September 15, for $699.99, $429.99, and $329.99.