All products featured are independently chosen by us. However, SoundGuys may receive a commission on orders placed through its retail links. See our ethics statement.
Beats Pill 2.0 Review
The Beats Pill 2.0 looks nice, but that doesn't make up for all that it lacks in the sound quality department.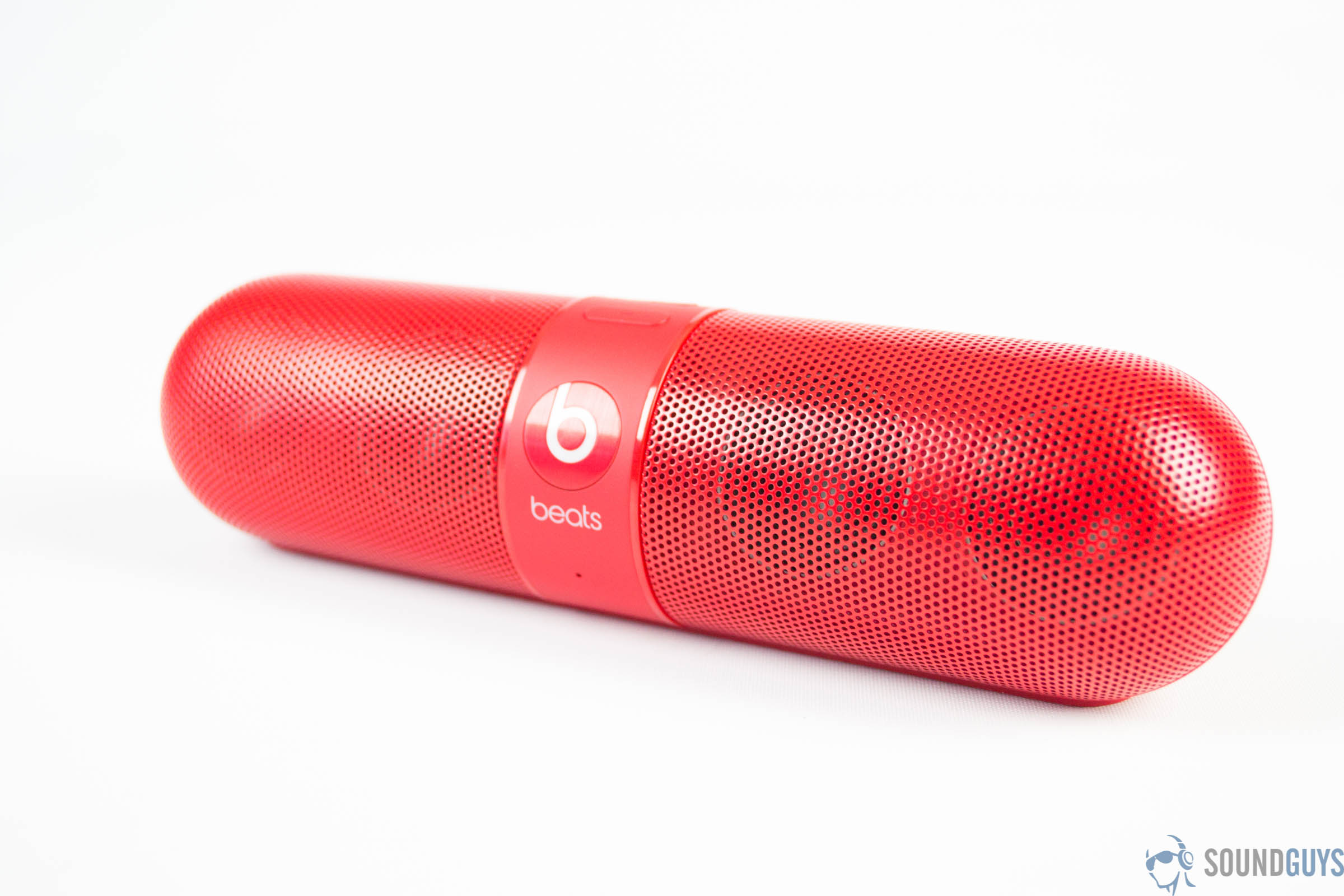 While there are Bluetooth speakers out there that cost less than $20 and a ton of them that cost $400+, the most competitive area seems to be the $199 price point. This is still affordable to most people, and it weeds out a lot of the lower quality options right out of the gate. With that being the case, it should go without saying that Beats has an product in this price range with the Beats Pill.
The most current model of the speaker is the Beats Pill 2.0, which isn't exactly new, but with the way that Beats has been updating its products since the company was acquired by Apple, any future update likely won't be all that different. You've been asking for a review of this model, so here it is.
What's In The Box?
Opening up the package, the first thing you'll see is the accessories box, and above it, the speaker itself. This is tucked inside its soft-shell case, which is in turn inside some packaging made to resemble that of an actual pill. Open up the accessories box and you'll find the wall charger, USB cable, and 3.5 mm audio cable. The manual is located underneath the speaker and accessories box.
Build & Design
We're looking at the Beats Pill 2.0 in red, but it's available in quite a few other colors, including Rose Gold White and Rose Gold Black. While those models are slightly different, the other colors tend to look the same as this: one solid color, with white or black text being the only other color present.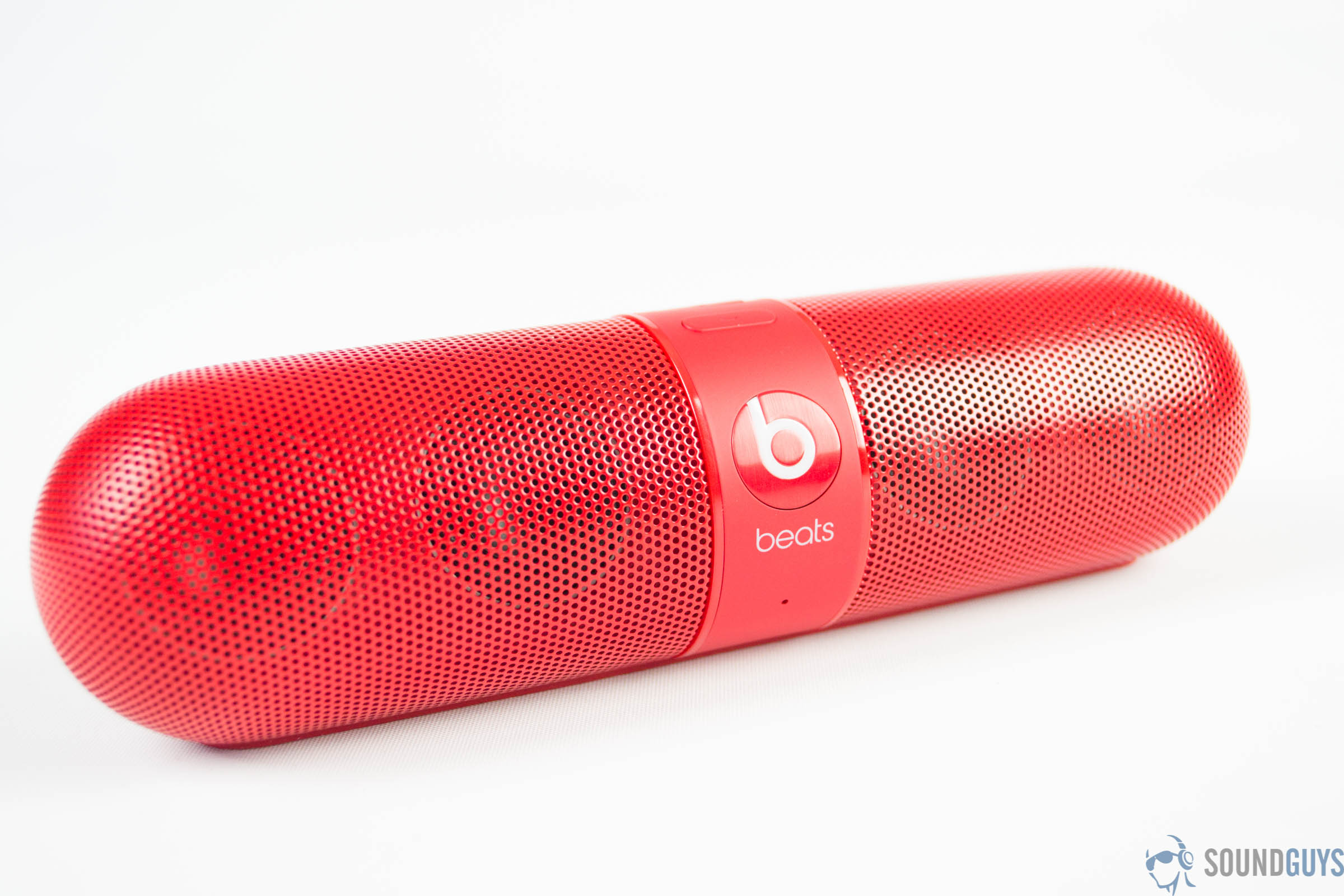 The speaker has an interesting look, and it does indeed resemble an unusually large pill. Most of the front is made up of the speaker grill, with a roughly one inch area in the middle for the controls. The speaker is light and easily portable, and feels fairly tough for the light weight.
You may still want to be careful carrying the speaker around, as while there is an included case, it's soft and somewhat flimsy. It will protect the speaker from scratches, but probably won't do much for shock damage from a high drop.
Connectivity
Pairing the speaker is as easy as any other. Turn it on and it should enter pairing mode; otherwise press and hold the multifunction button on the front for 3 seconds to put the speaker into pairing mode manually. Then pair from the Bluetooth menu on your device or tap your NFC-enabled device on the icon on the back. This icon has another use as well, which we'll get to in a little while. The Bluetooth version here is only version 2.1, which is less than ideal, but didn't seem to cause any problems.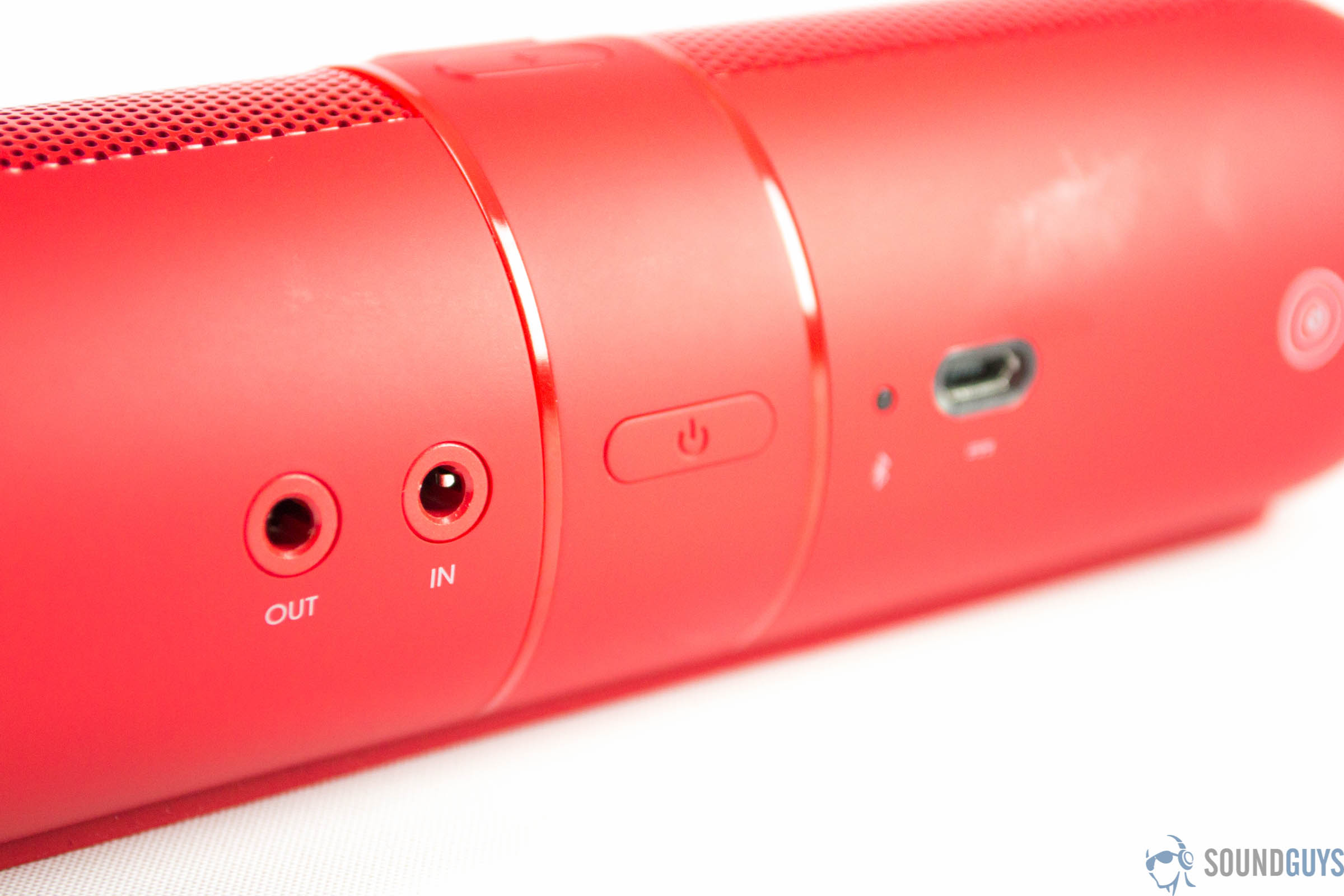 The Beats Pill 2.0 spreads its controls across four buttons. The power button is located on the back of the speaker, while the two volume buttons are found on top. The rest of the controls are handled via the multifunction button. Tap it to answer and end calls, or to pause and resume playback. Tapping it twice will skip forward and tapping it three times will skip backward.
The Pill can be paired with another speaker (obviously, this only works with another pill) via NFC using Beats Bond. That said, you can also use the dual 3.5 mm jacks on the back for the same effect, and while this is intended to be used with another Beats Pill, there isn't anything stopping you from running a cable out of the "out" jack on the back of the Pill and into the "in" jack of any other speaker.
Battery Life
Beats claims a maximum battery life of up to 7 hours for the Pill 2.0, which isn't too impressive, but is in line with a good amount of speakers we've seen in this price range. In our testing, we found we got around 6.5 hours, so their estimation seems to be fairly accurate. Charge time using the included wall charger was around 2 hours.
It's funny that whenever we encounter a speaker with short (under 8 hour) battery life, that speaker includes a charging port for mobile devices. Indeed, that's the case here, and while that's always nice, it will drain your battery fast.
Sound Quality
Normally when we mention being surprised by the sound quality of a product during a review, it's because it sounded better than we had expected. Unfortunately that is far from the case here. While plenty of folks like to look down on Beats products because of the brand's ubiquity, we have always been at least somewhat pleased with their products during reviews, so we were absolutely not expecting to be as disappointed with this speaker as we ended up being.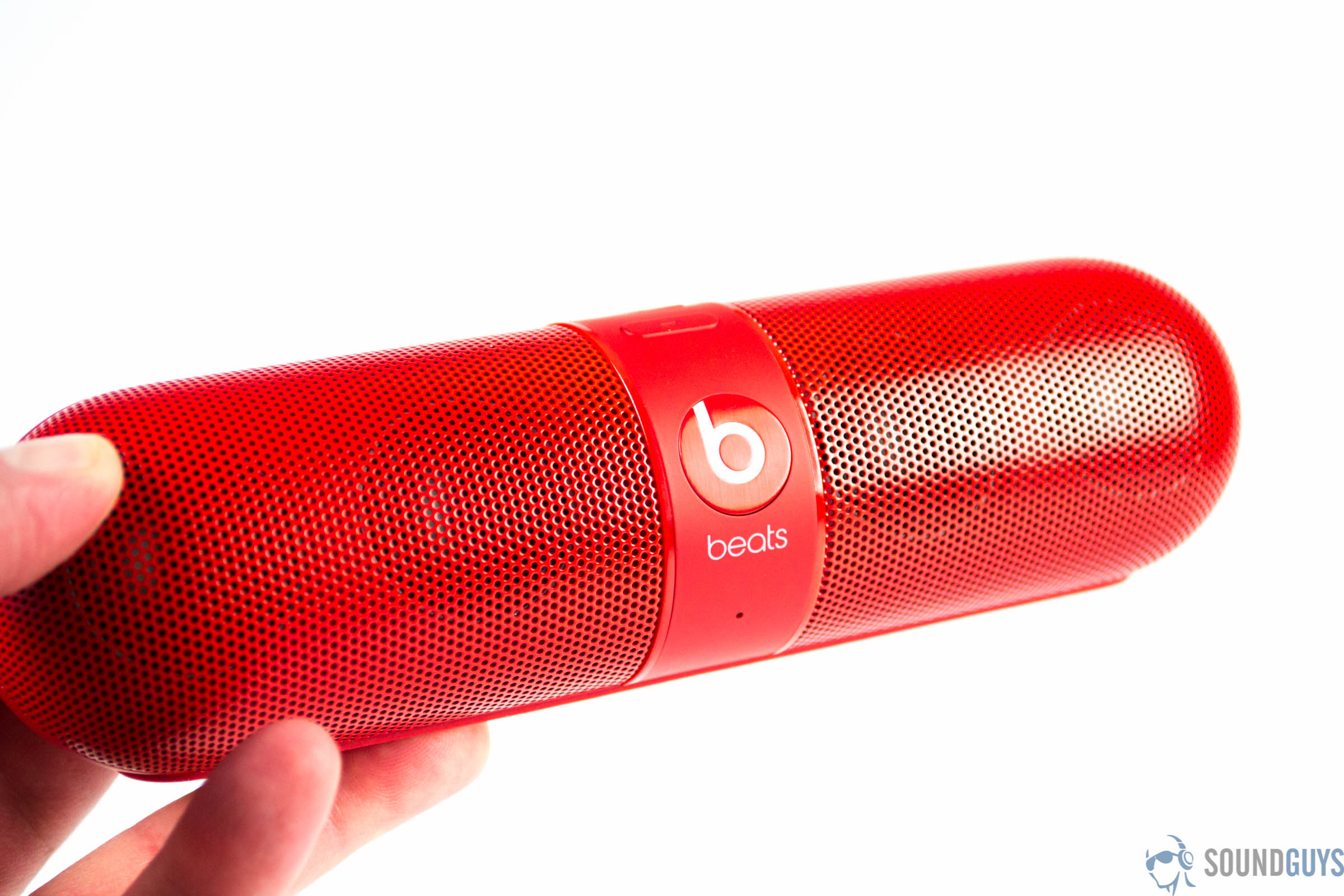 The lows are almost non-existent to the point that our first instinct was to test with another device, then test with another speaker. Finally we plugged in via the 3.5 mm aux in jack, and the sound was still as thin as it was when we first paired with the speaker.
The mids seem to focus almost entirely on the 1 kHz – 3 kHz range, with anything below given little to no attention. Voices come through fine, but guitars, bass and drums all sound as if they've been run through a deliberate lo-fi filter.
The highs are wispy and irritating and I'm struggling to find anything more to say than that. Despite the overabundance of high end, it was hard to discern finer details in anything.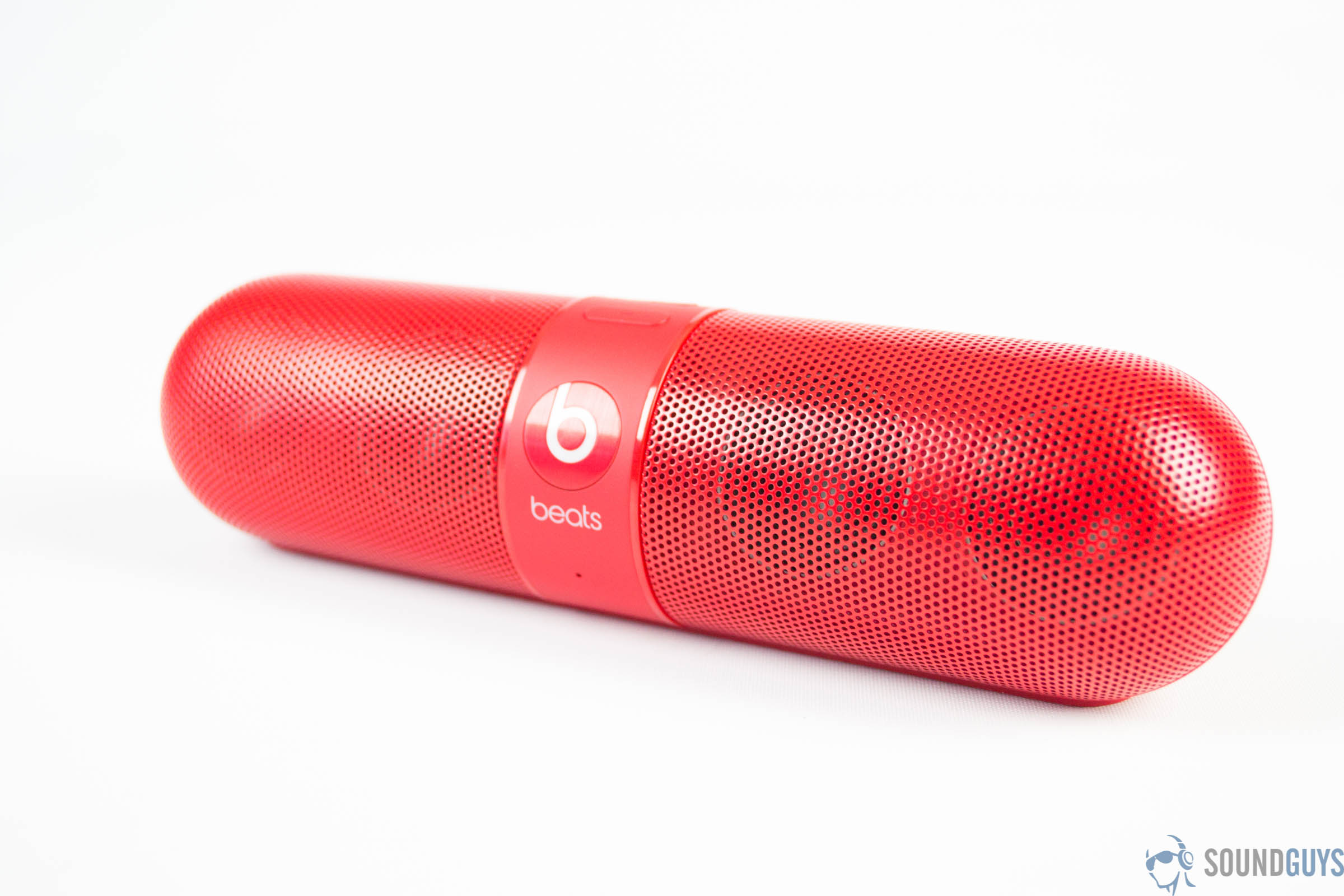 While the speaker sounds thin, it also sounds small. It's better than a cell phone speaker, sure, but not by nearly as much as the price tag would indicate.
Conclusion
Given the company's market presence alone, it's shocking how underwhelming the Pill 2.0's sound really is, and that is enough to keep it from getting a recommendation. The only reason it is even worth considering is if you really like the style and form factor, and even then there are similar speakers that get the job done at far less than the Pill's list price of $199.
If you do end up picking this up, for whatever reason that may be, do yourself a favor and wait until you find it on sale. And don't say we didn't warn you.