All products featured are independently chosen by us. However, SoundGuys may receive a commission on orders placed through its retail links. See our ethics statement.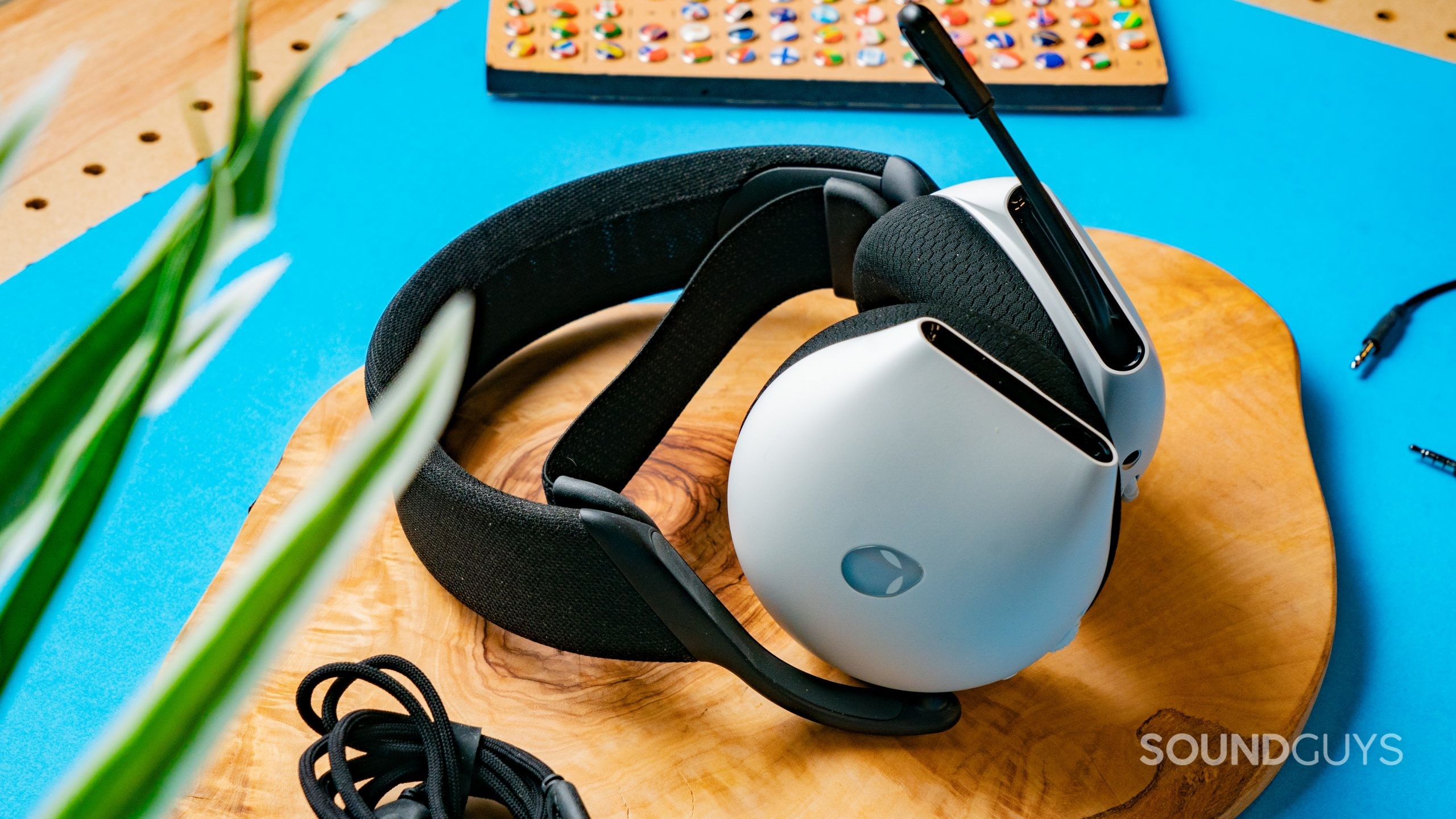 The bottom line
The Alienware AW720H is competitive with some of the best wireless headsets on the market right now, but it's slightly lacking due to missing support for Bluetooth and games consoles, as well as a slightly inferior sound profile. Altogether though it's still a great choice due to its comfort.
Alienware AW720H
The Alienware AW720H is competitive with some of the best wireless headsets on the market right now, but it's slightly lacking due to missing support for Bluetooth and games consoles, as well as a slightly inferior sound profile. Altogether though it's still a great choice due to its comfort.
Dimensions
184 x 112 x 214 mm
Cable: 1.5m
What we like
Excellent comfort
Feels well made
Intuitive controls
What we don't like
Design may not be for everyone
Too much bass
No Bluetooth
Rating Metric
Sound Quality
8.8
Bass
8.2
Midrange
9.8
Highs
8.3
Isolation / Attenuation
4.7
Durability / Build Quality
6.5
Value
7.8
Design
7.0
Connectivity
6.5
Portability
6.0
Feature
6.5
Comfort
8.9
Alienware has a reputation for making sleek, flashy gaming computers, but not much of a reputation when it comes to audio. The Alienware AW720H wireless gaming headset is its newest entry into the audio space, the first in almost a year. This company doesn't flood the market with new headsets like other brands, which means it's got fewer similar products to compete for your attention. However, that also means the pressure is on for this to be a real contender. Could the Alienware AW720H come close to being a new top-tier competitor?
Editor's note: this is the first version of the article. Updates will follow as the market changes.
About this Alienware AW720H review: We tested the Alienware AW720H over a period of one week. The Alienware Command Center ran version 5.5.42.0. The company provided the unit for this review.
The Alienware AW720H is primarily targeted at gamers. It's ideal for anyone who's going to be wearing it for long hours, especially with in game voice chat or in Discord calls. It could be a good option for someone looking for a headset for meetings, but the design is a bit more flashy than some other "professional" headsets.
What's it like to use Alienware AW720H?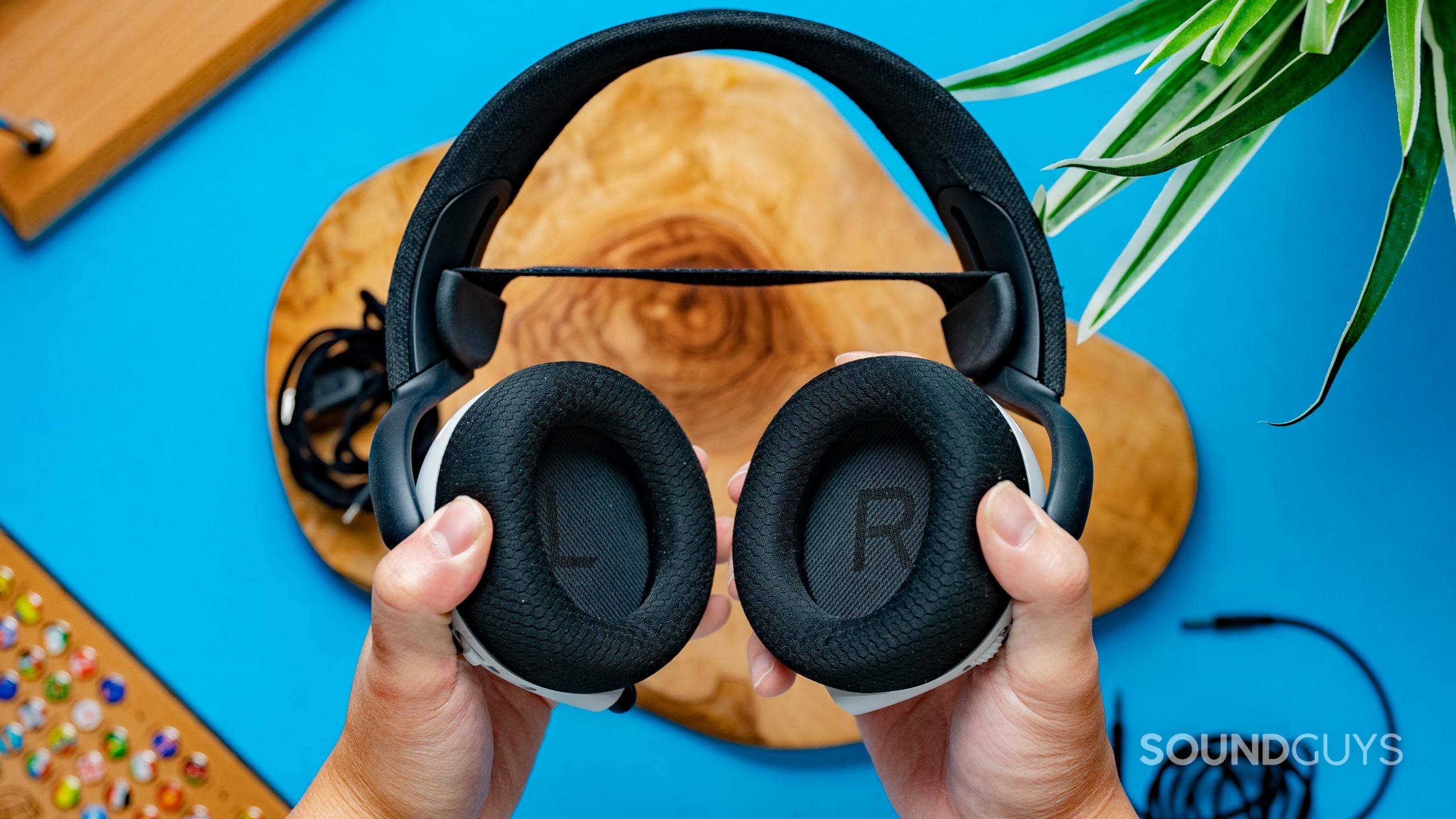 The Alienware AW720H's biggest win is the comfort delivered by the memory foam ear cups and suspension headband.
The Alienware AW720H nails comfort and material choice. The ear cup padding is made of a soft fabric and memory foam that cushions your head quite nicely. The outer ear cups and headband are a plastic and fabric affair, feeling comfortable, but also hefty and flexible where it counts. The ear cups themselves only swivel in one direction, and not very much, but the flexible headband and copious amount of soft padding makes up for this. However, the real winner here is the stretchable inner headband—made out of the same material as ski goggle bands—that allows it to sit comfortably on your head for hours without any fatigue from the weight.
The headset comes in two different colors at launch, "Lunar Light" and "Dark Side of the Moon." No matter which one you choose they both come with a dark colored headband. Both of these options feature an RGB Alienware logo on the sides of each headphone, which give off a less intense amount of light compared to some other gaming headsets; fans and detractors of the style, take notice.
How do you control Alienware AW720H?
Strictly separating the controls, two to each ear cup, make it really intuitive to start to use this headset.
The Alienware AW720H has two controls per ear cup, one dial and button each. This simple design places a lot of control at your fingertips without getting too confusing by putting multiple indistinguishable buttons in a row. On the left ear cup is a microphone mute button (the microphone also automatically mutes while retracted) and a game/chat volume balance slider. On the right ear cup is the power button and a volume slider. It's simple and intuitive, and leaves the other options for the Alienware Command Center app.
Should you use the Alienware Command Center for the Alienware AW720H?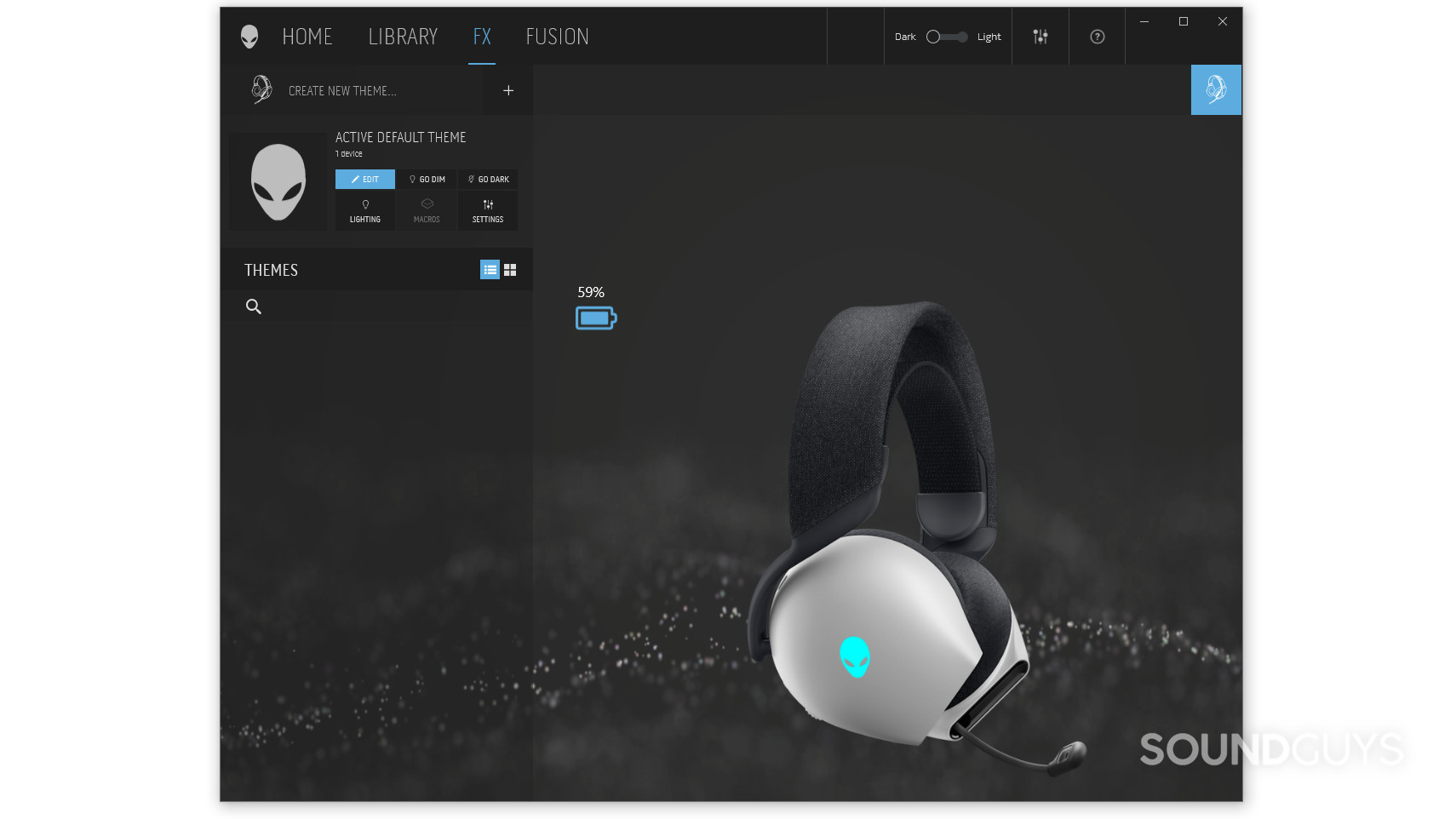 The Alienware Command Center is primarily used for adjusting RGB lighting on your Alienware devices and enabling Dolby Atmos support.
The Alienware Command Center doesn't do much more than the average gaming headset app, but it's a nice accessory to round out your experience with this headset. It primarily enables access to the lighting controls for all Alienware peripherals, allowing you to adjust their RGB profiles. It also allows you to enable Dolby Atmos spatial audio when paired with Dolby software. Firmware updates will also come through Command Center (if they come at all). Overall, it's a fairly barebones piece of software, but it does what's needed.
How does the Alienware AW720H connect?
The Alienware logo on each side of the headset has full RGB lighting, which may be a positive or a negative depending on what you're looking for.
The Alienware AW720H is primarily meant to connect using the included USB-C wireless dongle (there's also an included USB-C to USB-A adapter for anyone with full size USB ports). This allows low-latency wireless performance, although the range only extends to roughly the same room as the computer it's connected to. The USB dongle works with PC and some consoles—it doesn't work with the Nintendo Switch or Xbox consoles, though you can still connect to them using 3.5mm. The sound and microphone work a little differently when using it wired via the headphone jack instead of the wireless audio however, more on that later.
How long does the Alienware AW720H battery last?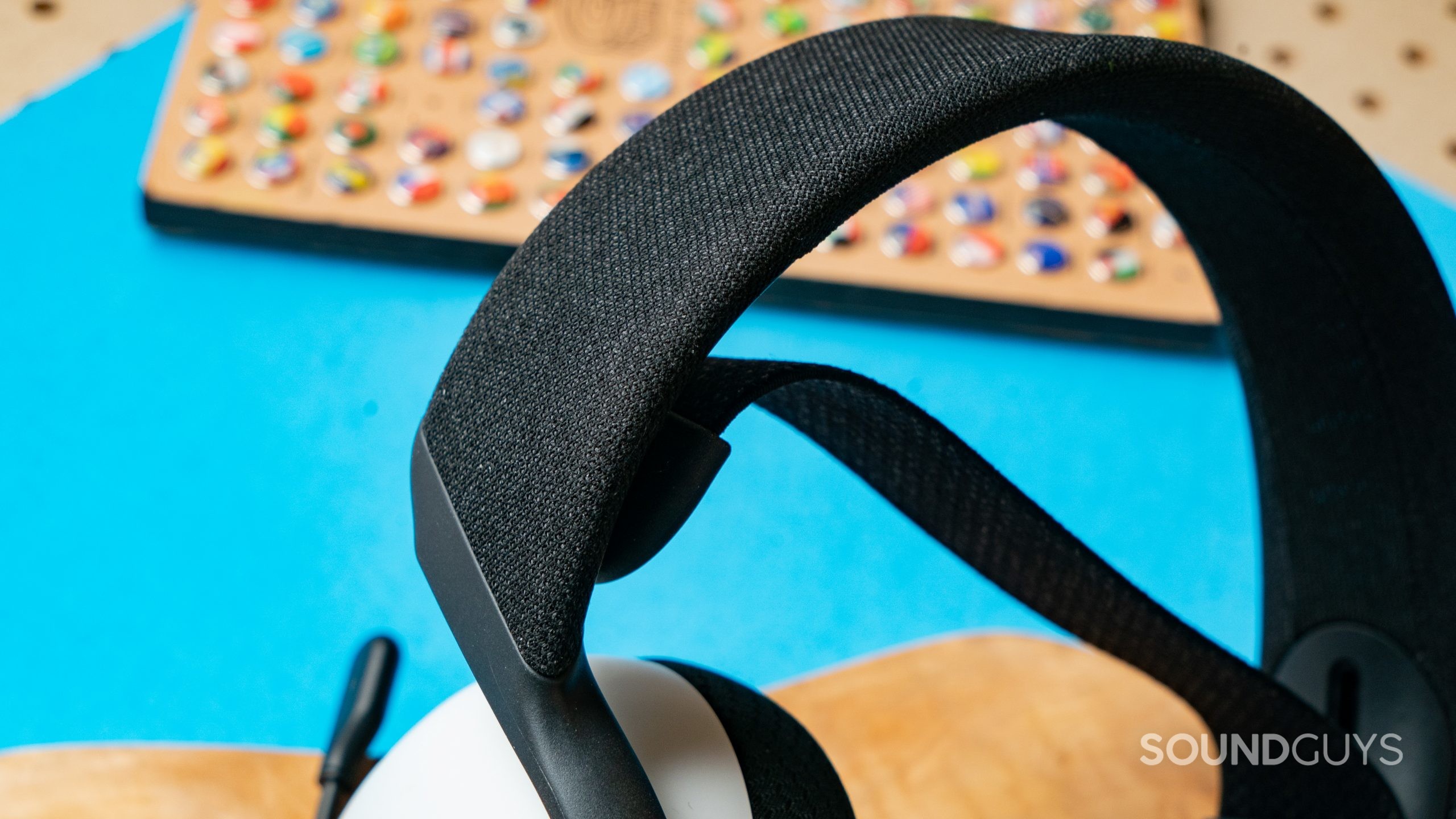 The fabric used on the headband stretches nicely, and hides the gaps in the interior plastic which allow it to save on weight. The interior suspension band is adjustable.
The Alienware claims the AW720H has a battery life of up to thirty hours, which isn't the top of its class, but it's plenty serviceable. Our battery test will be completed soon to confirm this. In my day-to-day use however, the battery has no issues lasting throughout a full day, and it's quick to charge when plugged in via USB-C.
Yes, the Alienware AW720H does have fast charging. Alienware claims to be able to provide 6 hours of audio playback after 15 minutes of charging.
How well does the Alienware AW720H block out noise?
The Alienware AW720H isn't as good as a noise canceling headset, but it's on par or better than a good chunk of gaming headsets for general noise isolation.
Most gaming headsets do an okay job at blocking outside noise when in use. The Alienware AW720H is of the same vein. It doesn't feature any active noise canceling to really cut out the noise of everyday life, but it does a decent job of blocking out the outside world. Quiet conversations and music played at a reasonable volume in the same room are pretty difficult to make out when wearing the headset. Louder noises such as several people chatting will be easily audible, but it's still not very easy to hear what people are actually saying. Overall the noise isolation here is nice.
How does the Alienware AW720H sound?
The Alienware AW720H's sound is probably its least successful area, but even then it's not that bad.
The Alienware AW720H does not offer studio quality audio. It has an exaggerated low end sound that can be distracting when listening to music, but which is common when it comes to gaming headsets (meant to emphasize the kick of in-game sound effects). There are several peaks and troughs in the mid and high end on the frequency response chart, which deviates massively from our ideal headphone curve. It's not suitable for audio work, but it's more than adequate for playing games and hanging out on Discord calls with friends. It sounds decent both when wired using a 3.5mm headphone jack.
We observed that using the wireless connection, high frequencies over 7kHz get rolled off. Minimizing latency over a 2.4GHz connection often involves a compromise, and high frequency output gets sacrificed. It's hardly unique to this product but it's something to be aware of. This means when using the USB dongle, you lose some of the sound at the very top of the audible spectrum.
The Alienware AW720H sounds different when using a 3.5mm headphone cable, and it responds differently depending on whether it's powered on or turned off. If the headset is powered off then the performance is notably worse. So long as you're using the headset powered on however, you should be able to get decent sounding audio out of it when using a wired connection. You can see how it sounds below when wired and turned off.
Luckily you can still use the Alienware AW720H with a headphone jack and have it turned on, but it will drain the battery the whole time.
Lows, mids, and highs
When listening to music on the headset some of its shortcomings become more obvious. The biggest issue is the overbearing bass, especially in music genres that already push the bass front and center. This can be heard very clearly in the song Sci-Fi Wasabi by Cibo Matto, where the kick drum is far too heavy and overpowering. Additionally the peaks and troughs in the high end sometimes detract from the listening experience, such as with the song 21st Century Schizoid Man by King Crimson, where the chorus's horns just don't sound quite right in the mix like they do on better tuned headphones. The percussion of Personal Jesus by Depeche Mode lacks the high end detail to make it really crack.
How does the Alienware AW720H's microphone sound?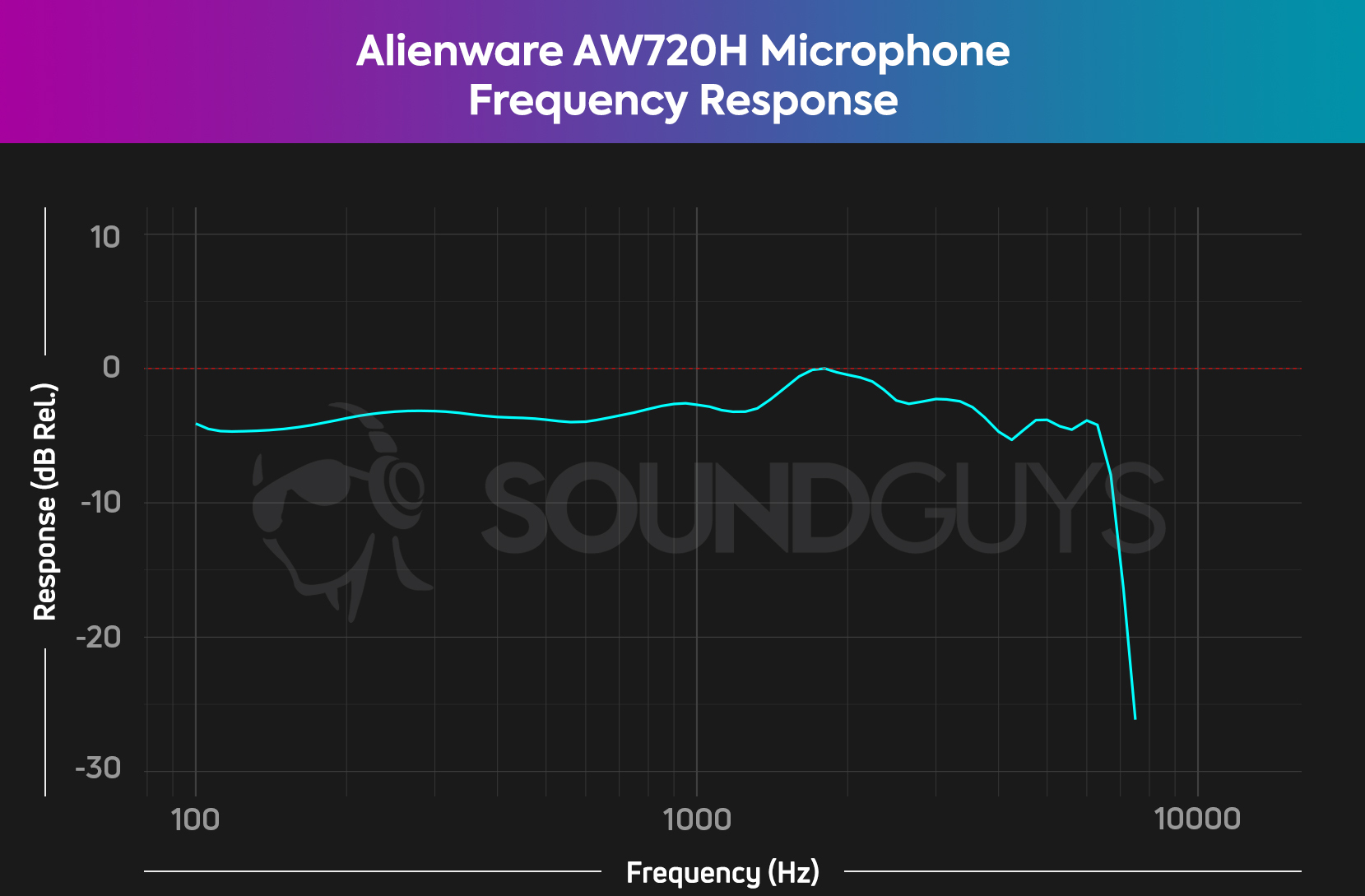 The Alienware AW720H's microphone has a fairly flat frequency response curve and a sharp cut off above where the voice sits in the frequency spectrum.
The Alienware AW720H features a retractable microphone that's very easy to move and manipulate to best pick up your voice. If you press the mute button on the left ear cup then the microphone will glow red to indicate that it's muted. The microphone produces a fairly flat frequency response (see above), with a sharp drop off at around 6 kHz. However, the frequency response doesn't tell us everything.
There's some really obvious and unpleasant processing being applied that makes voices sound unnatural. Alienware claims that some sort of "onboard AI noise canceling" is used to best pick up what's being said, it seems to work alright for the most part, but pay attention to the word "lost" at 33 seconds into our office sample below. Judge for yourself, and vote in the poll.
Alienware AW720H microphone demo (Ideal conditions):
Alienware AW720H microphone demo (Office conditions):
How does the microphone sound to you?
120 votes
It's also important to note that the Alienware AW720H also uses a secondary microphone if you use it wired. When plugged in with the included 3.5mm headphone cable the headset will use the inline microphone instead of the boom microphone on the headset. It actually sounds a bit more natural. You can listen below to hear it for yourself.
Alienware AW720H inline microphone demo (Ideal conditions):
Alienware AW720H inline microphone demo (Office conditions):
Should you buy the Alienware AW720H?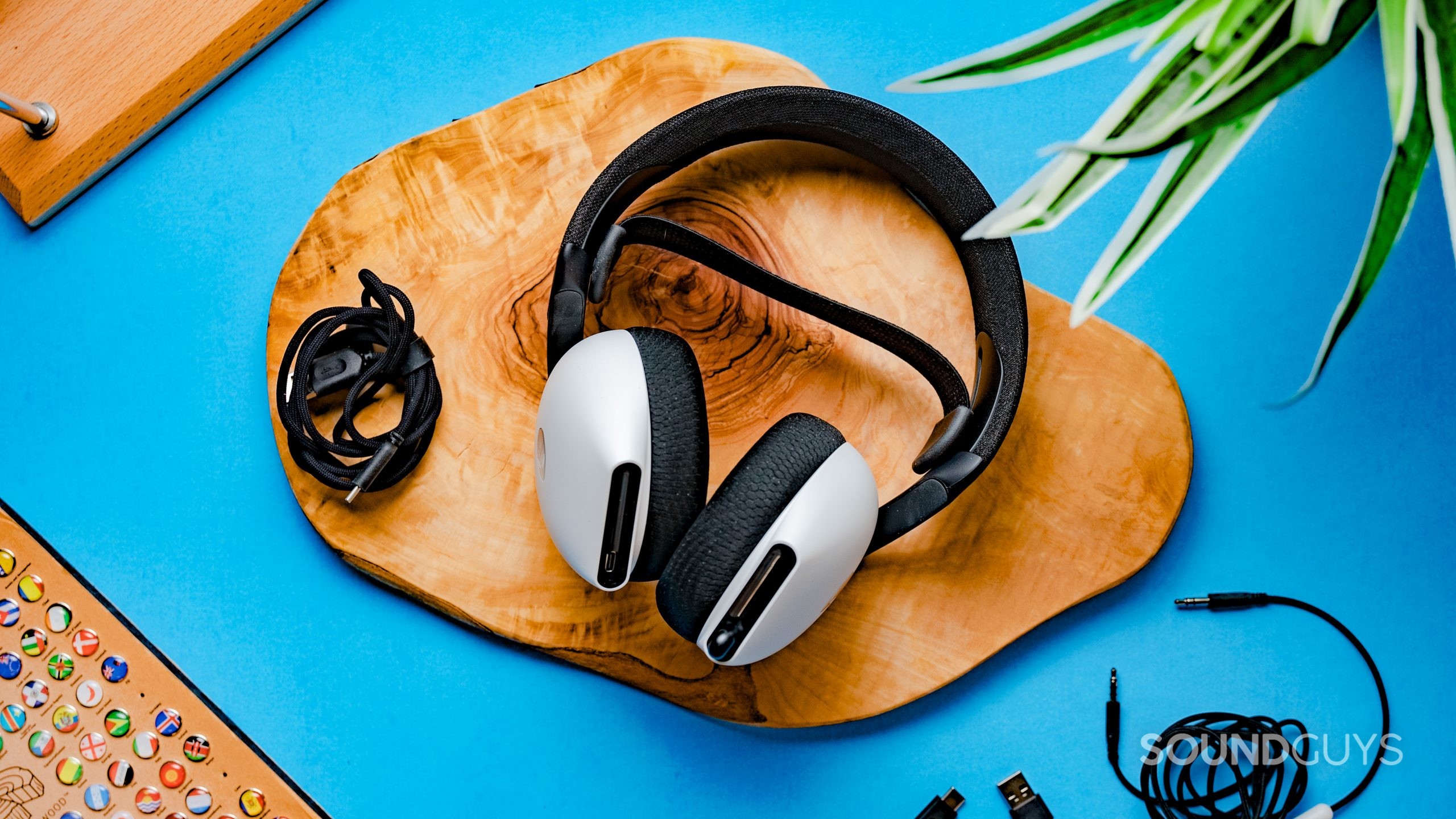 The Alienware AW720H is well priced and well made, but its lack of Bluetooth and wireless support for consoles might be a deal breaker for some.
The Alienware AW720H is here to win. It's priced competitively with many other wireless gaming headsets on the market, and it's comfortable to use for long hours. It's well designed, full of features, and pretty good when it comes to battery life and noise isolation. The sound quality isn't great, but it doesn't feel like it's far away from the sound quality of some of its peers. The biggest quibbles are its lack of wireless compatibility—not supporting Bluetooth is one thing, but the USB dongle not supporting the Nintendo Switch is pretty unusual these days—as well as occasional headaches with the quality of the microphone in wireless mode.
Basically, the Alienware AW720H isn't perfect, but it's pretty easy to recommend if you want something wireless for PC.
Alienware AW720H
Alienware AW720H
How does Alienware AW720H compare to SteelSeries Arctis Nova 7 Wireless?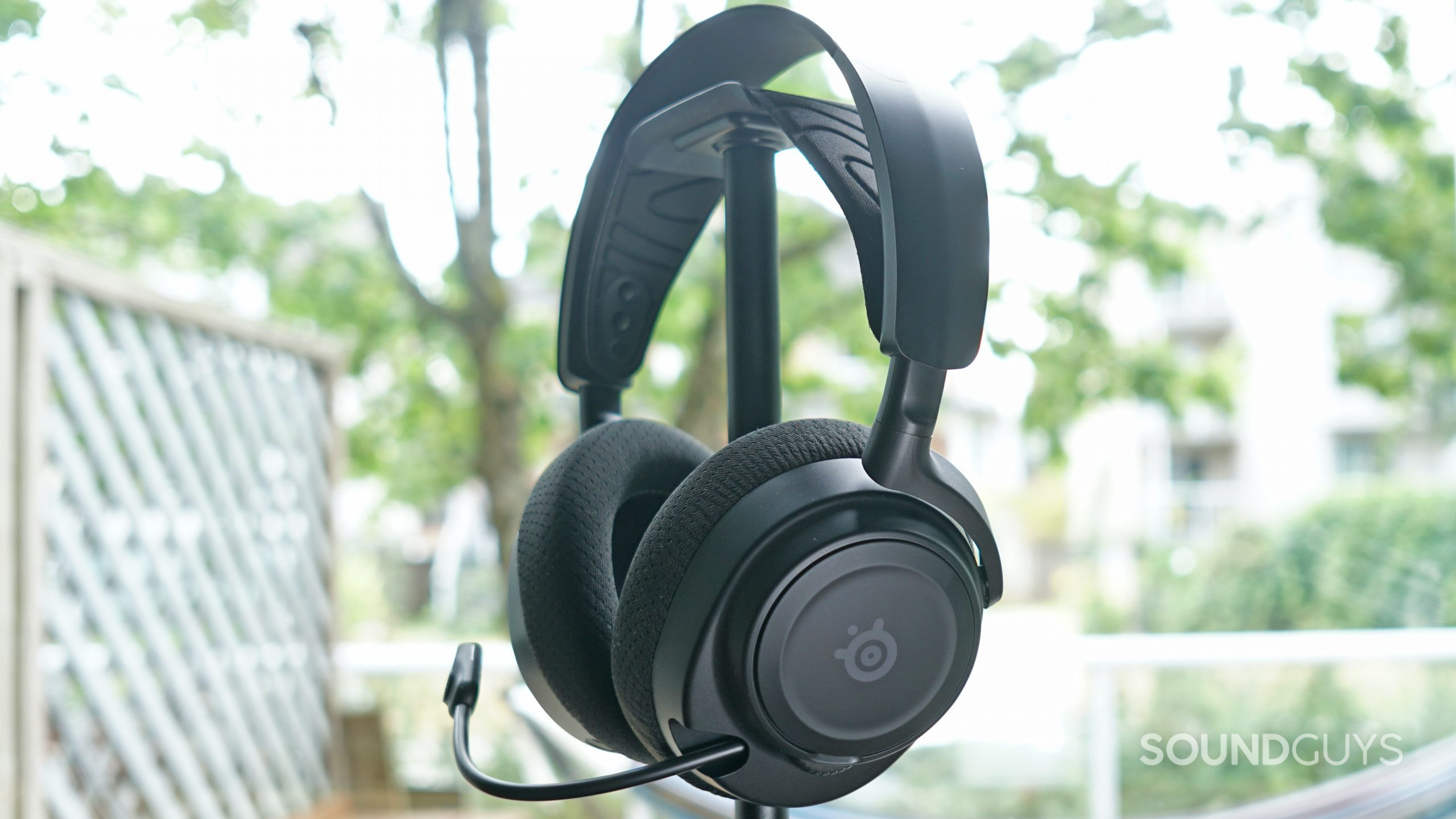 The SteelSeries Arctis Nova 7 Wireless shares a lot in common with the Alienware AW720H.
The Alienware AW720H's closest competitor is likely the SteelSeries Arctis Nova 7 Wireless. It features a similar design, with a suspension headband that can offer hours of comfortable listening. The SteelSeries Arctis Nova 7 Wireless is usually priced $20 higher at $152.99 at Amazon.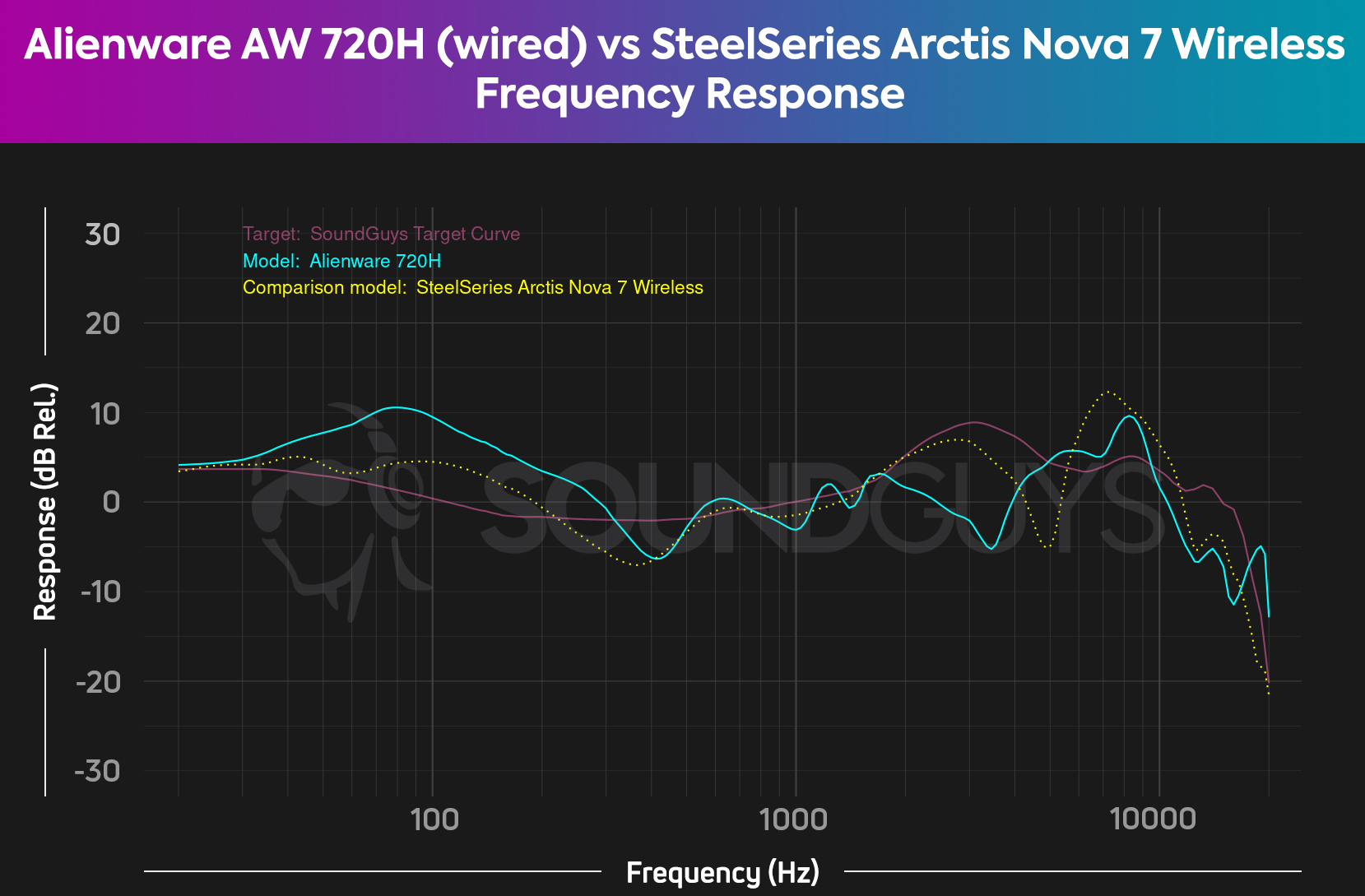 The SteelSeries Arctis Nova 7 Wireless scores a slight victory when it comes to sound quality, sticking closer to our ideal consumer curve.
The difference in sound profile isn't too drastic, but the more subdued bass and less recessed midrange on the SteelSeries Arctis Nova 7 Wireless gives it an edge when it comes to audio quality. However, the biggest difference between the headset comes down to compatibility. The SteelSeries Arctis Nova 7 works with PC, PlayStation 4, PlayStation 5, and Nintendo Switch, plus it supports Bluetooth audio. This, combined with a microphone that retracts flush with the outside casing make the SteelSeries Arctis Nova 7 a good choice for an on-the-go headset as well. This might push the balance in favor of the SteelSeries offering, but we feel the Alienware AW720H is still competitive as a PC gaming headset.
What should you get instead of the Alienware AW720H?
There are a few other good choices for alternatives for the Alienware AW720H. We suggest the Razer Barracuda X (2022), which retails at only $99 USD. It's pretty well made, but it does lack some features such as a retractable microphone or RGB lighting. Another choice is the Logitech G735, which offers superior sound quality and comparable comfort and design for $229 USD. Finally you might want to consider the HyperX Cloud Flight S, which is similarly focused on a $99 USD pricepoint, with some scarifies to make it, but an overall good build and sound quality.
Frequently asked questions
The Alienware AW720H charges via USB-C, and a charger is included.
The Alienware AW720H does not have Bluetooth support, but it does feature a USB-C dongle which may work with some phones depending on their software support for it. A 3.5mm headphone cable is also included which can be used in all other cases. Alienware only claims official support using the USB-C dongle for laptop and desktop PCs (in our testing this includes Linux machines).