All products featured are independently chosen by us. However, SoundGuys may receive a commission on orders placed through its retail links. See our ethics statement.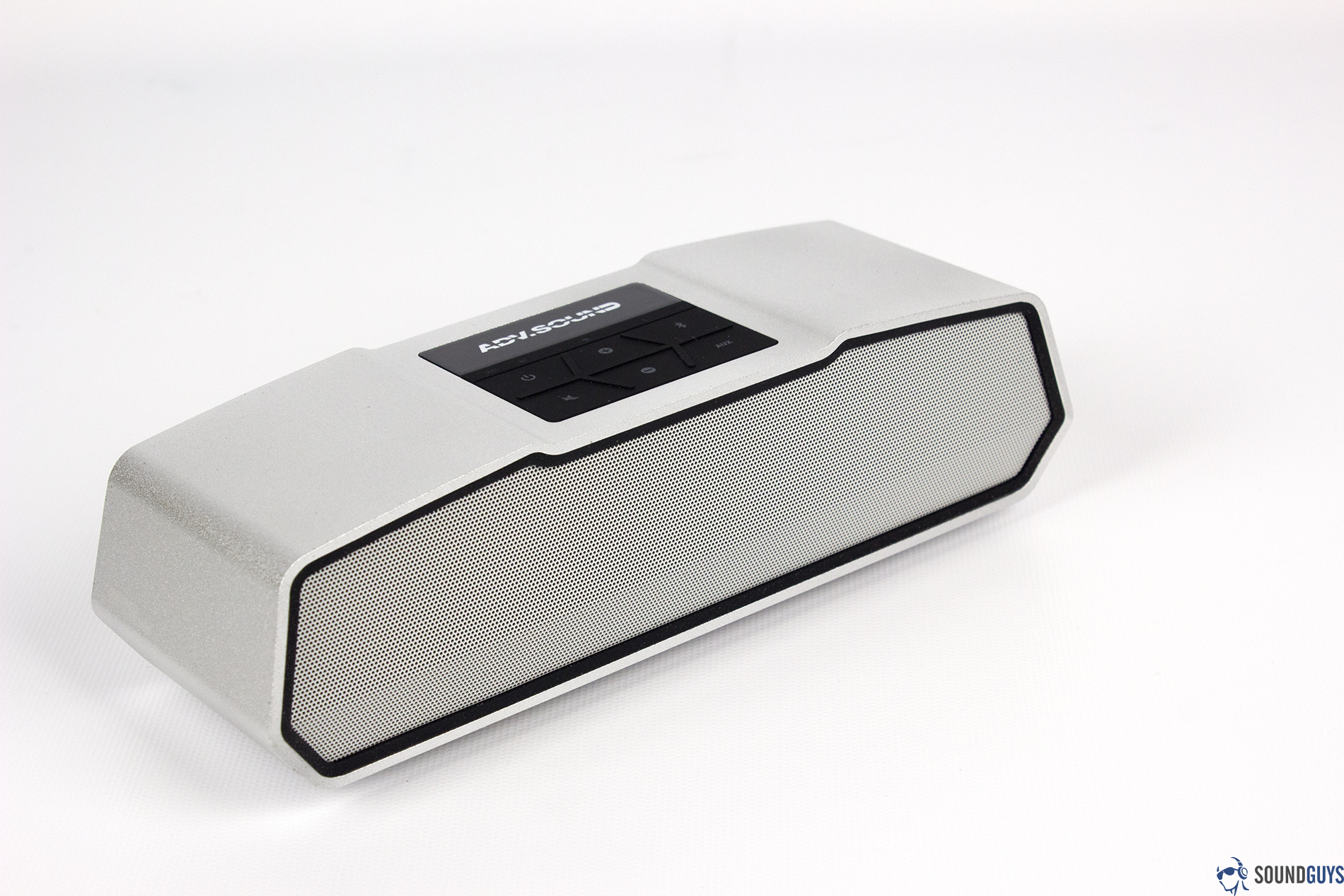 The bottom line
If you can get in on the early bird prices, this speaker is steal.
993
If you can get in on the early bird prices, this speaker is steal.
What we like
Price
Decent battery
Good sound
What we don't like
DC charger
Back grille was flimsy
Rating Metric
Sound Quality
8.3
Bass
8.2
Midrange
8.6
Highs
8.0
Durability / Build Quality
7.8
Value
8.3
Design
8.9
Portability
8.6
Battery Life
8.4
We reviewed the M4 earbuds from ADV.Sound a while ago and really liked what they had to offer at the price point. Now the company is trying to strike gold twice with their newest crowdfunding campaign for a Bluetooth speaker called the 993. The campaign just went live, but we've been able to test it out for the past few weeks to see how it sounds. On paper, it has all of the makings of a premium speaker with aptX, 37mm drivers, and dual passive radiators. But how does it hold up in real life scenarios? Is this your next speaker or did ADV.Sound miss the target?
What's in the box?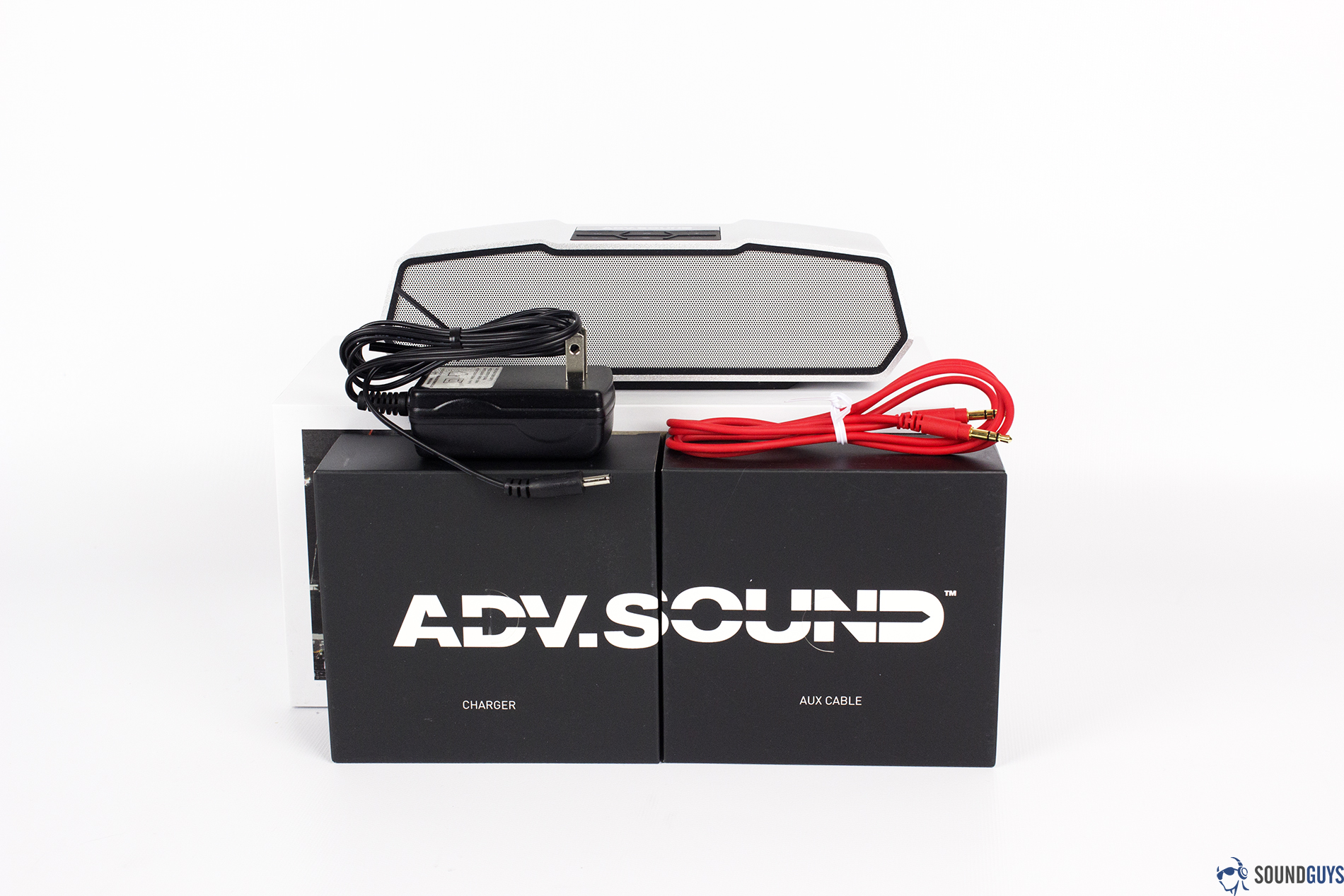 When you open up the box you'll first see two slightly smaller boxes inside. In one of those boxes is the DC charger and in the other is an all red aux cable. When you remove the two smaller boxes you'll see the speaker and that's all there is.
Build & Design
The 993 has a fairly solid build and a completely aluminum body. Considering how strong it feels, it's surprisingly lightweight at only 1.8 lbs. It easily fits in my backpack and doesn't add too much bulk either. The buttons up top are covered in a soft plastic and are pretty easy to press, though they are slightly too squishy for my taste. There are also 5 small indicator lights up that let you know which mode the speaker is in as well as the status of the battery.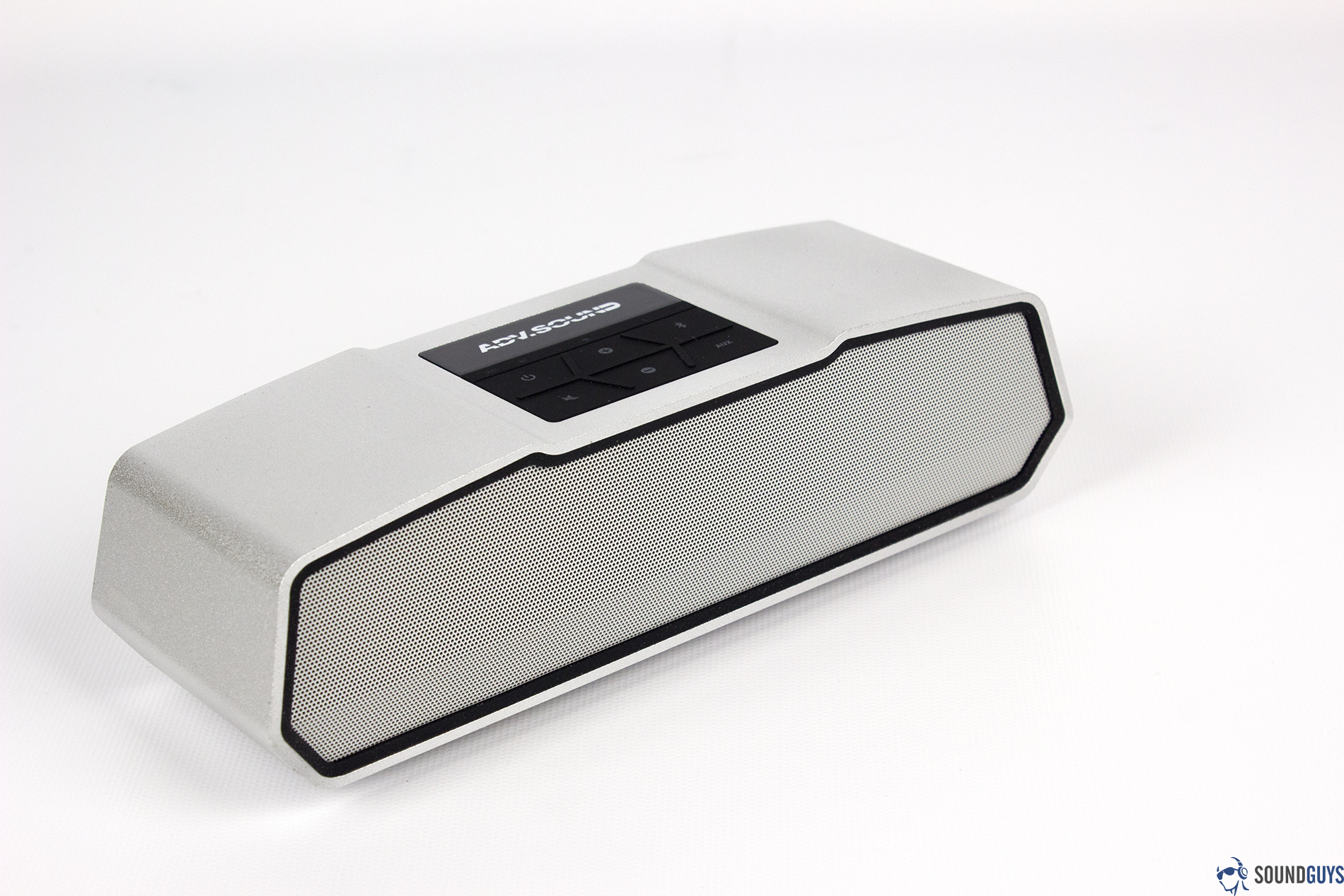 On top of those lights is a small ADV.Sound logo and is the only place you'll find any branding aside from the "993" on the right side of the speaker. One thing to mention about the build is that the back grille seemed a little flimsy and loose and, after some picking and peeling, does pop off. Of course, I'm sure no one will be actively trying to remove it but for testing it was necessary to see if it's possible. I'm also pretty sure this was just a flaw in my review unit but it was worth mentioning. Other than that, I enjoyed the solid the build. It even has a rubberized pad on the bottom of the speaker which prevented the bass from pushing it off the side of the desk. Design-wise this speaker looks nice, but also had a clear inspiration in mind in my opinion. It looks very similar to the Bose Soundlink Mini, though not as round. That said, the campaign cost isn't as much as the Soundlink Mini which is a big plus.
Connection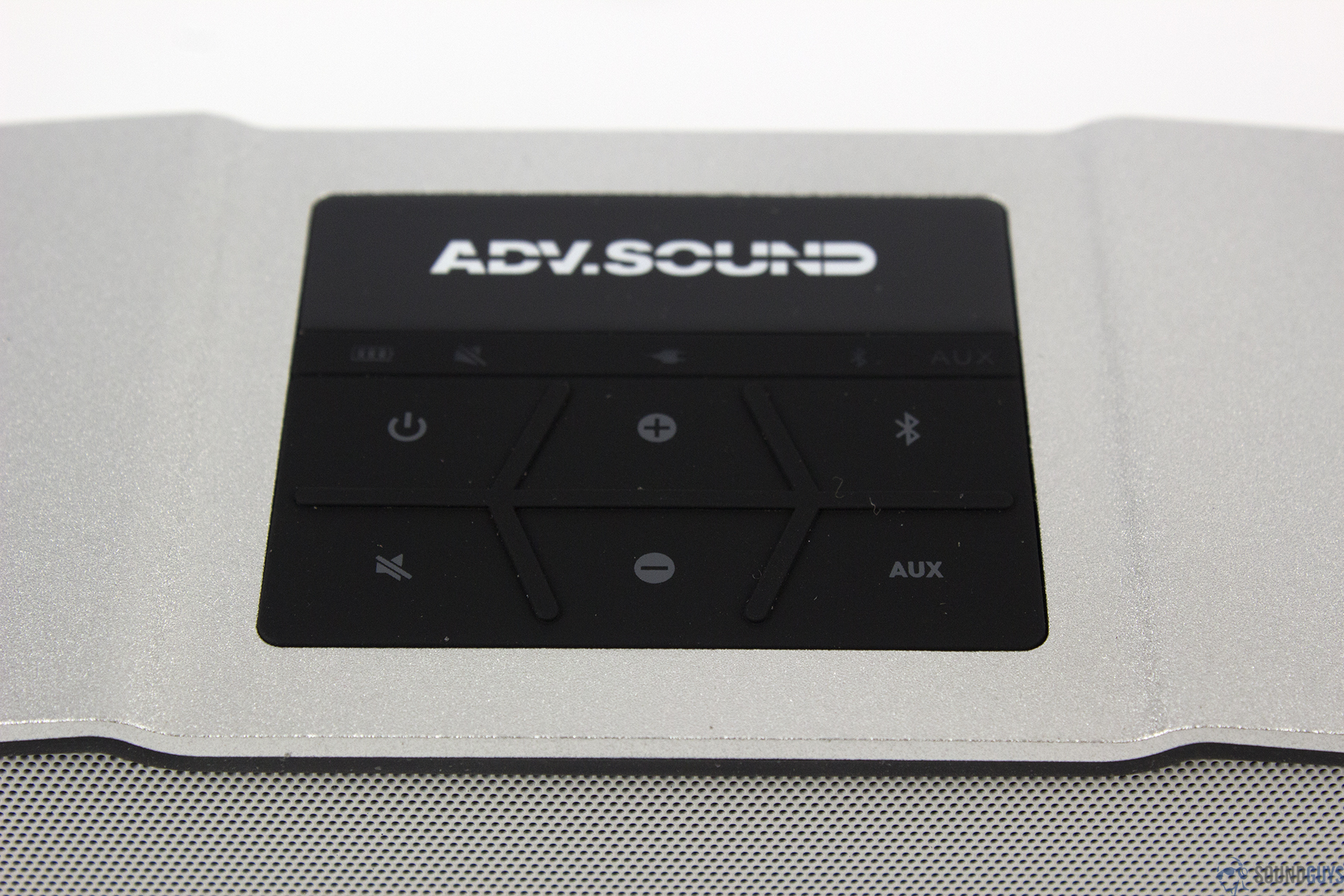 With Bluetooth 4.0 and aptX, the 993 has a pretty good connection. It doesn't skip at all within 20 feet and it remains strong up to the fringes of 30, but with a few walls or bodies in the way some stuttering does occur. Basically if you're alone the connection is fine, but if you're bringing this to a get together you may want to keep the source device close by. On the bright side, the control buttons work perfectly. Even though we would've liked to see a skip track or rewind button, we'll settle for the handy mute button which was used on more than one occasion. When pressed, the indicator light blinks until you un-mute it so you won't be confused as to why music randomly stopped playing.
Battery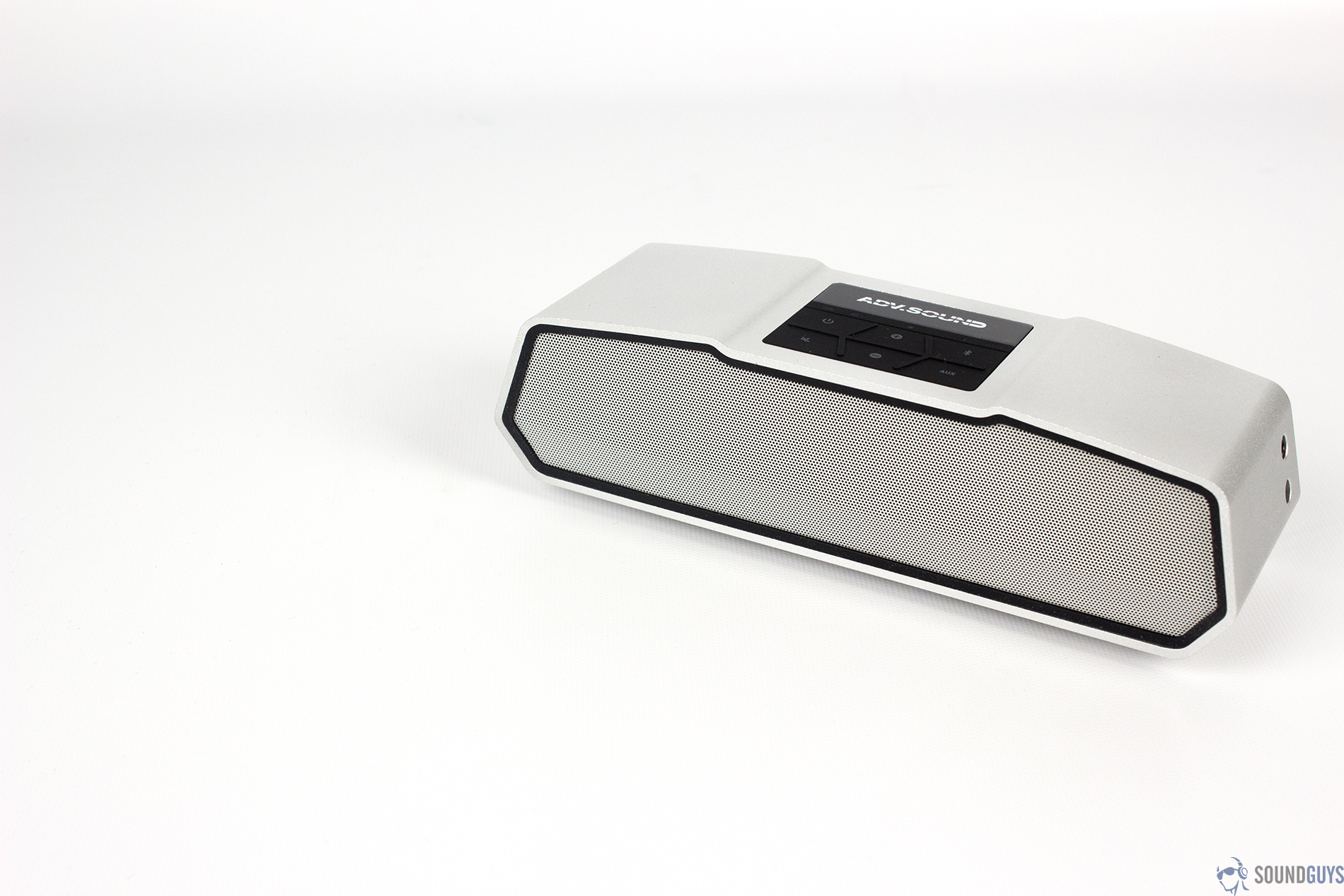 Battery life is claimed at 12 hours at 60% volume, but we test at 100% and got closer to around 10 hours which puts it neck and neck with the Soundlink Mini II. Still, that's a decent battery life and we're sure at 60% it can easily reach 12 hours. The only real issue we had with the battery was how to charge it. Though it comes with a DC adapter to charge at home, we would've preferred if it charged by micro USB just because of how much more common it is nowadays. If the 993 dies while you're playing it at a friends house, you're out of luck unless they have an old DC charger lying around.
Sound Quality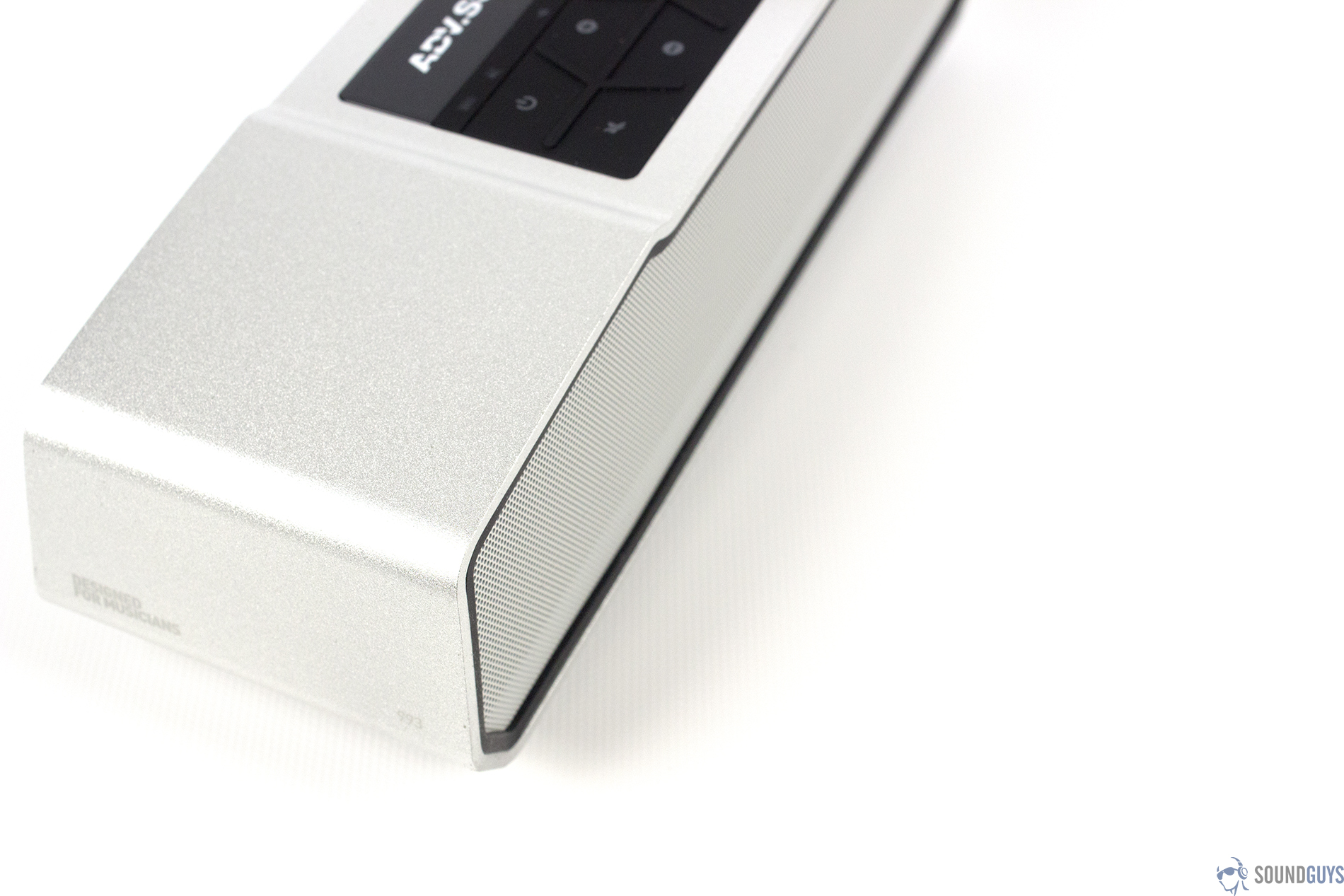 Being a Bluetooth speaker, we did all of our testing via Bluetooth. We mainly used Spotify on the extreme setting which is about 320 kb/s.
If you like bass, you're going to enjoy the 993. It has a heavy bass that gives songs plenty of emotion. They do tend to bleed in the mids a bit and in "I Took A Pill In Ibiza – Seeb Remix" by Mike Posner, there was a slight muddiness to the synths in the background.
Mids have a slight push to them which makes vocals easily distinguishable. It does push some instruments into the background, but they do still have a good amount of detail to them. A good example of this is in "Champagne and Pools" by Hoodie Allen where the beat sits smugly under the vocals.
Highs never appeared harsh but that was somewhat to the expense of detail. A lot of the guitars grit in "The Boxer" by Mumford & Sons could've been clearer, but at least they were never cringeworthy or piercing.
Conclusion
ADV.Sound definitely got a lot of things right with this speaker, but there were also a few things that could've been better. A DC charging port just feels outdated in my opinion, especially with USB Type-C hovering on the horizon. The back grille also shouldn't pop off under any circumstances, but in all fairness that was probably just my review unit. That said, the speaker is solid but not heavy and sounds on par with something like the Bose SoundLink Mini. The biggest question is should you get it? After the campaign ends it will retail for $199, which isn't much of a deal when you compare it to something like the Bose or the many other speakers in that price range. That said if you back the campaign you can get one for as low as $119, which is a steal. Despite the flaws, the 993 is a quality speaker that I have no problem recommending to anyone looking for a nice looking speaker with good sound.